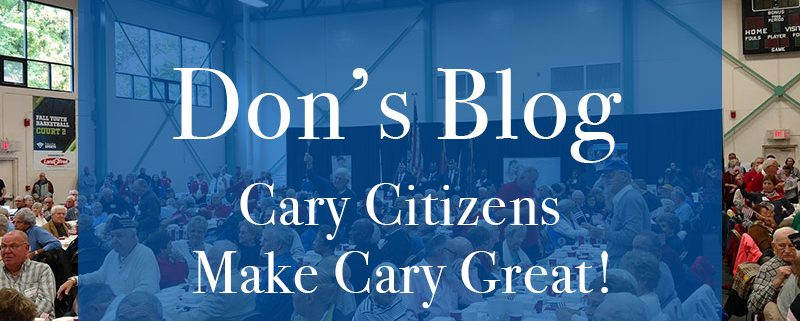 Cary, NC – Every time I see the news I am reminded how blessed we are to live in one of the greatest communities in America.  But I am also reminded that we must not take this for granted. It is so important that we as a community continue to support each other and give back, and there isn't much that better demonstrates Cary citizens doing exactly that than some of the recent events in town.
Veterans Day Events
Cary hosted two Veterans Day events to pay tribute to and thank our veterans and their families for their sacrifice and service to our great nation – the 2017 Veterans Luncheon at the Herb Young Community Center and Veterans Day Observance Ceremonies at Veterans Freedom Park. Both events are always well attended.
At the luncheon our veterans and their families are treated to a patriotic program, lunch and musical entertainment. One of the more popular parts of the program is when the band plays the service songs of all the military branches and veterans from each branch stand and wave flags when their song is played. Their might even be a little competition between the service members of the different branches 😉 Thanks so much to the dozens of volunteers and Town of Cary employees who, without for them the event would not be possible; and special thanks to The Cary Town Band and the Cary Christian School Chamber Choir who did an amazing job – seriously, if you haven't heard the these two perform together you're missing out. Well done!
The Veterans Day Observance Ceremony at Veterans Freedom Park featured speakers from both the town and local armed forces community support groups. The Old North State Band provided musical entertainment and Carolina Veterans Support Group provided a field of flags that folks could sponsor. Little toy soldiers were provided for citizens to write a soldier's name on and place in the memorial as a way to honor those who have served in the armed forces. These soldiers will be saved and placed in the monument every Memorial Day and Veterans Day.
And on a related note, back in September The Herb Young Community Center hosted the Veteran's Benefits Action Center. The Cary program in partnership with Veteran's Affairs, allows eligible veterans and dependents a unique opportunity to be assisted by a team that includes Veteran's Organization Service Officers, Department of Veteran's Affairs, benefits officials and healthcare representatives.
Cary Unity Walk
The Cary Unity Walk is an event to celebrate citizens working together to support local first responders and create a safe, unified, and nurturing community for our youth and our future. Produced by Fit and AbleProductions, nearly 300 people walked with Cary Police officers, firefighters and EMS personnel from Downtown Cary to WakeMed Soccer Park. Following the walk was a 5K/10K race which also featured kids games by Special Olympics North Carolina, performances by LA Dance, a fly-over by the Bandit Flight Team, the national anthem by the USO, and representatives from every branch of the military.
Finding ways in which our citizens can connect with our first responders is so important, and I am so very proud of the fine folks at Fit and Able and our citizens for making this a priority.
Hometown Spirit Award
Cary's Hometown Spirit Award is bestowed annually on a Cary resident who enhances the quality of life in Cary by preserving, promoting and carrying out positive and quantifiable traditional small-town community values and traits.
Nine outstanding Cary residents were nominated this year by their peers. Nominees were recognized and honored at a reception at the Page Walker Hotel prior to our council meeting where last year's Hometown Spirit Award Winner, Sheila Ogle along with Mayor Harold Weinbrecht opened the super top-secret envelope to reveal that this year's award winner is, drumroll please…, Ralph and Daphne Ashworth!
For 60 years Ralph and Daphne Ashworth have been very involved in both Cary's business and philanthropic community giving time and treasure to make Cary a better place. Their list of contributions is long – real long – like there isn't enough room on this blog to list it all long; and chances are that if you've lived in Cary for any length of time you are familiar with the many wonderful contributions the Ashworths have made to our community – they are legends. If not, I'd encourage you to learn more about them here, here and here.
We are forever grateful for their lifetime of service. Cary is literally a better place because of Ralph and Daphne Ashworth and their family.
Meeting Place Park
At our most recent council meeting we changed the name of Meeting Place Park in Downtown Cary to Kay Struffolino Park to honor Kay for her over 40 years of service and volunteerism to Cary.
Cary's 2010 Hometown Spirit Award Winner, Kay has dedicated her life to making Cary a better place. She has adopted two parks to maintain, has donated thousands of hours and dollars to beautify Cary's parks and greenways, and has served on numerous boards, committees, and task forces. Kay's fingerprints are all over Cary.
Kay is one of Cary's greatest citizens and an inspiration to everyone. It is because of her selfless commitment to all things Cary that we renamed this park in her honor.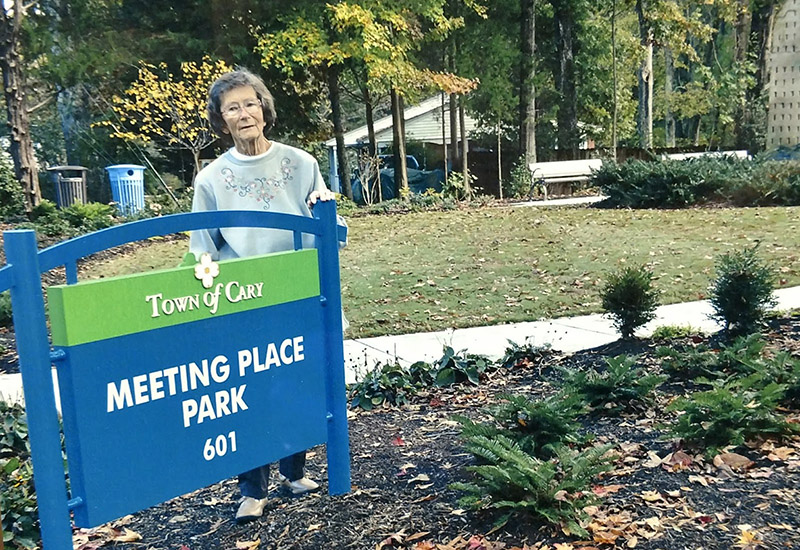 In closing, I mentioned earlier how blessed we are to live in Cary – but just to be clear "blessed" doesn't mean "lucky". Cary clearly didn't become one of the greatest places to live in America by accident. We have YOU, our amazing citizens to thank for that. So keep doing what you're doing and if there is ever anything that we at the town can do to help you help us, please let us know!
I am so thankful for each and every one of you! Happy Thanksgiving!
---
From the blog of Cary Councilmember Don Frantz. Photos courtesy of Don Frantz.
https://carycitizenarchive.com/wp-content/uploads/2017/11/DonBlog-Nov21-Featured.jpg
550
800
Don Frantz
https://carycitizenarchive.com/wp-content/uploads/2020/03/cc-archive-logo-450-v3.png
Don Frantz
2017-11-22 09:30:46
2019-12-08 15:29:57
Don's Blog: Cary Citizens Make Cary Great!