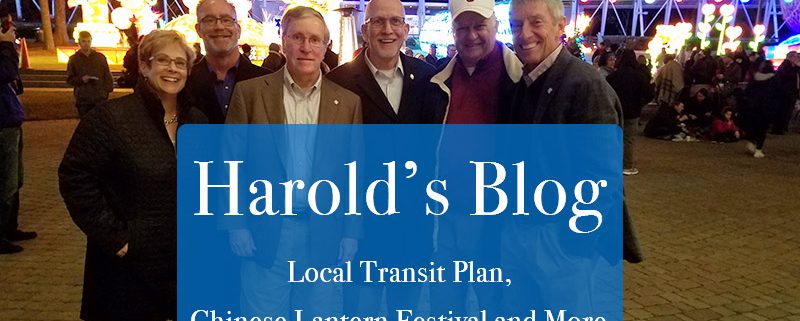 Cary, NC – This was Thanksgiving week so most of my time was spent with family.
Monday – Chinese Lantern Festival and Holly Springs
Monday the town manager and I talked for a few minutes at our one-on-one meeting. We discussed the upcoming work session on the Columbia development, 2018 calendar issues, and a few other items.
Later Monday I had the pleasure to join five other council members at the lighting ceremony for the Chinese lantern festival. Artisans from China have been here for weeks setting up this fantastic display. The ceremony began with a performance which was followed by welcoming remarks from Mayor Pro-Tem Yerha. Then we counted down from five and I flipped the switch. The lantern display is amazing and a must see during this holiday season. All the lanterns are different from last year with the exception of the dragon by the lake. Admission is $10 for seniors and children, $15 for adults, and free for those three and under. The Chinese Lantern festival will run from November 24 through January 14th.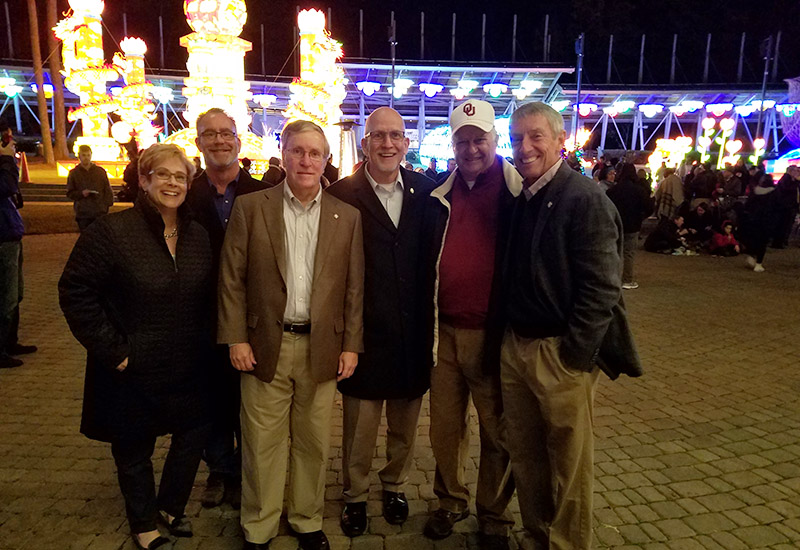 Monday night I met with four elected council members from Holly Springs. They were interested in processes and transparency. I talked about the things we do in Cary to help with transparency and about our processes. We spoke for about two hours. Holly Springs is facing a lot of growth related issues which resulted in the election of new council members. This is very similar to what happened to Cary in 1999. My biggest recommendation to them was to try and find a way where all of them can work together because the "us versus them" is unproductive (spoken from my experience on council). For our region to continue to be successful it is imperative that all Wake County municipalities do well. And growth is coming whether we like it or not. By 2040 this region will almost double population. So now is the time for all of Wake County to plan and prepare.
Emails from Staff
Emails this week included an important update from the CAMPO staff:
The Triangle region's long-range transportation plan (a.k.a. the 2045 MTP) has entered the final phase of its almost 18-month development process and is now available for public review and comment. The draft plan includes future highway, bus transit, rail, bicycle, pedestrian and other transportation projects to be implemented through the year 2045 across our region. Please help us spread the word to anyone who might be interested. Attached is an information sheet with additional information.

Final Review Phase

Member jurisdictions and members of the public are invited to review the draft project maps and lists and provide comments by December 12th. The Capital Area Metropolitan Planning Organization (CAMPO) Executive Board will consider adoption of the project maps at their meeting on December 13.

Both interactive and PDF versions of the draft 2045 Roadways, Transit, and Bicycle/Pedestrian maps are available on the CAMPO website.

Background on the MTP

In order to receive federal funding, transportation projects must be included in the regional Metropolitan Transportation Plan (MTP), which is updated every four years. Also, the MTP may only include projects that the region can afford to build, operate and maintain. State and local governments and transportation agencies all must show that funding for projects is "reasonably anticipated to be available" over the next 25 to 30 years. CAMPO conducts regional transportation planning studies across the region (such as the Southeast Area Study, and U.S. 1 Corridor Study), and participates in transportation planning processes in local towns, cities, and counties, in order to collect information from industry experts, local leaders, and the community on the preferred set of projects for inclusion in the MTP. In addition to the attached info sheet, visit the CAMPO website to learn more about the organization and its Executive Board.

What's unique about the Draft 2045 MTP?

The vast majority of streets, freeways, and interstates in the Triangle area are managed by the North Carolina Department of Transportation (NCDOT), with the bulk of funding for improvements and maintenance traditionally coming from state and federal sources.

Two maps are under consideration by the CAMPO Executive Board, and are available for public comment.

The Traditional Funding Map programs transportation improvements based on the amount of funding that is likely to be available over the next 30 years from traditional state and federal funding resources.
In order to provide more improvements to address the forecasted needs on roadways, additional, new, local and regional funding sources would have to be identified and implemented over time. The Additional Funding Map programs transportation improvements assuming the traditional state and federal resources as well as additional local and regional funding is identified. With additional funding, secondary roads would experience a significant increase in projects (less emphasis placed on high volume or multilane roadways as in the traditional model). Additional local and regional funding can only be approved in the plan by the Executive Board if there is a reasonable expectation of the additional revenue. An example of this would include the ½ cent transit sales tax recent implemented in Wake County.

Submit Comments

CAMPO's website for the Draft 2045 MTP
Call: 919-996-4400
In-person at CAMPO's Administrative Office (421 Fayetteville Street, Suite 203, Raleigh)
Speak at the December 13 Public Hearing (421 Fayetteville Street, Suite 203, Raleigh)
Maps can also be viewed in hard copy at the CAMPO Administrative Offices at 421 Fayetteville Street, Suite 203, in Raleigh.

Follow CAMPO

Sign up for updates at www.campo-nc.us and follow us on Twitter: @CapitalAreaMPO  Facebook: NCCapitalAreaMPO  LinkedIn: NC Capital Area MPO
Emails from Citizens
Emails from citizens this week included:
A complaint about a street paving on Thanksgiving week (it was completed by the end of the day Tuesday).
Several thanks for working on a variety of issues.
Next week will also be very light. It includes a couple of meetings, a musical luncheon for the Cary and Morrisville police departments, and the Cary tree lighting.
Get in Touch
Well, that is all for this week. My next post will be on Sunday, December 3rd.  Although I have Facebook and Twitter accounts those are not the best means of communications with me. Please send all Town of Cary questions or comments to Harold.Weinbrecht@townofcary.org and email personal comments to augustanat@mindspring.com.
---
From the blog of Cary Mayor Harold Weinbrecht. Photos courtesy of Harold Weinbrecht.
https://carycitizenarchive.com/wp-content/uploads/2017/11/HaroldBlog-Nov27-Featured.jpg
550
800
Harold Weinbrecht
https://carycitizenarchive.com/wp-content/uploads/2020/03/cc-archive-logo-450-v3.png
Harold Weinbrecht
2017-11-27 10:30:04
2017-11-27 10:37:12
Harold's Blog: Thanksgiving, Chinese Lantern Festival and More