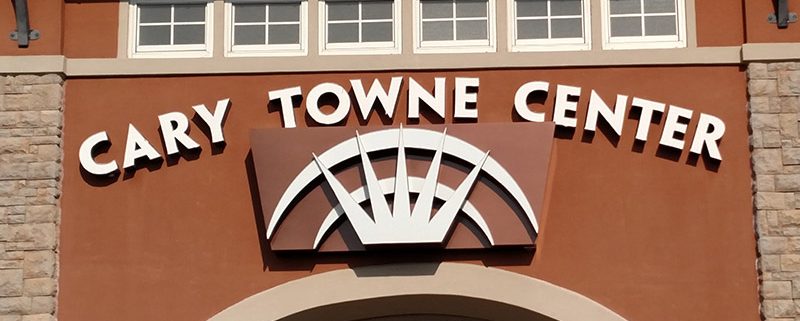 Cary, NC – While still preliminary, development plans for Cary Towne Center are available for the public to see on the Town of Cary website. We took a look at these plans and compared them to what is currently at the mall to help give you a sense of what is being proposed.
The latest preliminary development plans available for Cary Towne Center currently show the mall being redeveloped like so: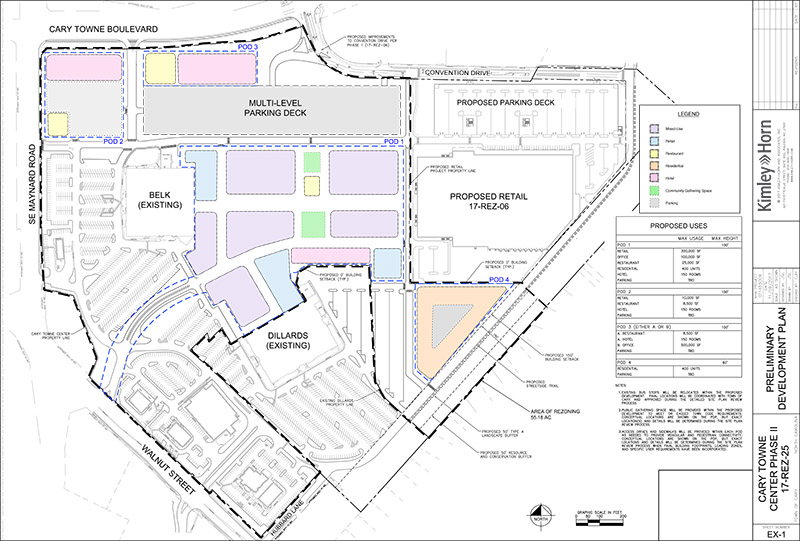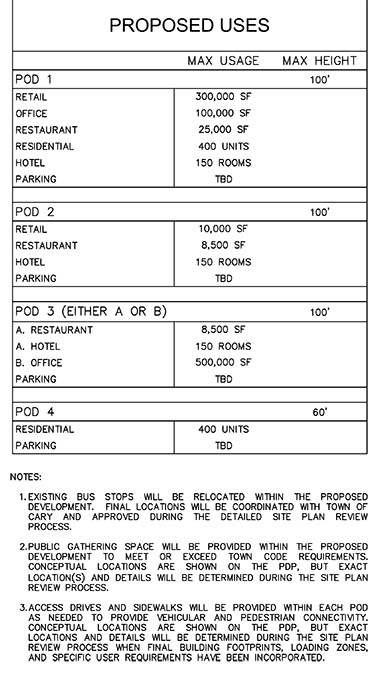 You can find a full-size map by going to the Town of Cary's Electronic Plan Review page and log in with a guest account. The full plan will be looked at in this article but for a brief overview, the color scheme is:
Purple – Mixed-use
Blue – Retail
Yellow – Restaurant
Orange – Residential
Pink – Hotel
Green – Open Space/Community Gathering Space
Grey – Parking
On this development plan, "Proposed Retail 17-REZ-06" refers to the IKEA that has already been approved by the Cary Town Council and will replace the buildings where Macy's and Sears used to be, as well as part of the food court.
The rest of the food court, as well as the rest of Cary Towne Center aside from Dillard's and Belk, will also be removed according to this development plan.
Where the food court and the Macy's now rub up against each other will be the divide between IKEA and the rest of Cary Towne Center, with two mixed-use buildings and one retail building being the closest.
Pod 1 – Open Shopping
The biggest change in this preliminary development plan is the removal of the large Cary Towne Center building in favor of smaller buildings with a variety of uses and functions.
These include six mixed-use buildings, three retail buildings, one hotel and one restaurant, as well as two community gathering spaces. A proposed map of roads in this area show where both vehicle roads and pedestrian-only roads move in between these buildings. The map also shows the preliminary location of the relocated bus shelter, which we have highlighted.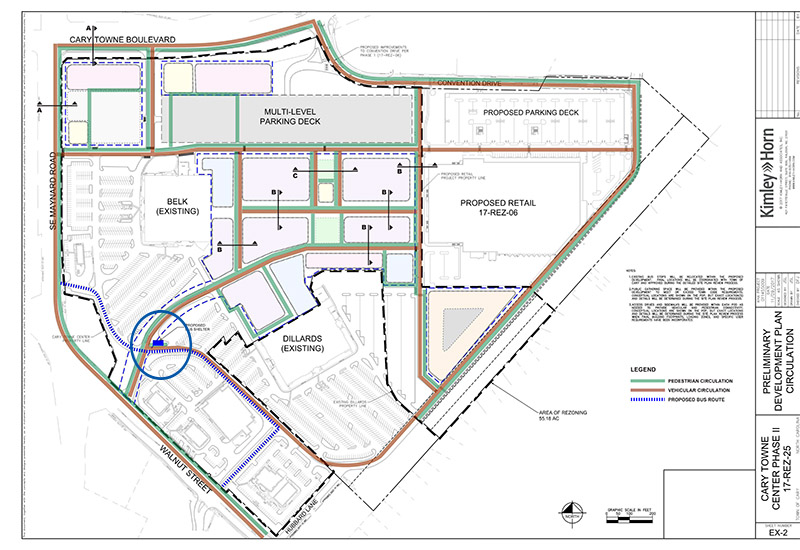 Pod 4 – Residential
Sitting in between Dillard's, IKEA and the new Cary Towne Center open shopping area is a residential-only building. The maximum usage listed is 400 units and a height of 60 feet. These photos show its approximate location, taking up the surface parking lots currently in front of Macy's and Sears.
Parking appears to be inclosed inside of the residential building, but there is no specific count for any parking spots in this preliminary development plan.
On the other side of Cary Towne Center, all of the surface parking there would be replaced by two parking decks, one of which has already been approved as part of the Town Council's IKEA vote.
Pod 2 – Hotel and Restaurant
Sitting right at the corner of Cary Towne Boulevard and SE Maynard Road, Pod 2 listed in the preliminary development plan would be a hotel with a maximum of 150 rooms, as well as a maximum of 10,000 square feet. It would also include a parking lot and a restaurant with a maximum of 8,500 square feet. The maximum height in this spot would be 100 feet.
Currently in that spot is a series of open lots where previous businesses were.
You can still see wooden staircases leading to the sidewalk on SE Maynard Road back when these spots were still in use.
Also nearby these lots is Firestone Auto Care but it is unclear if it falls within the intended location for Pod 2.
Pod 3 – Undetermined Use
The final spot designated in the preliminary development plan is a mixed-use building and a restaurant, separated from the rest of the Cary Towne Center open shopping by the parking deck. Based on the map, it appears to be replacing one section of trees that currently border Cary Towne Boulevard and will also cover up the road that leads into the mall from the boulevard.
Not only is the specific location of Pod 3 unclear but so is its intended use. The preliminary development plan currently shows one restaurant with a maximum size of 8,500 square feet on the left-most side of the pod. But there is another building that the plan says will either be a hotel with a maximum of 150 rooms or an office building with a maximum size of 500,000 square feet. However, the color scheme of the plan currently designates this building as a hotel.
This development plan is still preliminary so it is subject to change.
---
Story by Michael Papich. Photos by Michael Papich, Google Maps and the Town of Cary.
https://carycitizenarchive.com/wp-content/uploads/2017/02/Cary-Towne-Center.jpg
550
800
Michael Papich
https://carycitizenarchive.com/wp-content/uploads/2020/03/cc-archive-logo-450-v3.png
Michael Papich
2017-12-06 16:14:43
2017-12-07 10:00:34
Mapping Out The Future of Cary Towne Center