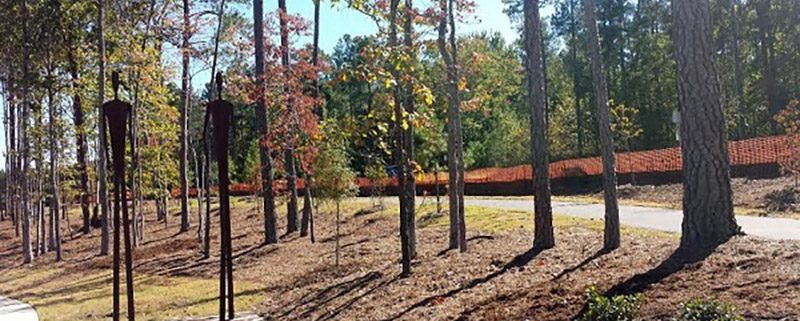 Cary, NC – West Cary is the fastest growing part of Cary but residents have expressed concerns about a lack of resources paired with growing infrastructure needs. For the past year and a half, the Northwest Cary Community Connection has worked to bridge the divide between residents and town government to highlight the local priorities.
Being Heard
The Northwest Cary Community Connection formed in 2016 out of a mix of concerns that western residents were not being heard and the community was not organized.
Nathanial Greene, one of the founders and active members of the Community Connection, said the catalyst for him was Cameron Pond Park and what he saw as a lack of progress on building it. The park had its land donated as a result of power lines being installed near a West Cary recreation facility. However, when the Cary budget came up in May 2016, Greene saw that Cameron Pond Park was no longer being budgeted.
"If you look at budgets through the years, the funding for the park had been pushed off year-after-year," Greene said.
For Mia South, a founder and active member of the Community Connection, she observed that community needs were not being communicated because of a disconnection from the Town of Cary. So South saw organization as the way to push against this.
"One of the first things we did was identity the acting leaders in the community and homeowners associations," South said. "We also identified people in West Cary who worked in Cary government."
As the Northwest Cary Community Connection formed, the group listed three main priorities to start:
fund and build the Morris Branch and Cameron Pond parks
extending the Panther Creek Greenway
expanding the Mills Park Community Center
Greene said he wanted to make sure he and the group stayed persistent. While he spoke at Town Council meetings, he was worried he may have just been viewed as a one-off "NIMBY." Things started to change as the Community Connection began to have meetings not only within the community but with the Town of Cary, particularly when Sean Stegall came in as Cary's new Town Manager.
"He was very collaborative. He met with us and wanted to understand the dynamics," Greene said.
Another big step was a May 2017 meeting between the Town of Cary and the West Cary public at Crosspointe Church, which saw so much interest that seats were filled and many visitors had to stand during the meeting. There, the Town of Cary outlined what projects in West Cary it is working on and residents shared their thoughts and concerns directly. South also said the meeting sent an important message.
"The Town of Cary made an effort to come out here, which makes it easier for residents to learn from them as opposed to traveling to Downtown Cary," South said.
Since the creation of the Community Connection, those three priorities are now being taken up by the Town of Cary as they look for funding sources, with a possible bond in the process for expanding the Mills Park Community Center. While Greene does not only credit the Community Connection, he said the group has had an influence.
"Had we not engaged or let Cary go on autopilot, we would only have the Morris Branch Park," Greene said. "Without us being engaged, all the focus would be on Downtown and the Eastern Gateway."
Future Plans
In the year and a half the Northwest Cary Community Connection has been active, the group is holding monthly meetings to see what else in West Cary needs attention, while also educating interested community members.
"A lot of this is educating citizens on what the roles are of Cary, Wake County and NC DOT," South said. "It's more than just the town that's responsible."
Speaking of NC DOT, the Community Connection has also engaged with that governmental body about priority projects in Cary, such as widening road around the O'Kelly and Green Level Church Road intersection, the Morrisville Parkway extension and widening Carpenter Fire Station Road.
"At the [May 2017] information meeting, when the Carpenter Fire Station Road widening was announced, people clapped. Sean Stegall commented to me that response lets them know that this needs to get funded," Greene said.
There is also a focus on extending the network of greenways and increasing pedestrian protections when they are near roads with car traffic.
"For the people that live in West Cary and work in RTP, the greenways are a way to get people there safely as we increase bikeability," South said.
Greene said the Community Connection is also engaging with the Wake County School Board and there are plans to put together more large public meetings between West Cary residents and the Town of Cary.
"We fully recognize there's a limited pot of money but we feel, and rightfully so, that it's been disproportionate," Greene said.
And in these joint meetings, Greene said he wants to make sure they are positive experiences and do not come off as the citizens being accusatory.
"One big goal of ours is to be positive and collaborative," Greene said. "We want to be educational and engaging."
You can learn more about the Northwest Cary Community Connection and monthly meetings on their website.
---
Story by Michael Papich. Photos by Jessica Patrick and Michael Papich.
https://carycitizenarchive.com/wp-content/uploads/2018/01/New-Hope-Park.jpg
449
800
Michael Papich
https://carycitizenarchive.com/wp-content/uploads/2020/03/cc-archive-logo-450-v3.png
Michael Papich
2018-01-11 10:30:51
2019-12-08 15:29:59
Western Cary Group Brings Attention to Local Concerns