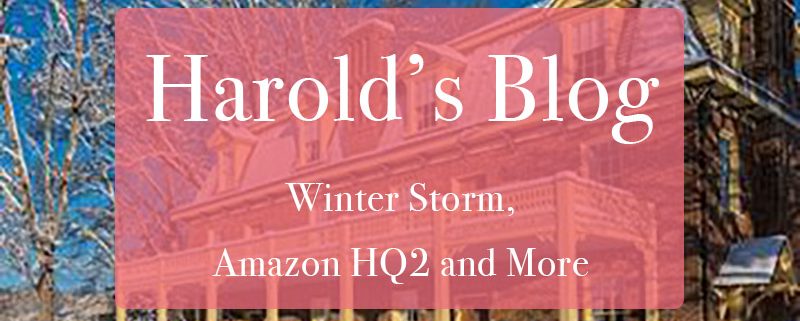 Cary, NC – This week was abbreviated by the winter storm.
Monday – Wake County Mayors
Monday I attended the Wake County Mayors Association meeting. Eleven of the twelve mayors were in attendance with Mayor Byrne of Fuquay being the only one absent. At the meeting we welcomed newly elected Mayor Cawley of Morrisville, elected Mayor Roberson of Knightdale as the new President, elected Mayor Matheny as the new Vice President and Treasurer, thanked President Mayor Sears and Mayor Olive for serving last year, and tentatively agreed that next year's Christmas Party would be held in Wake Forest at their new Renaissance Centre. One topic discussed was how much impact CAMPO's (Capital Area Metropolitan Planning Organization) BRT (Bus Rapid Transit)  regional transit projects impacted Durham-Orange's ability to secure funding for their light rail project. We will continue this discussion at our next CAMPO meeting. We also spent time going around the table and hearing what issues each municipality is dealing with.
Tuesday – Triangle Aquatic Center
Tuesday I joined council member Jack Smith in taping an episode of Cary Matters. Our topic was the latest quarterly report. We did it in two takes. While the first take was good I had a frog in my throat for part of it. So we did the second take.
Later Tuesday I joined council member Yerha, the town manager, and the owner of the TAC (Triangle Aquatic Center) in a meeting to discuss the future of TAC. Their future plans include three phases with the second phase to add outdoor swimming.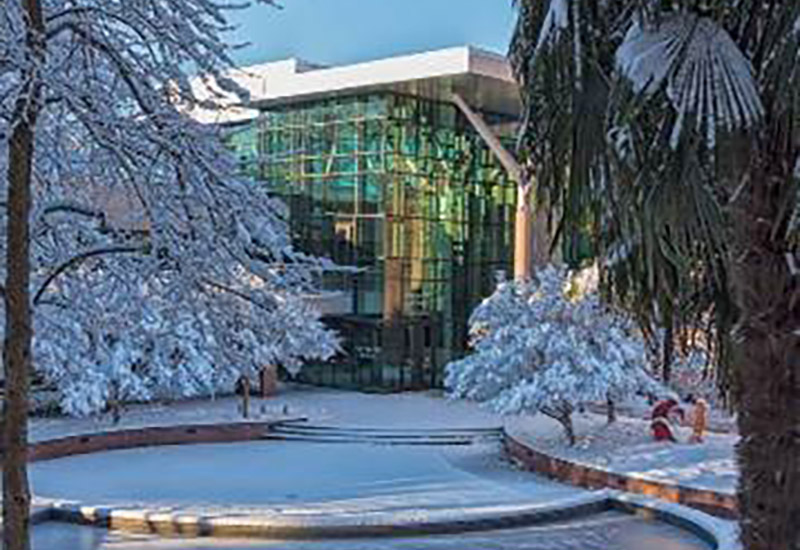 Wednesday – Snow Storm
Wednesday it started snowing at my house around 10 AM and didn't stop until that night. In the end I had a little over 7 inches of snow. Other parts of Cary and the region had snow earlier and some reported amounts of close to a foot. Having lived here most of my life I can tell you that in the past this kind of storm would have crippled the region for days. But Cary's A Team had the roads clear, including secondary roads, within a day and before it got above freezing. That means they plowed 766 linear miles of streets 557 which are in subdivisions. What an amazing job! No other municipality came close to matching our service. To accomplish this task Cary used 77 pieces of equipment including 58 plows of which 23 were incorporate spreaders. They used 650 tons of salt and 990 tons of salt/sand mix. A HUGE thanks to all those men and women who worked around the clock to get the streets clear.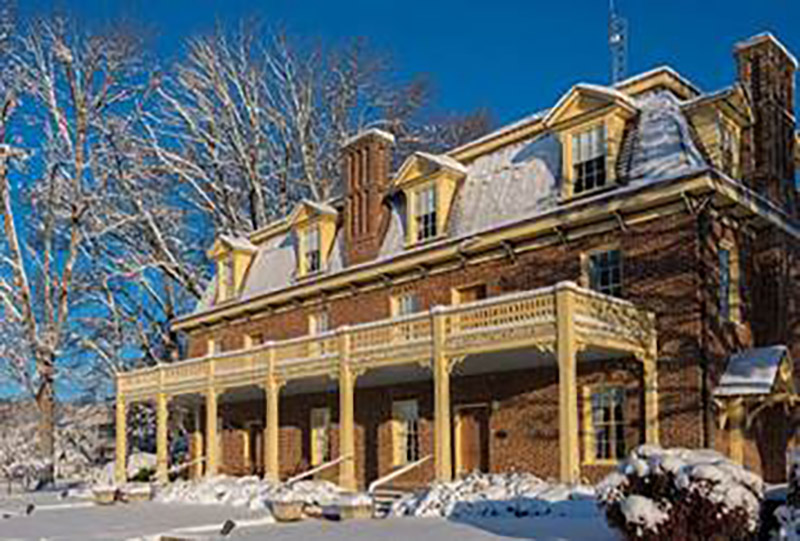 Due to the snow the rest of my meetings and activities for the week were cancelled.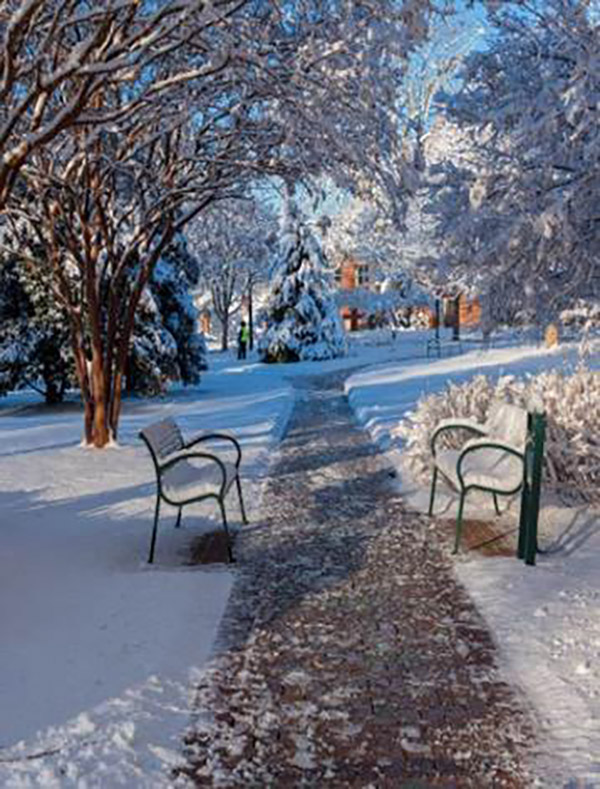 Week's Notifications
This week's notifications included one from McDonalds. They announced that by 2025, 100% of their packaging will come from renewable, recycled or certified sources with a preference for Forest Stewardship Council (FSC) certification. In addition they announced that by 2025, their goal is to have recycle packaging in 100% of their restaurants. Thanks to McDonalds for their continued commitment to protecting our environment.
Other notifications this week included Cary Chamber's announcement that Evan Stone was hired as Vice President of Cary Economic Development. Stone will coordinate and oversee all economic development efforts for Cary. This includes continued focus on retaining and growing existing industry as well as utilizing his business recruitment experience to grow Cary's brand on a national level. Additionally, Stone will manage key partnerships with the Economic Development Partnership of North Carolina as well as other strategic Chamber of Commerce partners. Stone has 12 years of experience in local government and economic development organizations of all levels, most recently working at the Economic Development Partnership of North Carolina (EDPNC) as a Business Recruitment Manager. During his time at EDPNC, Stone brought over 3,400 jobs and $1.33 billion in capital expenditure to North Carolina and worked extensively with corporate site location on the state's behalf. Prior to EDPNC, Stone was a Project Manager in the Mississippi Development Authority's Global Business Division managing economic development projects of national and international companies on behalf of the State of Mississippi. In addition to orchestrating corporate recruiting events for the state, Stone also worked closely with local economic developers throughout Mississippi on issues including infrastructure strategy and site readiness. Welcome aboard Evan! We look forward to working with you to bring many high paying jobs to Cary.
Town Manager's Report
The town manager's report for this week included the following:
Snapshots of Cary in Snow 

The snowfall on Wednesday provided a wonderful opportunity to photograph how beautiful Cary looks in white! At the same time, Cary's A-Team hit the streets to help keep all of us safe during the cold temperatures and inches of snow. The A-Team was equipped with 77 pieces of equipment along with 650 tons of salt and 990 tons of salt/sand mix. Thank you all the Public Works crews and our public safety officers for everything they do for our community when winter weather strikes.

Amazon Announces List of 20 Candidates for HQ2

After reviewing 238 applications from cities across North America, Amazon has narrowed its choices to 20 metropolitan areas, including Raleigh. This is great affirmation about the quality of life and availability of talent in our area. We look forward to demonstrating that this area – including Cary – will meet and exceed Amazon's requirements.

Cary Again Earns Partnership for Safe Water Director's Award

For the 14th consecutive year, the Cary/Apex Water Treatment Facility earned the AWWA Partnership for Safe Water Director's Award. The Partnership is a voluntary effort between six drinking water agencies and over 200 utilities nationwide. The Town is a charter member. The Partnership promotes treatment process optimization and recognizes facilities which have consistently exceeded regulatory requirements to achieve a certain standard of water treatment excellence. The Director's Award is issued to facilities which have completed an annual assessment report and successfully met performance criteria.

Cary is one of only four facilities in North Carolina that have maintained the Director's Award for more than a decade.

Seeing & Learning in Kansas City

This week, a delegation of Fire, Police, HR and IT staff visited Kansas City to learn about their smart city deployments and multi-jurisdictional 911 Communications Centers. The Cary team met with Kansas City's Digital Drive Managing Director to discuss the smart city corridor. The corridor includes a streetcar line, free public Wi-Fi, smart LED streetlights, various sensor technology and digital kiosks that provide citizens access to businesses and municipal services. This opportunity provided valuable insight on how smart city technology can be deployed through redevelopment projects.

Additionally, the Cary team toured Johnson County's $27 million 911 Communications Center. This center uses a variety of regional technology and procedures to provide emergency dispatch services to multiple jurisdictions in the Kansas City Metro Area. Staff also spent the day gathering various operational, technological and staffing information from the Johnson County employees. This information will be helpful as Cary continues to analyze the feasibility of a possible expansion of Cary's emergency dispatch services to our neighbors.

Favorable IBT Decision for Cary

In 2015 the City of Fayetteville and its public water commission appealed the Environmental Management Commission's ('EMC') issuance to Cary and Apex of a modified interbasin transfer certificate. Happily, this legal matter is now finally settled by agreeing to a Consent Judgment.  Attorneys with McGuire Woods, who represented Cary and Apex, braved the snow Thursday to appear in Cumberland County to have the 'Consent Judgment' entered by a Superior Court Judge. The Consent Judgment, which upholds the 2015 Certificate, will be presented to Council in a council meeting. A return requirement, a condition that Fayetteville believed to be important, will be inserted into the 2015 Certificate requiring a return of a specific quantity of treated water to the Cape Fear and Haw River basins. The effect of the return requirement has been thoroughly evaluated by staff of the Towns and our consultants and all parties believe it to be consistent with the Town's future planned development and key to settling the matter at hand.

Recognitions

We'd like to recognize Terry Yates who was a guest speaker at a graduate level class in the Civil Engineering School at NC State University. Students in this class will develop Smart City projects around water, energy, transportation, etc. as part of their curriculum. Terry's presentation included information about Cary's Smart City Program and various project ideas where students can focus. This speaking engagement was made possible by our continued partnerships with non-profit and educational organizations such as NCROT and NCSU.
Emails From Citizens
Emails from citizens this week included:
A complaint about the proposed Crabtree Crossing connection (A Morrisville Council decision)
A request to have weekly recycling (I would love this but of course that means more taxpayer dollars)
A concern about snow removal (I respectfully disagree. We had the best response by far of any municipality in the region)
Several thank you emails for snow removal (You're welcome! But it is the great staff of Public Works that are the superstars)
Next week will be a very busy week for me and includes a regularly scheduled council meeting, a meeting of CAMPO, several small meetings, an event, and the State of Cary Address.
Get In Touch
Well, that is all for this week. My next post will be on Sunday, January 28th.  Although I have Facebook and Twitter accounts those are not the best means of communications with me. Please send all Town of Cary questions or comments to Harold.Weinbrecht@townofcary.org and email personal comments to augustanat@mindspring.com.
---
From the blog of Cary Mayor Harold Weinbrecht. Photos courtesy of Harold Weinbrecht.
https://carycitizenarchive.com/wp-content/uploads/2018/01/HaroldBlog-Jan22-2018-Featured.jpg
541
800
Harold Weinbrecht
https://carycitizenarchive.com/wp-content/uploads/2020/03/cc-archive-logo-450-v3.png
Harold Weinbrecht
2018-01-22 10:32:48
2018-01-22 09:47:13
Harold's Blog: Winter Storm, Amazon HQ2 and More