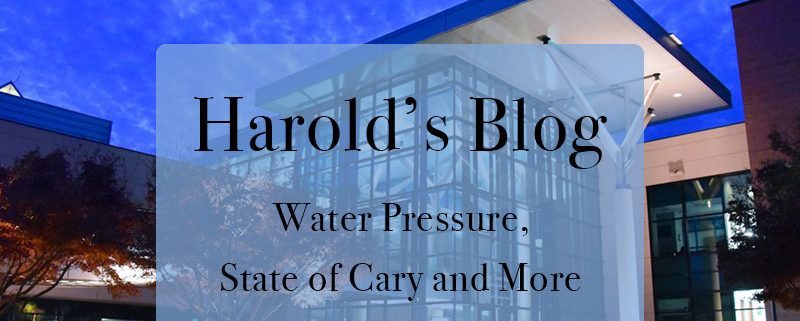 Cary, NC – This week was very rare in that I had very little scheduled. 
Thursday – Water Pressure
Thursday I attended a public meeting about an upcoming water pressure zone shift held at the senior center. The modification is expected to occur the week of April 10th. There is a web page that answers most questions at http://www.townofcary.org/services-publications/water-sewer-stormwater/water/water-pressure/pressure-zone-modification. The project is necessary to provide greater operational flexibility and efficiency as well as to bring into service the water tank on Good Hope Church Road. Some residents with lower water pressure might need to have a pressure reducing value installed.
Friday – State of Cary on Video
Friday the public information office released a short version of my State of Cary address which I gave to the Chamber of Commerce in January. The video with text can be found at http://www.townofcary.org/mayor-council/town-council/state-of-cary. This version is about twelve minutes as opposed to the full version which is about 25 minutes.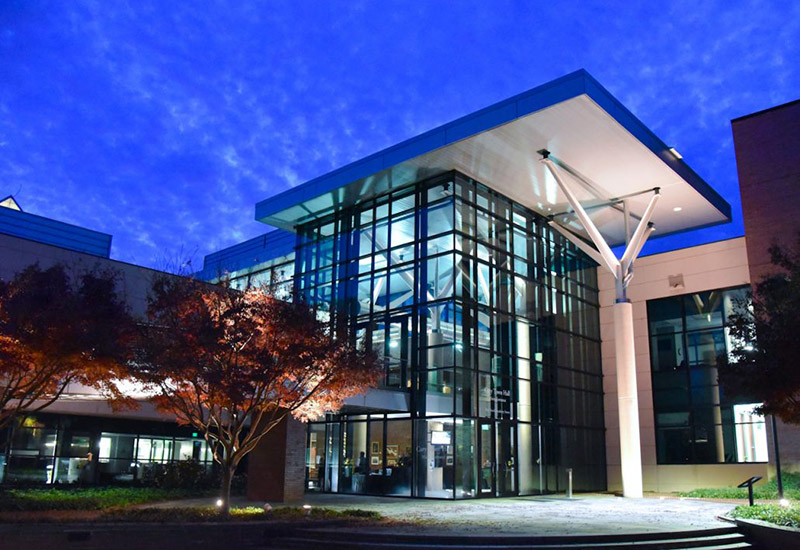 Town Manager's Report
The town manager's report for this week included:
 2018 Retreat Reflections

Now that the Council/Staff retreat is behind us, I hope we were all able to reflect on our time together, as a team, and everything we accomplished over the past year. It was yet another reminder that Cary is truly a special place with special people. We will be returning to Council shortly with a retreat report summarizing our discussions and next steps.

Plumtree Water Tank Painting

The Plumtree water tank located behind Fire Station #6 on Ten-Ted Road has seen substantial progress over the last few weeks. The painting contractor is complete with the interior and exterior power washing and preparations for painting. The water tank was taken offline and drained in November and approximately three-quarters of the interior tank bowl is sand blasted and primed for painting. A cloth tank containment curtain is being used to prevent power washing and painting activities from impact neighbors or the community.

Painting is expected to be completed within the next 4-6 weeks. The tank color will match the Town's other blue elevated water tanks.

Nuclear Plant False Alarm

Several of you have received calls and communication from citizens regarding our response to the false alarm from the Shearon Harris Nuclear Plant on January 19. This was a very quick moving and constantly evolving situation that started and ended in only 38 minutes. We certainly understand the concern our citizens felt as they looked for reliable information from credible sources as to the danger that they and their loved ones might be in. While Wake County Emergency Management is designated by federal regulatory agencies with the responsibility of notification regarding emergency situations at the plant, we know in stressful times our citizens will look to the Town for guidance and information. I am very confident in our staff's ability to get information out in the event of an actual emergency, but there is always opportunity to improve. We are currently evaluating our response to this incident and are scheduled to discuss this and other emergency communication capabilities with the ISAB at their next meeting on March 5. In the meantime, if you have specific questions about this incident, please contact me or Chief Godwin.

Weldon Ridge Rezoning

We wanted to let Council know that we are aware and have seen the emails being sent from citizens over the past several days about the Weldon Ridge rezoning case. Please know that we will be reaching out to citizens next week letting them know where the case is in the rezoning process.

HYCC Selected for Early Voting

The Wake County Board of Elections decided on Thursday to use Herb Young Community Center as an early voting site (April 26-May 5). The primary election day is May 8.

Jordan Lake Elevations Return to Normal

Our recent trend of rain has benefited our water supply! Jordan Lake's water level reached its full pool elevation of 216 feet last week for the first time since July 2017. The lake has risen more than six feet since mid-January to its current elevation of 217.8 feet.

Connecting to Opportunity Summit

Last week, Transit and Planning staff attending the Connecting to Opportunity Summit at the Durham Performing Arts Center. The regional summit highlights major investment in transit and station area neighborhoods that will serve as a catalyst for job creation, economic growth, sustainability, and equity.

Council Member and GoTriangle Board Trustee Chair, Jennifer Robinson, presented opportunities associated with the regional significance of these projects as part of a transit network spanning Wake, Durham and Orange counties. She encouraged those attending to think differently about the way we move around in the region and to pivot together to make a change.

Cary Participates in Career Day

Last week, staff from Finance, Transportation & Facilities, and Public Works participated in St. Michael Middle School's career day. The group participated in the "Speed Mentoring" sessions and hosted a panel discussion on the wide variety of careers available within the Town. Over 30 students attended the panel discussion. All the students were blown away by how big a traffic signal really is, where our water comes from, and the size of the Town's budget.

Cary Hosts Regional NC Next Generation Network 

On Wednesday, Cary hosted a regional NC Next Generation Network (NCNGN) meeting at the Page-Walker Arts and History Center.  Representatives from Cary, Winston-Salem, Wilson, Charlotte, Chapel Hill, NC State and Duke University attended. Presentations were given around unmanned aerial vehicles (UAV) and how agencies can collaborate on developing statewide standards and policies around this new technology. Terry Yates provided information about Cary's Smart City efforts and a tour of the Town Hall Campus Simulated Smart City.

Reclaimed Water Holiday Underway

The 2018 Reclaimed Water Holiday, which is the annual off-season reclaimed water system shut down for maintenance, is progressing very well. The northern, southern and western service areas began the annual system shutdown on Monday, February 12 as planned. All of the planned operations and maintenance jobs are nearing completion. Some of this work included replacing a 12-inch valve at the North Cary Water Reclamation Facility, along with pipeline flushing operations and cleaning the storage tanks at both North Cary Water Reclamation Facility and South Cary Water Reclamation Facility. All reclaimed water distribution systems are planned to be fully restored and operational by February 22.

Recognitions

Congratulations are in order for Nicole Raimundo for being selected as a finalist for the 2018 Women in IT Award! Winners will be announced next week in New York City.
Emails From Citizens
Emails from citizens this week included:
Complaints about a proposed gas station at Kildaire and Penny.
A question about the closing of a running trail.
A complaint about a pothole on Evans Road.
A complaint about a proposed rezoning involving a Charter School.
A complaint about a Town of Cary employee smoking in a vehicle (not allowed).
A complaint about a chlorine odor in the water.
A complaint about the process used to select a citizen committee.
A request to oppose legislation to split the Wake County School System.
A request for contact information for residential developments in downtown.
Next week will by busy for me. My activities include speaking at the Zoning Code Officials meeting, staff meetings, the Mayors Association meeting, my first meeting as chairman of CAMPO, a council meeting, the future of Black History event, the Ed Yerha campaign celebration event, and the Realty Client Appreciation event.
Get In Touch
Well, that is all for this week. My next post will be on Sunday, February 25th.  Although I have Facebook and Twitter accounts those are not the best means of communications with me. Please send all Town of Cary questions or comments to Harold.Weinbrecht@townofcary.org and email personal comments to augustanat@mindspring.com.
---
From the blog of Cary Mayor Harold Weinbrecht. Photos by Hal Goodtree.
https://carycitizenarchive.com/wp-content/uploads/2018/02/HaroldBlog-Feb20-Featured.jpg
550
800
Harold Weinbrecht
https://carycitizenarchive.com/wp-content/uploads/2020/03/cc-archive-logo-450-v3.png
Harold Weinbrecht
2018-02-20 10:25:17
2018-02-20 10:26:50
Harold's Blog: Water Pressure, State of Cary and More