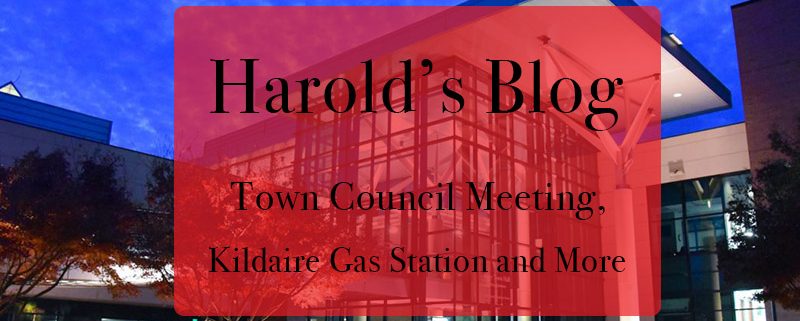 Cary, NC – This was a busy week for me.
Monday – Kildaire Farm Gas Station
I started the week Monday morning by giving welcoming remarks to about 150 North Carolina Zoning Code Officials who were in Cary for their mid-winter workshop. Here is an excerpt from my remarks:
… Here in Cary we strive to keep our community at the peak of its performance and maintain the high quality of life that keeps Cary a great place to live, work, and play.  This wouldn't be possible without our Zoning Officials and I know that your town and city wouldn't be the same without you. Every day you work to hold the community to the set vision. Thank you for your commitment to your municipality and your citizens. …
These people that enforce zoning conditions which can be a tough job but is essential in protecting our vision and quality of life.
Next I called all council members to hear of questions or concerns they might have had about the agenda for Thursday's council meeting. There were questions about a couple of the annexations and a question about the recreation programs proposal for Amberly. I met later in the day with Mayor Pro-Tem Bush and key staff members to go over the agenda items. Staff took in the information and adjusted their presentations at Thursday's council meeting.
Monday afternoon I talked with the Executive Director of CAMPO (Capital Area Metropolitan Planning Organization) to go over the CAMPO agenda for Wednesday. This was my first meeting as chairman and it is my duty to understand the agenda prior to the meeting to facilitate as efficiently as possible. Luckily for me, this agenda was straight forward.
Monday evening I met with the town manager for my weekly one-on-one. We were joined by Mayor Pro-Tem Bush and talked about various issues in town including the controversial gas station proposal at Kildaire Farm and Penny. IMHO, it is necessary for the applicant to work with the citizens and hear their questions and concerns. They might not always agree but they should understand each other before we make a decision. Based on the feedback I have been getting from the citizens in that area, many are confused and misinformed. It will be interesting to see how this proposal plays out. I am guessing it will be a close vote. My one-on-one meeting with the manager lasted a little over half an hour.
Monday night I attended a meeting of the Wake County Mayors Association. There were only six out of twelve of us in attendance which is rare. Joining me were Mayor Burns of Fuquay-Varina, Mayor Sears of Holly Springs, Mayor Matheny of Zebulon, Mayor Robertson of Knightdale, and Mayor Cawley of Morrisville. We provided updates about our respective municipalities. One discussion centered around the tragedy in Florida. Some residents are pressuring elected officials to make public statements, resolutions, etc. I have found that while this might make people feel good it is really not productive in making a change and sometimes can be counterproductive. I believe the best way to influence change is to personally contact the decision makers. Our meeting concluded after about two hours.
Wednesday – Public Transit Meeting
Wednesday I chaired my first meeting of CAMPO. On the agenda were 5 Public Hearings and 2 discussion items. The board unanimously approved all 7 items. Those items included the Unified Planning Work Plan, an Amendment to the Transportation Improvement Program, LAPP (locally administered project program – included important Cary projects), Safety Performance Measures and Targets, the 2045 Metropolitan Transportation Plan, staffing requests for the Wake Transit Plan, and bus plan project prioritization of the Wake Transit Plan. The meeting concluded after about 45 minutes.
Thursday – Cary Town Council
Thursday the council held its last regularly scheduled meeting of February. On the agenda were 11 consent agenda items, 6 public hearings, and 2 discussion items. The public hearing that drew the most speakers was the North Harrison Hotels which are proposed behind the Arboretum. 19 speakers talked over an hour mostly stating concerns. The main concern expressed was traffic and how people would enter and exit the proposed development. The applicant has agreed to have another public hearing to meet with the nearby residents and others with concerns.
Under discussion the council unanimously approved spending $120,900 of general fund balance for up-fit construction of program space in western Cary. Of that amount, $93,300 will ultimately be reimbursed to the Town through the lease. As a result we will now have recreational programming in Amberly.
The council also approved an amendment of the Memorandum of Understanding for the Cary Regional library and downtown parking project. The parking deck will now increase from 350 spaces to 600 spaces. In addition, development will be around the parking deck removing the need for art work facing the park. This will save $1.2 million which was appropriated for that purpose. That money will be used toward the $7 million needed for the project. Construction should begin this spring with a goal of completion by the end of next year.
After a long closed session the council meeting ended after about three hours.
Saturday – African-American Celebration
Saturday started with a private meeting in the morning. In the afternoon I joined council members Yerha and George at the "Future of Black History" event. The brochure for the event states that this event "explores contributions of black heroes and sheroes of the past and how those individuals have influenced our present day thought leaders of all races and cultures." The keynote speaker was Baltimore Police Chief Melvin Russell who is also a pastor. He presented a powerful message on the need for Black History now and in the future. The event also included performances and a panel discussion.
Saturday night I attended campaign celebration dinner for Ed Yerha. I have had the pleasure to know Ed for many years and we have participated in each other's campaigns. He is a great public servant with a passion for historic preservation. I am honored to serve with him.
Sunday – Realty Appreciation
Sunday I attended a retirement party for a friend that I met in 1997. The significance of this person to this journal is that he was the co-founder, along with me, of Citizens for Balanced Growth. That was really my introduction into Cary's government.
Sunday evening I attended Realty Appreciation party at the Mayton Inn. I was able to meet and talk with about 100 in attendance about current Cary projects and future projects. Many of these were new residents and business owners from China. I gave a short speech along with Representative Adcock and took pictures with dozens of people.
Town Manager's Report
The town manager's report for this week included:
Cary Finalist City for Bloomberg Mayors Challenge

We are thrilled to have Cary selected as one of 35 Champion Cities that will continue our work with Bloomberg Philanthropies during the next phase in competing for the $5 million grand prize. During this next phase, the Town will receive $100,000 in funding to begin a six month testing phase to build prototypes of our idea. Cary is trying to tackle the opioid crisis by generating opioid consumption data by measuring concentrations of opioid metabolites in sewage. The Town will work and contract with Biobot Analytics, a company that provides opioid testing and data analytics services. The goal for Cary, is that we will be able to use the data, in aggregate, to better inform public health officials and educators so that effective programs can be deployed to those at risk. Congratulations to Mike Bajorek and the entire team for leading this initiative!

Rap Session Focuses on Personal Connections 

How do we cope? When the world is full of so much negativity, how do we not lose hope?  That was the topic of conversation for the second in our series of Town of Cary rap sessions with Tru Pettigrew and Chief Godwin. Many of the attendees talked about how important it is to establish meaningful, empathetic and personal connections to helping people cope with tragedy.

2018 Citizen Survey Begins Next Weekend

Dr. Kevin Baker and his team will begin calling Cary citizens on Saturday, March 3 for our biennial satisfaction survey. Data collection will occur throughout March, with the Survey Report expected in May. A copy of the questionnaire is available for your reference at http://click.icptrack.com/icp/relay.php?r=22655462&msgid=116002&act=1EHX&c=1655857&destination=https%3A%2F%2Ftownofcary.box.com%2Fs%2Fsteefdaeto3hko8pmkz31espjegind3c.

Citizen Friendly Public Hearing Notices

As part of our continual effort to rethink how we do business, an interdepartmental group has looked at how we can better communicate our public hearing notice letters. The group recommends sending postcards as a more citizen-friendly approach that still provides our citizens with the information they need to know in a timely manner. If this approach goes well, we will look at revisiting our other notices such as QJ public hearings. If you have any questions, please contact Russ Overton.

Cary Awarded LAPP Grants

On Wednesday, CAMPO's Executive Board approved the FY19 LAPP grants awarding $6.3 million to Cary for four transportation projects. Those projects are:

Connected Vehicle Technology
Reedy Creek Phase 2
Higgins Greenway Phase 3
Downtown Cary Multi-Modal Facility

This is great news as we continue to make progress in these project areas!

NCDOT Projects in Cary

Ten Ten Road Widening:

NCDOT plans to widen Ten Ten Rd. from the Apex Peakway to Kildaire Farm Rd., to address delay and congestion along the corridor. Ten Ten Rd. will be widened from 2-lanes to 4-lanes with a landscaped median and will include 5′ striped bike lanes, 10′ wide street-side trail and sidewalk. The project will also replace the existing Ten Ten Rd. bridge over US-1. The Town's planned intersection improvements at Ten Ten/Kildaire Farm will be folded into NCDOT's project to help minimize construction impacts and leverage Cary funds. A public meeting is scheduled on March 1 from 4-7 p.m. at The Summit Church in Apex. Additional information can be found on the NCDOT project webpage.

US-64 Improvements Project:

NCDOT is exploring design options for alleviating and reducing accidents on US-64 from Laura Duncan Rd. in Apex to US-1 in Cary. Between 2012 and 2016, 800 crashes occurred within the project area. That is nearly double the state average for similar highways. The project will include interchanges at Laura Duncan Rd. and Lake Pine Drive. and a proposed pedestrian bridge adjacent to Apex High School. Meetings with project stakeholders are underway with a local officials meeting tentatively scheduled for May 2018 and a public meeting to follow. Additional information can be found on the NCDOT project webpage.

Lead at Swift Creek Elementary

While the drinking water we're supplying to Swift Creek Elementary is safe and high quality, Wake County has detected elevated lead levels and deemed the water unsafe. The problem could be linked to the facility's plumbing. The county is notifying parents, and we have supporting information on our website as a courtesy. We are continuing to monitor the situation, and the State is also involved.

Wake Transit Public Input

We wanted to provide another reminder that the FY19 Draft Wake Transit Work Plan is available for comment until March 12. The Town submitted several projects last October, all of which are included in the draft work plan. Input during this public comment period will inform recommendations moving forward as TPAC sub-committees consider Work Plan revisions.

The Proposed FY19 Wake Transit Work Plan will be presented to the TPAC on April 11, 2018. TPAC is expected to forward a Recommended FY19 Wake Transit Work Plan to the CAMPO Executive Board and GoTriangle Board of Directors for approval by June 30, 2018. Council will be asked to consider all proposed GoCary projects through the Town's budget process.

Town of Cary requested projects, totaling approximately $14M, which include improvements such as new bus service on Weston Parkway, Cary's regional operations and maintenance facility, and free fares for riders under 18.

For more details on the draft work plan and to provide comments, please visit the Wake Transit website.

Working with CSX to Address Crossing Repairs

CSX has recently completed upgrades to their tracks in Cary including adjustments to the railroad crossings at:

Academy Street
Harrison Avenue
Dixon Avenue
Old Apex Road
High House Road
Maynard Road
Laura Duncan Road

Staff worked to coordinate work with CSX including construction observations, providing timely traffic updates and communicating the importance of high quality work each crossing. After reviewing the work performed, staff is requesting that CSX come back to address areas of poor workmanship.

Staff will continue to monitor conditions at each crossing and work to address any additional repairs needed.

Water Valve Replacement at Cary Parkway & High House Rd.

From 7 p.m. tonight through 4 a.m. on Saturday, February 24, Town staff will be replacing a water valve in the intersection of Cary Parkway and High House Rd. This is being done in advance of the intersection improvement starting in early spring. There will be lane closures with detours posted, but emergency vehicles will be able to get through any direction needed. This information will be pushed to Waze for our citizens.

Downtown Mural at Trader Joe's

Our very own Trader Joe's is showing some love for Downtown Cary! The recently updated murals now include drawings of the Cary Arts Center, The Cary Theater and Page-Walker History Center. Check out the cool depiction of the carrot fountain.

Recognitions

We'd like to recognize the efforts of Judy Newsome and her team for another successful Share & Care event hosted last Friday at Herb Young. The event welcome approximately 200 people and represented 50 different agenecies/organizations around our community.

Ernie Ray, an employee in T&F, acted quickly when he was at Dick's Sporting Goods and saw a man suddenly slump to the ground unconscious. Ernie acted immediately directly others to call 911 while he checked for heart rate and began chest compressions and continued until EMS arrived. Our EMS contact on site tells us that the man is doing well now and Ernie was likely the main reason for that outcome. Way to go Ernie!
Emails From Citizens
Emails from citizens this week included:
Complaints about a gas station proposal at Kildaire and Penny.
Complaints about a gas station under site plan review on O'Kelly Chapel Road (this was approved long ago and is under staff site plan review)
A complaint about a traffic stop.
Concerns about proposed hotels on North Harrison
Next week will be a little slower than this week. Activities include staff meetings, the Kay Struffolino Park dedication, a Cary Matters taping and a Chamber Youth Leadership program.
Get In Touch
Well, that is all for this week. My next post will be on Sunday, March 4th.  Although I have Facebook and Twitter accounts those are not the best means of communications with me. Please send all Town of Cary questions or comments to Harold.Weinbrecht@townofcary.org and email personal comments to augustanat@mindspring.com.
---
From the blog of Cary Mayor Harold Weinbrecht. Photos by Hal Goodtree.
https://carycitizenarchive.com/wp-content/uploads/2018/02/HaroldBlog-Feb26-Featured.jpg
550
800
Harold Weinbrecht
https://carycitizenarchive.com/wp-content/uploads/2020/03/cc-archive-logo-450-v3.png
Harold Weinbrecht
2018-02-26 10:30:45
2019-12-08 15:30:04
Harold's Blog: Town Council Meeting, Kildaire Farm Gas Station and More