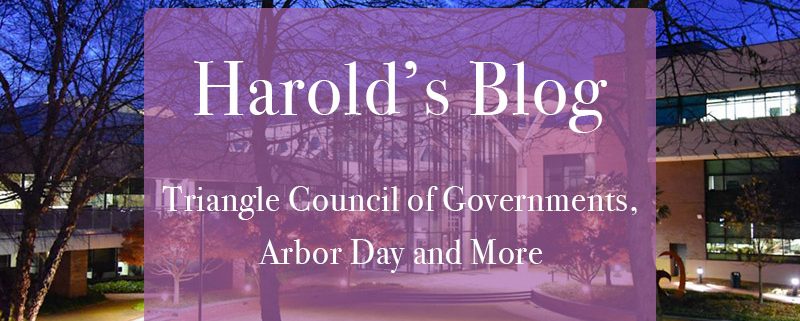 Cary, NC – With a couple of cancellations this week wasn't as busy as I anticipated.
Monday – Triangle Council of Governments
I started Monday with a visit to Carpenter Elementary to participate in Read Across America. I read the book "The Most Magnificent Thing" by Ashley Spires. The students were very attentive and comprehended the story well giving several lessons learned from the book. Then I spent about fifteen minutes answering questions. Before I left they presented me with a gift bag of goodies from Carpenter Elementary. Then I did a selfie with those students whose parents had approved of allowing pictures. It was a great time and I hope they invite me back in the future.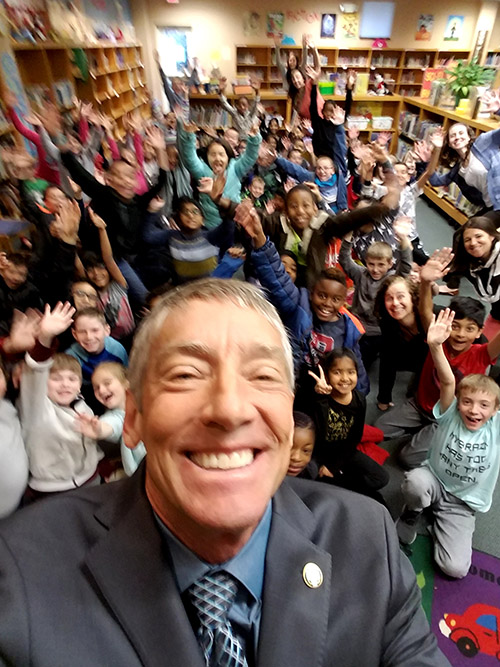 Monday evening I attended meeting of the TJCOG (Triangle J Council of Governments) along with several Morrisville officials. The purpose of the meeting was to remind everyone the benefits TJCOG provides to municipalities and to give information about TJCOG. We spent time discussing how TJCOG can help in the future. For example, while municipalities include regional planning in their municipal planning, the focus is on municipal planning. It would be nice to have a government entity that focuses on the region's planning and its challenges related to growth especially transit and transportation.
After the TJCOG meeting there was a joint meeting of Morrisville and Cary councils. The purpose of this meeting was to spend time with each other and develop relationships. Relationships are extremely important in working on problems together. We are lucky that both the Cary and Morrisville councils know each other and have strong relationships. We work together on many projects and issues and I look forward to working with them in the future.
Tuesday – Cary Consultants
Tuesday I attended a meeting of the Economic Development Committee. One of the consultant finalists for Cary's branding initiative made a presentation to the committee that lasted a little over an hour. Their four representatives did a great job in their presentation and were very informed on Cary's past and our future based on the Imagine Cary plan.
Later Tuesday I joined the entire council, chamber members, and others in a reception with the consultants. This was our opportunity to spend one-on-one time with the consultants to hear their thoughts and ideas. We will repeat this process with the other consultant finalist Tuesday.
Wednesday – Consul General of Mexico
Wednesday I was scheduled to meet with the Consul General of Mexico, Remedios Gomez-Arnau who wanted to introduce herself and discuss issues that could be interest. She had to cancel that meeting so we will reschedule it for a later date.
Thursday – State of Cary Address
Thursday I was scheduled to give the State of Cary address to the Fonville Morrisey realty team. They had to cancel and we have rescheduled it for May 1st.
Saturday – Arbor Day
Saturday I attended the Arbor Day celebration held at our downtown park. There were about 100 people at the event along with several vendors. This was the 35th consecutive year Cary has been awarded the Tree City USA designation by the National Arbor Day Foundation. To commemorate the day the town will plant a tree at Firestation #1 in honor of Ralph and Daphne Ashworth. At this event we presented a small plaque to the Ashworth family that will be placed at the base of the tree.
Sunday – Tobacco Road Marathon
Sunday I had the honor of giving welcoming remarks at the Tobacco Road Marathon and Half Marathon. After giving remarks I joined the runners and ran my first official half marathon ever. I ran it at about a 9 minute mile pace and finished at 1:58:54. It was a great day for me!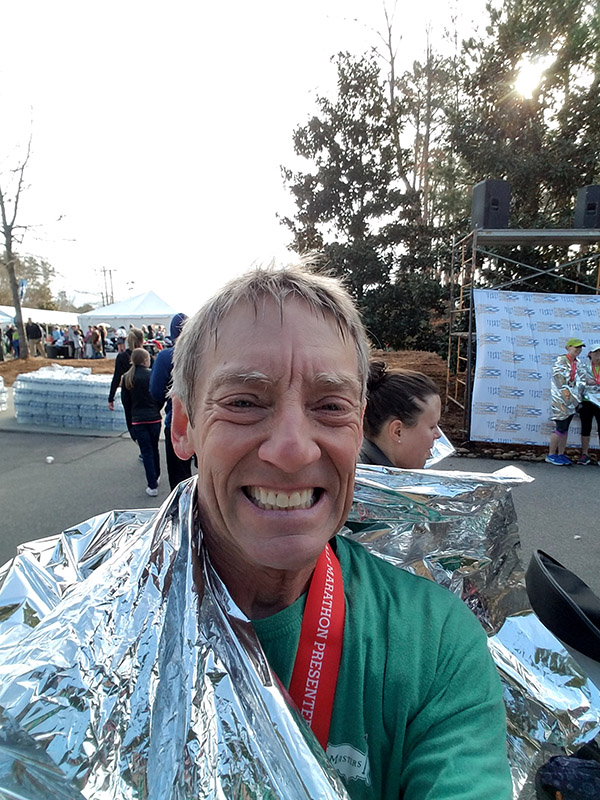 Town Manager's Report
The town manager's report for the town council this week included:
Annual Legislative Dinner & Upcoming Quarterly Meetings

On April 19 we will be hosting our Annual Legislative Dinner at Maximillians in downtown Cary. April 19 is already reserved on your calendar (there are no QJ cases for April). The 2018 Legislative Agenda will be coming to you at the April 5 regular meeting for your consideration.

In addition, we wanted to update you on the locations for the next two quarterly meetings. For the Q3 meeting in May we will be at The Matthews House, and for the Q4 meeting in August, WakeMed Cary Hospital has offered to host. We're very excited about spending time in our community in conjunction with our quarterly planning meetings. We will continue to update you with more specific information as the dates get closer.

Update on Amberly C-Store

The Amberly C-Store development plan is moving forward in the approval process. It's important to note the zoning history, plan review update, and staffs engagement with the citizen group.

The property is located at 355 Stonecroft Lane and has been zoned for several uses (including a gas station) for over 15 years. The Office & Institutional/PDD zoning for Hortons Creek Elementary School was approved in 2015.

A development plan for a convenience store (4,800 square feet), gas sales, and a car wash (1,000 square feet) was submitted in March 2017. After seven rounds of development plan review, the final signature plan set is due to be approved this week. This is the final step in the development plan review process. (Before construction, the applicant will need to apply for building permits.)

Staff has met with and maintained regular contact with the Concerned Citizens of Northwest Cary since October 2017. Caren Howley is the citizen group leader and Meredith Gruber is the staff liaison. The citizen group has raised safety and traffic concerns in their neighborhoods. A traffic calming meeting is scheduled with the group on April 13.

"The Cove" Innovation Space

Staff in Transportation and Facilities have decided to turn Lori Cove's office into an innovation meeting room. The space will have plenty of technology, including USB and plug-ins for laptops. An HD Smart TV/monitor with web cam capabilities, on-screen writing/note, and Skype availability will complement new carpet and a fresh coat of paint on the walls. Best of all, this space will be referred to as "The Cove" and will be a place where all employees can come together and create the local government that doesn't exist.

Big Ideas from BigFish

I'm glad each of you was able to meet the branding consultants from BigFish on Tuesday. I enjoyed their presentation to the EDC and think they offer a very strong design aesthetic. Thanks to all staff from throughout the organization who worked so well together to make the day a success.

Louis Stephens Drive Extension

NCDOT plans to extend Louis Stephens Drive from O'Kelly Chapel Road in RTP to Poplar Pike Lane in Morrisville. The project includes building half of the future 4-lane median divided road (the 2 northbound lanes) to be utilized as the interim 2-lane roadway. Staff submitted comments to NCDOT in December 2017 and February 2018, primarily focused on bike/ped facilities. Comments were coordinated with the Town of Morrisville staff to ensure consistency between jurisdictions. Since the December 2017 public meeting, the plans have been revised to include a 10-foot wide street-side trail on the east side of the road and pedestrian signals and crosswalks at the Louis Stephens Dr / O'Kelly Chapel Rd intersection have been requested. The Town of Morrisville has asked Cary to consider contributing to the Louis Stephens 10-foot street-side trail. When we receive the cost estimate from NCDOT we will discuss with Council for their consideration. A Town of Cary 12-inch waterline will also be coordinated as part of the project, eliminating the need for a separate construction project.

Additionally, RTP, Cary and Morrisville staff are meeting in early April to discuss the missing pedestrian link on O'Kelly Chapel Rd between Parkside Town Commons and Louis Stephens Dr. The missing link is located in RTP.

In total, the Louis Stephens Drive extension is estimated to cost $3 million. Right of way acquisition will begin the spring and construction is expected to begin in spring of 2019.

Sensory Screenings at The Cary

On Tuesday, The Cary Theater hosted 60 students from the Mariposa School for a sensory film screening. The students, parents and teachers watched two special screenings of Alvin & the Chipmunks. The screenings are part of a pilot that will present films in a sensory-friendly way for children and adults with disabilities. Thanks to Judy Newsome, Laura Morton, Joy Ennis and The Cary staff for making this happen!

WakeMed Soccer Partners

On Wednesday, NC Futbol Club (NCFC) and NC Courage recognized the Town for support at WakeMed Soccer Park at their annual Community Shield Luncheon presented by Summit Hospitality. Media, sponsors and VIP's were in attendance for the event which recognized the players from NCFC and NC Courage that are making a difference in the community.

Windbrooke Residents Receive Neighborhood Improvement Grant

Residents of Windbrooke recently applied and received a Town improvement grant to plant an entry garden and retaining wall in their community. Over two weekends, 24 neighbors united to plant 80 camellias, azaleas and junipers behind the new retaining wall. In addition to the physical and aesthetic improvements, an added benefit of the project was the new and rekindled neighborhood connections.

The Neighborhood Improvement Grant Program awards up to $5,000 in matching funds for projects that bring neighbors together through shared "sweat equity" to work on physical and/or organizational improvements to their community. The communities can use their volunteer labor, funds, or in-kind donations toward their part of the match. Over the past decade, the program has awarded more than $200,000 in matching funds, resulting in more than $600,000 in total improvements around Cary.

Hearts for Page-Walker 

In February the National Trust for Historic Preservation sponsored a special "hearts" initiative and the Friends of the Page-Walker along with other interested citizens participated. We are happy to report that the Page-Walker was selected as the only historic site in North Carolina to be featured on the NTHP webpage (look for #17) and delighted our citizens "heart" us so much!

Recognitions

Thanks to our remarkable Chiefs (Police & Fire) for getting out and about and representing Cary. This week Chief Cain presented at the Professional Credentialing Ceremony at the Excellence Conference for the Center for Public Safety Excellence in Orlando. And Chief Godwin represented the Town closer to home, at the School of Government, talking about our efforts with the Building Bridges initiative.

Additionally, Nicole Raimundo was participating in Women in Technology panel at the CIOSynergy conference in Charlotte on Thursday. The panel discussed the lack of women in technology and not only how to support that effort but also and open and honest discussion around working and promoting women in the workplace.
Emails from Citizens
Emails from citizens this week included:
A request for information on the future redevelopment of the old/current library.
Thanks from the Windbrooke neighborhood on the improvement grant.
Complaints about proposed hotels on Harrison Avenue next to the Arboretum.
A complaint about the proposed gas station at Kildaire and Penny Roads.
A complaint about a tree in a common area that threatens a house.
Complaints about the proposed gas station near Horton's Creek Elementary (it was approved 15 years ago).
A concern that a future pedestrian bridge will destroy the American Tobacco Trail.
Next week will be a busy one for me. Activities include a CAMPO preparation meeting, staff meetings, a meeting of the Wake County Mayors Association, a meeting of the 2nd branding consultant finalist, a meeting of CAMPO, the Erv Portman kickoff event, and the last regularly scheduled council meeting of the month.
Get in Touch
Well, that is all for this week. My next post will be on Sunday, March 25th.  Although I have Facebook and Twitter accounts those are not the best means of communications with me. Please send all Town of Cary questions or comments to Harold.Weinbrecht@townofcary.org and email personal comments to augustanat@mindspring.com.
---
From the blog of Cary Mayor Harold Weinbrecht. Photos courtesy of Harold Weinbrecht and Hal Goodtree.
https://carycitizenarchive.com/wp-content/uploads/2018/03/HaroldBlog-Mar19-Featured.jpg
550
800
Harold Weinbrecht
https://carycitizenarchive.com/wp-content/uploads/2020/03/cc-archive-logo-450-v3.png
Harold Weinbrecht
2018-03-19 13:06:43
2018-03-19 13:35:15
Harold's Blog: Triangle Council of Governments, Arbor Day and More