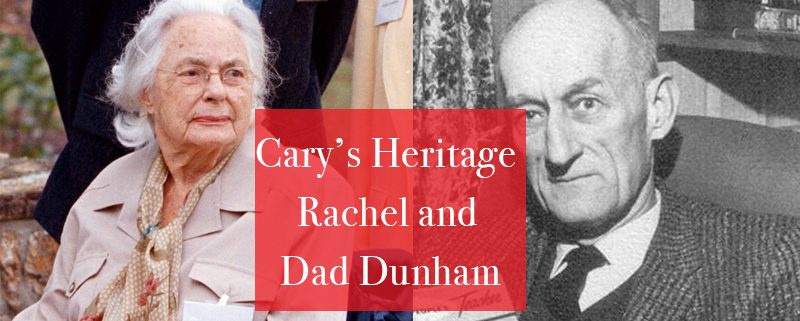 Cary, NC – Cary folks remember Rachel and Rufus "Dad" Dunham.
Rachel Dunham
As a child, I attended Cary High School and boarded at the Page-Walker Hotel. I graduated in 1924, then had a year of teacher training. I taught school in Goldsboro for two years, and then came back to Cary in 1927 to teach at Cary High.
My husband, Dad Dunham, was born in Bladenboro, North Carolina. His name was Rufus Sheldon, but he never used Rufus. He put R. Sheldon down as his formal name. He was bald-headed when he started college, so everybody called him "Dad." He worked his way through State College, then started teaching at Cary High School after he graduated with a bachelor's degree in 1930. He taught agriculture to the boys. In 1955, he got his master's degree in propagation of plants. He taught at Cary High for forty years.
We met in the teachers' cafeteria there. All the teachers wanted him even though he was anything but good looking. I was a few months older than him and he always bragged about it. He was a fine person, a very jovial man. Always happy. After we married, we built our house in the 1930s on Kildaire Farm Road. Sheldon Jr. was born in 1934. He graduated from Chapel Hill with a doctorate in Germanic languages, and he taught in Virginia. Our daughter Susan was a librarian at Woman's College in Greensboro. Dad died in 1997.
Carl Mills
I was the principal of Cary High School, beginning in 1953. At that time, we only had two vocations, agriculture and home economics. We needed to offer vocational training so our seniors would not move away to find work, so we had to keep the agriculture program. Dad Dunham was the guy who made that move.
We got with him and designed a horticulture-type program. Instead of having farm projects or 4-H projects, the students would have projects at home. Mr. Dunham was a prince. He was just as kind to all the kids, laughing, wise-cracking with them. It was a labor of love when dealing with kids.
Clyde "Sonny" Keisler
Mr. and Mrs. Dunham lived on Kildare Road, where Glenaire Retirement Community is now. As the agriculture teacher, Dad had a lot of impact on all his students, not just by what he taught, but by the person he was.
He was a good role model for a lot of people. I didn't take agriculture, but he taught Sunday School at my church, and his influence was very significant.
Isobel Stephens
My husband had Dad Dunham as the agriculture teacher at Cary High. Mrs. Dunham and I became very close friends when I was an adult. I used to ride with her when she would give talks and we went to the music series together.
Ms. Rachel was always interested in plants and flowers, as far back as I remember. I became like a second daughter to her. The Dunhams were really great people. Dad Dunham had the driest sense of humor. I loved both of them. I just felt like I had another set of parents.
---
Story by Peggy Van Scoyoc. Much of Cary's Heritage is taken from her book, "Just a Horse-Stopping Place, an Oral History of Cary, North Carolina," published in August, 2006. The book is a collection of oral history interviews conducted between local citizens and Friends of the Page-Walker Hotel. The rest comes from later oral history interviews with local citizens. Photos courtesy of Peggy Van Scoyoc and Kris Carmichael.
https://carycitizenarchive.com/wp-content/uploads/2018/03/CaryHeritage-Mar14-Featured.jpg
351
800
Peggy Van Scoyoc
https://carycitizenarchive.com/wp-content/uploads/2020/03/cc-archive-logo-450-v3.png
Peggy Van Scoyoc
2018-03-20 09:30:29
2018-04-10 16:01:40
Cary's Heritage: Rachel and Dad Dunham