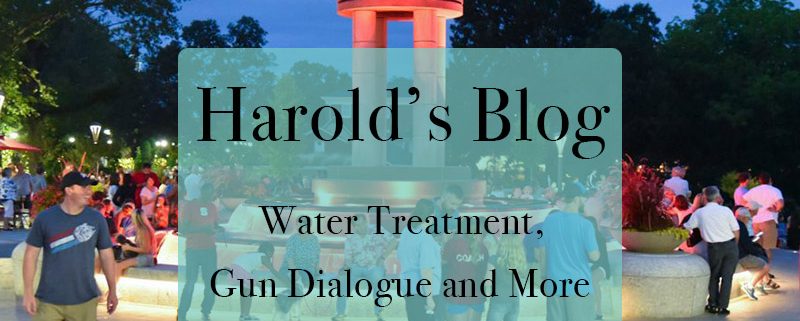 Cary, NC – This week consisted mostly of meetings.
Monday – Water Treatment
Monday I facilitated two meetings at Apex town hall. The first meeting was the Cary Apex Water Treatment Advisory Committee which makes decisions on our water treatment. Cary and Apex are the only two voting members. At this meeting we heard about the water treatment expansion to 56 mgd (million gallons a day) which will go online soon. Currently our maximum demand on peak days is around 40 mgd. Per capita usage has been going down for years and has now leveled off.
It appears this expansion should last ten years. At this meeting we approved the fiscal year 19 capital and operating budget for water treatment. The total operating budget was $9,661,563 with Cary's share at 77% or $7,439,404. This includes all treatment plant and finished water pumping operation, maintenance and management costs. The budget was approved unanimously.
The second meeting was the Western Wake Partners Policy Advisory Committee which makes decisions on our wastewater.  Cary, Apex, and Morrisville are the voting members. The operating budget was $4,436,800 with Cary's share at $2,976,888. The budget was approved unanimously.
Tuesday – Cary Volunteering
Tuesday's first meeting was with a local pastor. He was interested in volunteer opportunities for his congregation. We talked about volunteer opportunities with the town (http://www.townofcary.org/connect-engage/volunteer) and in the community. Some of the community volunteer groups include Dorcas ministries, Center for Volunteer Caregiving, Interact, etc. You can see a good list at Cary Magazine (https://www.carymagazine.com/nonprofits/). Another great non-profit list can be found at https://greatnonprofits.org/city/cary/NC.
Later Tuesday I met with two students from Cary Academy that wanted to talk about local government as part of their Capstone Project. We had a great discussion that lasted over an hour. We talked about how local government works and why people don't participate in local elections and local government. I really enjoyed talking with them and wish them the best in their project.
Wednesday – Gun Control and Students
Wednesday I joined Police Chief Godwin in a meeting with two student representatives from Green Hope High School. The focus of the meeting was on gun control and school safety. We spent time talking about how this issue is more than just gun control and includes important issues like mental health.
We discussed a possibility of creating a dialog at the school to address the safety fears and concerns of some of the students. We also talked about the decision makers in the gun control debate. They expressed interest in pursuing the political side of this issue and getting involved in supporting candidates that favored gun control. It was a great meeting and I am so proud that these two students, a Freshman and a Sophomore, are involved in their school, government, and their community.
Thursday – Police Ceremony
Thursday I joined Mayor Pro-Tem Bush, and council members Frantz, Yerha, and George for the Police Awards and Promotion Ceremony. At this ceremony several officers were presented awards for going beyond the call of duty and in some case saving lives as a result. There are no words to express how important all the men and women in our Police Department mean to us. Not only are they committed to keeping us safe but they are dedicating in promoting a partnership with the community. If you see an officer please tell them thank you for their service. On a somewhat bitter-sweet note, K-9 officer Tabor was retired after 7 years of service. In his career he had several major achievements. He will now live out the rest of his life with his handler as part of his family.
Town Manager's Report
The town manager's report for this week includes:
Taking Steps With Stormwater 

As we continue to take a new, more proactive approach to stormwater, this past week Public Works crews addressed an area identified within the Walnut Creek Basin. The crew unclogged storm drains on York Street in the Mobile Estates neighborhood. The photos show the before and after storm drain.

This proactive maintenance program is part of our comprehensive, adaptive approach to stormwater. This initiative is being led by an interdepartmental team as well as with our citizens. The Downtown Stormwater Working Group will be getting back together in April for a walking tour of downtown to observe cleaning operations and other stormwater related challenges. We are also working on the development of the Walnut Basin pilot area as well as exploring open space concepts as they relate to stormwater.

Working Together on the Budget

Thanks to the leadership of Karen Mills and her budget team, Department Directors are working together to prepare a single group FY 19 budget recommendation for my consideration. I understand that this is a first for the organization, and it speaks to the tremendous effort the Directors are making to create the local government that doesn't exist. The Journey continues…

Sharing the Retreat Video

To help share the Council-Staff Retreat experience with the rest of the organization, Department Director teams are hosting retreat video viewing sessions with interested staff. The sessions provide not only important context for the video but also an opportunity for a facilitated discussion of how everyone is experiencing the Journey.

Cary Earns Another Smart Award

Council Members Bush and Robinson, as well as Nicole Raimundo, Dan Ault, Paul Kuhn and Terry Yates attended the Smart Cities Connect Conference in Kansas City, MO to learn, present and accept an award around Smart City Technology. This conference is recognized as the largest gathering of Smart City IoT technology leaders in North America. During the conference, Dan served on a panel focusing on Citizen Life and Smart City Governance. Cary was honored at the awards gala as a 2018 Smart 50 Award winner in the network category for our Simulated Smart City, which is our smart campus program. Terry presented details about the program during the conference poster session.

Talking Wastewater & Opioids on NPR

Mike Bajorek was interviewed by NPR's Meghna Chakrabarti for the program Here and Now on Wednesday at the WUNC studio on the American Tobacco Campus. The interview, about Cary's pilot testing wastewater for opioids, was aired Thursday afternoon.

Herb Young Roof Replacement

As part of our continual focus on maintenance of our existing facilities, Herb Young Community Center is in the midst of a roof replacement project. Materials are being loaded onto the roof to begin replacement when we return to work on Monday.

Data Collection Complete

Dr. Baker and his team from BKL Research have completed and begun analyzing the 401 surveys that will comprise the 2018 Biennial Citizens Satisfaction Survey Report. Analysis, findings, and report creation will take about six weeks.

Cary Joins RDU For Sky Drill

Several staff from Public Information assembled at RDU Airport on Saturday for a full-scale, live action drill of a two-plane crash. The four-hour drill placed staff in various emergency communications roles to test how local agencies coordinate, respond and support each other in times of a multi-jurisdictional crisis. In addition to the 20 or so regional crisis communicators, about 200 first responders physically simulated an airfield response with live victim actors. The drill is mandated per the FAA to hold airport certification. The staff from both Cary and RDU Airport mutually benefited from participating and both left the day with ideas to improve multi-agency communication and coordination. RDU was incredibly hospitable and we look forward to future exercises.

Green Level Church Road Study Kicks Off

The Green Level Church Rd. feasibility study kicked off this week with an internal steering committee meeting with the Town's consultant firm, SEPI Engineering. An implementation item of the Imagine Cary Community Plan, the study will develop an overall vision for the corridor and recommend appropriate, context-sensitive transportation solutions that can accommodate future transportation and greenway needs, serve motorists, pedestrians and cyclists, and fit the unique historic context of the area. Next steps in the planning process will include data collection and meeting with study area stakeholders.

Electronic Plan Review for Building Permits Goes Live

On Monday, the Town implemented and made electronic plan review for building permits an option for our design professionals, contractors, and citizens. Electronic plan review for building permits saves our design professionals, contractors, and citizens in the printing costs of plans and reduces travel to town hall since plans can be submitted remotely, 24/7. In addition, the program improves staff efficiency during the review process and allows staff to access approved plans electronically from the field. Since electronic plan review for building permits was an upgrade in service routinely requested by our design professional and contractors, the initiative has been very well received.

Woodlyn on the Green Apartments, LLC v. Town of Cary

Woodlyn on the Green Apartments, LLC v. Town has been settled. This action was brought as the result of a 2016 water line break that resulted in damage to the Apartment Complex's parking lot. The Complex sought reimbursement from the Town for $60,000. This matter was settled in mediation and the case was dismissed with prejudice on March 26. With this final settlement, the litigation hold imposed on records related to the case has been released and the Town's normal retention schedule for such records applies.

Recognitions

In preparation for the U.S. Men's national game against Paraguay on Tuesday, the Town's turf crew had the chance to spotlight their work for the Sports Turf Managers Association. The game was a success with approximately 10,000 soccer fans in attendance. Great work to everyone – especially, PW, PD, PRCR – who had a hand in making the night successful.
Emails From Citizens
Emails from citizens this week included:
Complaints about the proposed gas station at Kildaire and Penny Roads.
Complaints about the approved gas station near Hortons Creek Elementary (approved 15 years ago).
A question about town inspection of ponds and associated dams.
A question about the new developments on Urban Drive.
A concern about Green Card status.
Next week will be busy. Activities include staff meetings, a meeting of the Economic Development Committee to choose a contractor to recommend, a social meeting with advisory board members, a town council meeting, a Joint MPO Executive Board meeting, an event for Cary Fit Month, and an event to open the Downtown Farmers Market.
Get In Touch
Well, that is all for this week. My next post will be on Sunday, April 8th.  Although I have Facebook and Twitter accounts those are not the best means of communications with me. Please send all Town of Cary questions or comments to Harold.Weinbrecht@townofcary.org and email personal comments to augustanat@mindspring.com.
---
From the blog of Cary Mayor Harold Weinbrecht. Photos courtesy of Harold Weinbrecht and Hal Goodtree.
https://carycitizenarchive.com/wp-content/uploads/2018/04/HaroldBlog-Apr2-Featured.jpg
549
800
Harold Weinbrecht
https://carycitizenarchive.com/wp-content/uploads/2020/03/cc-archive-logo-450-v3.png
Harold Weinbrecht
2018-04-02 13:01:41
2018-04-02 13:01:50
Harold's Blog: Water Treatment, Gun Dialogue and More