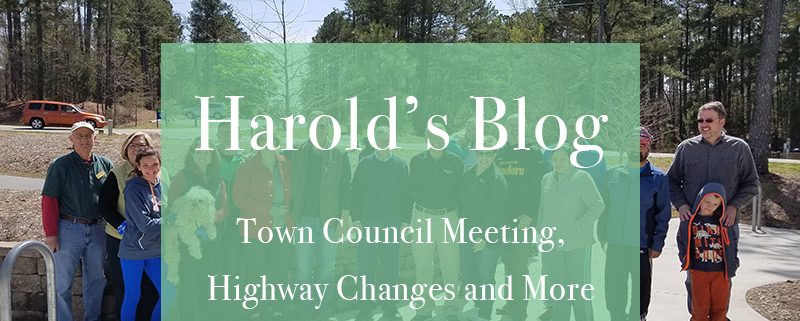 Cary, NC – This week had events or meetings almost every day.
Monday – Planning for the Week
Monday started with attempts to contact all council members to hear of concerns or questions about Thursday's regularly scheduled council meeting agenda. I was able to contact all council members but one and there were no major concerns. Later in the day I met with management and directors to go over the agenda. Following the meeting about the agenda I met with the deputy managers and public information officer to talk about gas station issues.
Tuesday – Cary Branding
Tuesday the Economic Development Committee met to discuss the two consultant firms being considered for our branding initiative. We talked about the pros and cons of each firm. Some of the reoccurring discussion points included process, involving the citizens, creativity, and deliverables. After about half an hour the committee unanimously agreed on a firm to recommend to the council. The next step will be a council vote on the recommendation. That will likely be at our next regularly scheduled council meeting on April 26th.
Wednesday – Citizen Advisory Boards
Wednesday I joined several council members in a social activity for our advisory board members. Citizens that volunteer for our advisory boards are very important in our efforts to represent the wishes of our community. They are an invaluable part of the decision making process and one of the reasons Cary is such a great place. Thanks to all of our advisory board members.
Thursday – Town Council Meeting
Thursday the council held their first regularly scheduled council meeting of the month. The agenda included 5 consent items, 5 public hearings, and 2 discussion items. The public hearing that had the most speakers was the rezoning at Chapel Hill Road and Maynard. Many speakers stated that density, traffic, and school overcrowding were reasons to deny this request. Council will vote on this probably in June. The Campbell Road rezoning to allow a storage facility generated discussion among council members. While a storage facility is not the ideal development in a gateway area to town, it is one of the few development types that might work with the limited access and traffic. This will also come to council for a decision in June. Under discussion the council unanimously approved our legislative agenda. Most of our agenda focuses will be to ask the legislature not to pass laws that will hurt Cary. It is sad that we are in this position rather than being in a position to ask for things that can help our citizens.
Our last discussion item was the consideration to purchase, demolition, and preserve as open space of 113 and 117 Jodhpur Drive because of flooding issues. That is, these properties were built in a flood plain and there are no options that will prevent flooding.  So under the Town Private Drainage Assistance Policy and North Carolina General Statute 143-215.55 we were considering the purchase. After much discussion several council members felt that offering tax value for the properties might not be sufficient. So the item was tabled until staff comes back with more information about potential purchasing options.
Friday – Highway Widening and Railroad Grade Separation
Friday I participated in a joint meeting of CAMPO (Capital Area Metropolitan Planning Organization) and DCHC (Durham Chapel Hill Carrboro Metropolitan Planning Organization) executive boards and staff directors. We discussed the recently released scoring of SPOT (Strategic Transportation Prioritization). One project of interest in the next five years (2020 – 2024) is the US 1 widening to six lanes from US64 to NC55 which is estimated at $58.3 million. Projects of interest in the six to ten year time frame (2025 – 2029) include a railroad grade separation project for Trinity Road and a railroad grade separation project at Southwest Maynard. Other topics discussed at the meeting included an upcoming joint meeting of CAMPO and DCHC, and a joint legislative agenda. The meeting lasted over one and a half hours.
Sunday – Cary Fit Month
Sunday I joined Mayor Pro-Tem Bush, council members Yerha, Robinson, and George at the New Hope Trail Head Park for the kickoff event for Cary Fit month. This event was originally scheduled for Saturday but was moved due to the rain. As a result the turnout was light. However, the entire group walked two miles. Look for more events throughout the month of April. Next Saturday will be the 40th Cary Road race in downtown Cary. Hope to see you there.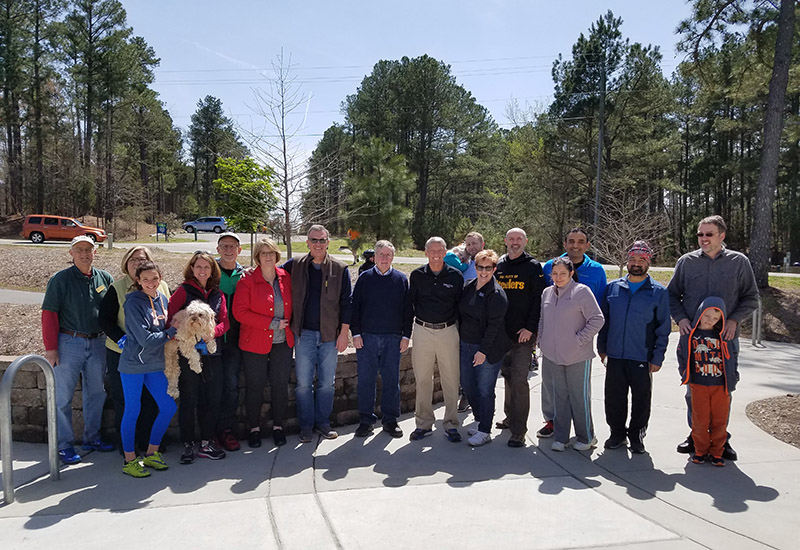 Town Manager's Report
The town manager's report for this week included:
Cary Pilots Financial Sustainability Program 

The Town was selected as one of 20 government units from across the country to study fiscal sustainability in a pilot program led by the Government Finance Officers Association. Karen Mills and Stacey Teachey traveled to Chicago to participate in training and planning sessions. The program uses Nobel-prize winning research to look beyond budget numbers and address adaptive issues surrounding decision making behaviors and processes that lead to financial sustainability.

Cary Attends Salesforce World Tour in D.C.

On Wednesday, an interdepartmental group of staff traveled to Washington, DC to attend the Salesforce World Tour. This one day event provided an opportunity for fellow "Trailblazers" to connect and hear the latest announcements. Throughout the day, staff was able to learn how new products can complement our existing efforts on the Salesforce platform. The Town represented one of the largest local government organizations in attendance and was recognized for innovative efforts in using Salesforce for initiatives such as 311, the Public Works work order system, and the Project and Services Catalog. This event marked a huge day of innovation as we continue our journey to become the local government that doesn't exist.

Wake Co. Hospitality Tax Update

As you recall, in February we submitted our project requests for the next round of hospitality tax funding. The Town submitted for projects at WakeMed Soccer Park and at Koka Booth Amphitheater. Our projects were scored in the second tier, which is a reduced funding amount than was requested. We will be reviewing the information to see how this might affect the projects moving forward and will keep Council informed.

Trinity Road Study Kicks Off

The Trinity Road alignment study, which was kicked off last week, is an implementation item from the Imagine Cary Community Plan ACT Chapter. Located in the Eastern Cary Gateway special planning area, the study will determine a final alignment for the Trinity Rd. extension between E. Chatham St. and the Fenton Development site based on value decisions weighing future development planned for the area and potential impacts to the existing WakeMed Soccer Park site.

Connectivity to the existing roadway network will also be studied, including analysis of two future grade separations along Trinity Rd., one at Chatham St. / CSX and one at Cary Towne Blvd. The overall project is anticipated to conclude in early 2019; however the project tasks will be phased with the Trinity Rd. alignment taking priority due to pending development.

Triangle Community Coalition Annual Survey

A small group of staff met with the TCC (Triangle Community Coalition) to go over the results of their annual member survey. We received a sneak peak of the results and we're pleased that overall the Town improved in every category measured. We are told the survey had 49 responses. Next week the TCC will be host one of their Coffee Chats to go over the results with Council.

TOC Website Receives Award

We're pleased to announce that the Town's 2017 website overhaul project placed silver in the Horizon Interactive Awards in two categories, Towns & Municipalities and Government Agencies. Congratulations to the website overhaul team!

April is Fit Cary Month

We had a great turnout and great weather for our first Wednesday Walk as part of our Fit Cary initiative. A variety of healthy programs are planned during the month of April to coincide with WakeMed employee screenings that take place throughout the month.

Rotation of Downtown Sculptures

Some of our public art sculptures located in downtown Cary are in the process of being removed to make way for new pieces. Look for new sculptures to be coming to Town in early June.

Wyland National Mayor's Challenge

The Town of Cary is participating in the Wyland National Mayor's Challenge which provides citizens an avenue to pledge their commitment to preserve and protect the environment. It's a friendly competition between municipalities during the month of April, and many cities across the nation join in on the fun. We'll be posting about it on social media so that our community can catch the wave and show the nation how Cary conserves.

Recognitions

On Wednesday, The Town celebrated its 147th birthday! The Town was incorporated by the N.C. General Assembly on April 3, 1871. Planning is already underway for the milestone 150th birthday celebration in a few years' time.

Congratulations to Dan Elliott, in our Purchasing Division, for being recognized as a Certified Lifetime Local Government Purchasing Officer at the Carolinas Association of Governmental Purchasing. This level certification is achieved after successfully passing examinations combined with experience. The Lifetime Certification is granted to individuals that have been in public purchasing for more than 15 years of service. Congrats, Dan!
Emails From Citizens
Emails from citizens this week included:
A complaint about the Yates Store tunnel project.
Several complaints about the proposed apartments at Maynard and Chapel Hill Road.
A complaint about the temporary electrical lines at Cary Parkway and High House Road.
A complaint about an approved gas station next to Hortons Creek Elementary.
A complaint about our branding initiative and about how Cary is becoming undesirable.
Next week's activities include staff meetings, a taping of Cary Matters, a meeting with the Consulate General of Mexico, a kickoff for the School of Government class, a presentation of the State of Cary address for the Prestonwood CC group, a dinner with realtors, and the 40th annual Cary Road Race.
Get In Touch
Well, that is all for this week. My next post will be on Sunday, April 15th.  Although I have Facebook and Twitter accounts those are not the best means of communications with me. Please send all Town of Cary questions or comments to Harold.Weinbrecht@townofcary.org and email personal comments to augustanat@mindspring.com.
---
From the blog of Cary Mayor Harold Weinbrecht. Photos courtesy of Harold Weinbrecht.
https://carycitizenarchive.com/wp-content/uploads/2018/04/HaroldBlog-Apr9-Featured.jpg
550
800
Harold Weinbrecht
https://carycitizenarchive.com/wp-content/uploads/2020/03/cc-archive-logo-450-v3.png
Harold Weinbrecht
2018-04-09 13:02:48
2018-04-09 10:06:59
Harold's Blog: Town Council Meeting, Highway Changes and More