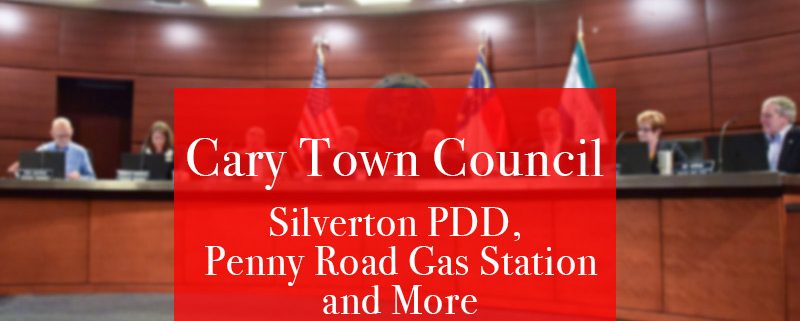 Cary, NC – The latest Cary Town Council meeting went into very late hours as several items on the agenda saw significant comment from residents – some controversial and some not.
Note: Councilmember Jennifer Robinson and Mayor Pro Tem Lori Bush were not at this meeting as they were away on Town of Cary business.
Kildaire Farm Road/Penny Road Gas Station
One of the longest-running items on the agenda, the rezoning of 3.3 acres on Kildaire Farm Road and Penny Road to expand a gas station to include more filling positions and a larger store has been in the works for around 14 months as it came up for a vote at the Thursday, May 3, 2018 Cary Town Council meeting. The proposal would have a maximum of 18 fueling positions (18 vehicles can fill up at one time), a maximum store size of 4,800 square feet, conditions to reduce stormwater runoff, a privacy fence, buffers and building setbacks.
The Planning and Zoning Board voted 5-4 in favor of the rezoning and Board Chair Mark Evangelista told Town Council the vote took place before the applicants switched to 18 positions instead of 20. Evangelista said those who voted no said 20 positions was too many and also cited traffic concerns. Those who voted yes, Evangelista said, said the conditions and stormwater mitigation put in place by the applicants was enough to show they had worked to make this an appealing project.
At Public Speaks Out, two residents spoke out against the proposed rezoning, both saying the size of this proposed filling station is inconsistent with the size of the surrounding neighborhood. Also, one speaker said in the rezoning process, there is no advocate for the neighborhood to work with the developer. Also speaking was the lawyer for the applicant who said the conditions show that applicant is working in good faith. The lawyer also said the neighborhood meetings to discuss the project have not been well attended by residents.
In Town Council's discussion, Councilmember Don Frantz said these two roads will grow to be major thoroughfares in the future and a gas station of that size will be appropriate then. Also, he said he did not feel it would generate more traffic since there are ways in and out of the proposed station and also Frantz said he thought it unlikely that people would travel significant distances to get to a  gas station when most people just go where one is convenient. He also cited the conditions put in place as a sign of the applicant working to create a more appealing project.
"I think every concern they heard that they can address, they have addressed," Frantz said.
Councilmember Jack Smith, whose district includes the site in question, said the project in question is still too big for this area. At the same time, all councilmembers talked about how they were getting more and more emails from residents and Mayor Harold Weinbrecht said residents were now starting to get active. Weinbrecht suggested tabling the item so there can be one more public hearing now that they feel interest is growing, in hopes of getting questions answered and information spread.
"Right now, I can't support it until everyone has their say," Weinbrecht said. Town Council voted unanimously to table the item.
Silverton PDD Amendment
The item that saw the most speakers at Public Speaks Out was the final Discussion Item on the agenda: an amendment to the zoning map on NW Cary Parkway and Evans Road to change roughly five acres from Office and Institutional zoning to allow for townhomes with a density of seven dwellings per acre. At the Thursday, October 26, 2017 Town Council meeting, two large parcels nearby were rezoned from Office and Institutional to residential.
The Planning and Zoning Board voted 4-3 against the amendment, with Evangelista saying the "no" votes cited a lack of land for office in Cary and the "yes" votes saying this spot has not been developed for an office in a long time so it is not actually a good location for offices.
There were nine speakers at Public Speaks Out to talk about this item. Six speakers were nearby residents who were opposed to the amendment, citing mainly the desire to have this be office and institutional land, with some talking about runoff on the hilly land and increased traffic from residents. Speakers also said the Imagine Cary plan says this should be office and institutional land, although town staff said the Imagine Cary plan also identifies this area as a Traditional Neighborhood in the Future Growth Framework map. Three speakers were in favor of the plan, with the land owner and the vice president of land for the applicant both saying this land has not attracted offices in the past and it is a good fit and density for residential. Also speaking in favor was a traffic engineer for the applicant who said both uses here – residential and office – would generate equivalent traffic.
There was relatively little discussion among Town Council when the time came to vote on the item. Many seemed split on the issue but the fact that so much office and institutional land nearby was changed to residential already seemed to encourage them to want to hold onto the existing office and institutional land here. In the end, Town Council voted 4-1 against the amendment, with Councilmember Ken George voting against the rejection.
Other Discussion Items
Two of the other Discussion Items on the agenda were funding for greenways in Cary. One agreement was for $6.6 million for improvements on the Black Creek Greenway with NC Department of Transportation funds. Depending on what additional funds can be secured from NCDOT, Cary will have to play between $1.6 to $2.6 million of its own money on this project.
The other project was funding for the Swift Creek Greenway, which will link the greenway network from Bond Park to Koka Booth Amphitheatre. NCDOT will fund $240,000 of this project with Cary paying $60,000. Both projects were approved unanimously.
The only other Discussion Item was to allow more on-street parking along Keisler Drive, which Town Council approved unanimously.
Green Level West Road/Pine Rail Lane Rezoning
One of the three Public Hearings on the agenda, this is a proposal to rezone 80 acres not currently part of Cary (town staff said an annexation request will come up for a vote at a future meeting) to Transitional Residential Conditional Use with a maximum of 220 dwelling units at a density of 2.7 units per acre. This would be a mix of housing types, including townhomes, detached homes and more. Conditions would keep the townhomes in 1o acre clusters. The applicant spoke briefly and said this area is suited for a mix of housing types.
One other issue at play is Wimberly Road is near the Southern border of this project and there are conditions to extend this road through the area in question. Also, the road extension will run it through two houses already on the property.
There were four speakers at Public Speaks Out, including two residents who said there are endangered species in the area and old trees are already being cut down around here. Also, there were concerns about stormwater runoff down the hill onto nearby American Tobacco Trail. Also speaking was one of the homeowners who would have the Wimberly Road extension run through her property and she expressed her concerns with that, while also adding that she would want a buffer and possible fence with the surrounding development if approved. The developer also spoke and said he wants to see if the town can stop the road extension from going through.
Before the proposal went to the Planning and Zoning Board for their recommendation, Weinbrecht pointed out that the Wimberly Road extension is funded through CAMPO so it would likely be 15-20 years away from being extended.
Glenaire Expansion
This Public Hearing was for a proposed rezoning of nearly 12 acres at the intersection of Kildaire Farm Road and W Cornwall Road to make room for a new Glenaire space. This would be a collection of five buildings with an 80 foot maximum height and conditions to include a sidewalk on one side of the road and a pedestrian-only connection to Rose Street. The rezoning would take part of the nearby shopping center but the Food Lion that is there appears to be unaffected.
Eight residents spoke about the proposal, seven of whom were largely if not entirely positive. Speakers included current Glenaire residents who spoke to the company's quality, business community representatives who said senior residents help generate economic activity and neighbors of Glenaire who talked about their positive experiences. One speaker in favor did say he did not feel there were enough parking spots in the plan. There was one speaker who was hesitant about his support because of the size of the building near his property but he seemed happy with Glenaire being next to him as opposed to some other possible uses. That same speaker also said he had concerns about stormwater generated.
Having a Public Hearing with so many speakers who all talk largely positively is rare, as Town Council remarked.
"In all my years, I can't remember a Public Hearing that warms my heart as much as this one," Frantz said.
The Public Hearing was sent to the Planning and Zoning Board for their recommendation.
Other Public Hearing
The only other Public Hearing was about new utility development fees. A new state law has municipalities reevaluate their utility development fees and then conduct a Public Hearing before making a decision. The new fees would get rid of reclaimed water development fees and make them a part of sewer fees while also lowering the maximum fee for residential buildings and increasing the maximum fee for non-residential buildings. Karen Mills with Cary's finance department explained those last two changes by saying demand for non-residential buildings is increasing in Cary while residential is dropping.
There were no speakers for this Public Hearing.
Other Town News
The meeting started with a presentation of the Bike Month Proclamation and during Public Speaks Out, three speakers talked about cycling, including representatives for WakeUP Wake County and Advocates for Health in Action. Both thanked the town for their bicycle advocacy, while the WakeUP Wake County representative said more money should be spent on sidewalks each year. One other speaker, a local resident and cyclist, also spoke to thank the town for its bicycle advocacy but also asked for painted bike lanes as he said the sharrows are insufficient.
There was also a presentation for Building Safety Month.
Also speaking at the meeting was Marla Dorrell who announced Marla Dorrell Park is adding a misting water feature to the Kids Together Playground before presenting the town with a $46,000 check for said feature.
---
Story by Michael Papich. Photos by GoogleMaps and Hal Goodtree.
https://carycitizenarchive.com/wp-content/uploads/2018/05/TownCouncil-May4-Featured.jpg
483
800
Michael Papich
https://carycitizenarchive.com/wp-content/uploads/2020/03/cc-archive-logo-450-v3.png
Michael Papich
2018-05-04 13:02:28
2018-05-04 11:37:41
Cary Town Council: Silverton PDD, Penny Road Gas Station and More