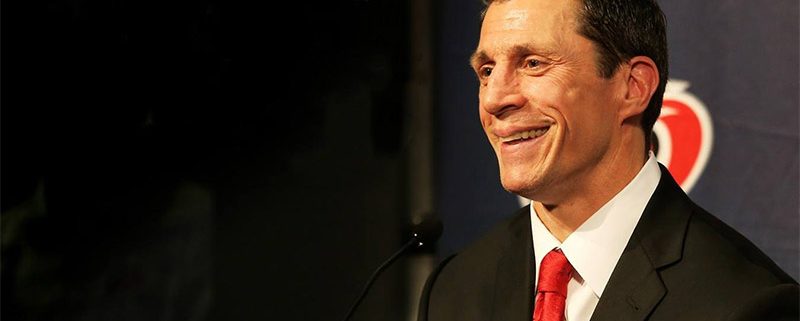 Cary, NC – Rod Brind'Amour was hired as the next coach of the Carolina Hurricanes by both Tom Dundon and new President and General Manager, Don Waddell. There's no question Roddy was the best captain and leader the Canes had which is not to say ousted GM Ron Francis wasn't a great captain – he was a great captain – but Roddy's leadership by doing more than he asked of anyone, in the locker room, on the ice, with fans or in the workout room was special.
He was a player's player and will be a player's coach.  It was reported that after Bill Peters resigned and almost before Roddy said, "Start the search for a new coach with me," players immediately started the campaign for Roddy as coach. If he leads workouts, the Canes would be the best fit team in the NHL.
Waddell As New GM
Don Waddell was also promoted to President and GM despite saying a few weeks earlier he did not want the job. Truth be known, the Canes jumping to #2 for the upcoming draft and the relationship he's developed with Dundon, along with Dundon's style, had a lot to do with his decision to agree to the move.
Francis is still regarded as a great hockey mind and wherever he lands will be an asset for that organization. Besides also having a great hockey mind, Waddell has the experience of executive positions with other organizations and is very well respected throughout the NHL. His NHL playing career was anything but legendary and Waddell beams a smile if ever asked about his playing day.
The NHL Draft
Now that there are 31 teams in the NHL, the bottom 15 take part in a draft lottery: the lower the team finished, the higher the chance to gain the #1 draft pick. The Buffalo Sabres tanked this past season so ending up last, they had the best chance. The Canes ended up 11th from the bottom but "acting" GM Waddell was at the announcement for final drawings and when the Canes made the deepest jump in the lottery history to #2, Waddell jokingly says he struck the "acting" in his title.
The top three in this year's lottery are all strong players. The top pick will most likely be a defenseman, which Buffalo sorely needs. The second pick could be Andrei Svechnikov, a Russian who played in the Canadian OHL this past season to adjust to North American hockey. He is six feet two inches and just shy of 190 pounds, has great speed and a goal scorer's mind. Not sure about his defensive capabilities but Russian forwards are not known for excelling in that area. His presence should help the Canes in an area they've needed help for years: scoring goals.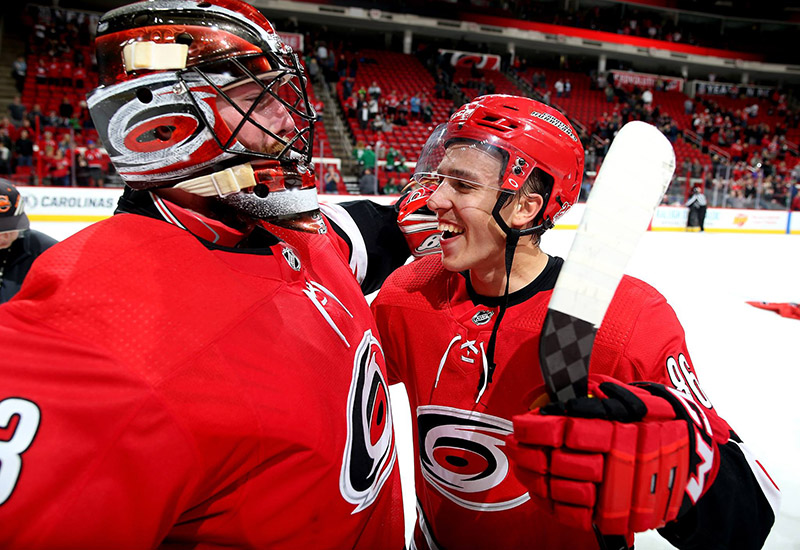 Changes Are Coming
Owner Tom Dundon said there's just one player who may be untouchable and that is Sebastian Aho. He's right: the Canes need a shake up far more than they've had in the past.
Getting the shake-up done may be difficult as there are not that many free agents this year so that means an old fashion trade. The Canes have to solve the goal tending situation. Cam Ward was stellar this past year and without Wardo stepping up like he did, the Canes could have been challenging Buffalo for last place.
The Scott Darling situation is mind boggling. He played great in Chicago and has potential. With his salary at just over $4 million and three years left on his contract, trading him, unless packaged with another high caliber player, just isn't going to happen.
If he stays, then the decision comes down to what to do with Ward: do they keep the long time Cane or allow him to sign with another team? He's proven he has game left in his tank and Raleigh is his home so that's a tough one. Do the Canes sign another goalie they think can be a #1 goalie and send Darling to Charlotte while resigning Ward? Hard decision but the #1 area that has to be addressed.
Tickets
For those that are contemplating season tickets, there haven't been deals like this in years. Ticket specials exist for every section and are priced like throwbacks to 2005. If interested, call Brian Slais at the Hurricane ticket office or any other ticket agent for the best deals and seats available.
Go Canes!
---
Canes coverage by Bob Fennel. Photos from Facebook. Read more Hurricanes coverage.
https://carycitizenarchive.com/wp-content/uploads/2018/05/Canes-May14-1.jpg
550
800
Bob Fennel
https://carycitizenarchive.com/wp-content/uploads/2020/03/cc-archive-logo-450-v3.png
Bob Fennel
2018-05-14 09:31:42
2018-05-14 09:31:42
Canes Spring Update: Brind'Amour As Coach And More