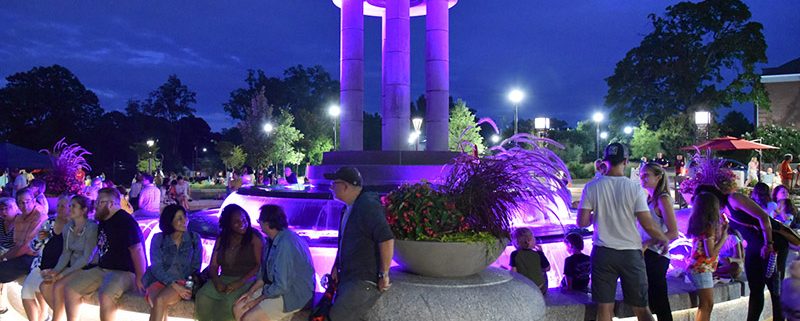 Cary, NC – This week was busier than last week and included a budget work session and several events.
Monday – Gas Station Meeting
Monday I met with the town manager for about half an hour. Our topics included a business that has crime issues, the Cary Town Center site, the Fenton site, and interactions with other governing agencies.
Monday night I attended a meeting of staff, developers, and citizens on the gas station proposed at Kildaire Farm Road and Penny Road. I stayed in the back so that I could hear the conversation and watch the interaction between the citizens, the developers, and staff.
The purpose of the meeting was so that concerned citizens could get correct and complete information from staff and the developer. The project has been submitted for over a year and has several community meetings. The biggest concerns expressed were the number of pumps at the gas station, the belief that the business would fail, the number of gas stations nearby, and traffic. The developer explained a number of concessions which satisfied a couple of people. Then a handout was given showing the proposed layout of the pump stations (which is not enforceable since it is not a condition of the rezoning). This seemed to satisfy a few more since they would not be able to see all the pump stations at once. While it appeared some people will still object because of the number of pump stations I believe the majority believed the developer has done all he could do. The meeting concluded after a little over an hour.
A meeting of the Economic Development Committee on Wednesday was cancelled. Instead of the meeting information was sent that included the following:
From the Manager: I'm happy to report that at our May 10 Quarterly Meeting, the Town Council unanimously approved the EDC's recommendation to hire North Star Destination Strategies to lead our community branding initiative. The contracting process is nearly complete, and North Star will be at the annual Cary Chamber Planning Conference in July to begin getting to know our business community.  Over the summer and using North Star's RFQ response, I will be developing the consultant's program of work, which I will update you on at our next meeting.
Since February 2nd – we have received 19 new project inquiries or leads representing 3800 jobs and roughly a billion in Capital expenditure.
3 Expansions: SAS Fraud and CyberSecurity Division, Verdesian Life Sciences, Trill.AI. Trill is moving from Silicon Valley – they develop artificial intelligence for financial services clients. Together they represent an approximately 145 jobs and $5M in Capital expenditure.
Working directly with our video gaming companies to try and facilitate their growth in Cary, and will be partnering with the town in an effort to address some needs. Cary gaming companies have some of the most popular video games in the world, generating in excess of $100M in revenue per month.
Thursday – Budget Work
Thursday the council held its last work session on the Fiscal Year 2019 budget which takes effect on July 1st. Here is the high level summary of the budget that will be voted on later in June:
It supports the Cary Community Plan
Service levels are maintained and significant efficiency improvements are underway
There are several new capital investments but a new 20 year capital investment plan is needed
There will be no property tax increase
Sanitation fees will increase $1
Vehicle license fees will increase $15 with all monies designated for street and sidewalk improvements
There will be a 3% utility rate increase to cover ongoing costs of the wastewater plant and the recent water plant expansion
We will start with over $101 million in the General Fund which is over three times what is required
The work session concluded after about an hour and a half.
Friday – Smart Cities Workshop
Friday I gave remarks at the Smart Cities Council Readiness Workshop at SAS in Cary. Here are the remarks that I spoke from:
Good Morning! On behalf of the Cary Town Council, some of whom are here today, and the 162,000 people who call Cary home, it's my pleasure to welcome you to Cary's Smart Cities Council Readiness Workshop. Cary officials and staff have been looking forward to this event and we appreciate you taking the time to be here today.

I'm proud that our community is recognized nationally for its efforts in utilizing smart technology to provide better services and communication to our citizens. We have focused our efforts on smart parking, street lighting, mobility, and on creating "Destination Centers" in underserved neighborhoods to encourage jobs and housing. We are grateful to be named a Smart Cities Council Readiness Challenge winner and appreciate the opportunity to collaborate with Smart Cities Council to implement our visions.

We are committed to our smart city initiatives and know that they play a key role in making our community more livable, workable and sustainable. Our goal is to enrich the lives of our citizens by strengthening our connection using technology and data. Making more data-driven decisions is integral to the future of Cary, not just within the function of government but also for civic engagement and transparency. I am confident that we will achieve our goal in gaining a 360-view of Cary and our citizens by facilitating regional collaboration and by utilizing the resources provided by the Readiness Challenge Grant.

We are thrilled to kick off this event as the outcomes from today's workshop will provide us with an actionable Readiness Roadmap that will help us to enhance and accelerate several of our smart city projects.

Again, thanks to the Smart City Council for your guidance and resources, and to our regional partners for fostering smart city ideas. Finally, I would like to thank all of those involved for their hard work in helping Cary to win this grant. So many talented and dedicated people have played a key role in developing Cary's visions for a smart city, and I look forward to seeing those visions become reality. Thank you.
After I spoke council member Robinson addressed the crowd as both a SAS employee and a council member. Mayor Pro-Tem Bush was also present.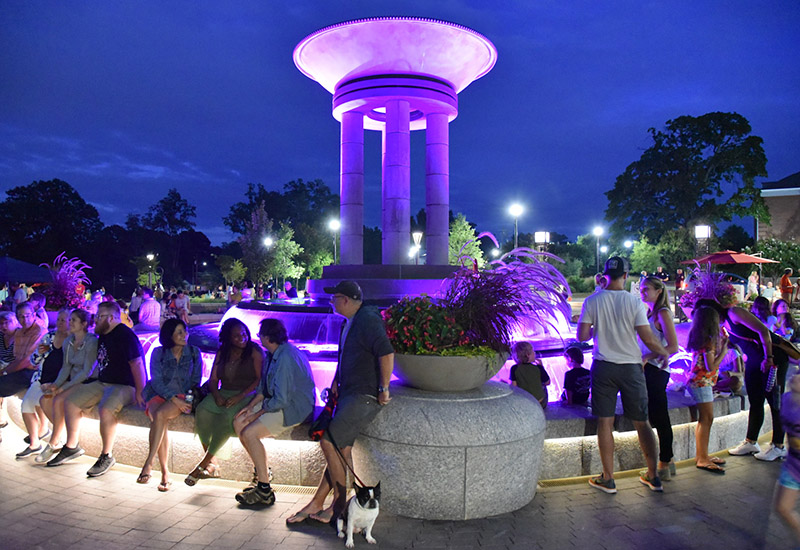 Town Manager's Report
The report from the town manager this week included the following:
Smart Cities Readiness Workshop

On Friday, Cary hosted a "Smart Cities Readiness Workshop" at SAS's Executive Briefing Center. It was facilitated by the Smart Cities Council as part of Cary being a finalist for their 2018 Readiness Challenge Grant.  The workshop explored possibilities of public-private partnerships, healthy communities, idata management infrastructure, and transportation options that integrate new technology.

More than 100 city officials, department heads, technology innovators, local business leaders, non-profits, university representatives, and community influencers participated in the workshop, including Council Member's Weinbrecht, Bush and Robinson. Staff members David Spencer, Kelly Blazey, Donald Smith, Paul Campbell, Sandal Abid and Terry Yates gave presentations around smart and connected mobility, healthy communities, integrated data management/infrastructure and Cary's overall Smart Cities Roadmap.

Social Media Evaluation

On Monday and Tuesday, Tonya Lucchetti-Hudson presented her findings and recommendations to staff and the ISAB on how to take our social media program to the next level. A social media expert, Tonya has over 15 years of experience in integrated marketing communications for local government, health care, academics and arts organizations, including currently leading the public affairs communications for the sixth largest health care system in nation.

I met Tonya when she was the executive director for Elgin's downtown association, and I was so impressed with her that I hired her to help with several critical projects, including Elgin 311. For Cary, Tonya undertook an extensive, eight-month evaluation of what we're doing, including meeting personally with dozens of staff and citizens this past spring. I appreciate all the time everyone gave to this effort and will report back on changes we implement.

Historic Facilities Input Sessions Completed 

The Historic Facilities Interpretation and Rehabilitation Project has completed three community input sessions. The historic sites were open for visitation prior to the sessions. The community shared a wide range of exciting ideas and innovative suggestions which are currently being reviewed by project consultant, CUBE design + research.

The team was especially pleased to have a group of older teens attend and provide their perspectives. With the physical assessment and community input completed, we expect some initial recommendations from our consultant by the later this month.

Rezoning Information Meeting 

Staff facilitated an informational meeting on Monday night regarding the gas station rezoning proposed at Kildaire Farm and Penny Roads. There were 16 citizens in attendance, and staff from Planning, Development Services, Water Resources and Police attended to provide an overview of the rezoning case.

The applicant and their attorney were also present and answered questions. The applicant showed a conceptual site layout, and staff explained what portions of the layout were conditions of the rezoning and what could change during development plan review. Overall those in attendance better understood the proposal at the end of the meeting.

NE Maynard Rd. Landowner Letters

Staff received notice from NCDOT that they have mailed letters to property owners within the study project area for the state's NE Maynard Rd. grade separation project, P-5718. Flagging by representatives of NCDOT and the US Army Corps of Engineers on property within the study area may take place to identify the limits of streams and wetlands. These flags do not represent the location of any transportation improvements. This exercise is required as part of the environmental review process.

Wrenn Drive Block Party Success

The sixth annual Wrenn Drive Block Party was held this past Saturday, June 2. This event invites residents from the apartment communities on and around Wrenn Drive to meet each other and learn about local resources.

Over 40 vendors worked alongside Project PHOENIX to bring free food, activities, entertainment and service information to the neighborhood. Roughly 900 citizens attended. Special thanks to the Police Department, Public Works and all other Town representatives who make this community event such a huge success each year!

NCAA D2 Baseball Championship

In partnership with the University of Mt. Olive and the Greater Raleigh Sports Alliance – CVB, the Town came together to host the NCAA D2 Baseball Championship last week. Augustana  University from South Dakota had their first appearance at the championship and defeated Columbus State, 3-2. An NCAA video recap can be viewed at http://click.icptrack.com/icp/relay.php?r=22655462&msgid=124136&act=1EHX&c=1655857&destination=https%3A%2F%2Fwww.ncaa.com%2Fvideo%2Fbaseball%2Fd2. We're honored to continue this hosting partnership through 2022.

Bike Month Concludes

The Town closed out a successful Bike Month as staff and Town Council representatives attended the "Staff and Officials Bike to Work Day Ride" on Friday, June 1. Even with temperatures into the 90s, the large group rode from White Oak Park on the White Oak Creek Greenway to the site of the new White Oak Creek Trailhead on Green Level Church Road.

During the ride, staff shared insight into the Town's conservation efforts along the White Oak Creek corridor, which preserved hundreds of acres of wetlands, streams, and forested areas. Additionally, staff provided updates on the White Oak Creek Greenway Project Ph. 5, which will extend the trail nearly two miles to the American Tobacco Trail and complete an important gap in the 7.3-mile White Oak Creek Greenway.

Upcoming Pressure Zone Shift

Next week, we will start a conversation with some of the citizens between N.C. 55 and Davis Drive regarding our upcoming pressure zone shift. At this time, the modification is anticipated to occur September 12. Our next opportunity to speak with these citizens will be at a public meeting July 16 at the Twin Lakes Clubhouse and July 17 at the WestPark Clubhouse.

If you or your constituents have questions, we've developed a helpful FAQ webpage. This project is necessary to provide greater operational flexibility and efficiency, as well as prepare to bring into service the Good Hope Church Road Water Storage Tank in 2019.

Water Quality Report Available

We are pleased to share the 2017 Annual Water Quality Report, also called the Consumer Confidence Report. As in previous years, the report was issued electronically and summarizes the thousands of drinking water tests performed in 2017.

We are proud to report that the Town continues to provide high-quality drinking water that meets all state and federal regulatory standards. Distribution of the report is required by law, and doing so in primarily an electronic format allows the Town to communicate important information in a timely, efficient manner. The photos in the report are images from Jordan Lake, the Town's water supply source. A special thanks to Rachel Monschein, Kathryn Trogdon, and Carolyn Roman for leading the team that developed and created this report.

Kilmayne Drive Water Tower Construction

Keeping with the theme of water, the bowl of the Kilmayne Drive elevated water storage tank was raised into place Friday morning. The two million gallon tank will provide additional storage capacity to the central pressure zone.

NC Symphony Tribute

On Saturday, June 2, the NC Symphony honored the Town for providing its summer home and continued support for over 30 years. Symphony President Sandi McDonald paid tribute to leaders from former mayor Koka Booth to the present Council, represented by Councilors Don Frantz and Ken George. The Symphony also recognized the combined efforts of Town staff, including Police, Public Works and Parks, Recreation & Cultural Resources.

NW Cary Parkway Bridge Closure

Most of the preparation work has been completed for the NW Cary Parkway Bridge Rehabilitation Project in preparation for its closure. Weather permitting, the Town of Cary will close the NW Cary Parkway Bridge over Black Creek Greenway on June 11 for 60 days. This closure will allow for bridge lifting operations related to the NW Cary Parkway Bridge Rehabilitation Project, which is expected to be complete this fall. Drivers traveling through the area are encouraged to use alternate routes, including the signed detour along Norwell Boulevard, Weston Parkway and N. Harrison Avenue.

Green Level Church Rd. Study

Staff met with representatives of Green Level Baptist Church this week to get their input as part of the study's initial public outreach on this important feasibility study exploring ways to incorporate context-sensitive design into long range plans for the corridor. Additional meetings with stakeholders will take place in the coming weeks with a public meeting scheduled for late summer.

First Annual Film Festival

Next week, we launch our first annual film festival at The Cary, celebrating the art of storytelling through cinema. Featuring screenplay and short film competitions that are far beyond ordinary, this four-day festival takes place right here in downtown Cary. We've attracted filmmakers from North Carolina to British Columbia and beyond who have submitted their screenplays and short films (>30 minutes) embodying some unusual incarnations of this year's "Hometown Stories" theme. Join us for a fun and enjoyable cinematic experience open to the community.

National Trails Day

Members of the Town's Greenway Committee and Town staff led a greenway walk and bike ride on Saturday, June 2 to celebrate National Trails Day. Several Cary citizens and new residents came out to participate and explore the Town's greenways.

Recognitions

Congratulations to Jose Mendez on his promotion to Engineer. Chief Cooper presented Engineer Mendez with his badge on Thursday, June 7.

Congratulations to all of Cary's high school graduates who finished their last day of exams today. The Downtown Park fountain will be rotating through the colors of the four Cary high schools tonight, June 8.
Emails From Citizens
Emails from citizens this week included:
A request to stop growth in West Cary
A complaint about the office construction across from Cary Wake Med
A concern about damage done from an accident on Jenks Carpenter Road
A request that Cary have at least 60% urban forest
Several requests to attend and speak at events
A request to plant a million trees to combat air problems
Next week's activities include high school graduations, staff meetings, the first regularly scheduled council meeting of the month, a metro mayors meeting, and the Triangle Area Hindu Temples Health Fair.
Get In Touch
Well, that is all for this week. My next post will be on Sunday, June 17th.  Although I have Facebook and Twitter accounts those are not the best means of communications with me. Please send all Town of Cary questions or comments to Harold.Weinbrecht@townofcary.org and email personal comments to augustanat@mindspring.com.
---
From the blog of Cary Mayor Harold Weinbrecht. Photos by Hal Goodtree.
https://carycitizenarchive.com/wp-content/uploads/2018/06/downtown-cary-fountain-7416.jpg
550
800
Harold Weinbrecht
https://carycitizenarchive.com/wp-content/uploads/2020/03/cc-archive-logo-450-v3.png
Harold Weinbrecht
2018-06-11 13:06:31
2018-06-13 10:44:37
Harold's Blog: Kildaire Gas Station, Smart Cities and More