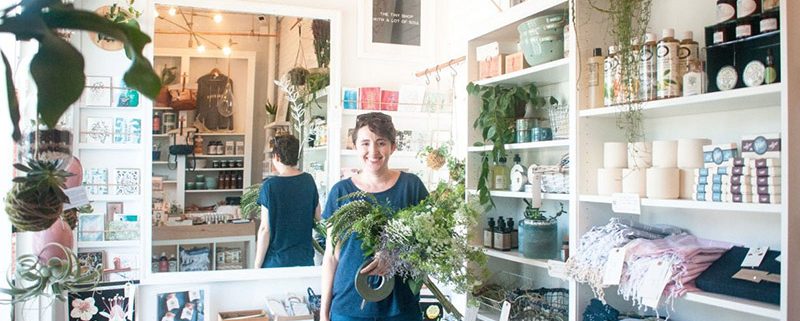 Cary, NC – Gather Goods Co. is back in Downtown Cary, with a focus not only on giving local entrepreneurs a workspace and holding classes, but creating a sustainable working environment for all involved.

Community Meets Craft
Gather Goods Co., located on Kildaire Farm Road across from the Cary Arts Center, is the project of Michelle Smith who has been working as an entrepreneur for 15 years.
"I have a passion in seed-planting and starting things that don't already exist," Smith said.
At Gather, Smith has seven offices for local small businesses, most of which work in creating crafts and goods, with a mission of "helping other discover and create a beautiful, inspired life through curated experiences, community, conversation and design." Gather also sell handmade goods, both in-store and online, mostly from North Carolina artisans.
"It's elevated modern goods that are well-made but don't look 'craft-y,'" Smith said.
Additionally, Gather has a community space for classes, both on crafts as well as meditation and yoga, and a back garden to hold events with a goal to eventually turn part of it into a flower garden.
Smith operated a similar space before along W Chatham Street, which was an event space, store, classroom and café, but with the Kildaire Farm Road location, Smith said it is closer to her goal by giving those using the building their own distinct office space, including Smith and her husband. Smith uses her office to manage Gather's online shop and her photography business, as well as mentoring people on starting their own businesses, while her husband uses it as part of a side business making and selling peppermint bark.
The other difference with this location, according to Smith, is it will be focused more on sustainability for all involved.
"It's about creating a successful work-life balance for the people in the office and the community," Smith said.
The other businesses using the offices in Gather range from perfume, lotion and soap-makers to house-painting to doula services and more. But even with all seven offices filled, Smith said she still thought it was important to include crafts classes into Gather.
"People like the idea of having curated events that are more specialized. It's a big aspect of what Gather is," Smith said. "If it was just offices, I'd be set, but I want those community aspects. The classes are where the public can interact with the space."
By July, Smith said they plan to have the roster of classes out for the public to see, and the space can also be rented for non-Gather-related classes. Smith also said the online store will open in the coming months.
Leading to Today
Smith's interest in creating a place such as Gather comes from her own admitted drive to do many different things at once.
"I say, I'm a Jill of all trades and a master of some," she said.
The first iteration of what would lead to Gather started in 2004 when Smith founded the "Rock 'n' Shop" craft fair, with a focus on hip and modern crafts and goods and was the first of its kind in the South.
"It's not your grandmother's craft show," she said.
Smith maintained an interest in having a physical store, which she said was with her since she was a child. Around the mid-2000s, Smith started looking at Downtown Cary, back before it experienced its recent wave of revitalization that makes it what it is today.
"I knew it was a sweet little town like where I grew up and I saw potential in it," she said.
That led to the original Gather, but a mixture of stress and a significant arm injury led her to take a sabbatical. While Smith still operated an online store for curated crafts and goods, she said she wanted to hold classes and have spaces for community members to meet and work.
"I love helping people," she said. "When it's just a store, it's too transactional. I wasn't able to help the community."
Now that Gather is back in Downtown Cary, Smith said it represents her new focus and interests, which are always changing.
"I like to shift as the world shifts," she said. "Now, I'm focusing on sustainability and wellness."
Gather Goods Co. is located at 417 Kildaire Farm Rd., with a grand opening party for the public on Thursday, July 19, 2018 from 6 to 9 PM.
---
Story by Michael Papich. Photos by Michael Papich and Gather Goods Co. Arts coverage sponsored in part by Elegant Stitches in Cary.
https://carycitizenarchive.com/wp-content/uploads/2018/06/Gather1.jpg
550
800
Michael Papich
https://carycitizenarchive.com/wp-content/uploads/2020/03/cc-archive-logo-450-v3.png
Michael Papich
2018-06-15 09:11:27
2018-06-18 09:02:58
Gather Goods Co. Wants to Pair Community with Crafts