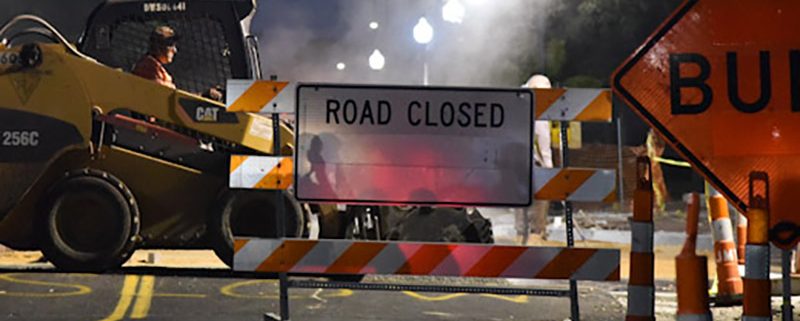 Morrisville, NC – With its proximity to I-40, the airport and Research Triangle Park, traffic in Morrisville can be thick, which puts a constraint on everyone surrounding the town. But state and federal funds are coming to the area to improve both highways and local roads, with major changes coming over the next 10 years.
Importance of Highways
In a talk presented by the Morrisville Chamber of Commerce on Tuesday, June 12, 2018, several experts involved in transportation work in the Triangle spoke with gathered members at a talk moderated by Joe Milazzo, executive director of the Regional Transportation Alliance. To improve traffic and transportation in the area, Milazzo said the top priority is completing NC-540, which has recently had its bid approved.
"That project could be under construction as soon as next year," Milazzo said.
Joey Hopkins, division five engineer with the North Carolina Department of Transportation, said NC-540 would impact Morrisville because it would give drivers another option in traveling as opposed to cutting through the town.
"If anything happens on I-40, what's one of the parallel routes?" Hopkins said, describing the current situation of drivers moving through Morrisville.
Hopkins focused his talk on the larger highway improvements that will impact Morrisville, with more than $225 million being spent just on highways in the next five years. Speaking of I-40, Hopkins said the bridge will be replaced with one that is not only wider but includes a divergent diamond interchange with loops included. A divergent diamond interchange is a type of interchange where cars are moved onto the other side of the road to make their turn.
"It sounds strange but when you drive through it, you don't even realize," Hopkins said.
NC-54 will also be extended, which was difficult to do for years because, as Hopkins said, almost all of it is railroad right-of-ways. But after working with the railroads, the tracks will be improved along the side and NC-54 will extend to Cary, likely done by late 2019. In general, Hopkins said the railroads are part of Morrisville's traffic problems.
"The railroad probably built Morrisville back in the day, but now it's a hinderance. It's hard to get across," Hopkins said.
One traffic improvement that does not have a finalized plan is the extension of NC-147 to connect NC-540 and McCrimmon Parkway while also connecting to toll roads. There are currently three different plans for where the road could go but Hopkins said it would not connect to Town Hall Drive, as he said the fear is it would bring in too much traffic to the planned town center.
Hopkins listed some potential challenges in the future, including the rise of automated vehicles. While they may make commuting easier, he also said it could result in more cars on the road since people who previously couldn't drive will be able to do so.
"Engineers don't know how it will effect what we do, but it will create a change," Hopkins said.
But the looming challenge he listed is an overall lack of money given the infrastructure needs of the region.
"$225 million is barely putting a dent in the need here," Hopkins said. "Our needs are bigger than what we're willing to spend."
Local Morrisville Roads
Closer to home, the biggest road project in Morrisville is the McCrimmon Parkway extension, with the first phase set to finish by this Autumn, according to Morrisville Town Engineer Kent Jackson. Phase Two, which will start construction in fiscal year 2021, will reach the road from Park Way to Aviation Parkway and Evans Road. The road will be four lanes with planted medians, costing about $11 million.
Another major road with improvements coming soon is Carpenter Fire Station Road, which will be widened between Davis Drive and the Morrisville Shopping Center. Jackson said easements and right-of-ways are being set now so construction will likely start in early 2019. This project is set to cost $9 million.
Construction on Carolina Street is starting in July 2018 and will last until early 2019. These improvements will include a roundabout, which Jackson said serves two purposes.
"For one, it will help manage the flow of traffic safely but it will also create a distinct place along Town Hall Drive," Jackson said. "Carolina Street is part of the larger effort to create a town center."
The Crabtree Hatcher Greenway will have its bridge set in by 2019 but Jackson said the greenway itself will be largely completed by this July.
"The main spine from Davis to NC-55 is mostly completed," Jackson said.
Over the next 12 months, Jackson said $25 million worth of road projects are set to start in Morrisville. Jackson also warned those gathered that Morrisville "can't build itself out of congestion" and other solutions are needed to address local traffic problems.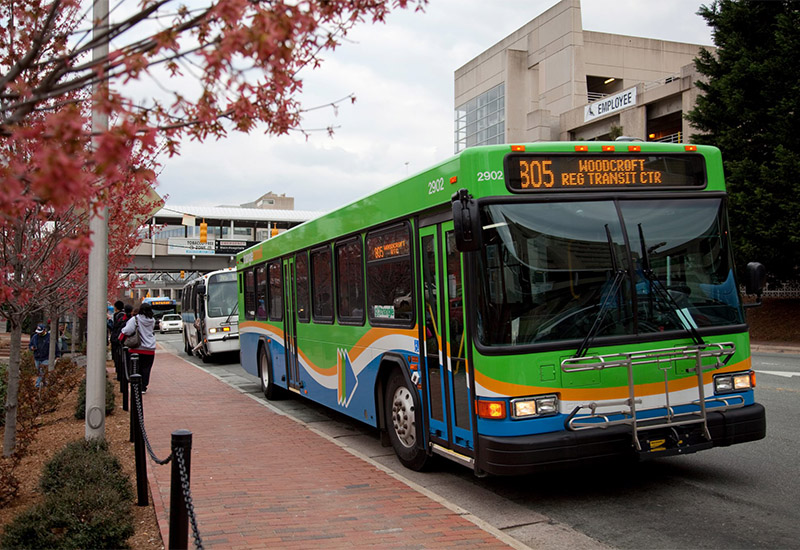 Bus Access to Morrisville
According to Patrick McDonough, manager of planning and transit oriented development for GoTriangle, between 110,000 and 120,000 people use the Triangle buses every day, many of whom are going to and from work or school. But in Morrisville, McDonough said most of the bus service that reaches the town is peak service only.
With the Wake Transit Plan passed, McDonough said the goal is to get Morrisville to bus service that operates on a 30 minute service window at the minimum.
"We're trying to expand access and have buses available 18 hours a day," McDonough said.
In Morrisville, McDonough said buses represent the most change in the shortest amount of time in the Wake Transit Plan. The expansion of Bus Rapid Transit could also impact Morrisville, as the plan is to have a dedicated BRT route from Downtown Raleigh to Cary, and then 30 minute bus service between Cary and Morrisville.
Additionally, McDonough said GoTriangle has protocols and funding for starting new bus systems in local towns and Morrisville is one of the top candidates
McDonough also said more buses are coming soon. Since the 2016 sales tax increase was passed, he said more buses for the region have been ordered but they take between 12 and 18 months to be built and shipped. Additionally, in the
The sales tax increase raises around $95 million a year according to McDonough and Milazzo acknowledged how different public transportation funding is currently.
"Looking back 10 years ago, it's a night-and-day difference," Milazzo said.
---
Story by Michael Papich. Photos by Michael Papich, Lindsey Chester, GoTriangle and Hal Goodtree. Content on CaryCitizen sponsored in part by the Morrisville Chamber of Commerce.
https://carycitizenarchive.com/wp-content/uploads/2018/04/RoadClose-Apr11-Featured.jpg
551
800
Michael Papich
https://carycitizenarchive.com/wp-content/uploads/2020/03/cc-archive-logo-450-v3.png
Michael Papich
2018-06-14 13:02:22
2019-12-08 15:30:30
Major Road Improvements Set for Morrisville