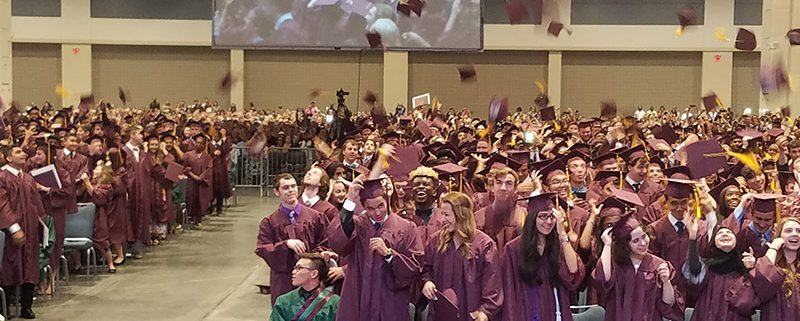 Cary, NC – This week was a busy week with graduations and a council meeting.
Monday – Cary High Graduation
Monday I joined Mayor Pro-Tem Bush, council member Frantz, and council member George for the graduation ceremony for Cary High School. There were 541 graduates getting their diplomas. It was a privilege to sit on stage and watch the faces of the graduates as they walked by.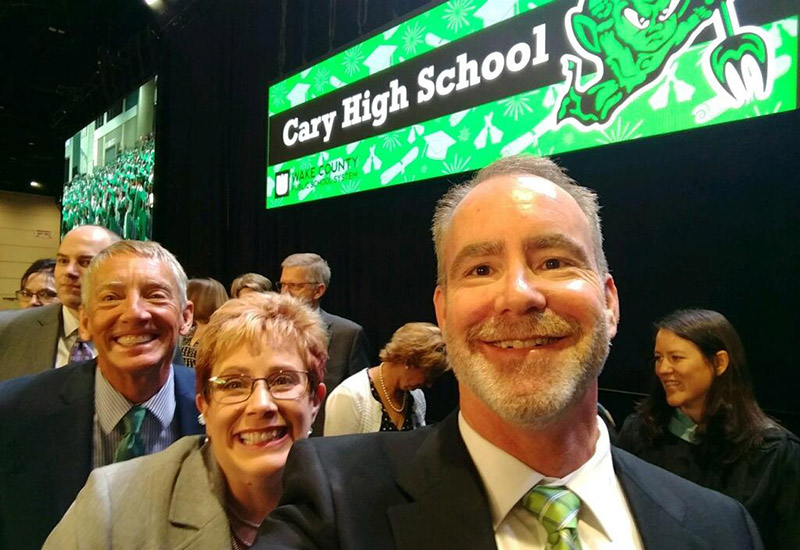 Later Monday I attempted to contact council members to hear of questions and concerns they might have had about Thursday's agenda. Though Thursday's agenda was long there were no questions. Later Monday I met with Management and Directors and went over the agenda items. We anticipated the meeting would last between two and two hours thirty minutes.
Monday evening I joined Mayor Pro-Tem Bush in a meeting with Beau Mills who is the Executive Director of the North Carolina Metropolitan Mayors Association who was appointed in March. He is in the process of meeting with Metro Mayors to hear their thoughts, concerns, and how their organization could best serve us. Our meeting lasted about an hour.
Since the town manager was unavailable on Monday, I received a summary email. The summary included the topics of business recruiting, affordable housing, and a meeting with David Ellis the Wake County Manager.
Tuesday – Homewood Suites Opening
Tuesday I attended the grand opening of Homewood Suites in Crossroads of Cary. The owner, Parks Hospitality, threw a big party with over a hundred in attendance. This is their third hotel in Crossroads and based on my conversations with them all are doing very well with all of them.
I provided a house warming gift on behalf of the town and gave welcoming remarks to those in attendance. And of course we cut the ribbon even though they have been open for three weeks. It was a great time and I even had time to make a funny picture with Chamber members in the picture booth. We are fortunate to have another Parks Hospitality business opening in Cary.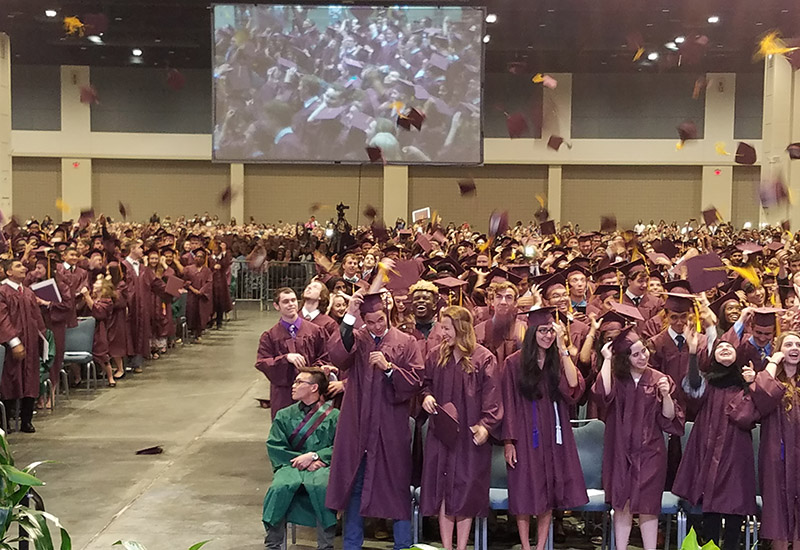 Wednesday – Green Hope Graduation
Wednesday I had the honor and privilege of attending the Green Hope High graduation. I was joined by Mayor Pro-Tem Bush, council member George, Morrisville mayor and council members, and other elected officials. We watched 733 graduates get their diplomas. Afterwards the officials gathered for a quick photo.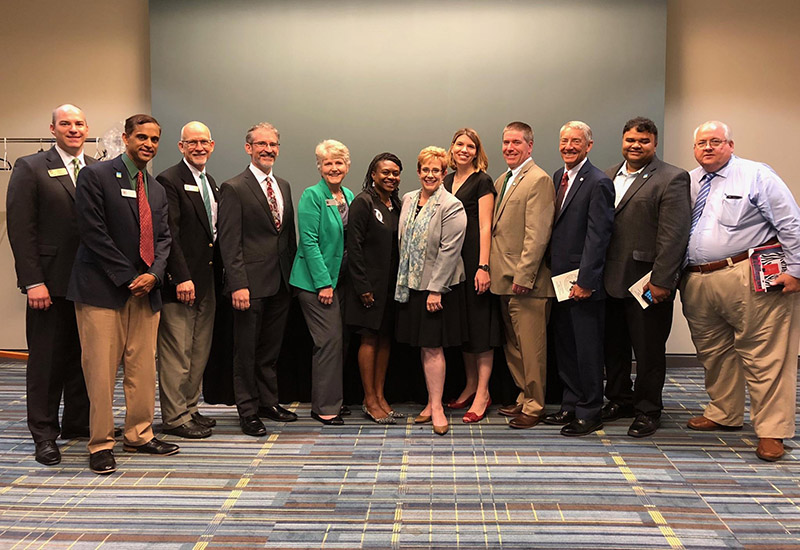 Thursday – Cary Town Council Meeting
Thursday the council held our first regularly scheduled meeting of the month. On the agenda were 5 consent items, nine public hearings, and four discussion items. The first public hearing was on the budget. Speakers included those from non-profits and those who wanted special funding for special interest projects. A public hearing for the annexation and rezoning on Arthur Pierce Road also drew a few speakers expressing concerns about the proposal. Under discussion items the council unanimously approved the gas station proposal for Kildaire Farm Road and Penny Road after over a year of review and multiple citizen input sessions. Those sessions generated several concessions from the developer which, IMHO, made a better project.
Also under discussion was the Wake County Hospitality Tax agreement. The Hospitality Tax Small Capital Projects Fund was established in 2017 with revenues generated by the county's room occupancy and food and beverage taxes. Wake County distributes these revenues through a competitive process every two to three years. For years, Cary has paid much more than it has received. This year we asked for funding to cover LED lighting improvements for WakeMed Soccer Park and lighting and sound improvements for Koka Booth Amphitheatre. Unfortunately the county said they would provide only $400,000 out of the $735,000 requested which would require a Cary match $1 million in the FY2019 budget to get the projects done. This is once again extremely disappointing and Cary continues to provide way more than it receives to the food and beverage tax fund.
The town council meeting concluded after a closed session and lasted about three and a half hours.
Friday – NC Metro Mayors
Friday I participated in a meeting of the North Carolina Metro mayors. A summary of the discussion included:
General Coalition Update
Metro Mayors Executive Committee meeting in Raleigh this week was productive.
FULL Membership (mayors, managers and relevant staff) meeting July 18/19 at the Grandover Hotel – details early next week as hotel contract is finalized.
General State Budget Update – (S99) – State Budget Bill
Light rail "back in the game" (S335) – Budget Technical Correction – now capped at $190m and a deadline of April 30, 2019 to secure federal commitment for funds or lose STIP ranking and funds.
Municipal funds for schools – permits cities to spend property tax funds on ANY public schools (including charter) that are in the municipality or have municipal residents attending (outside boundaries must proportional to the residents attending) – little restriction on what a city can spend it on, similar to counties (does appear to exclude city issued bonds).
Transportation
Build NC S758 – enrolled and expected to be signed by the Governor for up to $3b in revenue bonds (no referendum) specifically for highway projects through the STI process at the Regional and Divisional level.
Bus Maintenance/SMAP Cut (Budget item) – cuts to bus maintenance to make up shortfall in revenues – Coalition will share possible reductions to specific cities under separate email cover.
School Transportation Projects (Budget Item) – Fuquay-Varina made a valiant attempt to reverse the restriction on transportation/street related conditional zoning for schools – lost this effort at the last minute. Cities will continue to face possible (and potentially significant) cost for new schools related transportation projects.
Economic Development
Economic Development Tiers- Distressed County Factors (S563) – ranks counties by levels of distress by measuring property value per capita and ranking of sales distributions per capita. No specific direction to use these measures in any programmatic way – for NOW… A PRIORITY issue for cities in the interim as the proposal suggests future action.
Public Safety
Hope ACT (S 616) – allows law enforcement to review prescription in specific circumstances.
Local Control, Growth Management, and Revenue Bills
Land Use Reg Reform (H507) – limits city ability to require developer performance guarantee, but there may be substantive fix working its way through the legislative process this last policy related day of the session – STAY TUNED
System Development Fees ( H826) – improvements from last year.
The meeting concluded after thirty minutes.
Friday evening I, along with my wife, Mayor Pro-Tem Bush, and her husband attended Cary's first film festival. We watched a block set of four short films. All were very good and we voted on the one we thought was best. The best of all the block sets were shown again on Sunday at the award ceremony.
Saturday – Hindu Society of North Carolina
Saturday I attended the 10th annual Health Fair at the Hindu Society of North Carolina in Morrisville. I was joined by Mayor Cawley of Morrisville. Over 700 people were provided free health care by over 60 doctors who volunteered their time for free. I am amazed at how much this benefits so many people. And I am a little surprised that no media outlets covered it.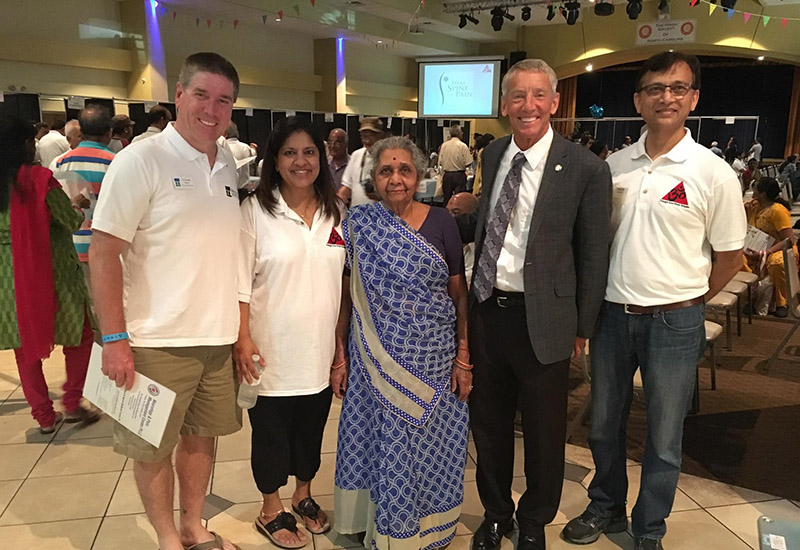 Lidl, IKEA and Kroger
Begin Soapbox
This week it was announced that Lidl decided not to come to Cary and that Kroger was closing stores. While the news is disappointing it had nothing to do with Cary and more to do with their corporate strategies. Unfortunately, the media took the opportunity to do some Cary bashing by implying that since IKEA and others have decided not to come to Cary or leave Cary there must be something wrong. That is misleading and very poor journalism. Shame on them! I would expect better from the news outlets in this area. I wonder how they will report future positive announcements in Cary. And I believe we will have some since we remain one of the most desirable places to live, work, play, AND run a business in the country!
End Soapbox
Town Manager's Report
The town manager's report for this week included:
Fire Flow Testing at RDU Airport
In a great example of regional cooperation, staff from Fire and Public Works coordinated with the City of Raleigh and Town of Morrisville to conduct fire flow testing of the water system at RDU Airport. The testing was conducted at the request of RDU Airport Authority's Fire Department to test their fire protection infrastructure. The event was successful and provided the required fire flow rates. Special thanks to Matt Joyner, who coordinated with RDU Airport on the water system operations.
Increased Branding Power
I'm excited to report that our community branding firm, North Star, has joined forces with Jacksonville, FL-based integrated marketing firm Burdette Ketchum. We see this as very good news for our project. Don McEachern, who will be with us at next month's Chamber Planning Conference, shared the news release with us this week. We will meet Will Ketchum in Cary this fall.
Upcoming Hazardous Tree Landscaping
A large white oak currently rests in front of the Downtown Park. Sadly, this tree is in such a state of decay and declining health that an independent arborist recommended prompt removal. Its location and rate of deterioration pose an immediate hazard to those visiting the park and on Academy Street. Staff from Public Works are on the case, and the tree is scheduled for removal within two weeks.
New Hi-Res Traffic Data
As a part of the Town's participation in the NCDOT SPaT Connected Vehicles project, the traffic signal controllers at 20 intersections were upgraded to allow for the collection and processing of high-resolution data. When this data is run through our ATMS software, Centracs, we can generate Measures of Effectiveness (MOE) reports for various metrics. This is exciting as it allows staff to learn about the advancements in data analytics for coordinated traffic signal timing and puts Cary in a position to provide the best signal timing possible for its drivers.
US 64 Improvements (U-5301) Public Meeting
NCDOT will hold the first of two planned public meetings on the US 64 Improvements Thursday, June 21. The meeting will be held from 4-7 p.m. at Summit Church, 3000 Lufkin Road. in Apex. NCDOT has mailed postcards to study area residents and stakeholders, and will present initial project alternatives to the public for input.
Water System Lead and Copper Testing
While water system testing for lead and copper has received national exposure in recent years, it is important to note that Cary's drinking water meets or exceeds all state and federal regulations, including those regarding levels of lead in tap water. Cary has always been in full compliance with the EPA's lead and copper testing program, which involves water sampling and testing every three years.
As part of the ongoing triennial testing schedule, we have now begun testing the water system for lead and copper. Sampling and tests will be completed by September 30. Results will be provided to the NC Department of Environmental Quality and published in next year's Consumer Confidence Report.
Town Hall Pedestrian Bridge
A design team was recently hired to provide designs related to removal of the pedestrian bridge. These designs will also include work associated with maintaining egress for Building A. The development of these plans is not expected to be complete until sometime in 2019.
In the interim, the designer has recommended some temporary repairs. Designs related to these repairs were bid and a contract for services is in process of approval. Expectations are for work to start in July and be complete by the first week of August. Thank you for your patience and understanding while this work is being performed.
Western Cary Railroad Crossings Set to Change
Earlier this month, Cary entered into a construction agreement with CSX that supports the Carpenter Fire Station Road Railroad Grade Separation Project. The agreement includes closing the existing Carpenter Fire Station Road railroad crossing just east of NC 55 and detouring traffic south to Morrisville Carpenter Road. The construction agreement was in collaboration with Parkside Town Commons and allows the developer to extend O'Kelly Chapel Road from NC 55 to Little Drive in RTP.
Staff is putting the finishing touches on the Carpenter Fire Station Road Railroad Grade Separation Project bid package and anticipates advertising for bids as well as closing the existing Carpenter Fire Station Road railroad crossing in July. In addition, the O'Kelly Road extension is anticipated to be opened later this summer.
Community Conversation with Wake County Manager
Representatives from the Town Manager's Offices of Apex, Cary and Morrisville met with Wake County Manager David Ellis in a community conversation hosted by the Western Regional Community Advocacy Committee (WRCAC). Mr. Ellis gave an overview of the Wake County proposed budget and initiatives focused on implementing the Wake County Affordable Housing Plan. WRCAC provided information about their role in the community and how they are using the community conversations model to bring together sponsors to address citizen needs. Participants discussed the challenges they are facing due to rapid growth. Challenges identified were transportation concerns, unifying new and old, development cost, balancing density and housing needs. The conversation focused around affordable housing and working together to share data, determine needs and identify opportunities.
Southeast Sustainable Communities Fund Letter of Intent
A multi-departmental team of staff, citizens and regional partners collaborated to develop a scope and letter of intent to seek $300,000 of funding to enrich the Adaptive Stormwater Walnut Creek efforts. If successful, the team will be invited to fully apply for the foundation-funded opportunity which would help with citizen outreach, engagement, job training and green infrastructure. This opportunity is open to communities in the southeast region with an official sustainability manager. Special thanks to Emily Barrett, Billy Lee, Jan Patterson, Dan Clinton, Danna Widmar, Carla Witherington, citizens Tim Luckadoo and Amanda Vanega, and the Walnut Creek Watershed Action Team, NC State Professor Bill Hunt, StepUp Ministry and Dorcas Ministries for their contributions to this effort.
Correspondence Public Records Request
Triangle Business Journal has requested email correspondences to, from and between council members between Jan 1, 2018 and June 13, 2018. The Clerk's Office will be reaching out to you regarding this request.
Transit Follow-Up Information
As a follow-up to Council's questions during the budget work session, I want to provide you with some additional information about the future of transit in Cary. The Town is currently leading an effort to assess existing GoCary routes and identify opportunities for efficiency improvements. This Comprehensive Operations Analysis (COA) is expected to be done this fall. At the same time, the Wake Transit Bus Plan team is working to prioritize local and regional projects identified in the overall Wake Transit Plan for implementation. The overall Wake Transit Plan does not include additional routes in Cary other than the route proposed to serve Weston Parkway/Park West Village later this year. However, Town staff is spearheading an effort to review and update the overall Wake Transit Plan every four years.
The COA and the Bus Plan will provide us with market analysis data that is critical to evaluating needs and opportunities for transit service in areas of the town not currently covered by the Wake Transit Plan. Staff can begin to evaluate options for serving these needs, including associated costs, if there is an interest in providing service in advance of Wake Transit Plan inclusion.
Recognitions
The Clean Water Education Partnership has chosen to highlight our Downtown Stormwater Working Group's walking tour and our use of an online storymap. This combination of a real-life tour experience with web-based information enhances our level of engagement with citizens.
Emails From Citizens
Emails from citizens this week included:
A Concern about dangerous intersections for pedestrians in downtown.
Questions about homeowner associations and common areas.
A request for the town to take over the downtown farmers market.
A concern about privacy for those who have applied for town boards and commissions.
A request to find a way to honor a staff member hurt in an accident.
Next week's activities include staff meetings, a meeting of the Wake County Mayors Association, a meeting of the Capital Area Metropolitan Planning Organization, and a meeting of the North Carolina Metro Mayors.
Get In Touch
Well, that is all for this week. My next post will be on Sunday, June 24th. Although I have Facebook and Twitter accounts those are not the best means of communications with me. Please send all Town of Cary questions or comments to Harold.Weinbrecht@townofcary.org and email personal comments to augustanat@mindspring.com.
---
From the blog of Cary Mayor Harold Weinbrecht. Photos by 
https://carycitizenarchive.com/wp-content/uploads/2018/06/HaroldBlog-Jun18-4.jpg
550
800
Harold Weinbrecht
https://carycitizenarchive.com/wp-content/uploads/2020/03/cc-archive-logo-450-v3.png
Harold Weinbrecht
2018-06-18 10:32:11
2018-06-19 17:20:32
Harold's Blog: Graduations, Town Council Meeting and More