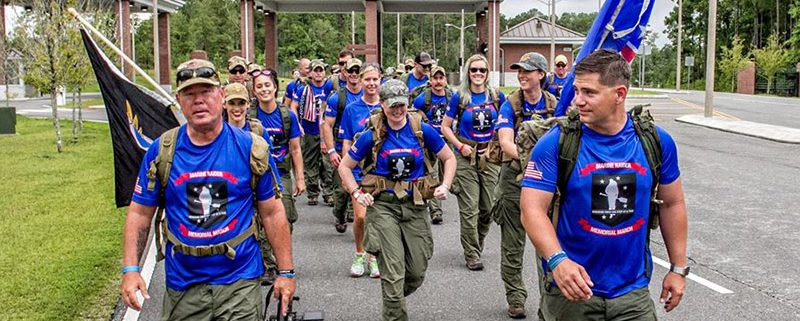 Cary, NC – Throughout July 2018, one Cary filmmaker and former Marine marched 900 miles to honor the memory of 16 military servicemen who died last year, completing the longest ruck march in United States history.

900 Mile March
Allan Smith, director of films such as "Marine Raider Memorial March" and "Rescue Men," marched with 26 other active and retired Marines from Leflore County, Mississippi to Camp Lejeune – a 900-mile march that took 14 days.
Leflore County was the site of a KC-130T Hercules aircraft crash on July 10, 2017. 15 Marines and one Navy sailor died in the crash.
"We were in ten teams of about four men, partnered up with gold star wives, and we went down on July 14 to a dedication at the monument," Smith said. "Then we talked 900 miles to Camp Lejeune with packs filled with dirt from the memorial and sand from the crash."
These loaded packs made this a loaded march or a "ruck march," and at 900 miles is the longest of its kind in U.S. history.
"It was a lot of sleepless nights," Smith said. "But we had civilians meeting us along the way, coming up with American flags and thanking us for what we're doing."
Smith and the participating Marines also handed off the raider paddle between teams and upon returning to Camp Lejeune planted a tree in memory of the 16 military servicemen who died in the crash.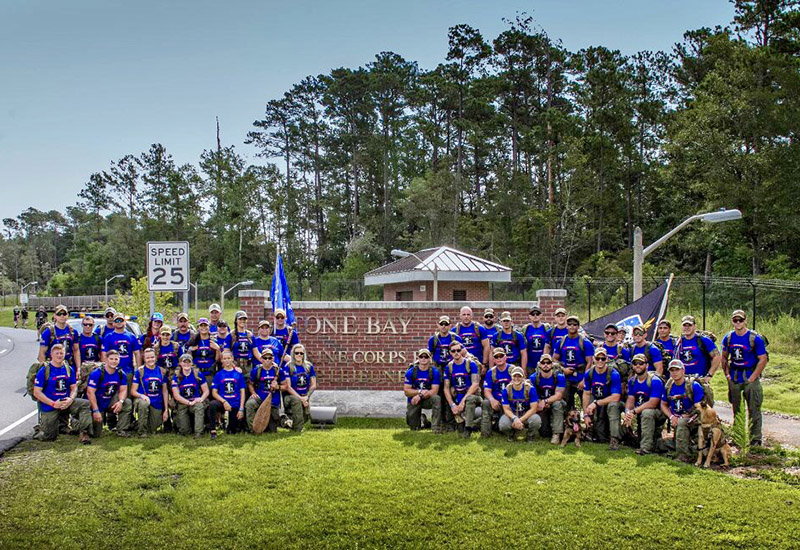 What the March Means
Smith documented the ruck march and followed the participating teams, as he has done in the past with the Marine Raider Memorial March documentary. He said this particular form of memorial fits in with Marine culture.
"When we have done a ruck march, it's because of our belief that, 100 percent, you leave no man behind," Smith said. "That's what it represents."
Smith said he wanted to film and document this march, not only because it is the longest in U.S. history, but because he wanted to be able to give the footage to the widows of the military servicemen from the crash.
"They will be able to pass this down to their children and their children's children," Smith said. "In the news, most people just got the number of people who died but they didn't get to know who they were. This puts names behind the number."
Smith also gave credit to Nathan Harris, the active duty Marine Raider who organized this march and past marches.
"It's amazing how one individual can put this together," he said.
---
Story by Michael Papich. Photos courtesy of Allan Smith. Community coverage on CaryCitizen is sponsored in part by Great Harvest Bread Company, now accepting orders online.
https://carycitizenarchive.com/wp-content/uploads/2018/08/RuckMarch3.jpg
550
800
Michael Papich
https://carycitizenarchive.com/wp-content/uploads/2020/03/cc-archive-logo-450-v3.png
Michael Papich
2018-08-03 12:48:55
2019-12-08 15:30:41
Local Filmmaker Joins Marines in Longest Ruck March in U.S. History