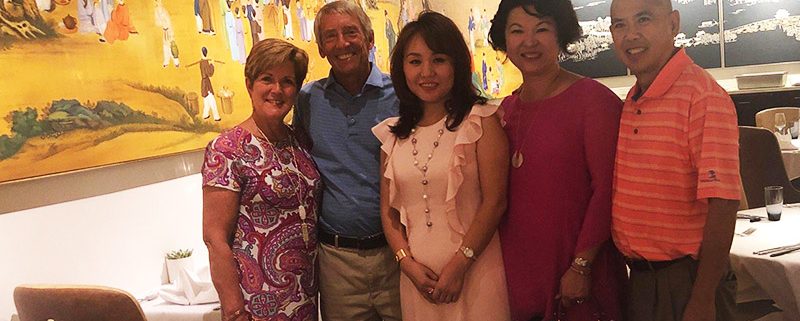 Cary, NC – This was a holiday week with Labor Day being celebrated on Monday.
Tuesday – Diwali Preparation
Tuesday I joined Mayor Pro-Tem Bush along with several choreographers in our first group dance lesson for Diwali. Hopefully it won't take as long to learn those steps as it did to learn steps for my individual dance.
Wednesday – New Homes and Businesses
Wednesday I met with the president of the Wake County Homebuilders Association. We talked about several issues and he made several interesting points:
Homebuilders get blamed for a lot of growth but it is the job growth that drives the need for the homes.
He talked about the "drawbridge effect". That is, people move to the area and then tend to want to stop the growth and others from moving here.
The demand is so great that contractors are hard to come by. In addition, young people are not as interested in the building trade. This is causing an increase of about 25% in cost.
Land is also scarce which drives up the cost. That is one of the main reasons developers propose more density.
It is hard for developers to work in municipalities that are not predictable. He stated that Cary was predictable.
Our meeting concluded after about 30 minutes.
Later Wednesday my wife and I had dinner with local two Chinese realtors, Leo and Hannah Chan at an authentic Chinese restaurant, G-58. The restaurants decor was beautiful art created in China including a stick pin art that took four months to create. The Chans are interested in bringing Chinese people and businesses to Cary and have been successful so far. Our discussion included potential jobs in the area and questions about planning for certain areas of town like the mall site. They were very gracious hosts and we enjoyed our time with them. After dinner we toured the restaurant with the owner to look and take pictures of the art.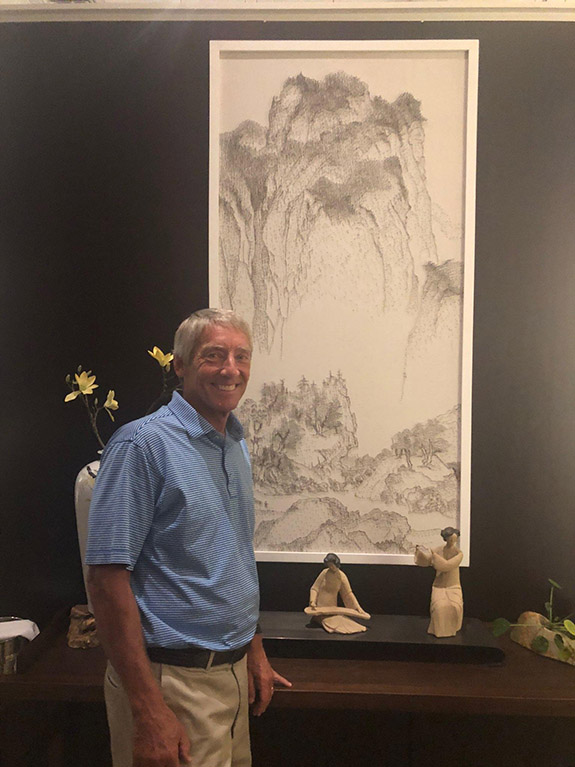 Thursday – Historic Buildings
Thursday I had the pleasure of presiding at the Historic Marker Celebration held at the Cary Arts Center. I was joined by council members Yerha and George. Historic markers were added to:
The Sams-Jones House located at the corner of Dry and Academy
The White Plains Cemetery located in the Maynard Oaks Subdivision.
The Cary Arts Center
Former Mayor Robert J. Harrison (1887-1897) placed at the corner of West Chatham and Harrison where Harrison Wagon Works once stood.
The ceremony had several descendants of the Harrison family who spoke about things they remembered. A lot of the crowd had known each other for decades and it felt a little like a reunion. After a brief ceremony all in attendance enjoyed food and beverage while reminiscing over the past. What a great reception.
Friday – Cary Town Band
Friday I had the honor of formally dedicating the stage at Sertoma Amphitheater as the Bill Leslie stage. Bill Leslie was a long time morning anchor at WRAL and at the same time an acclaimed musician, singer, and composer. Once I dedicated the stage I introduced Bill who played several songs from his upcoming album. During the concert there were several surprise visitors from WRAL. The entire morning crew showed up wearing kilts in honor of Bill's Celtic music. After Bill played the audience was treated to a performance by the Cary Town band. We are so lucky to have so many great musicians living in Cary.
Sunday – Prayer Meeting
Sunday I attended a prayer meeting held in the Cary Town Center Parking lot. There were a couple of hundred people in attendance. I, along with Police Chief Godwin, provided remarks about how prayers can be given for Cary leaders and the people of Cary. After my remarks the pastors in attendance gathered around and prayed for me and other leaders.
Town Manager's Report
The town manager's report for this week included:
Dan Ault Represents Cary at China Economic Conference

Dan Ault is representing Cary this week and into the weekend in Qingdao, China at the 5th Annual Global Congress of Knowledge Economy. The conference, dedicated to accelerating economic growth, attracts more than 1,000 world-renowned speakers and participants from about 40 countries. This year's theme is, "Seeking a Sustainable Future in a Smart World." Dan is leading a session titled, "Building and Sustaining Smart and Resilient Cities by Using Technology to Promote Citizen Responsibility." Dan is one of about two dozen researchers, practitioners and educators from around the world who were hand-selected to present and discuss the most recent innovations, trends, and concerns as well as practical challenges encountered and solutions adopted in the fields of Knowledge Economy.

CAMPO Opens Call for FY 20 LAPP Grant Applications

The Capital Area Metropolitan Planning Organization (CAMPO) opened the call for the FFY 2020 LAPP grants last month. Through LAPP, approximately $25 million in Federal aid will be granted to regional transportation projects. When choosing potential LAPP projects, staff evaluates projects based on alignment with the Town's transportation goals, the project's readiness, a review of current workload, anticipated availability of matching funds and how well the project ranks against LAPP's scoring system.

Recently, Cary has been the recipient of a large number of projects through LAPP and the NCDOT Strategic Transportation Investment process. A total of nine federally funded street, greenway, and transit projects are in various phases of project development by the Town. In FFY 20, projects under consideration are primarily in early stages of development, including two design-only projects and one right of way acquisition project. Staff is also considering three construction projects, including two with potential outside partnerships. Although projects in early phases of development are less competitive in the LAPP process, CAMPO is considering additional disbursement of federal funds. Staff is evaluating these projects for submittal during the FFY 20 LAPP process due to this additional funding opportunity and potential other partnerships.

Town Kicks Off Downtown Transit Feasibility Study

The Town of Cary has officially kicked off the Downtown Multimodal Transit Facility Feasibility Study!  The contract was awarded to WSP for this work, which is expected to wrap up early next summer.  The study examines where the new downtown multimodal transit center should be located and the preferred alignment for Bus Rapid Transit (BRT) service from Raleigh into downtown Cary.  The Town will hold a public meeting on October 30 to get initial feedback on the site selection for the new center.

Morrisville Held Public Hearing to Discuss CTP

Morrisville's Town Council met August 28 to discuss updates to their Comprehensive Transportation Plan regarding Crabtree Crossing Parkway Extension (CCPE). A key issue being raised by Cary and Morrisville residents is the proposed Crabtree Crossing Parkway Extension (CCPE) between Morrisville Carpenter Road and Morrisville Parkway. Morrisville Council continued the public hearing/work session until September 11 due to time constraints.

Tracking Hurricane Florence

The Fire Department is monitoring the potential risks, and impacts with Hurricane Florence.  While there is still a great deal of uncertainty regarding Florence's track and potential impacts to central North Carolina, we are monitoring and preparing as needed.

Cary Celebrates its History with Historic Marker Ceremony

On Thursday evening, a small reception was held to celebrate the installation of four historic markers. The markers were Sams-Jones House, White Plains Cemetery, Cary Arts Center, and Mayor Harrison. Along with celebrating the markers, many people shared stories about these historic places and people.

Environment Film Series Showing At The Cary

The Environmentally Speaking Film Series will be held Thursday at 7p.m. The film, Wasted!, highlights the issue of food waste in our society and features prominent chefs discussing delicious and innovative ways to prevent food waste. After the film there will be small facilitated conversations in downtown Cary businesses.

Recognitions

Congrats to Brandon Pasinski and his fleet team for receiving two awards at the NC Mobile Care Awards Ceremony. The first was the 2018 Mobile Care Award for Cary's work in advancing clean transportation. The second was the 2018 Smart Fleet Champion Award for demonstrating excellence in fleet efficiency, fuel diversity, and conservation by reducing petroleum fuel use. Pictured is Fleet Manager Brandon Pasinski and Christopher Werner, Director of Technical Services, NC Department of Transportation.
Wake County School Board
This week I received an email from Wake County School board member Bill Fletcher. In the email he discussed the Student Assignment Plan. He said:
 "As the balance of 162,000 students began classes, district staff released the draft plan to open four new schools in 2019 and assign students to schools with available seats…all in an effort to reduce overcrowding, comply with the state-mandated class size reduction, align k-8 calendars and possibly remove enrollment caps from some schools.  Public information sessions are being held now.  Draft 2 of the plan will be released September 18.  Public comment is welcomed at the district website."
This plan impacts a lot of Cary residents who have been upset and vocal. Cary Council members have also weighed in to various school board members. Hopefully the school board's final plan can meet their objectives without the serious impacts on Cary.
Emails From Citizens
Emails from citizens this week included:
Requests to help with reassignment issues.
A complaint about the tutus on trees in downtown.
A complaint about hotel proposals in the Weston area.
Questions about the GoCary service in Cary.
A complaint that we are wasting tax dollars by putting speed control devices in neighborhoods that want them.
A complaint that we are destroying the American Tobacco Trail by adding pedestrian bridges.
A complaint (with several inaccuracies) about growth asking us to stop growth. (BTW our growth rate has been around 2% or less for several years).
A complaint about neighbors junk cars.
A thank you for a successful historic landmark ceremony.
Next week will be busy. Activities include playing in a mixed doubles tennis pro-am at Cary's Atlantic Tire Tennis Championships, the Cary Chambers annual banquet, a work session for council board appointments, the first regularly scheduled council meeting of the month, the Page-Walker's 150th anniversary, a CERT (Community Emergency Response Team) fair, a Veterans Experience Action Center visit, Cary Covered courts celebration, Bands of Cary preview show, and the Atlantic Tire Tennis Championships finals and awards.
Get In Touch
Well, that is all for this week. My next post will be on Sunday, September 16th.  Although I have Facebook and Twitter accounts those are not the best means of communications with me. Please send all Town of Cary questions or comments to Harold.Weinbrecht@townofcary.org and email personal comments to augustanat@mindspring.com.
---
From the blog of Cary Mayor Harold Weinbrecht. Photos courtesy of Harold Weinbrecht.
https://carycitizenarchive.com/wp-content/uploads/2018/09/HaroldBlog-Sept10-2.jpg
550
800
Harold Weinbrecht
https://carycitizenarchive.com/wp-content/uploads/2020/03/cc-archive-logo-450-v3.png
Harold Weinbrecht
2018-09-10 10:20:49
2018-09-10 10:05:08
Harold's Blog: Historic Buildings, Business Growth and More