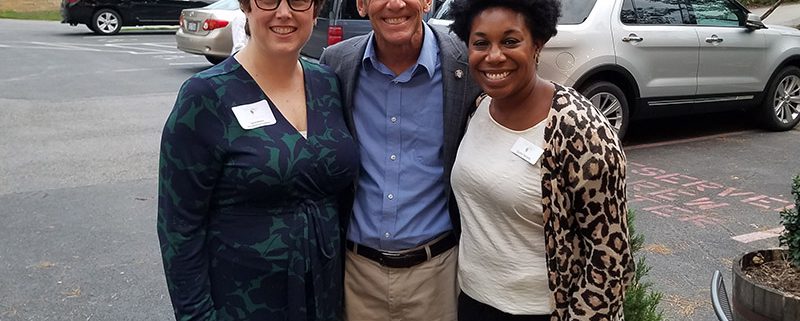 Cary, NC – This week was a typical third week of the month with a mayors meeting and a meeting of CAMPO (Capital Area Metropolitan Planning Organization).
Monday – Mayors Meeting
Monday I met with the town manager to discuss a downtown business development. The project has been in the works a long time and we talked about how I could help. That discussion lasted about fifteen minutes even though we talked about an hour.
Monday night I participated in a meeting of the Wake County Mayors Association. Nine of the twelve mayors were in attendance. The mayors of Raleigh, Rolesville, and Garner were absent. The CEO of Wake Med, Donald Gintzig, and the Senior Vice President & Administrator of WakeMed Cary, Thomas Gough, gave presentations. The theme of their presentation was the aging population and all they are doing in preventative and health care for that population segment. This is especially important since Cary has the oldest average age of the largest municipalities in the state. After the presentations the mayors had the usual reports about what is going on in each municipality. At this time of year it seems that everyone is having festivals and celebrations. Our meeting concluded after about two and a half hours.
Tuesday – Cary Community Foundation
Tuesday started with an impromptu meeting with realtors.
Then I met with board members and award recipients of the Cary Community Foundation. A leader of the North Carolina Community Foundation was also in attendance. The Cary Community Foundation is a philanthropic organization that gives grants for the benefit of the Cary community. Award recipients include The Carying Place, InterAct, CatchMUp, Kiran, Muscular Dystrophy Association, and the Assistance League of the Triangle Area for Operation School Bell.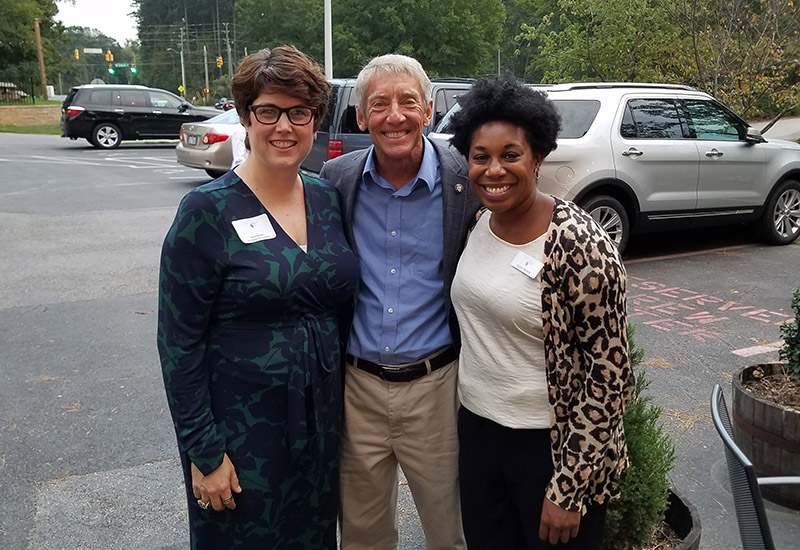 Wednesday – Transportation Update
Wednesday I chaired the monthly meeting of CAMPO's Executive Board. There were four consent items, one public hearing, and four discussion items. Most of the time was spent on a report of the Wake County Transit Plan Implementation Update. The meeting concluded after about an hour and fifteen minutes.
Friday – Oktoberfest
Friday I joined Mayor Olive of Apex in the annual tapping of the keg at Oktoberfest being held at Booth Amphitheater. This event was put on by the Apex Sunrise and the Cary MacGregor Rotary Clubs in collaboration with the Town of Cary and Booth Amphitheatre. This was the 5th Annual Triangle Oktoberfest which happens to be the largest in Central North Carolina. This was an authentic German festival with traditional Bavarian food and fare, and plenty of local and authentic German beers from Munich. The proceeds from this event went to support The Leukemia and Lymphoma Society and other local charities within our community.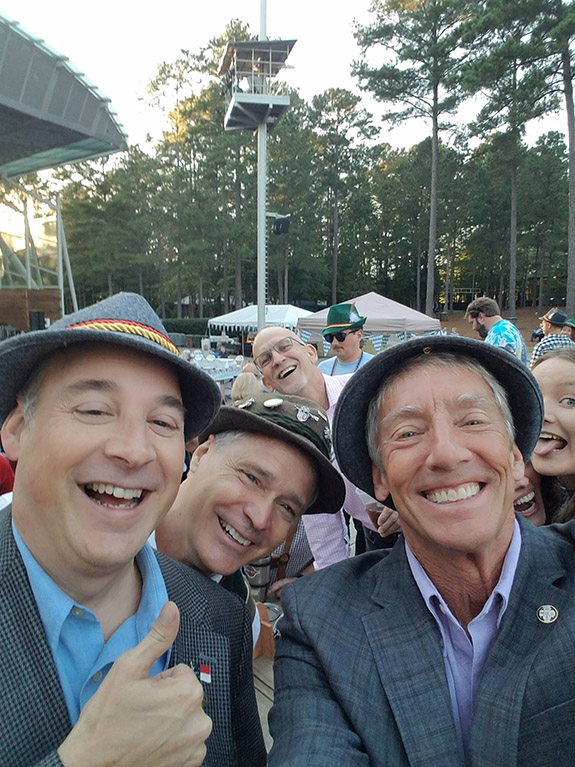 Town Manager's Report
The town manger's report for this week included:
Another Successful SAS Championship in the Record Books

From October 8-14th, Cary was honored to have the 18th Annual SAS Championship, a PGA Tour Champions golf tournament, at the beautiful Prestonwood Country Club. Over the life of this event, the SAS Championship has generated more than $140 million in economic impact and over $4 million in charitable contributions to the Y Learning Program, a tutorial program for students in grades K–8.

The week includes events for golf fans and non-golf fans alike. Highlights included Executive Women's Day with Town of Cary's Renee Poole taking part in the Power Panel, Food Truck Friday, O2 Fitness 5K at the SAS Championship, PNC Family Challenge Classic, and three days of pro-am and three days of tournament play with the winner, Bernhard Langer, setting a course record.

Town staff, family and friends had opportunities to attend the tournament at the 17th Green Viewing Pavilion. Cary was showcased with signage throughout the course and with a promo video on the shuttle bus. A #GetToKnowCary commercial aired on the Golf Channel throughout the three days of live broadcast along with a special welcome from Mayor Weinbrecht and images of Cary. SAS has made a significant investment in Cary through the SAS Championship and the Town is proud to be a sponsor of this exceptional event.

Cary's "StoryCorps"

I was given a demonstration of our incredible new video booth by Jon Stone, who delivered the product to us from Dartford, England. We'll be able to capture citizens' memories of Cary for our 150th celebration as well as enable our employees to chart their experiences as our organization evolves into the local government that doesn't exist. Similar booths are being used by Microsoft, Cisco and Vanderbilt.

2018 Snow Rodeo

On Wednesday, 300 Public Works professionals participated in our annual "Snow Rodeo". It is a time to dust off our snow plans, update map books, mount and check all of our equipment, and run and re-familiarize ourselves with our snow routes. While the night shift are running routes, the day shift are busy going through four different training sessions: plowing techniques, truck and equipment check, chain saw safety, and a briefing on goals and expectations. All of this ends at noon with a catered lunch. Hats off to all of our snow fighters who do this time and time again, leaving their families at home, so they can create and maintain a passable road network for Cary citizens.

Downtown Stormwater Working Group

The Downtown Stormwater Working Group met Wednesday to continue our on-going stormwater work. The group, which has been together for almost a year now, discussed updates provided on each of the subgroups (modeling, maintenance, open space and ordinance). Giving us feedback, posing questions and sharing insights, these citizens are critical partners in helping us develop adaptive strategies that engage our community in managing stormwater in the heart of Cary. At the end of the meeting, one of the group members commented on how it is "refreshing to see the way the Town is now approaching stormwater." The group looks forward to the first quarterly meeting where stormwater will be a discussion topic.

Purchasing Power

I want to thank Ishani Padmaperuma and her team in Purchasing for inviting me to their place to talk candidly about the challenges of change, reserving "no" for the biggest things, and the importance of being close to those we work with.  Also, I was blown away by my tour of the warehouse – it's a powerful example of just how fortunate we are in Cary.

NCDOT's NE Maynard Road Grade Separation Project

NCDOT held an open house on Tuesday, October 16th to introduce two concepts for the grade separation planned at NE Maynard Road and the existing railroad tracks, near the intersection of E. Chatham Street. Approximately 70 people attended the open house at the Herb Young Community Center, including a large population of primarily Spanish-speaking residents. An interpreter was on-site to facilitate discussion and listen to resident concerns.

Two alternatives are being proposed: 1) an option that takes Maynard Road under the existing railroad tracks and realigns existing Chatham Street outside of the railroad corridor, and 2) an option that realigns Maynard Road over the railroad tracks and Chatham Street on a new alignment east of the existing intersection. In addition to the open house, 18 local business owners in the project area attended a morning meeting with the NCDOT project team to provide input and feedback on the draft concepts.

This NCDOT project is currently in the development stage with a public hearing scheduled for summer 2019, right-of-way acquisition planned for 2022 and construction tentatively scheduled for 2024. Concept maps and project information can be viewed online.

NCDOT's US 64 Improvements Project

On October 15, the Town of Cary, including Jack Smith and Jennifer Robinson, hosted members of the MacGregor West HOA to meet with NCDOT staff and consultants to discuss NCDOT's US 64 Improvements Project. MacGregor West residents shared concerns about the impact and appearance of widening the US 64 corridor.

The following day, Cary staff met on-site in the Balmoral neighborhood with members of the HOA and the NCDOT project team. Balmoral residents shared concerns including the potential loss of vegetation, noise, and traffic flow. Staff and citizens in both HOAs will continue to work with NCDOT on the planning and design of the corridor to ensure an aesthetically pleasing project. Visit NCDOT's public engagement portal for more information.

Art Installation at Carpenter Park

The Queen Swans by artist Christine Bourdette were installed at Carpenter Park this week.

Water Tank Construction Milestone

The Good Hope Church Road Water Storage Tank reached new heights this week as the bowl was hoisted into its final position. Hydraulic jacks located at the top of the concrete column were used to pull cables connected to the bottom of the tank bowl. The 120-ft journey took nearly 6 hours to complete. That's a whopping 0.003 miles per hour! But a slow and steady approach won the day as the work was completed uneventfully.

While this is a significant milestone, there is still much to do at the Good Hope site. As coatings are being applied to the inside of the tank, work outside will focus on the pump station building. The pump station will allow the water stored in this Western Pressure Zone tank to also be used in the Central Pressure Zone where demands are higher. The project will be completed and the tank put into service in the summer.

NCDOT's Ten Ten Widening Project

NCDOT will be holding a second open house for the Ten Ten Road widening project on October 23rd from 4-7pm at the Summit Church in Apex. Project limits include the Ten Ten Road corridor from Kildaire Farm Road to the Apex Peakway. The first public meeting on the project was held on March 1st to preview two concepts for the corridor: a super-street and a conventional option for widening. Based on public input, NCDOT has eliminated the super-street alternative and will be moving forward with the conventional road widening option. Updated meeting maps and information, along with public comments received to date can be viewed on NCDOT's project page.

Western Wake Plant Celebrates Four Year Anniversary

In celebration of four years of operation, staff from the Western Wake Regional Water Reclamation Facility (WWRWRF) proudly shared what they call the "Greatest Place on Earth" by providing a tour for staff on Tuesday and hosting a neighborhood BBQ and tour for New Hill residents that evening. Town of Cary and Apex staff and council members joined in the evening celebration. The WWRWRF is the largest capital project completed by the Town of Cary and provides a great model of regional collaboration among Cary, Apex, and Morrisville in planning for the future of wastewater treatment capacity in western Wake County.

Glenaire Residents Visit Cary TV

On Tuesday, several citizens of the Glenaire Retirement community visited Town Hall for an in-depth look at Cary TV's operation. Led by former Planning & Zoning Board Chairman Ed Clayton, the group received a breakdown of our Council Chambers operation, including how the control room operates and what it takes to broadcast Council meetings as well as what it takes to film BudTV and internal videos. Demos included staging the interview set for the Retreat Video and highlighting Cary TV's edit suite. As a bonus, the group got a great look at the adjacent Traffic Management Center. The group was very appreciative and we expect the relationship to continue as they work to build out their conference center and channel operations at Glenaire.

Ivey-Ellington Maintenance

The roof of the historic 1870s house is being stripped and repainted. The structure's metal roof was originally unpainted; however, at some point it was coated with metallic silver and then after 2000 it was painted green. To return it to its historic appearance based on photographic evidence, it was decided to paint it a neutral gray tone. The contractors will surface prep on Friday by brushing the roof to remove any loose material. They will clean up and be offsite this weekend for the Farmer's Market. Depending on weather, painting should start next week.

2018 Monster Mash

Over 50 Specialized Recreation participants had a blast displaying their greatest monster moves at the 2018 Monster Mash held on Saturday, October 13th. Family, friends, Cary Teen Council and TOC staff joined in the fun.

Recognitions

Many thanks to staff throughout the organization that participated in the development of the FY 2019 budget. This document's modern formatting, style and generous use of pictures, charts and graphics represents our first step in creating a budget that integrates our guiding document, the Imagine Cary Community Plan, while conveying information in an inviting and easily-consumable format. We will continue to build upon this foundation in future budgets. The FY 2019 Annual Operating Budget and the Capital Improvements Budget/Plan may be found on the Town's website. Printed copies are available at the Downtown Cary Library and the West Cary Library. Hard copies will be distributed to Council members at their October 27 meeting.
Emails from Citizens
Emails from citizens this week included:
A request to help remove a tree on private property (we are not allowed).
A request for help in a Morrisville rezoning.
A question about licensing ATT/Uverse (licensed by the state and federal governments).
Questions about a mission helping the homeless.
Next week's activities include staff meetings, private meetings, the groundbreaking for Fire Station 9, a Triangle Aquatic Center event, a regularly scheduled council meeting, and a Wake County Mayors Association event.
Get In Touch
Well, that is all for this week. My next post will be on Sunday, October 28th.  Although I have Facebook and Twitter accounts those are not the best means of communications with me. Please send all Town of Cary questions or comments to Harold.Weinbrecht@townofcary.org and email personal comments to augustanat@mindspring.com.
---
From the blog of Cary Mayor Harold Weinbrecht. Photos courtesy of Harold Weinbrecht.
https://carycitizenarchive.com/wp-content/uploads/2018/10/HaroldBlog-Oct22-2.jpg
550
800
Harold Weinbrecht
https://carycitizenarchive.com/wp-content/uploads/2020/03/cc-archive-logo-450-v3.png
Harold Weinbrecht
2018-10-22 13:07:15
2018-10-22 13:07:15
Harold's Blog: Stormwater Group, Oktoberfest and More