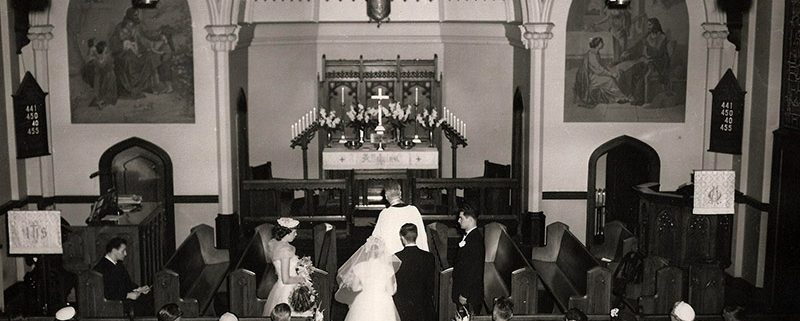 Cary, NC – In 1947, American G.I. James Ellington brought his German war bride home to Raleigh. Here is an account of her life, told by her daughter, Charlott, in an oral history interview. In 2018, Charlott and her half-siblings published her mother's memoir, called The Home of My Heart, which describes her harrowing experiences of survival from East Prussia throughout World War II. Her story is spell-binding.
Charlott Ellington
My parents, James Ellington and mother Gerda, met in an American POW camp during the war. I was born in Germany in 1947. When James' tour of duty ended, we arrived in Raleigh at the end of 1947, making my mother a war bride. A few years later, after obtaining her American citizenship, my parents divorced and Mom found a job at Wachovia Bank. She met Robert Pleasants in 1961, and they married in March of 1962. Robert was a Wake County sheriff for twenty-eight years. All the county's deputy sheriffs reported to him, and he was responsible for the jail and the jailers. My half-sister, Ida Patricia Pleasants, and half-brother, Robert Alph Pleasants, were born a few years after their marriage.
My mom was lucky to survive World War II. Her hometown of Bremen was in East Prussia. When the Russians came to town, Mom had already been drafted into the German air force as a radio operator, stationed in a bunker inside a castle in Italy. The castle was awful, there were rats. One night, their boss locked them into their room because he said, "Something's going to happen tonight."
The next day, they found out, Mussolini had spent the night in the castle with his girlfriend. The next day when they left was the day they were arrested and hung in a town square. At one time, Mom was shot once in her ear and she had a scar. She was captured and sent to an American POW camp in Italy. She was happy there because they were given food, clothing, toiletries, and Camay soap. (The first thing she did when she arrived in America was to buy Camay soap). James Ellington was the manager of the camp, and that is how they met.  Because she spoke English, she worked in the camp kitchen.
When the war ended, she stayed on at the American base and worked in a school as a teacher. She and James were married there in 1946. Through the Red Cross, she learned that her parents and sister had escaped Bremen, and when the war ended, they returned to East Prussia, settling in the small town of Delmenhorst just outside of Bremen. She also learned her brother was killed in France in March, 1945, on one of the last days of the war.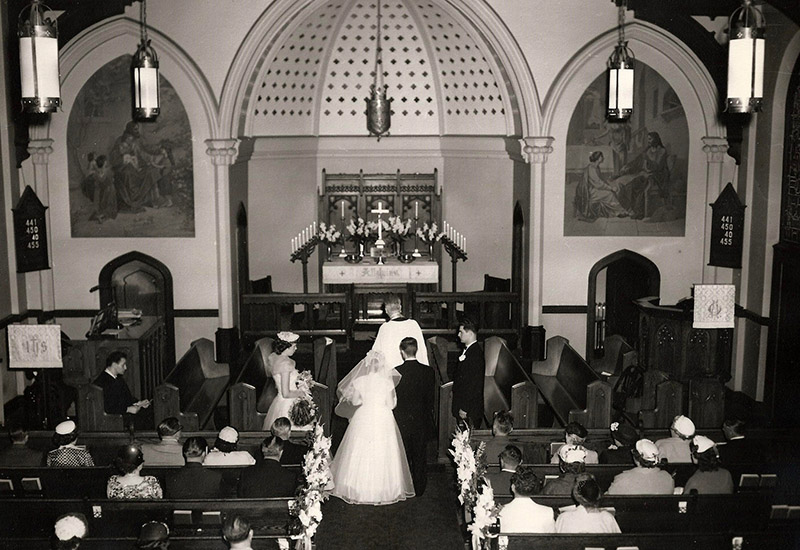 ---
Story by Peggy Van Scoyoc. Photo by Walter. Much of Cary's Heritage is taken from the book, Just a Horse-Stopping Place, an Oral History of Cary, North Carolina, published in August, 2006. The book is a collection of oral history interviews conducted between local citizens and Friends of the Page-Walker Hotel. The rest comes from later oral history interviews with local citizens.
https://carycitizenarchive.com/wp-content/uploads/2018/10/CaryHeritage-Oct2018.jpg
550
800
Peggy Van Scoyoc
https://carycitizenarchive.com/wp-content/uploads/2020/03/cc-archive-logo-450-v3.png
Peggy Van Scoyoc
2018-10-23 09:26:14
2019-12-08 15:32:03
Cary's Heritage: World War II Wedding