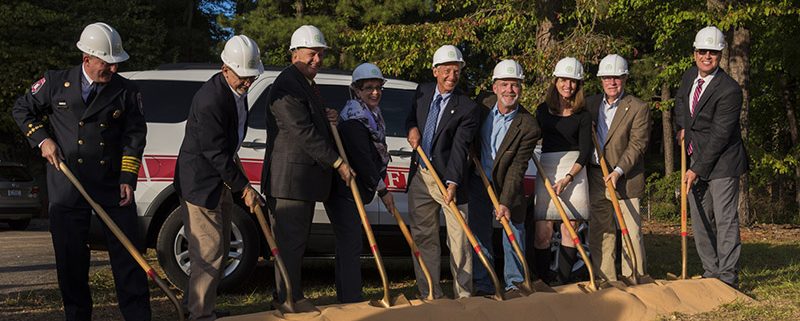 Cary, NC – This week's highlights include a fire station groundbreaking and a regularly scheduled council meeting.
Monday – Kildaire and Maynard Shopping Center
Monday I contacted all council members to hear of questions and concerns they may have had about the Thursday council meeting. Most of questions were about the developer condition on the Pine Rail Lane and Green Level West Road rezoning proposal. There were also questions about the public hearing on MacGregor Centre Planned Development rezoning proposal. Later in the day I met with staff to go over the agenda and questions the council members had. Our meeting concluded in about 15 minutes. Following that meeting I had a short meeting with the town manager and Mayor Pro-Tem Bush.
My final meeting of the day was with staff and a developer who owns property behind the shopping center at Kildaire and Maynard. In the past the developer has proposed rezonings, one of which included a storage facility, which were denied. He recently had a rezoning that was approved to allow certain types of commercial use. He explained that he couldn't get interest in that type of development or from adjacent property owners. He would now like to propose a storage unit again. I recommended that he draw up ideas and visit with council members individually before proceeding with another rezoning request. My meeting with him concluded after about 30 minutes.
Tuesday – Fire Station 9 Groundbreaking
Tuesday I joined the entire council for the groundbreaking ceremony of Fire Station 9 emceed by town manager Stegall. This new fire station will be located at the corner of Walnut Street and Nottingham Drive. It will replace the oldest Fire Station at the corner of Cary Town Boulevard and Maynard Road. The new two-story, three-bay Fire Station 9 will be more than 17 thousand square feet, with typical amenities including sleeping quarters, a dayroom and kitchen. It will also feature a 14 hundred square foot multi-purpose training room. The estimated total project cost of $7,900,000 supports design and construction. Of this total project cost, $1,000,000 comes from the 2012 Community Investment Bonds referendum approved by voters. The estimated cost of design $750,000 with construction estimate estimated around $7,150,000. The land at 1427 Walnut Street was purchased in October 2013. To find out more about the first station project go here.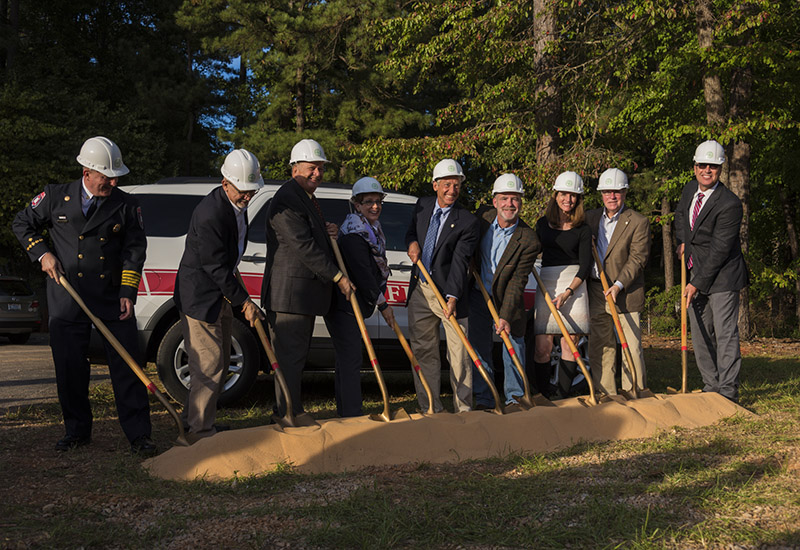 During the ceremony Town manager Stegall made announcements about several key staff positions. Allan Cain will move from Fire Chief to the newly created position of Public Safety Director and Mike Cooper will be the new Fire Chief. He also let everyone know about the retirements of Police Chief Tony Godwin and Deputy Town Manager Mike Bajorek. Those two retirements will create a HUGE need. I have loved working with both of these men and they are both fantastic individuals. Chief Godwin has done tremendous work bringing our community together time and time again when it seems the rest of our country is being torn apart. Deputy Town Manager Bajorek has spent years perfecting customer service and is one of the main reasons Cary is such a great place to live, work, and play. God bless both of them and I wish both of them the very best in their retirement years.
In addition to Stegall's comments at the groundbreaking, remarks were made by District C representative Jack Smith and newly appointed Fire Chief Mike Cooper. After the speeches the council, town manager, fire chief, and public safety director all joined together in the ceremonial turning of the dirt. I look forward to the ribbon cutting in 2020.
Tuesday night I attended an event at the TAC (Triangle Aquatic Center). The purpose of the event was to bring donors of the Capital campaign together with prospective donors to TAC. First we were shown the expansion plans that were approved at Thursday night's council meeting. Then we heard about their mission to reduce drowning. In the statistics provided they noted that most of children that drown are from low-income families. They also pointed out that drowning was the number one cause of death for children under 4. Their new mission is to train boy scouts and have them help with training others how to swim. What a great idea.
Thursday – Cary Town Council Meeting
Thursday the council held its last regularly scheduled meeting of the month. The agenda included 9 consent items, 6 public hearings, and 3 discussion items. Two of the discussion items were the annexation and rezoning of a proposed development at Green Level West Road and Pine Rail Lane. At the request of the applicant that development was tabled indefinitely.
One of the biggest decisions of the night was the approval of the Fenton District Development Agreement which was over 80 pages long. The development agreement provides for careful integration between public capital facilities construction and the phasing of Fenton to ensure that public facilities are available and enjoyed by Town citizens before Fenton generates substantial increased demand on existing public facilities.  The Master Developer will bear all upfront costs to construct significant public facilities (roads, utility infrastructure, and greenway) and will be reimbursed by the Town after significant development milestones are reached.  In addition, all eligible office space will be designed to achieve an ENERGY STAR score of 75 or greater.  In recognition of this and other significant contributions to the reduction of energy consumption, the Town will pay certain development-related fees for the initial phases of development.  The Master Developer will participate financially in future traffic studies and funding of future transportation improvements as more office space is developed at Fenton. Now that the developer agreement is approved the applicant's next step is to purchase the property from the state and start grading the property. The first businesses should open in 2020 and 2021.
The Koka Booth Amphitheater management plan and budget was also approved by council. Staff reported a decline in attendance for the first time since 2015.  This decline was the result of two factors: fewer national concerts and fewer facility rentals, both of which had a significant impact on the facility's projected revenues. The decline in those areas was offset by increases in other areas, but the net effect was a return to the Amphitheatre's typical operating subsidies. The rental decline was largely due to the construction calendar which will not be a factor for 2019.  A new promoter arrangement will allow multiple promoters to bring acts to the facility. Staff reported that several acts have already been booked for next year.
The council meeting concluded in less than an hour.
Sunday – Meeting with Mayors
Sunday I joined the Wake County mayors with their family and friends at our annual outing at a Carolina Hurricanes game. This is a great time to get to know the other mayors and those they are close too. We all had a good time even though the Canes lost 2-1.
Emails From Staff
Emails from staff this week included a good description of the town's recycling program and its limitations:
"…Thank you inquiring about bagged recycling.  Mayor Weinbrecht is correct.  The Material Recovery Facility (MRF) dictates how they accept materials for sorting.  While our trucks collect recycling at the curb, the items are sorted by hand and automation at the MRF, and then bailed by commodity for sale to end users.

There are several reasons for the recycling guidelines you mention. For shredded paper to be captured in that sorting line, it must be in a clear bag that the manual sorter can easily identify and remove to a pile specifically for shredded paper recycling.

On the other hand, all other materials must be loose, not bagged, on the sorting line for efficient and safe sorting. The MRF will not open bags on the line because it is time consuming, staff intensive and more importantly, it has proven to be dangerous for the "pickers."  While your bag of recyclables may be very clean, you would be surprised how often bags of trash and other hazardous materials end up at the MRF.

Here's a link to a video that describes the sorting process at the MRF in Raleigh: https://youtu.be/HowgOLdv3pk. …"
The video is a must see. It is very informative and narrated by children which make it even more interesting.
Town Manager's Report
The town manager's weekly report included:
AG Josh Stein Kicks Off Pill Take Back in Cary

Attorney General Josh Stein visited the Police Department this afternoon to partner with Police Chief Godwin, Town Manager Sean Stegall and Council member Lori Bush on a statewide media message in anticipation of the DEAs National Pill Take Back initiative. Cary has consistently placed great emphasis on this important event as we recognize this program provides a safe way to dispose of unwanted and unused medications that could otherwise be disposed of through our refuse or sewer systems as well as fall into the unintended hands of others. We are excited and honored that Attorney General Stein chose to partner with Cary on this important message.

Cary will be hosting the following five "pill take back" locations on Saturday, 10/27, from 10am to 2pm:

Main Police Station–120 Wilkinson Ave
Christ the King Lutheran Church–600 Kildaire Farm Rd
Walgreens–1210 Kildaire Farm Rd
Walgreens–10210 Green Level Church Rd
CVS–2994 Kildaire Farm Rd

Branding Update

With the research portion of our Community Branding project underway, a vision survey will be distributed to over 450 Cary business and community leaders. North Star will use the data gathered from this online, qualitative survey to assist in their education and research efforts to cultivate Cary's strategic DNA.

In November, North Star will revisit Cary to collect feedback through additional structured interviews, focus groups, and informal conversations with citizens, workers, and visitors in various spots around town. A community-wide survey will be distributed in December, allowing everyone who lives and/or works in Cary to provide input.

Fire Station Groundbreaking

The Town of Cary broke ground on the relocation of Fire Station 9 on Tuesday, October 23. The new facility will replace the existing Fire Station 9 which was built in 1974 and is overcrowded by vehicles and staff. By redeveloping this land as a Cary Fire Station, we are helping to realize the vision for Cary's future as set forth in the Imagine Cary Community Plan. At the groundbreaking ceremony, I was also honored to announce the appointment of Allan Cain as the Town's first Public Safety Director and the promotion of Mike Cooper to Fire Chief. Many citizens from across Cary and particularly from the neighborhood attended the groundbreaking. The project is expected to be completed in the winter of 2020 and we hope to see you all back at the ribbon cutting.

Adaptive Stormwater Maintenance Paying Dividends

The Pilot Stormwater Maintenance Program is nearing completion in the downtown Walnut Creek Basin. There is approximately 10,000 feet of storm drain pipes in the pilot area, and Public Works has completed maintenance on approximately 70%, with half of the pipes requiring cleaning.

The initiative started in March, sparked by the Adaptive Stormwater efforts and Council approval of funds for equipment in February. The pilot program includes locating, verifying, and video documenting the condition of all pipes, in addition to cleaning, as necessary. Using state of the art technology, this information is being used to update our condition assessment tool and Walnut Creek model to reflect actual conditions. These efforts are yielding results beyond just storm drain lines. The results have identified gaps in technology and processes that are being addressed, accentuating the importance of piloting these new innovative efforts.

TOC Rap Session Hits the Road

On Friday, October 26, we took the Town of Cary Rap Session on the road to Public Works. It was a very well attended session that included about 70 employees. We discussed race and racial Issues in today's society and focused specifically on law enforcement and communities of color for quite a bit of the session. The resounding assessment by participants was that it was a beneficial conversation and they are excited to have another opportunity to host a rap session at this location. We are currently finalizing plans to continue these sessions through 2019.

NCDOT's Ten Ten Road Widening Project

Approximately 170 people attended the second public meeting for the Ten Ten Road widening project between Kildaire Farm Road and Apex Peakway. NCDOT is proposing to utilize a traditional widening approach to improve the existing street from 2-lanes to 4-6 lanes with median, striped bike lanes, a multi-use path and sidewalks. A super-street widening option was previously considered but was eliminated based on public input.

At this time, the project is estimated to relocate approximately 17 homes and 6 businesses along the corridor. The project will be constructed in two phases, to be determined later, based on available funding. The project's environmental document is currently scheduled to be complete in December, followed by ROW authorization in 2021 and construction in 2023. Project maps, information and project manager contacts for comments, which may be submitted until November 20th, are available online.

Wake County Comprehensive Planning

PlanWake is Wake County's process for defining priorities for the future and outlining a path to success for one of the fastest growing communities in the nation. PlanWake involves considering Wake County's major challenges and opportunities and developing a vision that represents the County's diverse values. The process will result in a new comprehensive plan with high-level policies that will guide County actions and decision-making.

On October 19, planners from several Wake County municipalities, including Cary, attended an inter-jurisdictional work group meeting at Garner Town Hall to identify focus areas where growth is anticipated, discuss opportunities for open space conservation and to receive updates on the PlanWake process. Community input from all Wake County residents is encouraged. Learn more about the process and share your ideas through an online project survey by visiting planwake.org.

Roof Replacement

Beginning Monday, October 29, the roof on 120 Wilkinson Avenue (Police and Information Technology) will be replaced. While dependent on the weather, work is currently scheduled to be finished by the end of December. Most work will be occurring on weekdays between 7am and 6pm; the contractor is aware of scheduled events and will work around them. Be aware of heavier traffic due to construction.

Street Maintenance

In an ongoing effort to maintain the infrastructure we have, we will be closing lanes on West Chatham Street and Waldo Rood Boulevard the week of October 29 for street resurfacing as part of the FY18 Street Improvements Project.

Weather permitting, westbound W. Chatham Street from Wheatley Way to Fallsworth Drive is scheduled to be closed on October 30 from 9am to 4pm. Lanes of Waldo Rood Boulevard from Chestone Court to Graywick Way are scheduled to be closed on October 31 and November 1 from 9am to 4pm. Drivers traveling through both areas are advised to use caution and follow the direction of pilot cars and onsite flaggers.

Cameras installed at Cary Tennis Park

Playsight installed high performance cameras that will give Cary Tennis Park the ability to live stream play on 13 courts. Playsight, one of Fast Company's 10 Most Innovative Companies in Sports, recently installed their SmartCourt technology on 32 courts at the United States Tennis Association's National Campus in Lake Nona, Florida.

Awards

During Fonteva's annual user conference, Cary was presented with an Innovation Award for using the base software package and building well above its current state to meet the needs of local government, being the first parks and recreation department to use Salesforce in this fashion, and demonstrating our commitment to revolutionizing the way local government meets the needs and desires of citizens.

Luke Guthrie also presented at the conference and shared how Cary is building a world-class, single point of service municipal membership experience on the Fonteva and Salesforce Platforms. Luke shared how Cary is building facilities, reservations, programs, registrations, membership, and event functionality.

In addition to this recognition, Dell Boomi has selected Cary for its inaugural 2018 Emerging Technologies Award. This award recognizes our vision and early efforts around our Smart and Connected City program. The Town utilizes the Boomi product to implement integrations between our on premise systems and cloud platforms, a critical component of our platform and IoT strategies.

Open Data Panel Discussion

Nicole Raimundo served on an open data panel at the 2018 All Things Open Conference which included 4000 attendees at Raleigh Convention Center. This panel provided attendees with ideas and thought leadership on how to inject engagement into open data programs. She was also a featured speaker that evening at NCRIOT's IoT Demo Night. She provided attendees with details around our opioid-detecting sewer robots and how this technology is helping our efforts in fighting the opioid epidemic. Wilson Farrell and Terry Yates also manned an exhibit booth during the event that showcased Cary's Smart City and IoT efforts.

Building a Better Mouse Trap

Our latest addition to our Smart Campus is IoT enabled rodent traps developed by Bayer4Crops. This allows us to evaluate the location of our current traps and determine if changes need to be made so we can keep a healthy environment.

Recognition

Clayton Mills, Facilities Coordinator, was hit hard by Hurricane Florence, in which he and his wife lost their place on Lake Waccamaw along with everything in it. "Comeback Coolers," a group made up of hurricane survivors as far back as Katrina, delivered coolers filled with cold drinks, ice, snacks and messages of hope. Initially, Clayton declined to take the cooler, as he felt his family was okay and others were more in need. The group was persistent, however, and they finally accepted, with heartfelt appreciation. It was so encouraging to have total strangers care enough to be there and provide for them in their time of need. That brief encounter motivated Clayton and his wife to resolve to pay it forward.

Their opportunity came much quicker than expected when Hurricane Michael arrived just a couple of weeks later, and Clayton joined in to deliver coolers to others in their time of need. Over 500 coolers from Texas, North Carolina, South Carolina, Mississippi, and Alabama were delivered to the Florida Panhandle. Locally, Clayton's request for help from his co-workers resulted 47 fully-stocked coolers and other items that he then distributed to the folks in Altha, Florida, about 150 miles north of Panama City.

Thanks to model citizen Clayton Mills, and all who contributed to this effort, for exemplifying empathy and good citizenship.
Emails From Citizens
Emails from citizens this week included:
Questions about the Church in the Woods mission.
A request for help getting high speed internet into the Cary part of Chatham County.
A question about recycling (mentioned previously).
A concern about a rezoning on Morrisville Carpenter Road and Davis Drive in Morrisville (I contacted the mayor and this project has been tabled).
A concern about irrigation costs.
A concern about anti-semantic fliers (An investigation showed that this individual is posting these fliers at night. This is being closely monitored).
A concern about the upkeep of grounds of empty properties on Kildaire (Property owners have been notified).
A concern about the future of the Cary Town Center and hope that the indoor space will remain.
A request to speak at a homeowner's association meeting (I will be glad to do this for any HOA or organization meeting as long as I can fit it on my calendar).
This week our nation suffered from three hate crime incidents. How Horrible! My thoughts and prayers go out to the victims, friends, and families. Our country continues to be torn apart by the hatred and polarization being spread by people in prominent positions on both sides of the aisle. We need leaders in both parties to work with one another on solutions to all problems. It is only through cooperation, respect, and understanding that we will reach our potential as a nation. When I go to the polls I will be looking for those who are willing to love and respect all rather than follow the extremist in a political party. It is my hope you will do the same.
Next week's activities include the ribbon cutting for the Hive in Western Cary, staff meetings, a meeting with developers, an award ceremony for Hum Sub Youth Achievement, and Cary Band Day.
Well, that is all for this week. My next post will be on Sunday, November 4th.  Although I have Facebook and Twitter accounts those are not the best means of communications with me. Please send all Town of Cary questions or comments to Harold.Weinbrecht@townofcary.org and email personal comments to augustanat@mindspring.com.
---
From the blog of Cary Mayor Harold Weinbrecht. Photos courtesy of Harold Weinbrecht.
https://carycitizenarchive.com/wp-content/uploads/2018/10/HaroldBlog-Oct29-1.jpg
550
800
Harold Weinbrecht
https://carycitizenarchive.com/wp-content/uploads/2020/03/cc-archive-logo-450-v3.png
Harold Weinbrecht
2018-10-29 10:30:34
2018-10-29 10:02:54
Harold's Blog: Fire Station, Town Council Meeting and More