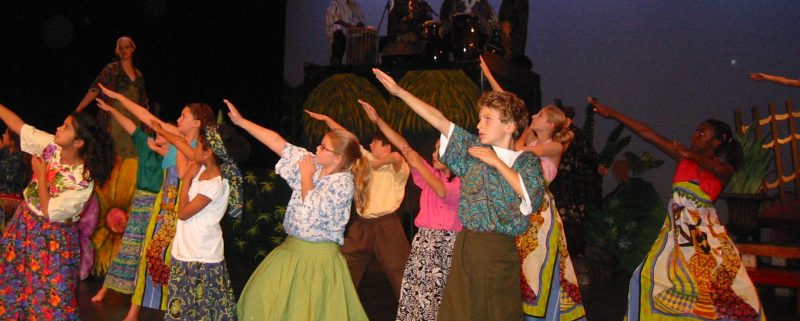 Cary, NC – Since the 1990s, Applause! Cary Youth Theater has been the gateway into theater for hundreds of local students. Now in its 20th season, the program is reflecting on its past while also bringing in alumni to participate in productions from Applause's history.
Introduction to the Theater
Applause! Cary Youth Theatre started back in 1999 and Rachel Baranski, Performing Arts Education Specialist with the Town of Cary, said the program has undergone significant change since then.
"We originally had two productions a year, produced off-site, and had to contract with other theaters for space and resources," Baranski said. "Now we have hundreds of participants a year, we have three full productions each year, a dedicated home at the Cary Arts Center and everything from a costume lab to a dance program."
Applause! Cary Youth Theatre teaches students, from as young as six up to high school years, about acting and performing on stage and gradually giving them the tools to put on a show themselves. Not only does this teach acting skills but also many technical skills from working lights and sound to building sets and costumes.
This year, as part of the theater's 20th season, Baranski said they are bringing in alumni, several of whom already came back to become Applause staff, to help with the year's shows.
"They want to give back to the program and we want to incorporate that," Baranski said. "These are people who helped build the program and we're touched by the response."
Applause's alumni includes former students such as Roxanna Peykamian, who started when she was in fourth grade after wanting to get into theater for years.
"I was a shy kid so having the Summer Camp to start was good for me," Peykamian said. "It ended up being like a family to me. And when we would have new students come in, they'd all join our little family."
Peykamian has stayed with the arts and is now studying filmmaking. She said Applause taught her how to express herself.
"It taught me how to take risks. When you have influence of how to try new character and experiment with performance, it shows you have to be creative," Peykamian said. "It made me a better storyteller."
Other students such as Joseph Gaitens, who is still in high school, said Applause was their first introduction to theater.
"I realized that the passion I had for performing and process was borne out of Applause. It's hard to know where I'd be without it," Gaitens said, adding he is planning to go to college for musical theater and has worked with NC Theatre and Theatre Raleigh since joining Applause.
Not only did Applause give Gaitens his introduction to theater since first taking their summer program when he was in elementary school, but he also said it has helped him become a better actor.
"I really learned how to be a diligent actor. The directors are great and they make sure you know your schedule, you get there on time and you're learning your lines," Gaitens said. "That focus on work ethic and professionalism stuck with me."
Sam Hamashima started with Applause when he was nine years old and now works as a touring stage actor. Hamashima said Applause was his introduction to theater and he felt welcomed in from the start.
"It taught me how to take direction. The relationship between an actor and a director is an integral part of what we do," Hamashima said. "It also taught me a lot about creativity. I learned to chance a change. They were always asking us to take risks, whether it's improv or the director asking you your opinion on how your character should behave. When someone asks you your opinion and your opinion matters, that boosts your confidence."
Hamashima said one of his favorite aspects of Applause was how each show had a different director so he got to learn many different styles of direction and teaching, which he has been able to use when teaching and guiding other actors in his career.
"Applause is where I found my community. It gave me a place to go besides school and sports," Hamashima said. "Rachel is incredible. She's one of the most incredible people in Cary."
To commemorate their 20th season, Baranski said Applause is not only incorporating more alumni but they are bringing back plays from significant points in their past. This season includes "Charlotte's Web" – Applause's first ever show back in 1999 – and "The Somewhat True Tale of Robin Hood" – the last show Applause put on before moving to the Cary Arts Center.
Building the Program
While Applause! Cary Youth Theatre teaches and trains actors, a large portion of the program is also devoted to design and production, which Baranski said was not originally part of Applause.
"Early on, kids said they liked volunteering on the design side but they wanted to do more," Baranski said. "They wanted to make decisions on things like the color of the sets and the design, so in 2006 we launched a design side and they learn from the technical staff at the Cary Arts Center."
In the design program at Applause, students learn everything from running curtains to controlling lights and sound to building sets and costumes to script analysis. Kit Walsh took part in Applause's design program, starting in Middle School, and said the hands-on approach taught a lot about production.
"It taught me a lot of basics and groundwork. And not just learning lights or sewing. I learned a little bit of everything," Walsh said.
In fact, Walsh said this knowledge carried on to other programs in the future.
"I worked on the Never-Ending Story and did the lights for it," Walsh said. "Then, I designed the lights for shows later on and I could bring that skill back to my school productions."
In addition to acting and technical skills, Baranski said Applause teaches the participating students life skills on how to build a supportive community.
"Kids learn how to listen to one another and disagree respectively," Baranski said. "They become mature and confident. I heard one story of a student who stepped in as the design teacher at their school theater."
Michelle McGoogan said her time in Applause taught her about empathy, both through her character work and through talking with other students.
"When you're learning acting, it teaches you how to think as someone else and you have to understand what's going on in someone else's head," McGoogan said. "Through working as a team, I also learned about giving and taking. As a dramatic kid, I would want attention but if I'm taking all the focus, it's not serving my character or the story well."
One of McGoogan's biggest life skills from Applause, she said, was learning confidence and overall stage presence.
"It's something people don't think about but it translates into everyday skills, whether we're giving a presentation or doing a job interview," McGoogan said. "When you are able to be on stage in front of a lot of people, you are vulnerable and that is something we're not normally used to. But when I was able to be open and vulnerable and not be nervous, it was a pretty cool feeling."
Applause! Cary Youth Theatre is holding auditions for its upcoming shows later this November with the full schedule on the Applause website.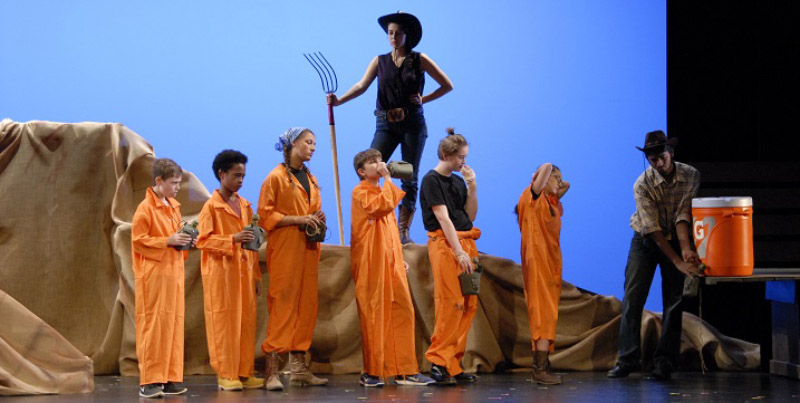 ---
Story by Michael Papich. Photos courtesy of Applause! Cary Youth Theatre and Sam Hamashima.
https://carycitizenarchive.com/wp-content/uploads/2018/11/CaryYouthTheatre5.jpg
550
800
Michael Papich
https://carycitizenarchive.com/wp-content/uploads/2020/03/cc-archive-logo-450-v3.png
Michael Papich
2018-11-09 12:56:58
2018-11-09 12:56:58
Applause! Cary Youth Theatre Celebrates 20th Season