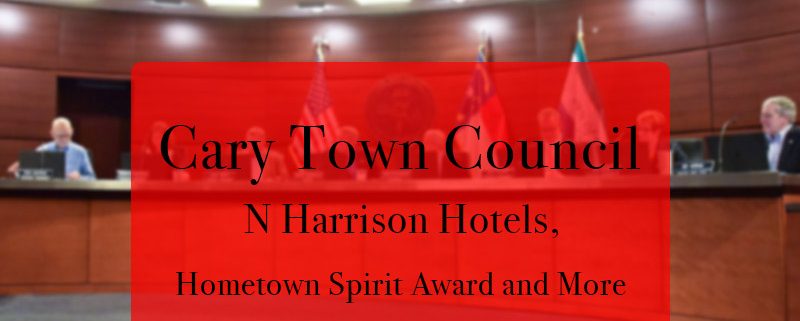 Cary, NC – The latest Cary Town Council meeting finally saw a vote on the long-tabled North Harrison Avenue hotel project, as well as several other Public Hearings, a pinning ceremony for Cary's newest fire chief and the announcement of the 2018 Hometown Spirit Award winner.
North Harrison Hotels
For many months since this project first came up for its Public Hearing, the proposal to rezone 7.2 acres on North Harrison Avenue next to the Arboretum for hotels has been tabled. But at the Thursday, November 15, 2018 Town Council meeting, the item finally had its vote.
In the intervening months, the proposal has gone through several changes. Originally, the rezoning called for three hotel buildings with a maximum of eight stories and 350 rooms. The new proposal limits it to two buildings, 252 rooms and building heights of between three and seven stories. Also, champion trees on the site are now preserved and there is a 250-foot setback.
Another sticking point with the project was its link to North Harrison Avenue. It's a high traffic road and people leaving would need to take a U-turn to go left. The original proposal to ameliorate this was to build a north-facing driveway to leave the hotel site but the office whose property this driveway would pass through was opposed to this plan. However, the new plan proposes an alternative driveway connection with another property if talks with the office are not able to be resolved. The rezoning conditions also require the hotel to build some form of north-facing driveway.
When this proposal went up for a Public Hearing in February, there were 19 speakers on both sides of the issue. This time, there was only one speaker at Public Speaks Out: local real estate developer Glenda Toppe speaking in favor of the plan. Cary Mayor Pro Tem Lori Bush even questioned why there were so few speakers at this meeting and asked whether people in the area had been sufficiently contacted about the meeting, which town staff said they felt they had done.
Town Council said they were impressed by the amount of work done on the project since its earliest incarnations. Both Councilmembers Jack Smith and Ed Yerha said the U-turn had been a problem for them but the northern driveway "helps."
The final vote was 6-1, with only Cary Mayor Harold Weinbrecht voting against it. Weinbrecht said he was originally 99 percent opposed to it but was now closer to 50 percent. However, he said the density was still too much for his liking so that is why he voted against it.
Morrisville Parkway Assemblage
Of the five Public Hearings on the agenda, the one that saw the most discussion and public comment was for 11.87 acres along Morrisville Parkway and NC-55. This is for an unusually-shaped piece of land, with the intersection-facing section to become General Commercial Conditional Use and a narrow triangular portion to become residential land with a condition limiting density to three dwelling units per acre.
The conditions the applicant put in place for the commercial section only say what it cannot be, not what uses can go there. These prohibited uses include a bar, a nightclub, a hospital and outdoor storage among other things. Based on the applicant's comments, the goal is for part of this property to become a car wash but as Town Council repeatedly said, this is not a condition they have made so it is difficult for them to take that into consideration in their vote.
"If you think it might be a car wash, you might want to consider making a condition," Weinbrecht said. "We've been burned before."
The applicant's lawyer said the want part of this commercial section to be a restaurant but have not committed to that yet. The applicants ran a traffic study for a filling station, a car wash, a restaurant with a drive-thru and an office.
The rezoning would also require the applicant to do road improvements on the Morrisville Parkway/NC-55 intersection but the applicant's lawyer argued they should not have to pay for all of it, nor can they afford to do so.
Two speakers at the Public Hearing were the applicant who owns this land and the COO of Sam's Xpress Car Wash, who said they intend to build their car wash there and talked about their reputation. However, Town Council cannot take an individual applicant into account and can only vote on what the proposed rezoning is.
During Town Council's comments, they repeatedly talked about the need for more specific conditions if they want to insist on having a car wash, with Bush adding that because of their proximity to residential areas, it's very important that they know what is going in. Councilmember Jennifer Robinson also said the triangular portion creates a good buffer and they need some sort of stormwater control proposal if they are going to clear that segment.
The proposal then went to the Planning and Zoning Board for their recommendation.
Sears House Historic Preservation
The rest of the Public Hearings on the agenda saw very little public comment. The only one with any speakers was for an ordinance designating the John L. and Henrie G. Sears House a historic landmark. The house was built back around 1916 and underwent a rehabilitation in 2018. Also, the house has been relocated from its original location to face Sears Park.
Bob Myers with the Cary Historic Preservation Commission spoke about their meeting on the house. He said they voted in favor unanimously and were particularly appreciative of the historically-appropriate restorations. The only speaker at the Public Hearing was also a member of the Historic Preservation Commission who was similarly supportive.
Before the vote, Yerha said he was supportive and while he said he normally prefers to keep historic buildings in their original locations, in this case, he said moving the Sears House resulted in an improvement.
"It's in the same area but now it's in a better location," Yerha said. Town Council voted unanimously in favor of the ordinance.
Other Public Hearings
Two Public Hearings at the November 15 meeting were about financing resolutions, one for the Triangle Aquatic Center and one for Cary Fire Station No. 9. Both will get $10 million but in the case of the Triangle Aquatic Center, this will not be debt the Town of Cary holds because it is indemnified.
With the Cary Fire Station, up to $8.6 million will be debt financed and the Town of Cary is taking out the financial agreement with STI Institutional and Government, Inc., an affiliate of SunTrust Bank. This will be a 15-year repayment with a 3.12 percent interest rate. Town staff also said Cary Fire Station No. 9 on Walnut Street will be fully ready by the end of 2020.
Both were passed unanimously by the Cary Town Council, and the resolution for the Triangle Aquatic Center makes it clear that this does not mean its rezoning has been approved yet nor does it guarantee rezoning approval.
The final Public Hearing is on the need for new Land Development Ordinance amendments on small cell facilities because of new rule changes by the FCC. Town Council said their main concerns were still about the aesthetics of these small wireless devices but Cary Chief Innovation Officer Dan Ault said their appearances have "come a long way" over the past few years. There were no speakers at this Public Hearing and it went to the Planning and Zoning Board for their recommendation.
Public Speaks Out, Awards and Recognitions
The audience at this Cary Town Council meeting was packed, at least for the first hour, because of two recognitions early in the meeting. Many uniformed firefighters were at the meeting to see the official pinning of Cary's new Fire Chief Michael Cooper. Cooper has been a firefighter in Cary for the past 13 years and has recently served as Cary's deputy fire chief. He is replacing former Cary Fire Chief Allan Cain who is now Cary's public safety director.
This meeting also named the 2018 Hometown Spirit Award winner, a yearly award first given out in 2009. This year's winner is Guy Mendenhall, former Athletic Director at Cary High School and the namesake of the school's "Walter 'Guy' Mendenhall Spirit Award." Mendenhall is also known for his wealth of knowledge about Cary history and stories about the town.
Also speaking during the meeting were a group of local students who gave a presentation on Internet safety, such as how to update software, what kind of passwords to use and how to identify insecure websites.
Other than Glenda Toppe's comments on the North Harrison hotels rezoning, the only other speaker for Public Speaks Out was Bob Grannan with the Cary Players, thanking the town government for their support over the years and with the latest arts grant. And like previous years, the gathered audience and Town Council applauded his comments before remembering that applause is prohibited during Public Speaks Out.
---
Story by Michael Papich. Photos by the Town of Cary, Google Maps and Hal Goodtree.
https://carycitizenarchive.com/wp-content/uploads/2018/11/TownCouncil-Nov16-Featured.jpg
483
800
Michael Papich
https://carycitizenarchive.com/wp-content/uploads/2020/03/cc-archive-logo-450-v3.png
Michael Papich
2018-11-16 13:01:21
2018-11-16 10:49:04
Cary Town Council: N Harrison Hotels, Hometown Spirit Award and More