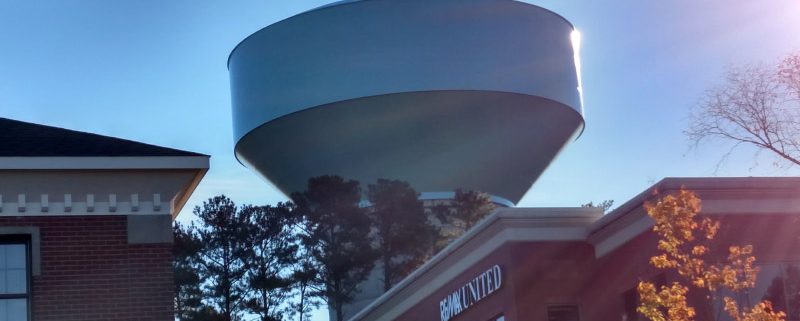 Cary, NC – As water storage tanks age, new tanks need to come in so repairs and replacements can happen. Two new Cary water storage tanks are set to come into service in the coming months, with the Kilmayne Water Tank ready by the end of November.
Kilmayne Drive Water Storage Tank
Cary's two newest elevated water storage tanks, or water towers as many people colloquially refer to them, are being constructed on Kilmayne Drive and Good Hope Church Road and are close to completion. Both look different than most Cary water towers because they are composite tanks with a concrete column supporting them. This design is increasingly popular because the unpainted concrete saves money on paint costs.
The Kilmayne Elevated Water Storage Tank is the closest to completion. Cary Utility Engineering Supervisor Robert Hirt said it will be placed into service in late November.
"The elevated storage tanks provide storage to help with distribution in the case of an emergency but it's also there to maintain sufficient water pressure," Hirt said.
The Kilmayne tank is close to the SE Maynard tank, which is several decades old at this point. Now that there is a new water storage tank in the nearby vicinity, Hirt said they will be able to do a complete restoration on the Maynard tank.
"We've already received bids for the Maynard tank. Construction should start January 2019 and be done by the Summer," Hirt said. "That should make it last another 20 years."
Good Hope Church Road Storage Tank
The other composite elevated water storage tank under construction in Cary is on Good Hope Church Road. Hirt said it will likely be done by Summer 2019 and together with the Kilmayne tank, these two will store around four million gallons of water.
The Good Hope tank is part of a change in the water pressure zones in Cary in 2005. In West Cary, there is less elevation so this resulted in different water pressures for residents out there. In response, Cary split the town into a Central Pressure Zone and a Western Pressure Zone, with a small Southern Pressure Zone created as well because of similar problems with elevation.
"This gave us the opportunity to reset things and we could manage the water pressures," Hirt said. "The Good Hope tank is part of that initiative. West of 55, we can now link people to the Central Pressure Zone." Hirt also said the pipelines to deliver water across the two pressure zones were not there in the mid-2000s but are now in place.
The result of these changes will be an increase in water pressure for thousands of residents in West Cary, which Hirt said has been needed. At the same time, the boundaries of the Central Pressure Zone and Western Pressure Zone is being moved, though most of the affected West Cary residents have already been switched over. The Town of Cary is also offering free water pressure checks.
One other benefit of the Good Hope tank is now West Cary has another water storage tank. This means the aged Carpenter Fire Station water tank can be repaired or replaced once the Good Hope tank is online.
Additionally, the Good Hope tank will also have a pump station, so Hirt said they can pump water into the Central Pressure Zone if needed.
---
Story and photos by Michael Papich.
https://carycitizenarchive.com/wp-content/uploads/2018/11/WaterTower2.jpg
550
800
Michael Papich
https://carycitizenarchive.com/wp-content/uploads/2020/03/cc-archive-logo-450-v3.png
Michael Papich
2018-11-16 09:31:44
2018-11-16 09:31:44
Kilmayne Water Tower Goes Into Service This Month, Other Water Tanks By Mid-2019