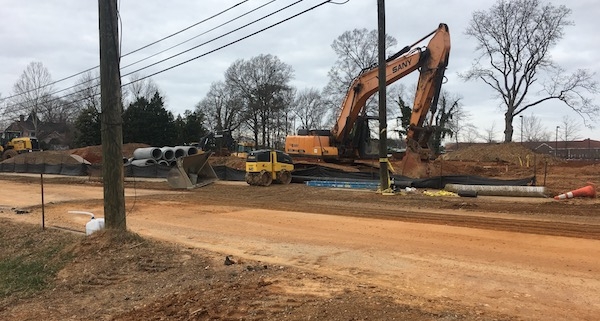 Cary, NC – Downtown Cary has been hopping with Town-funded projects and independent retailers for the last few years. CaryCitizen has written about many of these exciting new businesses including the development of Midtown Square, Bond Brothers, Pizzeria Faulisi, Crosstown Pub and more.
This column is going to update you with information about what is developing in the residential sector. 
"Inventories in Cary Downtown are at a record low, sparking a construction boom limited only by the amount of available infill project space and valuations which are putting limits on builder and buyer construction and permanent financing," said Scott Korbin of Howard Perry and Walston.
Here's what we are currently seeing under construction:
As a repeating column, we will reach out to local realtors and developers to comment on projects they are familiar with, or trends they see happening in Cary. Watch for this monthly column in 2019.
Thirteen Residential Projects in Downtown Cary
#1 & 2 East Chatham Street, two projects
A) Chatham Walk: Most everyone in Cary has heard of the condominium project being planned by Jordan Guessenhoven of Chatham Street Commercial at the corner of Urban and East Chatham. Thirty-three one-floor one-and-two bedroom flats are being sold ranging in price from $320,000 for a one-bedroom to $450,000 for the largest two bedroom units.
Sizes range from 1000 square feet – 1600 square feet. More than half fo the units have been presold and the site has been prepared to start construction soon. We wrote about it here.
B) Adjacent to the above project, along Urban Street, will be is a set of townhomes planned by Gussenhoven's uncle George Jordan's company, G H Jordan Development Co. Land, for both projects has been cleared and leveled. This particular project required a re-zoning and had much public comment at Town Council Meetings, both in favor and opposed.
#3 Walker Street
Three large single-family urban lot homes are being built facing the park.
One is already occupied while two are under construction. See photo above taken a few weeks ago.
#4 Sorrell Street Townhomes off of East Chatham
A village of 52 townhomes on 6.5 acres. Several houses were leveled to make way for this development and grading is underway. Bohler Engineering NC submitted the plans to the Town of Cary back in 2017.
#5 Chatham Pointe on West Chatham Street
Chatham Pointe by Blue Heel Communities is located near the Higgins Greenway and adjacent to the Golden Pig Korean restaurant on West Chatham. The community is comprised of one main thoroughfare with six groups of about five townhomes each, for a total of twenty-four homes.
Ranging from 2,000 to 2,300 square feet, prices start in the low $300,000s. Two sets are already out of the ground with siding and windows in place. Lots are cleared for the balance and are selling briskly. The largest units are listed as 2,200 square feet and priced at $359,000.
#6 East Park Street
Park Station Townhomes will be built where homes were recently knocked down on the stretch of West Park Street across and down the street from the Mayton Inn. These will face the North side of Phase II of the new Downtown Park when it is completed.
A total of thirty townhomes are being built on two acres with prices rumored to start in the $600,000 range.
#7 West Park Street at S Harrison
In a home section named Harrison Park, six homes have already been built and sold. The last two lots have been prepared, but are not under construction at the moment. Both have already sold.
The homes vary in size but the most recently completed home sold in November for $740,000.
#8 Ridgecrest
Three small brick ranch duplexes were recently sold and leveled between Charles Court and Knight Avenue. The ground has now been cleared, tilled and appears ready to start any day.
Keith Bliss, Bliss Real Estate brokered by EXP Realty let us know that seven homes are planned by Reward Builders. This flips this space from multi-family total of six residences to single-family homes of seven residences.
#9 Wood Street
Four townhomes are currently under construction on Wood Street, a little-known back street off of Dixon not far from the Cary Convenience Center.
These three-and-four bedrooms, three-bath homes range in price from $355,000 for 1,900 square feet to $380,000.
#10 Holloway Street
Three units were built over the summer and fall. They are listed as three-and-four bedrooms, three-stories averaging about 2,000 square feet with starting prices at $350,000. One is still for sale.
All have one car garage. These homes back up to the train tracks in a little know street off of West Street.
#11 & 12 Walnut Street – at least two projects
A) The mixed-use of high-density apartments and retail to wrap the parking deck when it is finished construction. Exact numbers are circulating with as many as 200 units. We plan to update this when more is known. This is not necessarily going to come before Town Council for any approvals as the proposed use is in accordance with the current zoning of the land.
Bliss said plans are "Still up in the air, best case is construction will start as soon as Library and Parking Deck are completed and open. Likely due to complexities of the current site work and timeline on approval of Downtown Park Phase II and announcement of the approved design/bond referendum."
B) At the corner of Walker and Walnut, three more three-story single family urban lot homes are under construction. Two of the three are under contract with prices in the low $500,000s.
Does anyone remember the house that stood on the lot previously? It was offered to be moved for free but instead was demolished with much of it recycled. Quickly afterward, the lot was cleared and construction began on these three homes.
#13 The George Jordan Project
At South Harrison and West Chatham, this plan has been in the works for more than a decade and requires land patched together from G H Jordan Development Co., the Town of Cary and the First United Baptist Church. We have heard that for the church to sell the land, there must be 100 percent agreement amongst the parishioners at the church. After a change in pastors, a new vote was required.
We do not have an update on the status of this impending vote. The project cannot move forward without it and we do not have a timetable update at this time. A mix of apartments, retail and parking have been proposed with the parking shared among the three partners in the deal. It would truly be a game changer for this side of Downtown Cary.
What's the Average Price in Downtown Cary?
With all of this recent activity, I asked a few realtors what the going price per square foot in Downtown is averaging. Everyone is curious as this is a shifting market from relatively lower priced single family and duplex homes to new denser high-end houses and townhomes.
Here's what Keith Bliss shared with CaryCitizen regarding recent pricing in Downtown Cary:
"Here are a few stats for the Town Center Area Plan (TCAP)
16 Sold Past 90 days – AVG sold $/sf overall = $173/sf
13 Active Properties @ avg List Price $303,000 @ $221/sf
25 Under Contract @ avg List Price $411,000 @ $259/sf"
Wondering what your property is worth? Bliss had this to add: "The challenge with growth and attraction to the downtown area for property owners is understanding what their property is worth in today's market. This is a tale of two markets – what sellers think their property is worth based on what they are using as comparable features – lot size, location, square footage – is it sub-dividable, etc., versus what a buyer is willing to pay."
If you know of any projects that we have missed, there's bound to be a few, please add to the comments below, or contact us directly and we will add that to next month's Real Estate Report.
---
CaryCitizen's Real Estate column is written by Lindsey Chester with assistance from local realtors.
If you would like to guest in this column or be interviewed as a local real estate expert, please contact Lindsey at lindsey.chester@carycitizen.com.
https://carycitizenarchive.com/wp-content/uploads/2019/02/W-Park.jpg
450
600
Lindsey Chester
https://carycitizenarchive.com/wp-content/uploads/2020/03/cc-archive-logo-450-v3.png
Lindsey Chester
2019-02-11 13:02:07
2019-02-12 09:23:02
13 Residential Projects in the Works in Downtown Cary