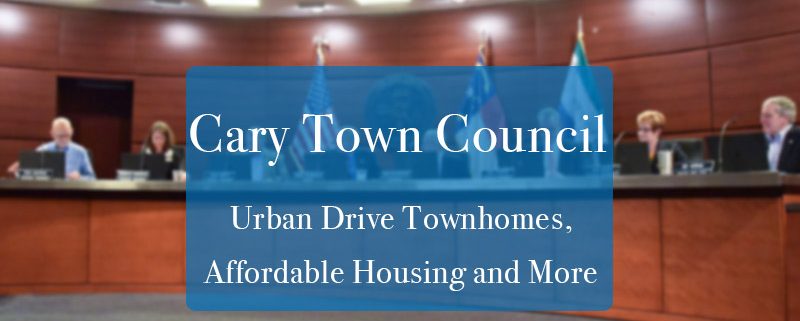 Cary, NC – The latest Cary Town Council meeting saw votes on rezoning to bring townhomes to Downtown Cary, amending zoning on White Oak Church Road to bring in affordable housing units, funding for road and water main repairs, as well as public hearings and other discussions.
Urban Drive Rezoning
When the rezoning to change one lot on Urban Drive in Downtown Cary from Medium Density to Mixed Use – Conditional Use for the purposes of bringing in townhomes, that Public Hearing saw more than a dozen citizens come to speak on both sides of the issue and a letter to CaryCitizen. But at the Thursday, January 11, 2018 meeting, only one person came to the Public Speaks Out portion to talk about this proposal, which would bring in five townhomes at a maximum height of 45 feet, which is the same height restriction for the current zoning.
That speaker was opposed to the proposal, saying it would surround her home with townhomes and condominiums, as the Chatham Walk Condos are going in adjacent to the property up for rezoning. If the rezoning is approved, she asked that her privacy be insured in some way.
The Planning and Zoning Board recommended denial with a vote of seven to one. Mark Evangelista, the Planning and Zoning Board's chair, said comments from those who voted against the rezoning ranged from those who felt the size of the townhomes was too abrupt of a transition to one member who considered the plan gentrification.
Several councilmembers said they were better assured with conditions put in place to mitigate stormwater and a 10-foot building setback. But one of the overarching reasons for many councilmembers' approval was that this represented the town's goals for Downtown Cary.
"What's before us is what we've been trying to get," said Councilmember Don Frantz, who also called this rezoning a "turning point for downtown."
Councilmember Ken George said the three-story height creates a transition point to make sure the "domino effect" of large condominium housing is stopped from spreading throughout the entire neighborhood. Councilmembers also acknowledged that as Downtown Cary changes, there will be people upset by what is replaced.
"I respect that we have a tough time ahead of us as we look at transitioning," said Councilmember Jack Smith.
Councilmember At-Large Lori Bush also pointed to the single-family houses next to the much larger Mayton Inn to show that these sorts of buildings already exist next to each other in Downtown Cary. Mayor Pro Tem Ed Yerha appeared to be the most unsure councilmember on this issue but said waiting would not produce better results. Town Council voted for the rezoning unanimously.
White Oak PDD Amendment
The final Discussion Item on the meeting's agenda was rezoning close to 19 acres off of White Oak Church Road, near the Baptist Church and White Oak Elementary School. The 19 acres are split into two different sections, with a maximum of 60 multi-family homes in the top section and a maximum of 30 townhomes in the bottom, rectangular section. There are also plans for a day care on the bottom section and the rezoning on the top portion would keep White Oak Baptist Church.
The Planning and Zoning Board voted in favor five to three, with Evangelista saying those in favor liked having a "big and holistic plan" rather than something piecemeal, while the three voting against it did not feel a Planned Development District (PDD) here was appropriate.
One person spoke at Public Speaks Out on this topic, but said she represented the surrounding White Oak neighborhood. She said she did not believe the special planning area allowed for this level of density and said the Cary Community Plan calls for a transition between types of housing, but the transition between houses to these apartments is too abrupt.
The housing proposed here would also be conditional use to have 50 percent of the townhomes affordable housing and 80 percent of the multi-family housing affordable housing and age-restricted. Councilmember Jennifer Robinson said she was conflicted over whether this area is a good spot for affordable housing.
"There's no transit line, there's no grocery store, no pharmacy," Robinson said. "Is dense affordable housing appropriate in this area?"
Frantz described it as a chicken-and-egg problem as to what should be developed first, but he came down on building housing first.
"It makes more sense to get it in the front end when the land is cheaper," Frantz said.
Town Council agreed this area would develop in the coming years and land prices would rise. On the topic of a lack of a transit route, Bush said many of the potential residents would likely have a car but would still not afford to live in Cary without affordable housing units in place. Bush and Robinson also said they had talked about putting a GoCary line in this area at past council retreats.
Town Council voted for the proposal unanimously.
Other Discussion Items
The only other Discussion Items dealt with bid awards for repair projects in Cary. One was to replace water mains in Cary, with construction starting this Spring. The two contracts involved in this project cost around $5.76 million, both awarded to Pipeline Utilities.
The other Discussion Item was for improvements to the Cary Parkway and High House Road intersection, which previously had to be canceled due to a lack of bids. Now, with utilities relocated and mapped, as well as what town staff described as a better time of the year for construction.
These improvements would add a right-turn lane to each part of the intersection and a left-turn lane to three parts, as well as a variety of aesthetic updates. The project would cost $2.73 million.
Town Council approved both bids unanimously.
Public Hearings
There were two Public Hearings on the agenda but only one saw significant input from residents. That was for a PDD amendment to add parking spots to the Carolina Center for Medical Excellence building, going from three parking spots per 1,000 square feet of floor area to 4.85. Initially, the plan called for an even denser parking as well as removing the 50-foot buffer with US-1 but those are no longer part of the proposal.
The property is also limited in where it can build these parking spaces because of stream buffers on all sides. They also cannot build parking decks because of power lines that run over part of the property.
Two speakers came to the Public Hearing opposing the proposal. One speaker was a Homeowners Association boardmember and said there are sufficient parking spots there already, said the buffer between the neighborhoods and these parking spots is too thin and it would impact their land value. The other speaker spoke to the Regency Park spot in general and called it over-built, while alluding to Regency Woods II.
Councilmember Ken George questioned why a traffic study was not done, when this proposal would increase the number of parking spots but not building size. Town staff said this is because the exact number of parking spots is not known at this time, although they projected it could be 150.
Councilmember Jack Smith said this all speaks to the results of planning from the 1980s when responding to concerns about density here.
"This area was always going to be an employment center," Smith said, also adding that parking ratios in general should be revisited.
The proposal went to the Planning and Zoning Board for their recommendation.
The other Public Hearing dealt with amending part of the Twin Lakes PDD to make one section only contain multi-family housing instead of retail, office or restaurant uses which the rest of the PDD would include. This section, 6.33 acres, would be for a maximum of 200 units and 80 percent would be age-restricted.
The applicants said they are asking for this amendment because they said focusing the housing in this spot would reduce traffic, while adding that active adult communities are more common now for senior housing. The only speaker at the Public Hearing was the developer, who reiterated many of the applicants' points. The proposal went to the Planning and Zoning Board for their recommendation.
Public Speaks Out
Two speakers at Public Speaks Out did not talk about either of the Discussion Items. One speaker shared his thoughts on the Weldon Ridge amendment to change the location and land used for housing and a new school. This proposal has already had a Public Hearing but has not yet gone before the Planning and Zoning Board. The speaker said the land set aside for the school is not enough to accommodate the student population and will result in traffic problems. He also asked for conditions that would put traffic officers on-site at the school.
The other speaker talked about efforts to make Cary a "dementia-capable community," with services and training for residents with dementia. She also complimented existing senior services and the door-to-door GoCary transportation.
---
Story by Michael Papich. Photos by Google Maps and Hal Goodtree.
https://carycitizenarchive.com/wp-content/uploads/2018/01/TownCouncil-Jan12-Featured.jpg
483
800
Michael Papich
https://carycitizenarchive.com/wp-content/uploads/2020/03/cc-archive-logo-450-v3.png
Michael Papich
2018-01-12 13:03:48
2018-01-16 09:06:21
Cary Town Council: Urban Drive Townhomes, Affordable Housing and More