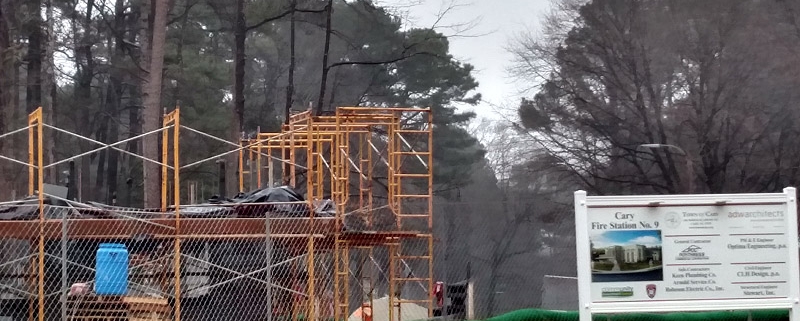 Cary, NC – Cary's newest fire station is currently under construction on Walnut Street, relocating from SE Maynard Road, and weather permitting, plans are for the station to open early next year.
New Fire Station
The new Fire Station No. 9 on 1427 Walnut St., the former location of the Agape Korean United Methodist Church, broke ground in late 2018. Cary Assistant Fire Chief for Logistics David Ranes said the building contract is for just over 400 days, so completion is expected in 2020.
"It will be completed sometime after the first of the year," Ranes said. "Sometime in the first couple of months."
Ranes said inclement weather the past few months has slowed construction.
The current Fire Station No. 9 is located at 875 SE Maynard Rd. and once the Walnut station is completed, this station will close. There are no plans for that land yet, which is owned by the Town of Cary.
Walnut Street is one of Cary's busier roads but Ranes said the station will have a safe way for fire trucks to get out when needed.
"When we designed the station, we had the option to exit onto Walnut Street or onto Nottingham Drive. Our trucks will exit on Nottingham, which is less busy, and they will be able to pre-empt the traffic light and turn onto either side of Walnut," Ranes said.
Ranes said pre-empting the traffic lights to allow the fire trucks to go through is also safe for motorists because it controls the flow of traffic on all sides.
Distinctive Building
The first public information meeting on the new Fire Station No. 9 was back in 2017 and the Town of Cary bought the land on Walnut Street in 2013,  so this has been a long process. Ranes said the public often does not realize just how long the work and planning for new buildings can be.
"What the public sees is the breaking ground. There's meetings and plans drawn up for electricity, traffic, plumbing, all of it," he said. "It typically takes a year from selecting an architecture firm to breaking ground."
The new Fire Station No. 9 will be comparable to Fire Station No. 8 on 408 Mills Park Dr. in terms of size but Ranes said there is no fire station in Cary that will look like it.
"It will have a unique appearance. When drivers come down Walnut Street, it's going to be prominent," he said. "It will have a contemporary look."
Fire Station No. 9 has been at its current location on SE Maynard Road since 1974, though originally, it was Fire Station No. 2.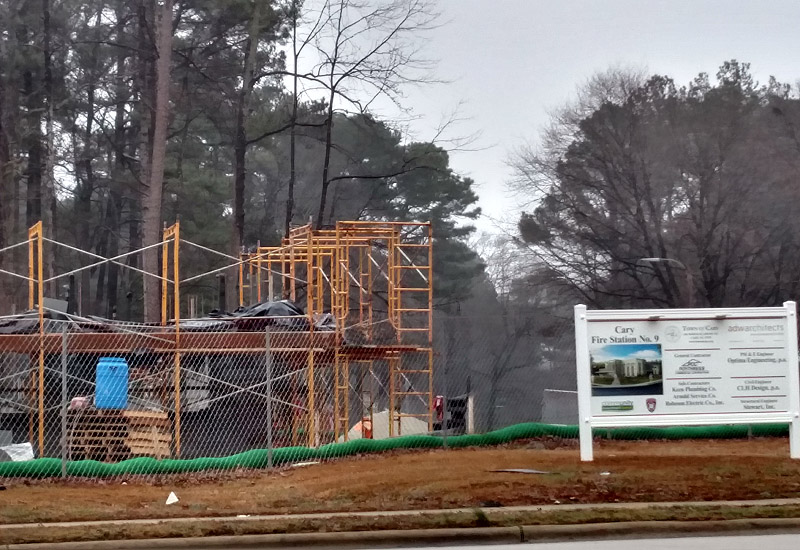 ---
Story and photos by Michael Papich.
https://carycitizenarchive.com/wp-content/uploads/2019/02/FireStation9-4.jpg
550
800
Michael Papich
https://carycitizenarchive.com/wp-content/uploads/2020/03/cc-archive-logo-450-v3.png
Michael Papich
2019-02-12 13:05:29
2019-02-12 13:35:26
New Fire Station No. 9 Opening Early 2020