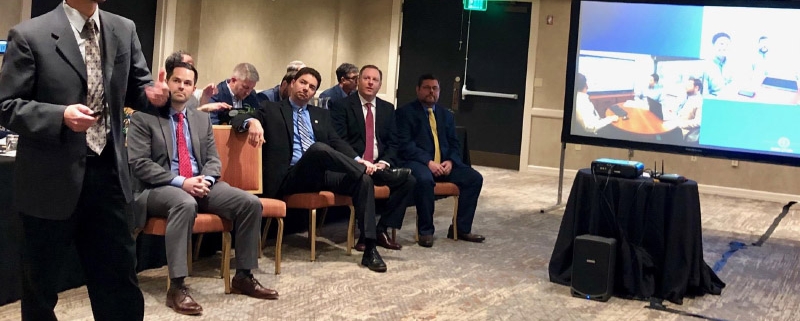 Cary, NC – This was a very busy week with several meetings in addition to the annual council-staff working retreat.
Monday – Local Government Leaders
Monday I joined council member Robinson and the town manager in a meeting with TJCOG (Triangle J Council of Governments) officials. The purpose of the meeting was to find out how we could help each other. We offered to take more of a leadership role to help communities in need (we have already been doing this in several areas such water and sewer).
We discussed the problem with recycling and the fact that it is becoming more difficult for municipalities to get a company to take the recycling. We decided that TJCOG could take the lead in creating a team of elected officials, scholars, and business leaders (who use raw materials) to work on a solution.
Afterwards I joined council member Robinson and the Public Information Officer in my one-on-one meeting with the town manager. We went over the retreat agenda and talked about items that did not make the agenda.
Monday night I attended a dinner meeting of the Wake County Mayors Association. We were graciously hosted by Rex Hospital in their Heart and Vascular Auditorium. Their culinary team created an outstanding three course meal. In addition to a delicious food the presentations were on par for a four star restaurant. If you want to find out more about dining at Rex see https://www.rexhealth.com/rh/patients-visitors/amenities/dining/. Thanks to Rex for being such a great host.
Tuesday – Historic Sites
Tuesday I joined all but one council member at a public meeting to hear about what Cary is doing to preserve three historic structures. Properties included the A.M. Howard farmhouse and associated out buildings, the C.F. Ferrell store and two warehouses, and the Barnabas Jones farmstead. All these projects are funded for partial rehabilitation to prevent further deterioration. Future funding will be needed to complete restoration to allow programming at the structures.
Wednesday – Wake Transit Plans
Wednesday I wrote a draft of Cary Matters which we will tape next week on location. We will be talking about the Cary Tennis Park in that episode.
Wednesday I chaired a meeting of the Executive Board of CAMPO (Capital Area Metropolitan Planning Organization). Decisions included:
Approval of the Wake Transit Concurrence Framework
Approval of the FY 2019 Wake Transit Work Plan 3rd quarter amendments
Waiving the $100,000 cap on indirect expenses to allow CAMPO to pay up to $185,000 in FY 2020 to City of Raleigh for indirect expenses associated with acting as Lead Planning Agency for the MPO, and adopt the FY 20 Unified Planning Work Program, and Certify the MPO's Transportation Planning Process for FY 2020
Approval of Draft FY 2020 LAPP Investment Program
Approval of the Wake Bus Plan: 10-Year Operating and Capital Plan
Our meeting concluded after a little over an hour.
Later Wednesday I taped a video on a portion of the State of Cary address at the Cary Theater. Since there wasn't a teleprompter I had to memorize segments in addition to doing voice overs. This will be an abbreviated version of the State of Cary address which can double as a promotional video for the town. I finished the taping in a couple of hours.
Thursday – Mayors Meeting
Thursday council and staff traveled to Asheville for our annual working retreat.
The North Carolina metro mayors met Friday. Here is a summary of that meeting:
Transportation
Update on SMAP Transit Funding (Highway Fund support for transit):Working with Governor's office to ensure they are engaged on the topic and supportive of our goal to restore the funding that was cut from transit bus maintenance
Secretary Trogdon plans a Commission for a state-wide dialogue on future funding for transportation: Expected work over a 2-year window to move around state to elevate the dialogue on the finance challenges facing transportation (diminish revenue). Hopeful to get local officials (Metro Mayors) engaged on Commission
S68, Relocation of Water/Sewer Line Costs, introduced by Sen. Brown: Would amend the percentage of nonbetterment cost paid by municipalities for the relocation of water and sewer lines from 100% to 50% for a municipality with a population less than 100,000. Will be tracking and talk to legislators moving forward
Public Safety
Eastern NC Disaster Recovery & Resiliency Alliance – Story on Press Conference: Mayor Saffo and the City of Wilmington helping to organize a regional effort on recovery. Coalition will be supportive of the Alliance of local governments as they fight to cut state and federal red tape and improve programs for the recovery efforts
Local Revenues/Local Control
Eminent Domain (H3):

Would appear as constitutional amendment on 2020 ballot that would prohibit the taking of private property by eminent domain except for a public use
Changes the purpose for which private, local public, and other public entity may condemn property from "public use or benefit" to "public use" only
Passed the House Judiciary committee this week
Passed the House in 2017 with 104 votes, but was not taken up in the Senate
Will be tracking closely
Other Items
Mayor Vaughan – Throughout the long session, would like to have mayors come to General Assembly once a week in groups of three to meet with legislators to discuss the Coalition's concerns. Beau will put together a schedule for mayors to sign up for visits with our lobbying team.
Friday – Cary Work Retreat
Friday was the first full day of the council-staff retreat.
The morning session started with a downtown redevelopment update. We were shown all the sites under redevelopment or planning to redevelop. We discussed changes that are needed in the Land Development Ordinance that would help prevent undesirable things like parking lots along Chatham Street. We were also updated on the proposal at the corner of Harrison and Chatham that has been in the works for about ten years and includes George Jordan's development, the town, and the First Baptist Church. Unfortunately, it appears the church has once again changed their minds. At this point I don't think there is council support to continue the partnership. We will see. That would have been a great project for the town and the church. I am sad that we will probably see something less instead.
Some good news was that the First Methodist Church continues to partner with the town on parking and other issues. That will certainly help that end of Academy Street. We talked a great deal about the mixed-use proposal in the works that would wrap the parking deck. We were shown several pictures of what that might look like. That proposal should come before council soon. We also talked about the current library. We agreed that the site, which goes from Academy to Harrison, would be better redeveloped as a mixed use and an underutilization to keep the current structure. We will focus more on this as the new library gets close to coming on line.
The second presentation in the morning session was from the owner of Urban3. He believes it is important to change the development paradigm in downtown areas. That is, the more dense the use the better use of infrastructure and the more cost effective. He argued that without this way of thinking sustaining infrastructure will be more and more expensive and time goes on. That information was very helpful as a data point in our future decisions. However, there are lots of data points when considering downtown redevelopment.
The council had lunch with Asheville Mayor Esther Manheimer. We learned a great deal of how they are doing projects, their successes, and their failures. They continue to struggle with their county leaders and the legislature. Cary is fortunate that our county leaders continue to work with us on many issues.
The afternoon session included an update on the Cary Downtown Park. We learned that concept two, of the three master plan alternatives presented last fall, was chosen. That concept has a plaza next to the town square, a children's area next to the library, a multi-purpose architectural element along Park Street, a pavilion next to the water feature, a Café/Bark Bar along Walker Street, and several other amenities. The Master Plan approval is scheduled to come before council on March 14th. Design will begin in May with a bond vote scheduled for October. If all goes as planned construction should start in 2020.
The last item on Friday was a serious closed session matter. We came out of closed session after about an hour.
Before dinner on Friday the council and staff were treated to a trolley tour of downtown where we learned about architecture, Thomas Wolfe, and former North Carolina Governor and Senator Zebulon Vance.
Friday night the council and staff met for dinner. At the dinner we honored our town attorney who received the Grainger Barrett Award for Excellence by the Government and Public Sector Section of the North Carolina Bar Association. The purpose of this award is to honor an outstanding government or public sector attorney as an exemplar of the excellence, dedication and passion for justice of North Carolina's government and public sector attorneys. She was selected from nominees that met the following criteria:
The attorney must have at least five years of recent, continuous practice in public sector law.
The attorney must have an exemplary record and reputation in the legal community, and must follow the highest ethical standards.
The attorney must have an exemplary record of community service.
The attorney must be an exemplar of the quiet excellence of North Carolina's government and public sector attorneys.
We are so very proud of Chris and are blessed to have her as our town attorney.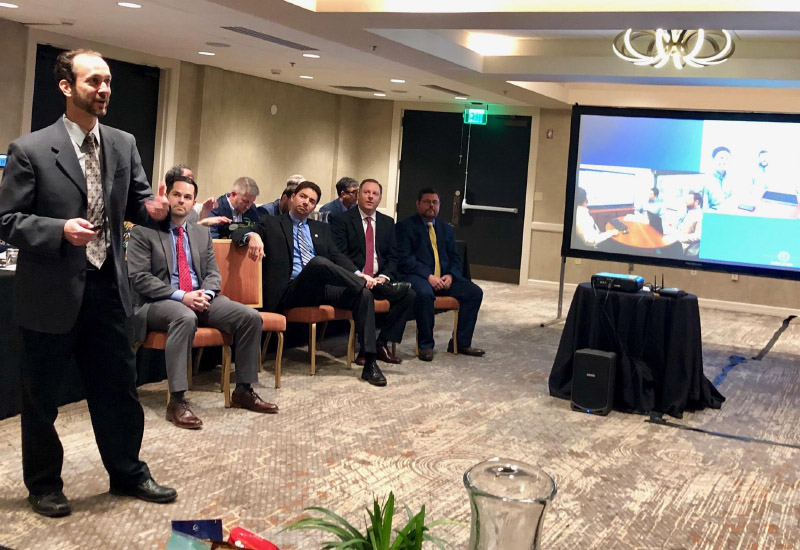 Saturday – Cary Work Retreat Continues
Saturday's morning session started with a presentation of a collaborative effort across departments to address the problem of private streets. Private streets require the owners of the business or the residents along the street to maintain the street. Many residents don't know or care that they live on a private street and do not believe they should maintain it. However, their units were built for less because their developer had private streets which are a lower than town standards. A committee was formed to investigate this issue. It included individuals from transportation and facilities, finance, police, and planning and development. They reported that sense private streets associated with businesses and apartments are maintained to help market those to potential customers the real problem was mostly with townhome developments.
After tackling dozens of issues including developer concerns, homeowner association concerns, property management concerns they are close to a solution of new design standards. These would have an alley for rear parking which would allow for more aesthetically pleasing views on the main street. Council will get a proposal for an amendment change in the near future. This collaboration was a perfect example of breaking down silos and of how to consider all portions of the Cary Community Plan. Kudos for all staff involved in this effort.
Our last morning session was about leadership from Dr. Horniman of the University of Virginia. He emphasized the importance of understanding the value that each of us has and invited us to ask ourselves what value we bring to the organization. He also challenged us to invite, include, and inspire others in all that we do. He was a very impressive and inspiring speaker and we all thoroughly enjoyed his talk.
The afternoon session was a summary from the town manager and a preview of quarterly meetings for the year. Some of the topics for this year's quarterly meetings include branding, our quasi-judicial framework, body cam demos, 3-1-1 (which goes live in January of 2020), stormwater, the 150th celebration, neighborhood services and code enforcement, and recycling. Our retreat concluded mid-afternoon on Saturday.
Sunday – State of Cary Address
Sunday I taped the outdoor segment of the State of Cary address. This was taped on the Speight Branch Greenway. I only had four lines in this taping. We did about a dozen different takes to get all sorts of angles and views. Afterwards we did a promo taping to celebrate 40 years of greenways in Cary. We did about four or five of those takes. All together we spent about an hour doing the tapings.
Emails From Citizens
Emails for this week included:
Complaints about the Weldon Ridge proposal (The complaints continue to include misinformation that someone is spreading. Council will vote on this in a few months).
Request for a traffic light at Green Hope School and Green Level Church (While the town does not have authority to approve lights we do and are advocating for our citizens with NCDOT)
A complaint about damages from a water main break (Staff is working with this individual)
A concern that Cary will burn recyclables (Companies that take recycling for a fee are taking less and less, charging more, or are terminating contracts with municipalities. Cary is committed to recycling and is working on short term and long term solutions to this issue. We will not burn recycling.)
A complaint that Cary is cutting down too many trees (While developers have rights to develop their property they have to abide by Cary's ordinances. We have some of the strongest tree ordinances and buffer ordinances in the state. While we can't save every tree we are doing the best within our authority to save many).
A complaint about the hotel proposal on Weston Parkway (This has been tabled indefinitely).
A request to save beavers on Green Level Church Road (Staff will respond to this concern. I believe beavers fall under state or federal guidelines).
Next week's activities include staff meetings, a taping of Cary Matters, a public meeting on the Carpenter Fire Station Road widening, a ribbon cutting for the Raleigh Improve which is located in Cary, and a State of Cary presentation to Searstone.
Get In Touch
Well, that is all for this week. My next post will be on Sunday, March 3rd.  Although I have Facebook and Twitter accounts those are not the best means of communications with me. Please send all Town of Cary questions or comments to Harold.Weinbrecht@townofcary.org and email personal comments to augustanat@mindspring.com.
---
From the blog of Cary Mayor Harold Weinbrecht. Photos courtesy of Harold Weinbrecht.
https://carycitizenarchive.com/wp-content/uploads/2019/02/HaroldBlog-Feb25-1.jpg
550
800
Harold Weinbrecht
https://carycitizenarchive.com/wp-content/uploads/2020/03/cc-archive-logo-450-v3.png
Harold Weinbrecht
2019-02-25 09:28:26
2019-02-25 09:31:23
Harold's Blog: Cary Work Retreat, Downtown Park and More