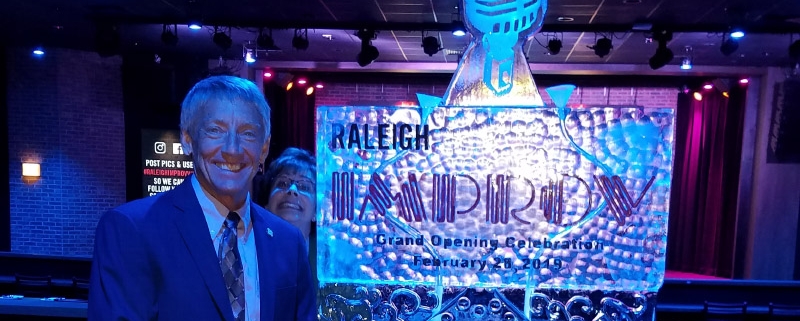 Cary, NC – This week was a slower week than last week.
My Monday meeting with the town manager was cancelled due to illness. Get well soon Sean!
Tuesday – Cary Tennis Park
Tuesday I taped the first version of Cary Matters ever held on location. The episode was at the Cary Tennis Park promoting the Cary Tennis Park. I was joined by Mayor Pro-Tem Bush for the taping. I was so excited to be on location and at the Cary Tennis Park that I adlibbed a lot which caused us to do three takes. After taping the episode we taped promotions for tournaments that will be held at the tennis park throughout the year. We finished after about 45 minutes.
Later Tuesday I attended a public meeting for the Carpenter Fire Station Road widening. There were lots of staff on hand and numerous displays of the widening and future parks in the area. According to staff the attendance was steady but light.
Thursday – Cary Ribbon Cutting
Thursday I attended the Ribbon Cutting of Cary's new comedy club called the Improv. It was a beautiful facility that holds about 550 people or can be curtained off to hold about 200. I was joined by Mayor Pro-Tem Bush, and council members Smith, Yerha, and George. We were given a tour and then treated to appetizers.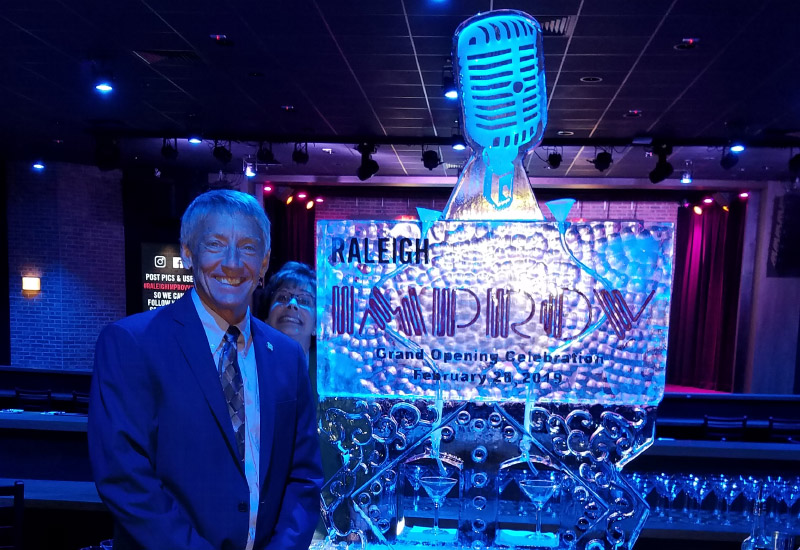 When the presentations began I made a few remarks welcoming the Improv owners, managers, and staff to Cary. I then presented them with a small gift. We followed this with the ribbon cutting and then were treated to a comedy act. It was a great evening at a great venue. It is a must see if you live in the area. BTW, the current name is the Raleigh Improv. After talking to the owner he said he is changing the name to Improv.
Friday – North Carolina Mayors
Friday I gave the State of Cary address to residents and friends of Searstone. It was similar to the one I gave to the Chamber in January but with updates. There were over fifty people in attendance. I talked about 40 minutes and answered questions for about 15 minutes. I thoroughly enjoyed my time there and hope they invite me back to speak again.
The North Carolina Metro Mayors met on Friday. Notes from the Executive Director include the following:
Opening Remarks

Things are starting to pick up at the legislature.  Appropriations committees are meeting to educate new members and give general overviews of agencies.  Governor Cooper delivered his State of the State address to the legislature.  His speech emphasized Medicaid expansion, rural development, and broadband access.

Transportation

S68 – Relocation of Water/Sewer Line Costs
Would amend the percentage of nonbetterment cost paid by municipalities for the relocation of water and sewer lines from 100% to 50% for municipalities for cities 25,000 population up to 100,000.
The bill was presented by bill sponsor Sen. Harry Brown in both the Senate Transportation and Rules Committees this week. It passed both committees with no objection and little discussion, likely be heard on the Senate floor next week.
Applies to State transportation projects and is predicted to cost DOT $2M
H77– Electric Standup Scooters

Passed House Transportation this week. Has referral to House Regulatory Reform Committee.
Provides a definition for scooters under state law. Requires that cities comply with State law under the definition and allows top speeds of 20 mph.
There is concern from Coalition members that 20 mph is too fast. Beau will share documentation that demonstrates concerns of higher speeds – We will investigate if this prevents cities from regulating scooters to speeds BELOW 20 mph.
There was some talk from some industry entities about increasing weight of machine up to 100lbs in the definition, but is not included in this definition.

H157 DVM/Registration of Bikes

$10 registration fee for bicycle used by any person over 16 years old used on public streets
Will monitor closely and the Mayors Coalition will work on Coalition response/effort to oppose

Public Safety

H87 License Plate Reader Systems in State ROWs

Was heard in House Transportation Committee this week.
Would allow permanent fixed structures in State right-of-way which would allow local law enforcement to collect license plate data for the purpose of finding vehicles they are looking for.
Received an unfavorable report from the committee so this particular version of the bill is dead

Body Cams

There has been no discussion or legislation on this to date, but we should expect some movement on this topic in the near future

Economic Development 

H3 Eminent Domain Constitutional Amendment  – only allowed for PUBLIC USE

Passed the House this week with a vote of 94-21
It is not the intent of the bill to have an impact on rail/light rail projects
Should this advance further, it is not expected that "public use" will be defined in any subsequent versions
Since this is a constitutional amendment, not subject to Governor's veto. Would appear on the 2020 ballot.
Reminder that this has been filed every year since 2011 with Senate companion bill and has easily passed the House, but has never made serious headway in the Senate.
Will continue to monitor any movement, but believe at this time that the Senate sentiment is the same as it has been in the past

Historic Preservation Tax Credit

No legislative activity thus far to extend the credit which expires January 1, 2020
NC Downtown Development Association is seeking support for a statewide publicity effort for historic preservation tax credit – and the special disaster 5% expansion for declared counties
Metro Mayors will continue provide leadership to extend the TAX CREDIT as it has in the past

Local Revenues/ Local Control

H31 – Allow Durham Pub. Schools to Provide Housing

Local bill would authorize Durham Public Schools Board of Education to provide affordable rental housing for teachers and other employees of Durham Public Schools
Received favorable report from House Education K-12 Committee this week; referred to House State and Local Government Committee
Employee Benefit Funds – Legislative Item suggested by Ralph Karpinos, Town of Chapel Hill

S49 Town of Chapel Hill Investments – Would allow the Town wider opportunities to invest employee benefit funds held in trust. This same request was filed in 2018 but did not pass.

Currently Charlotte, Greensboro, Raleigh and the Counties of Guilford, Mecklenburg and Wake have authority.

Consider as state-wide legislation – Contact Ralph at rkarpinos@townofchapelhill.org
The metro mayors meeting concluded after about 30 minutes.
Town Manager's Report
The town manager's report for this week included:
Cary Awarded $6.1 Million in LAPP Grants

On February 20, CAMPO's Executive Board approved the FY20 LAPP grants awarding $25 million to regional road, bike/ped and transit projects. The Town received funding for three projects:

Carpenter Fire Station Road Widening (right-of-way): $2,533,500
Crabtree Creek Greenway from Bond Park to High House Road: $1,320,000
Crabtree Creek Greenway Connector at Weston Pkwy: $2,260,000

Other Meeting Highlights at the meeting:

Adoption of the FY 2020 Unified Planning Work Program (UPWP)
Approval of the Wake Bus Plan 10-Year Operating and Capital Plan

The next Executive Board meeting is scheduled on March 21. The NC Association of Metropolitan Planning Organizations is holding its annual conference in Charlotte, April 24-26, 2019.

Recycling Update

We have been working concurrently on several strategies this week to ensure the near-term, uninterrupted processing of our residential recycling. Efforts to identify, vet, and select our approach for moving forward will continue at least into next week. Staff is also engaged in developing the scope for an RFP for longer-term services.

In the meantime, as a member of the Carolinas Recycling Association, the Town of Cary hosted the first-ever Triangle Sonoco "MRFshed" (materials recovery facility customers) meeting. Thirty stakeholders, representing staff from neighboring municipalities, private haulers and state government gathered at the Herb Young Community Center to discuss recycling contamination and opportunities to partner on initiatives and regional messages that enhance educational and outreach efforts.

New Homepage Launched

After months of design and preparation and many rounds of revision, the new http://www.townofcary.org homepage is live! The homepage was redesigned to more prominently feature the wide variety of events, services and activities that Cary provides its citizens. Kudos to Kristy Buchanan, our in-house graphics designer, and Ken Guttman and Glen Baity, project managers.

Celebrating 40 Years of  Greenways

The Town completed its first greenway in 1979 near Annie Jones Park, making 2019 the 40th anniversary of the Town's greenway system. In addition to council and citizen support, Cary has been very successful over the years in securing grant funding and pursuing innovative methods for steadily growing the trails network to the over 80-mile system that we have today. Although we are the 7th largest community in the state, we are second in total miles of greenway. Learn more about the history of the greenways in the PRCR program brochure and hear from Linda Setliff, one of Cary's original greenway advocates in the January BUDTV. Join us as we celebrate this milestone with events throughout the year and be sure to come out for our signature celebratory event taking place on June 1 at Bond Park.

Carpenter Fire Station Road Projects

Road Widening (west of NC 55)

Over 40 people attended the public workshop for the Carpenter Fire Station Road Widening Project. Exhibits of the new four-lane, median-divided roadway included the roadway, sidewalk, street-side trail, and bike lanes. Two options for bikes using the new roadway were presented (bike lanes and wide outside lanes), and attendees were provided comment forms to express their opinions on this and any other aspects of the project. The exhibits and an online comment form are also available on the project website. Comments from the workshop will be received through March 28. Attendees also inquired about the exhibits for the two new neighborhood parks on Carpenter Fire Station Road and McCrimmon Parkway and the new Panther Creek Greenway.

Bridge and Intersection Improvements (east of NC 55)

The contractor has completed clearing and begun water, sewer and storm drainage work. Overhead utility relocation work by Time Warner/Spectrum, AT&T and clearing for the new roadway continue east of the railroad track along Saunders Grove Lane, Morrisville-Carpenter Road and Good Hope Church Road. Grading work for the CSX railroad detour track just east of NC 55 has commenced. This is a complex project that will take about three years. A temporary railroad detour track is necessary while the new railroad bridge and road connection is built. Once the new bridge and road are in place, the detour track will be removed.

Historic Properties Study

On Tuesday, February 19, a public information session was held at the Page-Walker to share highlights of the historical research and structural analysis of three Cary-owned historic properties – Good Hope Farm [A.M. Howard Farm], the C.F. Ferrell Store and Warehouses and the Barnabas Jones Farmstead. These properties have been the focus of a detailed study conducted over the past year and a half by consultants and a staff team and lead by Kris Carmichael and Paul Kuhn. With the completion of the well-attended session, the next phase of the project begins. That phase, which will utilize previously-allocated funds, will address structural needs to enhance stabilization and installation of basic historic interpretive signs and site improvements to facilitate public walking tours of the exteriors and grounds.

Hospitality Tax Stakeholder Presentation

Doug McRainey once again presented to the Wake County Hospitality Tax Stakeholders at a meeting hosted by Cary in the Herb Young Community Center. He presented on the enhancement projects for competitiveness of the sports venues in Cary and provided a summary of Cary's RFI submittal for a multi-use indoor sports facility, as recommended by the Destination2028 Strategic Plan. At the same meeting, Raleigh presented their enhancement and RFI projects related to the Convention Center Complex, and Loren Gold of GRCVB presented their request for continuation of the $600,000 in annual Business Development Funding (covers certain costs of bringing large conventions to town, especially where the lack of downtown hotels requires additional transportation costs) and a request for new annual funding of $250,000 for Signature Events (funding to bring large or ongoing exhibits or festivals to Wake County). The next stakeholder meeting is scheduled for March 14 at the NC Museum of Art and will consist of presentations on the remaining RFI projects.

Dan Ault presents at Conference

Assistant Town Manager/Chief Innovation Officer Dan Ault spoke at Incubators of Innovation, ICMA's Southeast Regional Conference. Taking the stage twice, Dan spoke to a sold-out crowd about municipal use of artificial intelligence, particularly when it comes to improving efficiency and tracking performance. The two-day conference was held in Greenville, South Carolina.

Rezoning Neighborhood Meetings

The next Rezoning Neighborhood Meetings are scheduled for Wednesday, March 6 at 6:30pm at Town Hall. Neighborhood meetings provide an opportunity for applicants to present information on new rezoning requests and receive feedback from nearby property owners prior to the formal public hearing. Staff will provide general information regarding Cary's rezoning process. There are two cases on Wednesday's agenda:

Twyla Road South (19-REZ-01): request to rezone 19 acres at the intersection of Morrisville Pkwy and NC 540 to allow up to 181 townhouses and multi-family dwellings and 12,500 square feet of commercial and office uses.
Alston Avenue PDP (19-REZ-02): request to rezone 19 acres located in the 2000 block of Alston Avenue to allow up to 330 multi-family dwellings and 50 townhouses.

For information about these cases visit the Rezoning Cases webpage at https://www.townofcary.org/connect-engage/transparency/public-hearings/public-hearing-cases/rezoning-cases/2019-rezoning-cases.

Share & Care

Share & Care is a free event that provides networking opportunities and information on resources for persons with disabilities and parents and care providers. Share & Care 2019 was a huge success with 50 agencies and organizations providing resources to more than 200 attendees. Judy Clute of the Autism Society of NC said, "Share and Care is the best resource fair our organization participates in each year. We have been attending since the first Share and Care event and it is wonderful to see how it has grown. It is always is well-organized and very well received. Families benefit so much from it. Looking forward to next year."

Annual Water System Disinfection Change

Each year, the Town of Cary implements a temporary change in our drinking water treatment process. The Cary/Apex Water Treatment Facility, which provides drinking water to Cary, Apex, Morrisville, Raleigh-Durham International Airport and the Wake County portion of Research Triangle Park, normally uses chloramines, a combination of chlorine and ammonia, for the disinfection process. The State of North Carolina encourages all water systems that add ammonia to cleanse their system annually by switching to chlorine only and flush the system by opening fire hydrants.

From March 1 through April 19, Cary will use only chlorine for water system disinfection. This year the amount of time without the ammonia addition has been extended because the annual change in disinfectant in 2018 was waived to conserve water due to lower lake levels. Customers who use water for kidney dialysis machines, fish aquariums or other chlorine-sensitive uses should be aware that our water may contain chlorine, chloramines or a mixture of the two from the beginning of March to several days after April 19.

Town staff utilize multiple communications options to notify citizens, sensitive water customers, neighboring utilities, and regulatory agencies of our annual schedule for water system disinfection changes including: Town of Cary web pages, letters to sensitive water customers, letters to neighboring utilities and regulatory agencies, news release in late February, the March BUD newsletter, social media and direct communications as needed.

Read Across America

Council Member Bush and several Cary staff visited Reedy Creek Elementary as Special Guest Readers for National Read Across America Day on Friday, March 1. Read Across America is a nationwide reading celebration that takes place annually in honor of Dr. Seuss's birthday. Each guest reader picks out a story book to read to a class. After finishing the story, the students are given an opportunity to ask questions about their guest reader's career.

Awards

Chris Simpson received the Grainger Barrett Award for Excellence from the Government and Public Sector Section of the North Carolina Bar Association. This award honors an outstanding government or public sector attorney as an exemplar of the excellence, dedication, and passion for justice of North Carolina's government and public sector attorneys. Chris was selected for her exemplary record and reputation in the legal community, her commitment to follow the highest ethical standards, and exhibiting the quiet excellence of North Carolina's government and public sector attorneys. Chris joins the company of recent winners such as Ellis Hankins, Chief Justice (ret) Sarah Parker, Frayda Bluestein, and Tom McCormick. Chris was unable to accept the award in person, but we celebrated with her Friday night at the retreat.

Detective Kevin West, a CyberCrime/Internet Crimes Against Children Investigator has been involved with Child Rescue Coalition, an organization that exists to protect children from sexual abuse and emotional suffering and rescue them from harm. Their motto is "protecting innocence through technology." For many years, Kevin has traveled the world on his own time teaching law enforcement investigators to identify and arrest suspects. On February 22, Detective West received the Instructor of the Year award at Child Rescue Coalition's annual "Eat, Drink and Be Giving Gala" in Florida. Kevin is extremely dedicated and passionate to this cause and we are fortunate to have him on our team.

Captain Chris Parker was named VFW firefighter of the year at the annual recognition banquet for first responders from Cary, Apex and Morrisville.

The Franklin-Sloan VFW Post 7383 honored Officers Steve Rogers and Tom Vibert as their Law Enforcement Officers of the Year. Steve, this year's winner, was recognized for his work with a veteran suffering from PTSD. Tom, last year's winner, was nominated for the national award for his work with a homeless veteran.  Congratulations to both Steve and Tom and thanks for their service to both their country and our citizens.

Cary brought home four Maggy Awards at Best of Western Wake on Thursday, February 28:

Lazy Daze Arts & Crafts Festival – Best Local Event or Festival
Fred G. Bond Metro Park – Best Place for Outdoor Recreation
Cary Tennis Park – Best Tennis Facility
Koka Booth Amphitheater – Best Music Venue

Congratulations to all the staff who played a part in making the facilities and events the best in western Wake County.

PIC-MaggyAwards

Advisory Board Meetings

Monday, 3/4, 5:15

Cary Arts Center

Mon, 3/4, 5:30

Town Hall Upper Conf Rm (21275)

Information Services Advisory Board

Mon, 3/4, 6:00

Town Hall Large Conf Rm (10035)

Mon, 3/4, 6:30

Town Hall Conf Rm 11215

Economic Development Committee

Wed, 3/6, 5:15

Town Hall Large Conf Rm (10035)
Emails from Citizens
Emails from citizens this week included:
Concerns about a neighbor not following HOA covenants (this is out of the town's hands and is usually a legal matter between homeowners and the HOA)
A concern about the Senior Center being closed for renovations (staff continues to work to minimize the difficulties created by relocating events or rescheduling events).
A concern about closed roads East Park and Waldo Street (staff will respond to this concern with information about the schedule)
Complaints about the Weldon Ridge proposal (comments still imply that council and the town is driving the proposal, which is misinformed; we have to duty to evaluate each and every proposal regardless of what we think; we don't drive or direct any proposals).
Next week's activities include staff meetings, a State of Cary address to the Cary Newcomers, a quasi-judicial council meeting, a N.C. Metro Mayors meeting, a White Oak Greenway celebration, and a ribbon cutting at the Spa by Jing in Waverly Place.
Get In Touch
Well, that is all for this week. My next post will be on Sunday, March 10th.  Although I have Facebook and Twitter accounts those are not the best means of communications with me. Please send all Town of Cary questions or comments to Harold.Weinbrecht@townofcary.org and email personal comments to augustanat@mindspring.com.
---
From the blog of Cary Mayor Harold Weinbrecht. Photos courtesy of Harold Weinbrecht.
https://carycitizenarchive.com/wp-content/uploads/2019/03/HaroldBlog-Mar4-1.jpg
550
800
Harold Weinbrecht
https://carycitizenarchive.com/wp-content/uploads/2020/03/cc-archive-logo-450-v3.png
Harold Weinbrecht
2019-03-04 10:33:30
2019-12-08 16:04:40
Harold's Blog: Plans from Mayors, Ribbon-Cutting and More