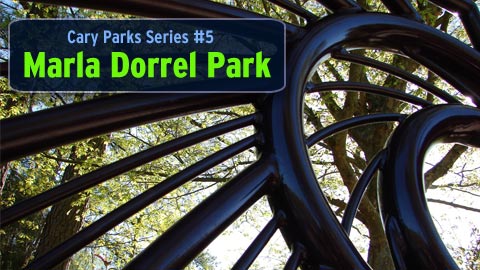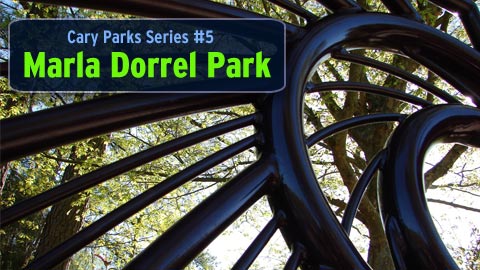 Part 5 in our Cary Parks series.
Cary, NC — Home of the award-winning Kid's Together Playground, Marla Dorrel Park breaks the mold of the typical suburban park.  There are many unique elements to Marla Dorrel including a dragon climbing structure (named KATAL), progressive design elements and landscaping, and management by a volunteer 501(c)(3) non-profit group.
After many years of visiting this park, I am still amazed at the incredible variety and quality of features packed into the 2 acre playground.
An Inspiring History
The story behind Kid's Together Playground is interesting and inspiring. Over the course of six years, two school-aged girls led a fund-raising mission to collect nearly $300,000 to help build the park. Each has a sister with special needs and wanted a park that was handicap accessible.
With the help of the Town of Cary, Kid's Together was opened in 2000. Eleven years later, the care of the park is overseen by Kid's Together Inc, a non-profit currently led by former Cary Town Council member and park namesake Marla Dorrel.
Park Description
All of the effort put into the design and construction of the park was well worth the time; it is obvious immediately upon arrival. A pair of Oracle Benches, part of the many commissioned sculptures found throughout the park, mark the main entrance to the playground. A picnic shelter (available for rent through the Town) is close-by with large, handicap accessible bathrooms.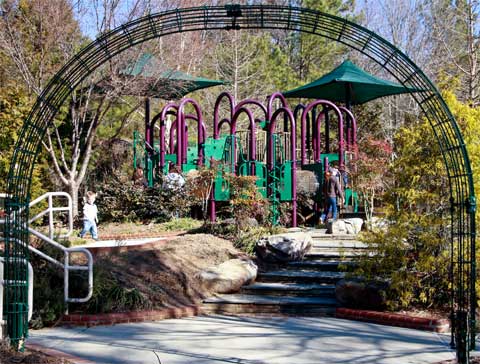 KATAL the Dragon
A short walk from there leads you to another work of art, KATAL the Dragon, mascot of the park. This is arguably the most unique attraction of any park in Cary. Surrounded by a padded rubber surface, this popular play structure is often crawling with children while parents snap photos nearby.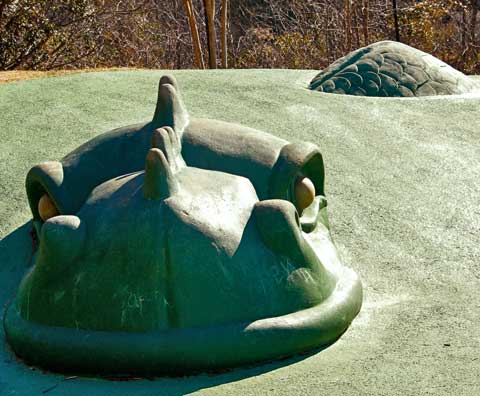 The Playground
The rest of the playground is broken up into distinct areas that cater to various age ranges and types of play.
Two large play structures for school aged children encourage physical play, such as climbing and sliding, and discovery play.
Nearby are several swings including a tire swing and chair swings designed for handicapped children.
Separate from the school aged section is a toddler area with playhouses, sandboxes, a slide, and bucket swings. Scattered throughout the park are two additional sandboxes, a shaded picnic area and numerous benches.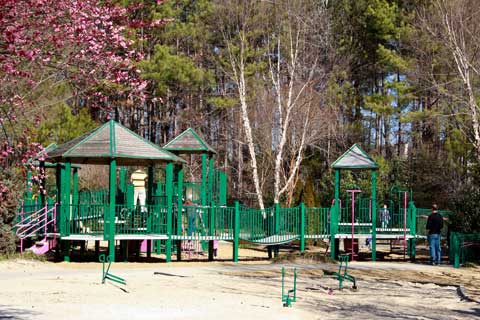 Field, Slab & Court
For those interested in team sports, the large field nearby provides ample room for soccer, football, or similar activities. A cement slab is also available for free play, perfect for games of four square or hopscotch. There is a full basketball court located near Thurston Drive, somewhat removed from the rest of the park.
Noteworthy Landscaping
Nature lovers will also find much to enjoy at Kid's Together Playground. Abundant landscaping can be found along the walking paths, at times spilling into play areas. This is by design as the park planners wanted children to experience play in a beautiful, natural environment. All plants are child-friendly and interaction with them is encouraged.
Four aluminum benches built upon realistic leaf sculptures further accentuate the attention to nature.
Greenway Access
Another wonderful aspect of Marla Dorrel Park is accessibility via the Town of Cary greenway network. The Town invested heavily in a pedestrian overpass that crosses US-1 and connects the park to MacDonald Woods park roughly a mile away.
The greenway is paved with plenty of signage to direct first time visitors. Many have found the trail to offer even more to do for their youngsters as it crosses the stream that runs adjacent to the park. A small wetland can be found close by that is home to a chorus of toads in warmer weather.
A Popular Place
Parents with multiple children may find Marla Dorrel slightly overwhelming at times.
The playground is large and broken up into many areas that are not immediately visible from all locations within the park. Luckily, the town did a great job fencing in most of the park, leaving openings only at the main entrance and near the toddler area.
Parking can be difficult to find at times, making arrival via greenway an even more attractive option. There are plenty of bike racks for those who chose this method of transport.
With spring just around the corner, those who have never visited Marla Dorrel should plan one soon. Unique art, play equipment and landscaping combine to create one of the best park experiences in the Triangle. Park-goers of all ages and abilities will find the well kept grounds of Marla Dorrel Park and Kid's Together Playground a fun-filled and enjoyable adventure.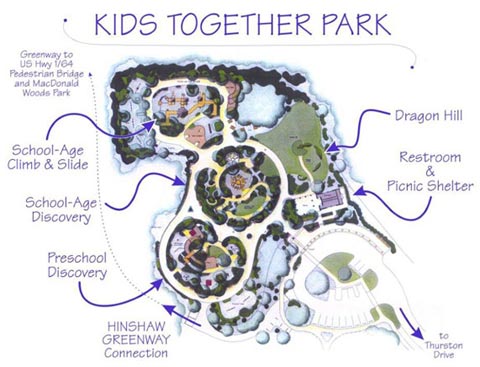 Inventory / Facilities:
2 large play structures
Mulched play surfaces
KATAL dragon climbing structure with padded surface
Shelter with 5 tables and restrooms
Wooded picnic area with 6 tables
3 sandboxes with diggers
2 playhouses
6 swings and tire swing
4 bucket swings
Water Fountains
Basketball court
Cement slab
Open field
Parking:  lot (overflow on Thurston Dr), bike racks
Location
Marla Dorrel Park
& Kids Together Playground
111 Thurston Dr.
Cary, NC 27518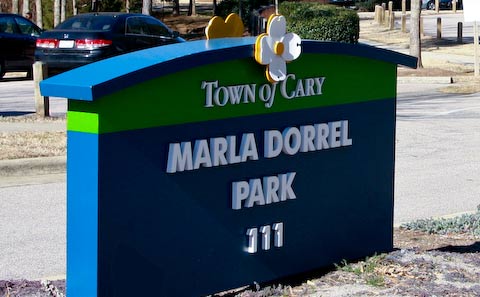 ———————————————————————————————————————————
Story and photos by Zach Hayes. Read more in our Cary Parks series.
https://carycitizenarchive.com/wp-content/uploads/2011/03/marla-dorrell-park-2.jpg
270
480
Staff
https://carycitizenarchive.com/wp-content/uploads/2020/03/cc-archive-logo-450-v3.png
Staff
2011-03-03 09:00:15
2015-11-05 09:59:36
Cary Parks #5: Marla Dorrel Park