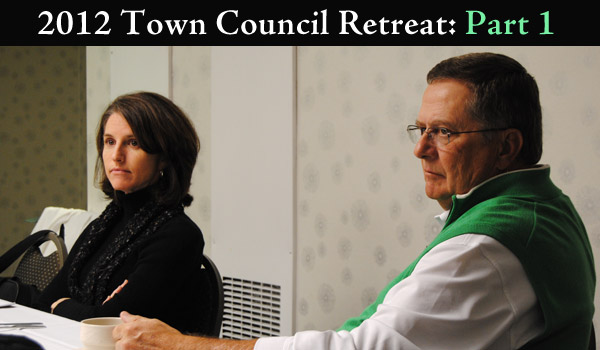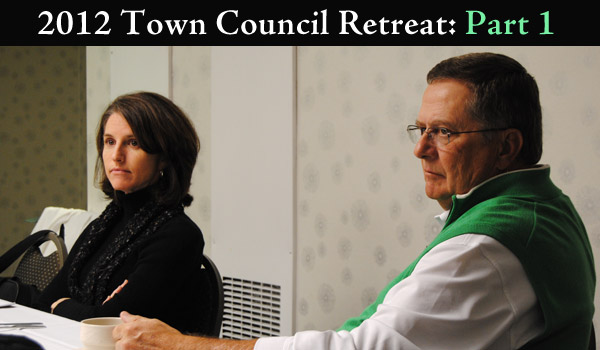 Story and photos by Brent Miller for CaryCitizen.
January 13, 2012 Wilmington, NC – The annual Cary Town Council/Staff retreat, where Cary's elected officials and senior staff discuss vision, strategy and hot topics in an informal setting, began on Friday at the Hilton Riverside hotel in Wilmington, NC.
Quality Time
The agenda included discussions of effective councils, effective intergovernmental relationships and how Cary will grow in the future – although remarks from several council members emphasized the "quality time" together that the retreat offers, so in many respects, today was about working and playing well with others, whether they be council members, staff members, other agencies or citizens in our community.
District C representative Jack Smith is the longest-serving member of the current council. He has attended 23 retreats over the years. He tells CaryCitizen that from his perspective as an adult trainer (his day job), retreats are valuable. Jack said, "At the end of each retreat there's usually one 'Aha! Moment' that makes it all worthwhile".
By contrast, this is the first council retreat for newly-elected at-large representative Lori Bush. She noted that "although I have been involved in the community for many years, I am looking forward to participating in this retreat from the perspective of a Town Council member. I believe that the retreat is a unique opportunity for council and staff to interact informally and build relationships to be even more effective in our work on behalf of the citizens of Cary".
"Pretreat": Planning the Annual Council-Staff Retreat
Before the Cary Town Council and senior Town Staff members trekked to Wilmington, decisions needed to be made about the retreat's agenda and venue. On October 25, 2011, Council held a work session to discuss options.
For the past two years, the retreat was held locally in Cary; prior to that, it was held elsewhere, including Wilmington and Southern Pines. After discussion, Council voted to hold this year's retreat in Wilmington, citing more "quality time" and fewer interruptions as compared to holding the retreat in Cary.
District B representative Don Frantz was a driving force in the past for having the retreat in Cary to save money, but this year he supported an out-of-town venue.  He told CaryCitizen that this helps to keep people together. Frantz stated, "When you're two hours away, it's harder for people to leave. It removes distractions". This year's retreat budget is about $14,000, the same as last year.
Building an Effective Town Council
Having arrived Thursday evening, Town Council members began bright and early at 7:30 a.m. Friday with a discussion about effective councils. After opening remarks from Mayor Weinbrecht, who stated that it is valuable to build relationships among council members and noted that at-large representative Julie Robison had to miss the session due to an unexpected emergency, facilitator Michelle Ferguson of Novak Consulting Group led council members through a set of ground rules for the meeting – among these was to "participate and be fully present" which included a request that all council members turn off their cell phones for the duration of the meeting – and everyone complied!
As an icebreaker exercise, council members were asked to write and explain all of the names, including nicknames, that they have used throughout their life. There were a few surprises, including Lori Bush's revelation of a total of 8 names and Mayor Weinbrecht's statement that one citizen calls him "Mayor McCheese".
Ms. Ferguson then presented some key characteristics of effective councils, followed by discussion. District A representative Jennifer Robinson believes that Cary's council is "really good" in terms of effectiveness and District D representative Gale Adcock concurred, noting that Cary's council is especially good as compared to other local governing bodies. Don Frantz noted that council members can agree to disagree and not take things personally. Jack Smith observed that much of the "real work" gets done in work sessions, which helps the council to be more effective. Lori Bush concurred, noting that work sessions are especially helpful for a "newbie".
The final portion of this exercise consisted of council members writing their behavioral expectations of one another on sticky notes and sharing these. Council members' expectations of their colleagues include being fair, objective, friendly, respectful, informed, honest, on time and inclusive.
Land Use Plan Update
Town Staff traveled to Wilmington on Friday morning and joined the Council at 10:00 a.m. to launch into a discussion about Cary's land use plan. Although "land use plan" might not sound like an exciting topic, it is perhaps the most important component of shaping Cary's growth and hence, its overall future as a community.
Planning Director Jeff Ulma stated that Cary's current land use plan, which governs the type of development that is expected to occur throughout all of Cary, was adopted in 1996 and has been amended numerous times. Rather than continuing to make minor revisions to the plan, the Town has decided to perform a more holistic update of this portion of Cary's Comprehensive Plan and has engaged consultants Clarion Associates and ACE Visioning+Planning to assist in the design of that update. The updated land use plan is intended to address Cary's build-out situation (that is, most of the land in Cary is either developed or has approved development plans) and redevelopment of already developed areas.
Ulma then presented some statistics, some of which are rather startling, about changes occurring in the US and in Cary. Among these are:
US population in 2006 was 300 million; projected 2050 population is 500 million
The Town of Cary's population in 1980 was about 20,000; in 2000 in was about 100,000 and it currently stands at about 140,000 – with projections of 180,000 Cary citizens in 2025.
The median age in the US and locally is increasing. Cary in particular has one of the highest median ages among all of North Carolina's major municipalities.
The US and Cary populations are becoming more diverse, especially with growth of Hispanic and Asian population shares.
The suburban paradigm is shifting as trends of long-distance commuting and reliance of fossil fuels are seen as non-sustainable.
Homes are becoming smaller but still are predominantly single-family residences, although more are renter-occupied.
In Cary, single-family dwellings decreased from about 88% of the housing stock in 1988 to about 73% today, with townhomes increasing in share to about 24% and condos remaining steady at about 3% over the same time period.
Cary has 44,524 acres not including the portion in Chatham County; of this, 33,036 acres already are developed and 2,316 acres are in the process of being developed. Only 9,172 undeveloped acres remain, or about 20% of the total.
Cary's estimated population at build-out (that is, when all land is developed according to existing plans) is about 220,000 people.
Cary has  about 4000 residential units more than 40 years old and more than 8 million square feet of non-residential space that is more than 25 years ole (about 2.5 million square feet of which is retail, including 9 shopping centers).
Based on the rate at which aging structures are typically replaced, it is expected that Cary's current built environment will be renewed 3 times by the year 2100.
Mr. Ulma concluded by stating that the updated land use plan must address Cary's older, more diverse population, increased demand for a wider range of housing types and challenges of maintaining and serving older building stock.
Don Frantz commented that some of this information is good news, but some is not so good. Gale Adcock remarked that these are trends that we can not control; Frantz responded that even though trends indicate more single-person households, he believes that Cary's policy should be to maintain our family-oriented community.
Ben Herman of Clarion Associates then presented best practices in community planning, which include stronger linkage of comprehensive plan elements such as land use, housing, transportation, economy and finance, energy, utilities and community health and safety. He noted several contemporary land use themes such as sustainability, diversity, housing choices, energy management, "green" development and waste stream reduction.
Herman recommended building the land use plan around big, compelling ideas with balanced land use, equitable distribution of recreational opportunities, economic vitality, livable neighborhoods and activity centers and a connected town.
The idea of a linked, simplified comprehensive plan seemed to resonate with council members and town staff. Town Manager Ben Shivar indicated that he likes any approach that bridges multiple plans.
After a presentation by Jamie Greene of ACP Visioning+Planning about engaging the community, council and staff split into three groups to brainstorm ideas about the updated land use plan.
Group 1 considered the question "What does success look like in the plan?" and the top ideas were financial sustainability, a plan that is inspirational, easy to understand, simple and visually-oriented. Group 2 responded to the question "What are the top opportunities with the new plan to be more responsive to the community and council?" and generated ideas of a plan that is accessible – such as a single-sheet summary – and that is strategic and focuses on desired outcomes and the resources needed to achieve those outcomes. They also want to ensure that community outreach and input is authentic and representative of the entire community. Group 3 considered issues that the updated land use plan should address and identified the inclusion of all age groups, simplicity, protection of open space and the natural environment and capturing the character of Cary's older developments.
Jeff Ulma concluded this session by stating that this input was exactly what staff needs to move forward with the design phase of the updated land use plan. He indicated that staff will take these ideas and generate a recommendation to Council, most likely in April of this year.
Outreach and Cooperation
The final session of the first day addressed enhancing council effectiveness with local, regional, state and federal organizations and agencies. Jack Cozort and Paul Meyer of the NC League of Municipalities described strategies for achieving the town's objectives with state government. Representatives of the Ferguson Group presented similar information about working with the federal government. A recurring theme of both presentations was to cultivate and maintain good relationships with state and federal elected officials and their staffs.
The retreat continues on Saturday with the Council focusing on customer service and service philosophy, capital projects and funding and a review of the town's boards and commissions.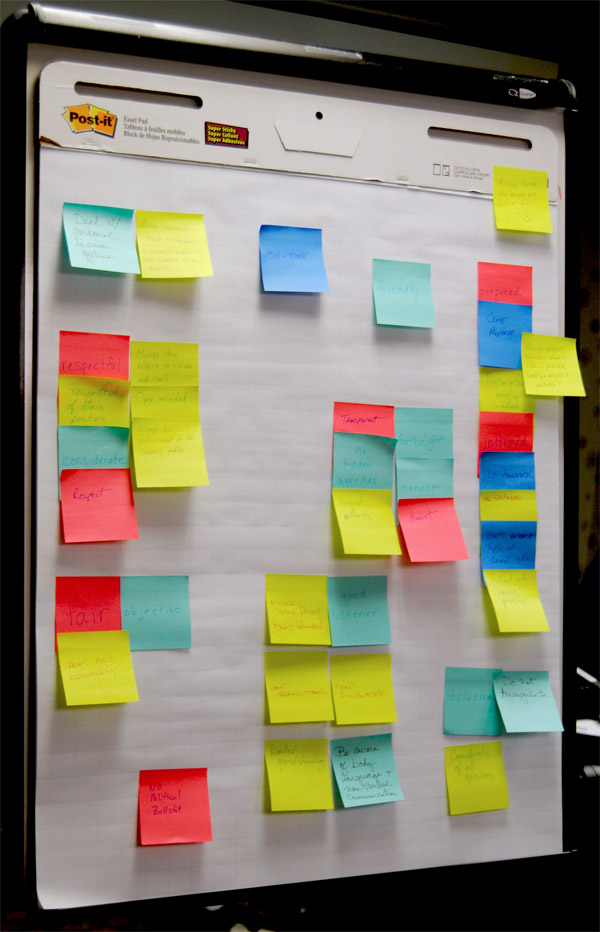 Brent Miller has been reporting on Cary Town Council retreats and other issues of municipal government for CaryCitizen since 2009. He is the Vice President of The Friends of Page Walker, a member of the town Planning & Zoning Board and an a 2009 inductee into the Cary Volunteer Hall of Fame.
https://carycitizenarchive.com/wp-content/uploads/2012/01/cary-council-retreat-1.jpg
350
600
Brent Miller
https://carycitizenarchive.com/wp-content/uploads/2020/03/cc-archive-logo-450-v3.png
Brent Miller
2012-01-15 13:56:15
2015-12-30 17:37:55
2012 Town Council Retreat - Part 1