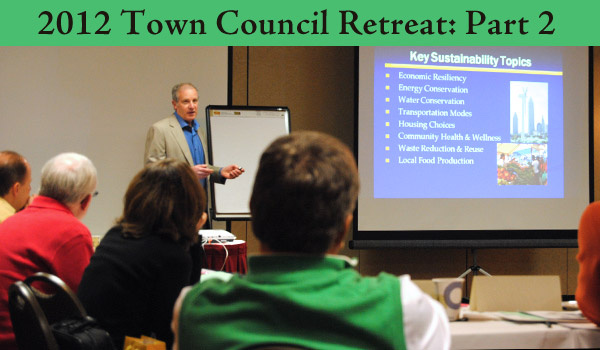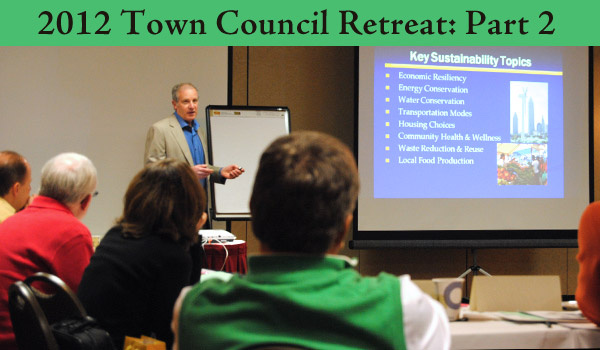 Story and photo by Brent Miller. Read Part 1 of this story.
Wilmington, NC – The second and final day of the Cary Town Council's annual retreat, held at the Hilton Riverside hotel in Wilmington, NC, included sessions about customer service and service philosophy, capital projects and funding and a review of the town's boards and commissions.
Reviewing Day 1
At the halfway point of the retreat, several Council members and the Town Manager shared their perspectives on the retreat thus far. Don Frantz told CaryCitizen that he was curious about the upcoming second-day sessions and that yesterday's "land use plan discussion and breakout sessions were useful. As for the legislative session, we all know what to do, but we need more information up front about when to contact our state and federal officials – the ICE situation recently was a good example".
Gale Adcock said that the first day was "a high-energy day" with great information presented at a good pace. She was pleased at "how much we all are on the same page, with synergy around the land use plan". She especially looks forward to the customer service session today.
Town Manager Ben Shivar noted that the land use plan in particular was a good presentation. Regarding that topic, he told CaryCitizen that there is "lots of interest and lots of good ideas about changing focus, such as the idea of using themes and rolling out the plan to the public in simpler fashion".
Jennifer Robinson said that the first day of the retreat was "one of those days that went by very quickly. What should excite citizens most is the new land use plan. The lobbying session was extremely helpful to better enable us to represent our citizens".
Mayor Harold Weinbrecht believes that this has been an outstanding retreat session. He said that "A lot of good work has been accomplished and important decisions framed to help us make final decisions in the future". As for highlights, the mayor believes that "All topics are very important – we spent a lot of time choosing the topics, so no one subject is more important than the others. What is also important is the relationship building".
Customer Service and Service Philosophy: Unleashing Excellence
The Town's mission statement includes the phrase "providing exemplary services" and two of the Town's eleven values address customer service:
Our organization exists to serve our citizens…
We will provide outstanding customer service that is polite, friendly and responsive.
So it seems fitting to discuss customer service and service philosophy at the retreat. Assistant Town Manager Mike Bajorek presented highlights of a survey about Cary's customer service and a plan to improve that service.
Town Council members were surveyed using an online tool. Complete results were distributed to meeting attendees; the overall results indicate that council members are quite satisfied with service provided by Cary town staff but that it still remains important to improve customer service. When asked about what they hear from citizens about Cary's customer service, overall satisfaction remained high although responses were slightly lower than for Council's own satisfaction with staff's service. However, customer satisfaction was lower among business owners, according to responses from council members who hear from them. Among a few areas identified for improvement, the Inspections & Permits department was cited most, especially as the cause of lower satisfaction among business owners.
The themes identified most often by the council's survey feedback were to improve consistency, be more helpful and take ownership of issues. Gale Adcock believes that the lack of consistency and helpfulness is the biggest complaint of business owners in the area of inspections and permits. One recurring complaint from business owners was inconsistency in the form of dealing with different inspectors who provide different information. Bajorek indicated that this stems from the policy of responding to inspection requests the very next day, which means that businesses get very timely responses but are unlikely to have the same inspector each time. Mayor Weinbrecht suggested that perhaps the town's customers should be given an option – let the customer decide if they prefer immediate responses or are willing to wait to obtain higher consistency. Don Frantz added that taking ownership could also help respond to this dissatisfaction by encouraging staff to help solve inspection issues rather than just identify them.
Mr. Bajorek then described the "Unleashing Excellence" initiative that the town is undertaking to improve customer service. Objectives of this effort are:
Look at everything through the eyes of the customer
Relationship (rather than task-based) mindset
Create moments of "Wow!"
Hold all employees accountable for customer service
Regarding the last point, Bajorek observed that for town employees, customer service is "not just part of your job – it is your job".
In terms of overall customer service improvement, Bajorek stated that the town will use training and education, process reviews, measurements and accountability to "unleash excellence". Initial focus will be on regulatory staff, front-line operations staff with frequent customer interactions, high-use customer processes and web site interfaces.
A spirited discussion ensued about applying these goals to the Town's web site. Jennifer Robinson advocated for customer-based interfaces that are easier for people to find and navigate – she suggested examples such as "I want to start a business" or "I want to look up a rezoning" as easy ways to interact with the web site. She also believes that current events should be easily and immediately accessible on the home page – she noted that when she wanted to see what time she needed to arrive at the Cary Christmas parade, she could not find an entry on the town's web site calendar of events. Lori Bush agreed and suggested similar ideas of role-based web site interfaces such as "I am a citizen and I want to…" interactions. She stated that people should not need to click through lots of screens to get the information they want, such as a calendar of events.
Council consensus showed support for the overall customer service improvement initiative, although Gale Adcock wants to ensure that we measure and track current and future data to ensure that we know if we have improved, and Jack Smith reminded staff, "Don't fall into the trap that improvements will cost more money".
Cary's biennial citizen survey is in process now and it will offer some additional feedback about satisfaction with the town's service – but in the meantime, citizens and business owners can expect even better service as the town "unleashes excellence".
General Capital Projects and Funding
Budget Director Scott Fogleman led a discussion about capital projects funding, with the main goal of determining whether or not the Town Council would support using borrowed money (that is, issuing bonds) to augment the cash-only funding that has been used for recently so that more capital projects could be completed.
Budget discussions can be complex; many complexities and details are omitted here in the interest of reporting the salient points. As high-level background, though, Cary's budget has two major divisions: a general fund and a utility fund. The utility fund is essentially a "zero-sum" budget that is funded by utility (water and sewer) fees and that money is spent on utility projects. The general fund is the more familiar part of the budget that is funded by property taxes, sales taxes, various fees and other sources. General funds are spent largely on the services and amenities that the town provides (other than utilities), such as public safety (fire and police), parks and recreational facilities, public works (trash collection, streets, sidewalks and so on), general government and other functions. Both the utility fund and the general fund have an operating component and a capital component. The operating budget addresses day-to-day expenses of operating the town government; the capital budget addresses large projects such as water/sewer plants (in the utility fund), streets, sidewalks, parks, buildings and facilities and other projects (in the general fund). Interested readers can learn more about the budget on the town's web site (http://budget.townofcary.org/budget/fy2011/bib/bib.htm).
The retreat discussion considered the capital budget component of the operating fund. In recent years, during the economic downturn, Cary has deferred many capital projects such as road improvements. That means that the town has remained economically healthy, achieving a budget surplus each year, but it also means that planned improvements such as street maintenance, new parks and sidewalks and other projects have not been performed. In addition, for the past three years, the Town Council has chosen to fund the reduced list of capital projects entirely with cash, without taking on additional debt. In prior years, the town borrowed significant amounts of money to complete capital projects, and the cost of servicing that debt has grown.
Fogleman reported that the current capital reserve (essentially, cash on hand to fund capital projects) is $19.7 million, and that about $5 – $6 million of capital reserve annual revenue is expected. Capital reserve revenue comes primarily from Cary's share of the state gasoline tax, transportation development fees and other fees. In addition, operating fund surpluses (money available above and beyond required expenses and the required minimum balance in Cary's "savings account) has also been transferred from the general fund each year so that it can be applies to capital projects. However, Mr. Fogleman reported that that "excess" amount will largely be consumed by debt service (interest payments for debt that was taken on in past years) in 2012.
But with nearly $1billion of capital projects identified in Cary's 10-year outlook, and nearly $200 million of those projects included in the 10-year plan (that is, deemed high priority), the funding demand clearly outweighs available capital funds.
The other source of funding for capital projects is borrowed money, typically issued in the form of bonds. In 2003, Cary voters approved a bond referendum for streets and parks/recreation; about $60 million of those approved bonds has not yet been appropriated and could be applied to capital projects. However, this would require taking on that additional amount of debt in the town's budget (the bond referendum gave the town the authority to issue $160 million in bonds, but only about $100 million has been issued, so to use the remaining available $60 million would require issuing new bonds – that is, borrowing this additional money).
So the options presented to council were:
Continue funding capital projects with available cash only (this would mean that Cary would continue to perform fewer capital projects).
Use cash plus the additional authority from the 2003 bond referendum to issue $60 million in new bonds.
Use cash plus new bond authority to issue some amount of new bonds (let the 2003 bond authority expire and instead present voters with a new bond referendum for capital projects).
Of course, any new bonds issued (money borrowed) has the associated possibility of that political anathema – tax increases. Although Cary's property tax rate has not increased in many years and previous bond issues have avoided the need to increase taxes, and although revenue depends on many factors, such as the economy, growth and so on, it was apparent that a tax increase is probable if additional money is borrowed. The tradeoff, of course, is how many streets, sidewalks, fire stations, parks and other things are built or improved.
After much discussion, council consensus was to not use the authority from the 2003 bond referendum (that is, let that authority expire and not issue the remaining $60 million in bonds that are approved), review the list of high-priority capital projects and if additional borrowed money is desirable, place a new bond referendum before Cary's voters in the next year or two. Mayor Weinbrecht summarized this approach, saying "Citizens need to decide how to handle the projects that have been delayed – either accept decreased service levels or accept a possible tax increase to complete the desired projects". With this direction, Town Staff will provide council with a list of priority capital projects and their associated costs so that Town Council can decide how much money might be requested from voters in a bond referendum. Don Frantz also asked staff to consider the timing of a bond referendum (this year or next year), if one is pursued. Finally, council also achieved consensus to maintain the current debt ceiling that it has established – no more than 15% of the budget expenditures are used for debt service (that is, interest on borrowed funds). So even if a new bond referendum is pursued, the amount of funding would be limited by this debt ceiling policy (currently, Cary spends 11.6% on debt service).
Boards and Commissions Review
The final topic of the retreat was a review of the town's boards and commissions. The Town has several boards and commissions that consist of appointed citizen volunteers who advise the Town Council on various topics. According to the Town's web page:
Town of Cary has nine Boards and Commissions. Each is unique in its size, meeting schedule, and specific function; however, the overall mission is the same: To make Cary a place in which we can be proud to live, work and play.
The nine boards/commissions are:
Citizen Issue Review Commission
Economic Development Commission
Environmental Advisory Board
Information Services Advisory Board
Parks, Recreation & Cultural Resources Advisory Board
Public Art Advisory Board
Planning & Zoning Board
Town Center Review Commission
Zoning Board of Adjustment
Town Clerk Sue Rowland presented the results of a survey of current and previous board and commission members and their staff and council liaisons. Nearly all boards were deemed highly effective and valuable, with clear roles and expectations, by the survey respondents.
However, there were three clear exceptions: the Citizen Issue Review Commission (CIRC), Economic Development Commission (EDC) and Town Center Review Commission (TCRC) all had lower marks from survey respondents in several categories. In particular, the survey indicated that CIRC and EDC members believe that those commissions are not well utilized by staff and council and some suggested that they be eliminated. TCRC members indicated that their mission statement limits their effectiveness; hence, that commission is not well utilized by Council. Members suggested various actions ranging from eliminating the board to restructuring its organization and purpose.
Using a "sticky dot exercise", council members selected the boards and commissions that they wanted to further explore for possible changes. It was no surprise that they overwhelmingly selected the three commissions with the least positive survey results:  CIRC, EDC and TCRC.
After much discussion about each of these boards, Council achieved consensus on each one:
The Citizens Issue Review Commission (CIRC) will be replaced by a "task force" model – that is, when council members agree that an issue needs more citizen study, a task force (essentially a temporary board or commission) will be appointed to perform that study and generate a recommendation. The Council believes that the task forces should be composed in large part of graduates of the Town of Cary's School of Government.
The Economic Development Commission had already undergone some introspection by its own members and a subcommittee of the Council. At the retreat, the Council achieved consensus to accept that committee's recommendations and take other actions that will result in the EDC being replaced by a task force model similar to that of CIRC, to address particular issues as they arise. In addition, a related body called the "governing board" will be renamed and expanded so that it includes Council, Staff and citizen members who will address economic development issues in an ongoing fashion.
The Town Center Review Commission was chartered to review site plans for downtown development projects, but the projected work for TCRC has not materialized. Hence, the Council determined that TCRC also should be replaced with a task force model, similar to CIRC and EDC.
Closing Remarks
In closing remarks, each participant – Staff and Council – described one "takeaway" of the retreat. Town Manager Ben Shivar indicated that this retreat had provided the "clearest direction of any retreat since I have been Town Manager". Engineering Director Tim Bailey, who has attended 18 retreats, echoed this sentiment, saying "this is the best council consensus and direction of any retreat I have ever attended". Planning Director Jeff Ulma summarized, "We're a heck of a team!"
In his closing remarks, Mayor Weinbrecht thanked Vee Willis for all of her work in organizing the retreat and Michelle Ferguson for "being the best facilitator". He reiterated his appreciation to Town Staff and stated, "I am honored to work with such an impressive group of people. I believe we work together really well, and I believe we have the best staff in the state of North Carolina".
Part 1 of this story began with the expectations of new Council Member Lori Bush and veteran Jack Smith. Bush's reflections at the end of the retreat were positive. She expressed her appreciation for all of the information from staff and stated that the retreat was "different from what I expected. It wasn't just 'talking head' presentations but real discussion and interaction. I felt very welcome and comfortable as the newbie of the group". Smith noted that this year's retreat had focused topics that resulted in clear directions. He said he did not really see that single "Aha! moment" this year, but he noted that "the energy spent on the land use plan update will pay off in the future".
The retreat is a time for staff and council to spend time in an informal environment to explore topics that are important at the time. Although no official action is taken, the retreat establishes important directions for the next year and beyond, and observers will see items from the retreat coming before council for formal votes in the next few months. This retreat established consensus for several topics – so although no official decisions were made to float a bond referendum or abolish commissions, those directions were set and future actions are expected.
Cary citizens can stay informed and become involved in the important business of the town council via the "Town Council" tab on the Town's web page (http://www.townofcary.org/Town_Council.htm) where one can find agenda and minutes of council meetings and many other related items. And of course, town council meetings, work sessions and retreats are public meetings that are open to anyone to attend.
—————————————————————————————–
Brent Miller has been reporting on Cary Town Council retreats and other issues of municipal government for CaryCitizen since 2009. He is the Vice President of The Friends of Page Walker, a member of the town Planning & Zoning Board and an a 2009 inductee into the Cary Volunteer Hall of Fame.
https://carycitizenarchive.com/wp-content/uploads/2012/01/cary-council-retreat-day-2.jpg
350
600
Brent Miller
https://carycitizenarchive.com/wp-content/uploads/2020/03/cc-archive-logo-450-v3.png
Brent Miller
2012-01-17 13:40:24
2019-12-07 17:02:30
2012 Town Council Retreat: Day 2