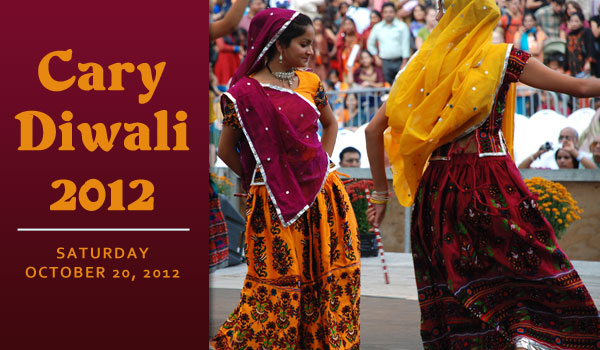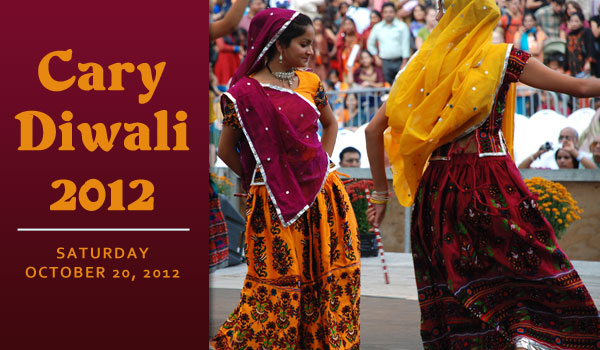 Photo by Hal Goodtree.
Cary, NC – The Indian festival known as Diwali (or Festival of Lights, ) will be celebrated in spectacular style at Hum Sub's 12th annual Cary Diwali on Saturday October 20 at Koka Booth Amphitheatre in Cary's Regency Park.

Indian New Year
In India, Diwali is the biggest holiday of the year, as the festival of lights marks the beginning of the lunar new year.  Hindus follow a lunar calendar and Diwali officially begins on Tuesday, the 13th of November and will continue for 5 days until Saturday, the 17th of November.  Sonali Luniya, past president and board member of Cary's Hum Sub group, stated that the organization celebrates Cary Diwali a little early due to the busy schedule at Koka Booth Amphitheatre, where the celebration has taken place the last 11 years.
Pray For Prosperity and Protection
Typically Diwali celebrations include special foods depending on what area of India, but sweets are always a large part.There is a religious aspect to the holiday with times of prayer. In Northern India, people pray for a prosperous year to the goddess of wealth Lakshmi. In Eastern India the the goddess Durga, brings protection. Many people purchase new clothes or other items in a symbolic way to start the new year fresh with hopes of prosperity.
"Maitri"- Celebrating Friendship
Each year Hum Sub chooses a symbolic theme for Cary Diwali- this year it is "Maitri – Celebrating Friendships," which will spotlight India through the lens of friendship and harmony. Maitri means unconditional friendship and the group chose this word to symbolize an important trait in an often divisive world.  The group is reaching out to the area to help spread understanding of their culture and welcome others in the powerful bond of friendship.
Headliners – World Reknowned Dance Troupe
The highlight to culminate a day of dancing, food and craft bazaar will be the headline performance of the internationally acclaimed dance group "Shiamak Davar International" from Toronto, Canada. Shiamak Davar, the founder and artistic director, spearheads the world's largest dance educational movement, which reaches out to over 70,000 dance enthusiasts across India, Canada, Australia, the UAE, and UK.
This Guru of Contemporary Dance, Shiamak has introduced new dance forms, which blend traditional Indian dance forms with his own personal style. These include his Indo-Jazz Dance Movement and Shiamak Bollywood Jazz presented in several Bollywood hits. His team has appeared in global events like the Closing Ceremony of the Commonwealth Games (Melbourne 2006 and Delhi 2010), the World Economic Forum (Davos).
In all more than 50 groups will perform throughout the day and six different food vendors will serve up your favorite curries or tandoor cooking.
Food vendors:
Paradise Indian Cuisine
Royal India
Sri Krishna Bhawan- vegetarian
Bamboo Garden
Sitar
Udipi- vegetarian
Schedule of Day
 10:30a.m –  Gates open
 11:00am –  Cultural Program Begins
 11:00am –  Exhibitions and Bazaar open
  12:15p.m –  Inauguration and Address by Chief Guest
  6:15p.m –  Sponsor Recognition and Address by Chief Guest
  6:30p.m –  Highlight performance by a group of dancers from Shiamak Davar International (Canada) Dance Institute
  8:30p.m –  Fireworks display
Exhibition Tent
There are many activities available to try in the Exhibition tent, be sure to stop by.
Visit the Informative exhibition – "Maitri: Celebrating the U.S.-India Connections": It highlights collaborations between India and the U.S. that have helped forge a lasting friendship between the two countries.
Collaborative canvas painting portraying "Maitri – The Friendship Circle": Be part of a beautiful creation!!  You could be the lucky winner to win the painting in the raffle. Raffle will be conducted at 5 pm.
"Rustic Motifs" – A Folk Art exhibit: Participants from the Visual Art workshops offered in Summer 2012 through Town of Cary will display their work.
Live art demonstrations: Visual Art workshop participants will demonstrate various styles of art like Warli, Madhubani, and Zentangle.  CaryCitizen story detailing these art forms
"Weaver to wearer"  – an informative and inspiring talk by local student entrepreneur Marisa Heyl who is helping block print artists and weavers in India with her efforts to help thrive the art and artists. The talk will be at 12:30 and 3:30, followed by a Q&A session.
Kids can register for free hands-on activities of decorating Lakshmi's footprints, making rangoli plates, and diya luminaries. Limited availability.
Rangoli chalk art is available for the kids to paint beautiful rangoli design on the sidewalks. Limited availability.
For more information please visit HumSub. The event is free to enter, but reserved seating by the stage is ticketed and sold in advance for good view of the stage and headline performance. Tickets are $10.
– Video links of Shiamak Davar International –
http://www.youtube.com/watch?feature=player_embedded&v=r8FYZ5Sl–M
http://www.youtube.com/watch?v=v3sfCoGnapY&feature=related
https://carycitizenarchive.com/wp-content/uploads/2012/10/cary-diwali-2012.jpg
350
600
Lindsey Chester
https://carycitizenarchive.com/wp-content/uploads/2020/03/cc-archive-logo-450-v3.png
Lindsey Chester
2012-10-11 15:46:01
2019-12-07 18:37:59
Cary Diwali 2012