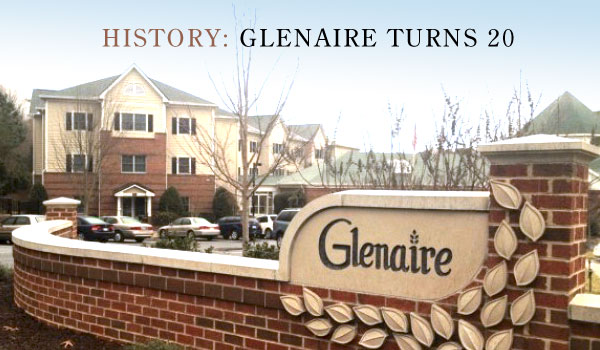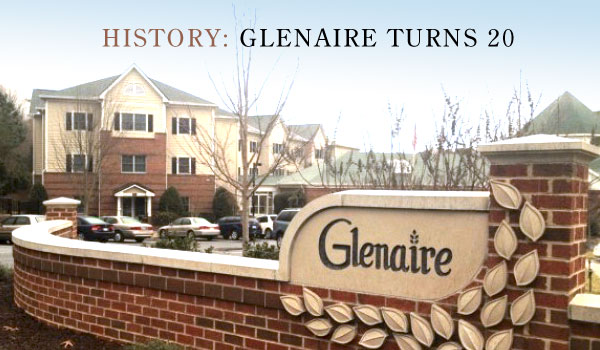 Story and photos by Lindsey Chester
Cary, NC- As Cary continues to add senior citizens at the rate of 2,000 a year, Glenaire, Cary's first Continuing Care Retirement community (CCRC), will celebrate its 20th anniversary this summer amid a $6 Million expansion and renovation. 
Glenaire Turns 20
Residents of Glenaire first called the community home in 1993. The community is a fully accredited, non-profit, Presbyterian-affiliated continuing care retirement community located on 33 acres in the heart of Cary. As an affiliate of The Presbyterian Homes, Inc., Glenaire welcomes residents of all faiths.
The community has continued to evolve and expand over the years. Currently about 380 residents live in a combination of  212 residential apartments and free-standing homes, 49 assisted living apartments, and 71 nursing rooms. The range of ages is amazing, starting as young as 58, and the eldest resident is 95. Truly 3 generations of seniors live there and they have different tastes and needs.
Whats a CCRC?
When you decide to move into a CCRC, you are purchasing an agreement to have care at every level of need provided for you. Laura Lowe, marketing director, was happy to point out that no one has ever been "asked to leave" because of care needs. Residents pay a down payment and that goes to offset future costs to them and provide financial assistance to those that may need it. Although they do not have an Alzheimer's unit per se, there are secured areas for residents with memory issues and dementia.
Laura told me to secure a spot in the community with studio apartments have down payments beginning at about $60,000. All housekeeping and 2 meals per day are included, along with 14 free days of skilled nursing/ rehab. There is a full rehabilitation and physical therapy on site as well. The only care the facility does not provide is actual hospital care, but most outpatient care is available. Laura went on to boast that they are Medicare certified with 5 stars.
A Little History
In 1988 the First Presbyterian Church of Raleigh needed something like this in the area and Dr Stock spearheaded the effort to raise the funds to build.
The land where Glenaire is located was originally owned by the Dunham Family (think "Dad" Dunham Park). Fundraising that included taking up offering at both the Presbyterian Church and White memorial helped to raise $1.7 of the original budgeted $3 million.
$60 Million Spent on Construction
The first phase was built in 1993. Over the years there have been several expansions including in 2007 when a library and a cafe were added. Since becoming operational in July 1993, Glenaire has spent nearly $60 million in construction on campus. Aside from its initial $23.8 million spent in original construction, Glenaire has invested an additional $36.2 million in construction for multiple expansions over the years. In 1999, another building was added to the campus. An adult day care that accommodate 16 seniors was added about 6 years ago.
The newest expansion will reorganize care in the center to be more "home based " and less of a medical model. Care will be more "person-centered" and individualized. The design will create  four "households" within the existing assisted living and skilled nursing wings of the main building. Lots of updates are planned to give a more homey feel, with living room- type areas for gathering and visiting with families.
Staff is undergoing training to complete the transition.  Currently, Glenaire employs 250 people in jobs from maintenance to skilled nursing care. There's even an intern program run through Campbell University that brings college students into Glenarie working with residents.
The renovation for 2013 will take over a year to complete and the plans are to convert 5 current residences into offices and move each of those residents to a new unit to be built in one of the households. Each residents will be moved one at a time.
Multi Generational
Laura explained that families have liked visiting their loved ones so much, that there have even been two generations living at Glenaire- parent and child as they age. Since the community is now 20 years old, children have had the opportunity to visit parents and then decide that maybe this is a good move for them as well when they no longer wish to maintain a home.
With 2000 Cary residents turning 65 every year, and no one wanting to move out-of-town, retirement communities are suddenly an important housing stock. Glenaire has a 2-4 year waiting list, and they stay full.
By staying up to date and current with this new renovation and possible future expansion, they should keep aging Cary residents happy for years to come.
https://carycitizenarchive.com/wp-content/uploads/2013/03/glenaire-cary-nc.jpg
350
600
Lindsey Chester
https://carycitizenarchive.com/wp-content/uploads/2020/03/cc-archive-logo-450-v3.png
Lindsey Chester
2013-03-01 13:45:42
2013-03-04 13:17:32
History: Glenaire Turns 20