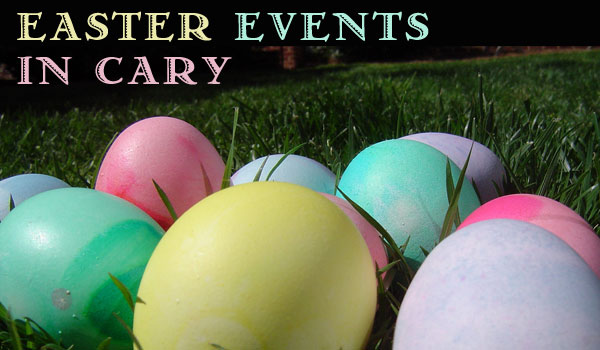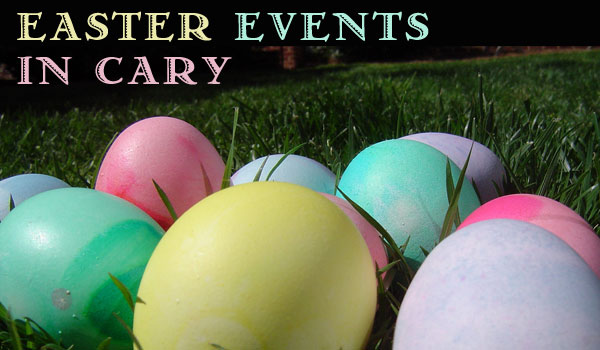 Story by Lindsey Chester. Photo by vanherdehaage.
Cary, NC- Easter is very early this year (March 31) and thankfully here in Cary, the weather will be warm enough to wear your newest Spring outfit and Easter bonnet in the weekends to come. Here's a list of what's happening locally. Maybe you'll spot  the Easter Bunny?
Giant Easter Egg Hunt and More
The Town of Cary has been hosting a giant Easter Egg Hunt in Bond Park for years. Each year it seems the crowds get even bigger. Last year the event was split into 2 sessions of egg hunting and activities and that new tradition is repeated again for 2013.
But there's lots more going on than the one gigantic hunt this weekend – with the beautiful weather, take advantage of the many outdoor events happening between now and Easter Sunday on March 31.
Saturday March 23
Breakfast with the Bunny
8:30 am – 9:30 am
Fred G. Bond Metro Park, Kiwanis Shelter
sponsored by The Town of Cary
Join the Bunny for a continental breakfast served prior to Cary's Easter Egg Hunt. Tickets went on sale Monday, February 18 at the Herbert C. Young Community Center. No tickets sold the morning of the breakfast. This event is a Teen Council Fundraiser –PRCR account credits cannot be used to register for this event! For more information call (919) 460-4965.
Fees: Tickets Required
Ages 10 and up: $4 each
Youth ages 3-9: $3 each
Under 2, FREE (pick up an "EAT FREE PASS" when you purchase your tickets)
In case of inclement weather, ticket holders will be asked to call the community center for an updated message.
Cary Easter Egg Hunt
beginning at 10am and several sessions til 3pm
Fred G. Bond Metro Park, large field areas – FREE
This event, open to children 10 and under, features 3 hunt areas, each for a different age group. In order to better accommodate the large crowds, and for those who would rather "sleep in", an afternoon hunt is also scheduled. Bring your Easter Basket and come early for good parking! For more, call (919) 469-4100.
Special Times By Age:
Morning Hunt
3 and under 10 am
4-6 yrs 10:20am
7-10yrs 10:40
Magic Show all ages  11:00 am Sertoma Amphitheatre
Afternoon Hunt
3 and under 1:30pm
4-6 yrs 1:50pm
7-10 yrs  2:10pm
Magic show all ages 2:30 pm Sertoma Amphitheatre
Easter & Passover Dinner Food & Wine Pairing
12 noon – 6 pm
Chatham Hill Winery, 3800 Gateway Centre Blvd., Suite 310, Cary, off Aviation Parkway
Preparing for Easter or Passover dinner? Wondering what wine would go best with that ham, roast beef, or lamb roast? Let the locally owned winery help you pair the perfect wine to complete your meal. Samples of ham paired with their Rosé will be available during tasting (for your palate, not your tummy). Included in your tasting fee of $10/pp. 919.380.7135 Held again on Sunday March 24th from 1- 5:00pm
AniMall's 5th Annual Doggie Easter Egg Hunt
10am- noon
Crowder District Park, 4709 Ten-Ten Rd., Apex, NC 27502
We'll be hiding hundreds of plastic 'Easter Eggs'  throughout Crowder Park, filled with healthy treats, AniMall coupons, and more. For a small $5 donation to animal rescue, you can enjoy hours of fun searching out the 'hidden treasures' awaiting you and your dog. In addition to the hunt itself, we're inviting local animal-focused vendors, a silent auction, and raffle. And 100% of all proceeds go directly to animal rescue in the Triangle area.
Free for humans, $5 per dog . Ticket Info: Tickets can be purchased 3 ways: online at www.animall.org, in store at AniMall in Cary Towne Center, or at the event at Crowder Park.
Sunday March 24
EGGSTRAVAGANZA
4 PM – 6 PM
Greenwood Forest Baptist Church-110 S.E. Maynard at Kildaire Farm Road
Children from preschool through grade 5 are invited to bring a basket and come enjoy our egg hunt, along with crafts, snacks and face-painting, at the Easter Egg Party sponsored by the Children's Committee of Greenwood Forest Baptist Church.
Now thru March 30
Visit the Easter Bunny
Monday – Saturdays: 10am – 9pm, Sundays: 12pm – 6pm
Cary Towne Center- now through March 30
The Easter Bunny takes up residence at Center Court in Cary Towne Center on March 9th and can be found there most days leading up to Easter Sunday. Photos as time permits with various priced packages can be purchased at the time of visit.
Wednesday March 27
Easter Egg Hunt and Bounce!
10am- noon
BounceU of Apex, 3419 Apex Peakway, Apex
Bring your preschoolers for a new twist on the traditional egg hunt at BounceU of Apex!  Lots of bouncing,   BounceUs one-of-a-kind egg hunt with awesome prizes! Easter snacks included. Age 7 and under only. Cost:  $10/child for more info: (919) 303-3368, www.bounceutriangle.com
Thursday March 28
2nd Annual Easter Eggstravaganza–
6-8pm
Fred G Bond Metro Park, Field #4
A special hunt for children with special needs sponsored by the Town of Cary
Children 12 years of age and younger with special needs, developmental and/or physical disabilities, are invited to a very special egg hunt.  Bring a buddy to help if needed.  Enjoy fun activities and entertainment after the hunt.  Bring your Easter basket, meet the Easter Bunny and get ready to scout the field for lots of colorful eggs. Registration is encouraged.  (see registration numbers below)
Egg Hunt Schedule
65477 Age 7 & under – 6:30-7 p.m.
65478 Age 8-12  – 7-7:30 p.m.
Bounce House & other festivities , 6-8 p.m.  All ages
For more information call (919) 469-4100.
Friday March 29
Cosmic Easter Bounce!
7-9:00 pm
BounceU of Apex, 3419 Apex Peakway, Apex 27502
Bring your kids for a one-of-the-kind glow-in-the-dark egg hunt at BounceU of Apex!  Lots of cosmic bouncing, cosmic egg hunt with awesome prizes!  Included glow necklaces, 1 slice of pizza and drink. All ages welcome. Cost:  $15/child For more info contact  (919) 303-3368, www.bounceutriangle.com
Saturday March 30
Waverly Easter Bonnet and Hat Festival
11am- 2:00pm
New Waverly Place Promenade,  corner of Kildaire and Tryon Rds
Kick off the Spring Season with the 2nd Annual Waverly Easter Bonnet and Hat Festival.
Homemade Easter Bonnet and Hat Competition for children and adults (more info to come)
Live DJ
Children's Activities and Face Painting
A Visit from the Easter Bunny and Friends
Live Art Demonstrations
Food Sampling and Demos and more!
The Event is free and open to the public
C4 Church Easter Egg Hunt
10-noon
C4 Church at Reedy Creek Middle School, 930 Reedy Creek Rd, Cary, NC
C4 Church is having a free community Easter Egg Hunt. Kids all ages are invited to come and participate. Any questions can be emailed to Pastor Trey Fletcher at trey@c4churchnc.org
Cary Crossroads Easter Egg Hunt
10am-1:00pm
Cary Crossroads
Visit with the Easter Bunny!  Enjoy the Moonwalk, Whirly Bird ride,Slide, facepainting with Facepainting by Jandy, balloon art, music, games and prizes! We will also have kids' craft activities with The Scrap Exchange! Due to the expansion of Dick's Sporting Goods, the egg hunt will still be held in the grassy area, but all other event activities will be held next to the new HomeGoods (former REI).Don't forget to bring your camera. All events are free.
—————————————————————————————–
Community events coverage on CaryCitizen is sponsored in part by Waverly Place.
https://carycitizenarchive.com/wp-content/uploads/2013/03/easter-events-cary-nc.jpg
350
600
Lindsey Chester
https://carycitizenarchive.com/wp-content/uploads/2020/03/cc-archive-logo-450-v3.png
Lindsey Chester
2013-03-20 19:15:22
2016-10-25 16:34:24
Easter Events In Cary