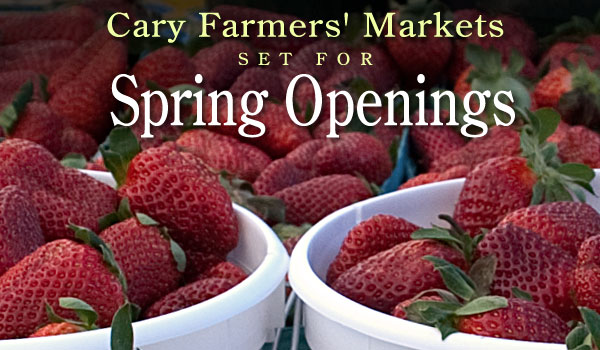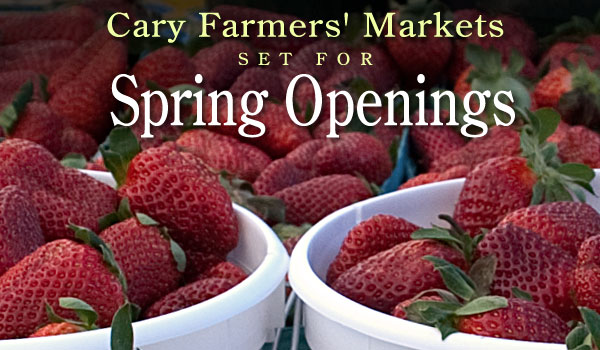 Story by Lindsey Chester. Photo by Hal Goodtree.
Cary, NC – When it comes to food, the winter of our discontent is giving way to eminent joy – the return of all three Cary farmer's markets. Two open this weekend (April 6, 2013) and the other opens on April 20, 2013.
Freshness, Variety, Camaraderie
I love Cary's farm markets (all three). I love them for the camaraderie.
I like talking to the farmers and running into people I know. What a great way to buy food!
My husband, however, talks to no one. He shops with a purpose.
It's all about variety and freshness for him – things you won't find in the supermarket, items at their peak of freshness.
Okay, he talks to the farmers. And the musicians. But that's about it.
In the spring, I expect to see a parade of fresh baby greens, strawberries, beets, collards and kale coming into my house. There will also be Irish potatoes, sweet potatoes, French Breakfast radishes, Swiss Chard, chives, spring onions and mushrooms.
A spring feast, and it starts this weekend at Cary's farmers' markets.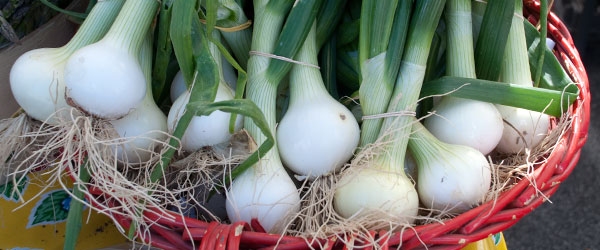 Cary Downtown Farmers' Market
The Cary Downtown Farmers Market opens Sat April 6, in the same location as last year at the corner of Park and Academy Streets in Downtown Cary.
Vendors will be selling locally grown vegetables and fruit, pasture-raised meats, eggs, honey, seafood, crafts, and baked goods. Some of the regular vendors include: Custom Confections of Cary, Gary and Barbara Hughes, Motley Crops, Mind your Beeswax, Better Be Ellerbe Peaches, Salem Gardens Nursery and Greenhouse, and  Scott Spahr (who is available year round). For complete list click here.
Opening day at the market will include an exciting scavenger hunt based on the fresh foods offered at the market this week; as well as live kid-friendly music from the Motley Tones, a jolly band of singing pirates. Children that plan to participate in the scavenger hunt should stop by the information desk to pick up a map when they arrive.
Cary Downtown Farmers Market has a new Market Manager, Karmen Paterson. Karmen is an Agricultural Business and Environmental Science student at NC State expected to graduate in May.  Having grown up around chefs, Karmen has a passion for food and eating. She believes in sustainable agricultural and buying locally for healthy citizens and the economic growth of downtown Cary. Stop by the information desk to meet Karmen and welcome her to the market.
A strong community has developed at the market over the past 22 years, even as the market has had to shift locations during construction of the Cary Depot. Consumers are able to get to know and trust the farmers who make their food while sampling produce, learning about where and how the food is grown, and talking about recipes with other shoppers. The market runs from April through November on Tuesdays from 2-6, and Saturdays from 8-12:30. November through March, the market is open on Saturdays from 8-12:30. The market is always open, rain or shine!
"We are excited about both our new and returning vendors this year, and our ability to bring more Cary residents to the market. We want people to know our market is a destination spot, in the revitalizing downtown Cary, for people to buy fresh, local produce, socialize with other foodies, and just enjoy themselves," says Karmen Paterson, Market Manager."
Western Wake Farmers' Market
On the west side of town, there's the Western Wake Farmers' Market (WWFM). It's in the parking lot at the front of Carpenter Village on Morrisville Carpenter Rd. The WWFM opens on Saturday, April 6 for the start of the new Spring season.
WWFM will welcome back previous vendors and introduce new members to the market family, 50 in total. Customers will find their favorite locally grown farm-fresh produce, cheese, meat, baked goods and specialty items. Alongside old favorites, newcomers enter the market: honey, bison, homemade baby food, pottery, homemade bonbons, prepared foods, and even local beer.
The new season begins April 6, every Saturday operating from 8 am-12pm (rain or shine).  These hours remain until October 26 when the market will switch over to winter hours (9:30 am-12pm). The market is located on Morrisville Carpenter Rd., between Davis Dr. and Hwy. 55 in Carpenter Village in Cary, NC.
Opening day also marks the beginning of new events and education. On April 6, WakeMed will educate customers about how to fill their plate with fresh, healthy, local foods at each meal. Information and recipes about how to incorporate foods found at the farmers' market into everyday meals will be provided.
To top off the day, CityFolk will provide some toe-tapping music while kids, and kids-at-heart, get their faces painted by LyneeSue Fisher.
Here's a partial list of some popular vendors: Angelina's Kitchen, Backyard Edibles, Chapel Hill Creamery, Fullsteam Brewery, DJ's Berry Patch, Great Harvest Bread Co, Hillsborough Cheese Co., Locals Seafood, Smith Angus Farm, Two Chicks Farm. For a full list visit the market's website.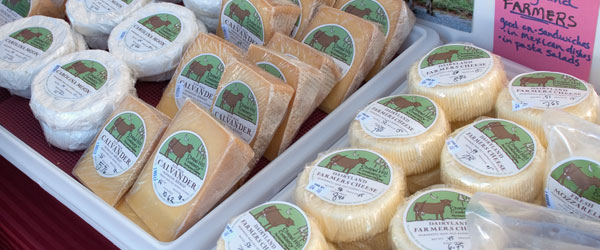 Waverly Farmers' Market
Toward the south end of town, at the corner of Tryon and Kildare Farm, Waverly Place Farmers' Market opens on April 20.
The market at Waverly was new last year and is building on their early success. Located as they are at a shopping center, they help bring fresh traffic to the newly renovated destination. The market started small last year and will expand with sponsorship from WakeMed Cary located across the street.
There is usually acoustic music and a lively group in the rear parking lot very near the Promenade and the children's playground. At this writing their website listed that their kick off celebration will include live music, face painting, children's crafts/activities, arts/crafts demos, food tasting/sampling, and much more.
——————————————————————–
Seasonal coverage on CaryCitizen is sponsored in part by Waverly Place Farmers' Market and by Cary Downtown Farmers Market.
https://carycitizenarchive.com/wp-content/uploads/2013/04/cary-farmers-markets.jpg
350
600
Lindsey Chester
https://carycitizenarchive.com/wp-content/uploads/2020/03/cc-archive-logo-450-v3.png
Lindsey Chester
2013-04-02 16:09:13
2019-12-08 10:10:03
Cary Farmers' Markets Set for Spring Openings