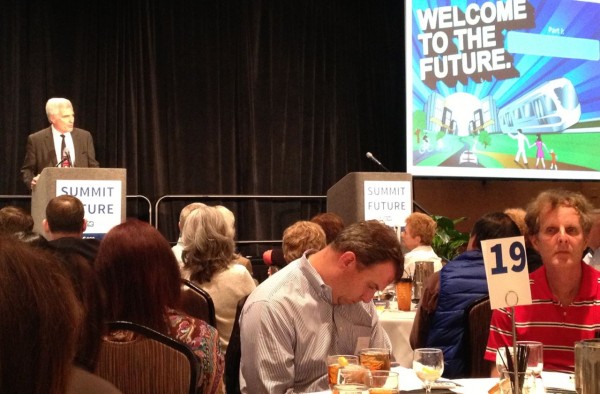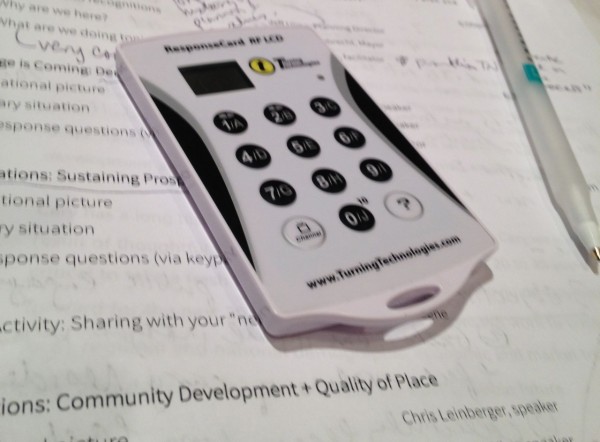 Story and photos by Lindsey Chester.
Cary, NC – Nearly 700 people filled the Embassy Suites grand ballroom at Cary's "Summit on the Future"  Thursday night (May 2)- the largest gathering of its kind ever to take place in Cary's history.
Imagine Cary
The event marked the public kick-off of Imagine Cary– an 18 month process in which the town's planners and consultants will hold a series of public meetings as they craft a unified long-range planning guide for the town.
The guide, known as the Cary Community Plan, will help shape the Town for the next 20-30 years. The Town Council will view the results for approval sometime in the Fall of 2014.
Why Now?
In his opening statement, Cary Mayor Harold Weinbrecht gave his thoughts on why this planning guide is important.
"It's our turn to Imagine Cary for the next 20-30 years…and set the tone for the direction of housing and development."
He went on to mention that "one of our biggest strengths is citizen involvement, which makes our community a better place now and forever."
Objectives For the Summit
Facilitator Jamie Green of ACP summed up the three main objectives for the Summit:
Launch Public engagement activity
Gather initial insights. What do we as a town believe and feel are the values of Cary residents?
Collectively learn from each other to understand the opportunities before us for the future
Fast Approaching Build-Out
Cary is fast approaching build-out, which raises many questions that need to be answered when the Town looks to its future. Currently about 89% of land within the town's limits are built – and some of that available land is difficult or impossible to develop.
That means, to fuel future housing and retail demands, some areas will need to be reinvented.

Cary Lacks Millennials
In a very polished presentation, headline speaker Chris Leinberger opened the conversation outlining national trends, which were then backed up by statistical analysis presented by Leigh Anne King.
The audience reviewed Cary's own past, current and future  population and demographic statistics. It's common knowledge that Cary  grew rapidly through the last quarter century, but with the recession and other economic drivers, our rate has slowed.
Our demographics are shifting. The town's age has shifted toward a majority of 45-65 year olds, with a serious lack of young adults, the nation's largest population: the Millennials.
Cary has the 3rd oldest community in all of North Carolina, only behind Ashville and Gastonia, two towns that are retirement destinations.
Folks in their twenties actually shun our town in favor of life in either Durham or Raleigh.  This new generation will be leading the new "Knowledge-Experience" economy,  according to Leinberger.
Millennials like walkable communities. Empty-nesters also prefer walkability. But, with a few exceptions, Cary is not a walkable place.
Not only are our demographics shifting, but building preferences are also on the move. Much of our existing development is aging toward the need for major repair, renovation or demolition.
2nd American Economy
Leinburger  highlighted how Cary was built in the era he called the 2nd American economy, one that relied heavily on the automobile, cheap gas and plentiful land. Dads worked in factories or large corporations and families aspired to single family detached homes in suburban landscapes.
But as our population enters the Knowledge-Experience Economy, preferences are shifting. People work closer to home, or from home. We are time-poor, with less and less care for keeping up lawns and homes, much less a desire for hours of commuting time.
Gathering Info From Attendees
To warm up the crowd, the facilitators asked a series of questions to learn about the attendants.
Here's a sampling and the answers:
How long have you lived in Cary? (Results: 32% between 10-19 years, 19% had been in town more than 20 years)
Where do you work? (Results: 38% worked in Cary, and 25% were currently not employed).
Why do you live in Cary (Results: Job was only 12%, and 42% answered quality of life)
The Summit used a handheld survey device to gather instant info from all the attendees. As a series of multiple choice questions were asked and attendees pushed buttons to register their answers. Within 10 seconds of each query, the audience could see stats on where their answers fell when compared to all the answers from the room.

The Future of Cary
Can Cary keep up with these shifting demographics and preferences, or do we even want to? The presenters made a good case, and the audience for the most part was buying into the notion of denser, New Urbanist development. It's just hard to know if 700 attendees truly represent the community as a whole, which numbers close to 141,000.
The cross-section in the room was a good age representation of town, but the racial demographics were not a good fit. According to the town's own stats 20% of residents are Latino or Asian, and a quick glance around the room, revealed a very white audience. The actual volunteer board for Imagine Cary has been chosen to more accurately represent all ages and demographics of Cary – having been selected at random from a large pool of applicants.
We will have to see how the Imagine Cary Plans pans out over the next year and a half. Where will this new Urbanism occur? Downtown,  at major suburban interchanges? Re-development at under utilized shopping or industrial office parks? Only time will tell.
https://carycitizenarchive.com/wp-content/uploads/2013/05/leinberger-e1367805890581.jpg
394
600
Lindsey Chester
https://carycitizenarchive.com/wp-content/uploads/2020/03/cc-archive-logo-450-v3.png
Lindsey Chester
2013-05-07 14:45:45
2013-05-07 08:47:31
Cary's Summit on the Future