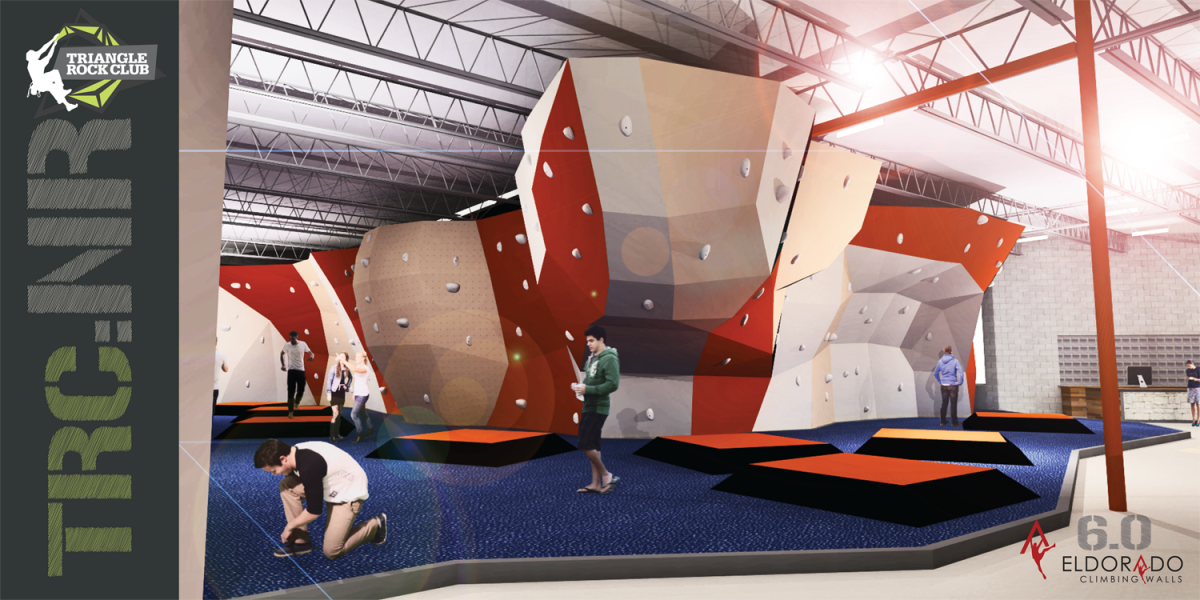 Morrisville, NC – Triangle Rock Club (TRC), an indoor rock climbing gym and fitness center located off Morrisville Parkway, is opening a second indoor climbing facility to be located in North Raleigh. Thanks to the tremendous growth since opening the Morrisville location in December of 2007, Managing Partners Andrew Kratz, Luis Jauregui, and Joel Graybeal are ready for their next challenge.
"We understand our customers are only willing to drive a certain distance to work out at the gym, climb, take an instructional class, or drop their children off at a climbing camp. We are comprehensively serving the Morrisville/Cary area, but feel there is a distinct need in North Raleigh for another TRC facility" said Graybeal.
Facility Details Triangle Rock Club
In addition to the new location, TRC is presently expanding their state-of-the-art facility in Morrisville. When complete the expansion will nearly triple the amount of climbing terrain available. With over 24,000 square feet of terrain and 100 climbing lanes with heights up to 50', the Morrisville facility will be the largest and tallest indoor climbing gym in a five-state region.
TRC's new facility in North Raleigh will be similarly impressive, boasting 13,500 sq. ft of climbing area, a 30 ft. tall free-standing climbing pillar, and over 74 climbing lanes. The new facility will be conveniently located at 6022 Duraleigh Road, near the intersection of Duraleigh and US-70/Glenwood Avenue.
More About TRC
Managing Partners Kratz and Jauregui developed their love of climbing during their years in the Marine Corps and wanted to share it with their communities.
According to Kratz, "It's very rewarding for us to build facilities that accommodate climbers of all skill levels and ages. It makes the sport very accessible to almost everyone."
The diversity of programs offered at TRC give visitors a number of ways to familiarize themselves with climbing, from day-passes and climbing gym memberships or summer and track-out climbing camps, to individual and group climbing instruction, climbing birthday parties, overnight lock-ins, and teambuilding events. TRC's sister company, Triangle Rock Guides, offers guided outdoor climbing trips in North Carolina and around the country, as well.
"TRC's growth is thanks to the growth in the local climbing community," Graybeal said. "TRC has become a true community venue in Morrisville; from organized Meet Up group events to our nationally ranked Junior Climbing Team. We plan to offer the same opportunities to North Raleigh residents, so they too can experience the benefits and enjoyment of climbing. We hope to help the region's climbing community continue to grow."
Support From Business Community
Harvey Schmitt, President and CEO of the Greater Raleigh Chamber of Commerce, added,
"The growth in climbing for sport and recreation has exploded in recent years and we are excited to have Triangle Rock Club open a premier facility in Raleigh. TRC also has a strong focus on civic engagement and will be an excellent addition to our business community."
Awards Held By TRC
Triangle Rock Club currently holds the 2013 Small Business of the Year award from the Morrisville Chamber of Commerce, was voted Best Place to Take Kids on a Rainy Day in 2012 and 2011 by Cary News, voted Best Climbing Gym in NC by Endurance Magazine in 2010, and received a 2013 Pinnacle Award from the Greater Raleigh Chamber in May 2013.
Future Plans
The North Raleigh facility is already under construction and should open by September 1, 2013. Graybeal hinted at plans to open additional locations to better serve the Durham/Chapel Hill area, the Triad area, and the Greater Charlotte area.
 For More Information
For more information about Triangle Rock Club, visit their website or call 919-463-ROCK(7625).
https://carycitizenarchive.com/wp-content/uploads/2013/07/Zf_jk-Uk27EZTWGPUYnouJCWSn26r1Ie2w6i66iV5ShGBVh8uSZkfCFpUJp3LRG36Aw1600-e1373514853938.png
600
1200
Community Contributor
https://carycitizenarchive.com/wp-content/uploads/2020/03/cc-archive-logo-450-v3.png
Community Contributor
2013-07-25 12:45:55
2013-07-25 11:29:02
Triangle Rock Club to Open New Location in Raleigh