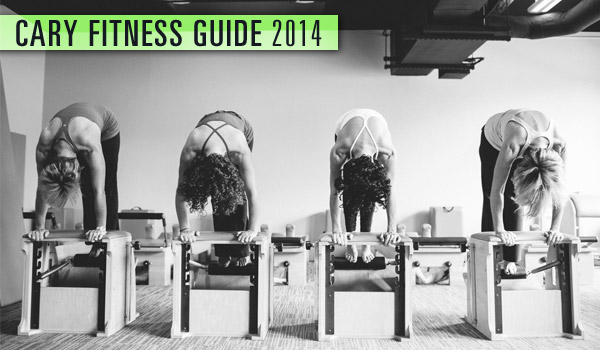 Cary, NC – It's January and I bet you made that resolution to get back in shape. Lucky for you we have lots of options in Cary, with several new gyms that just opened.
Cary Fitness Guide 2014
For the 2014 Cary Fitness Guide, we tracked down what's happening in gyms, studios and spas across town. There is something for everyone in Cary – find what you like and stick with it in 2014!
1. Convenience
Workout Anytime
A new concept from 24/7 Workout Anytime is a gym that is open and available 24 hours a day through the use of a key card. This gym is staffed Monday- Thursday 9am-8pm and 9am-5pm Friday and Saturday. Instead of worrying about getting to the gym when its open, you go when its convenient for you.
The concept is machine-based with state-of-the-art, Matrix cardio and weight training equipment. Located in the Maynard Crossing Shopping Center near Kroger's, a visitor will find 3 main zones on the floor, each focusing on a different type fitness of training. Cardio equipment includes treadmills, ellipticals and recumbent bikes. The Strength area has every weight machine available as well as a large four tower, 16 person circuit trainer. The Free Weight zone has a large mirrored area, a dozen different benches as well as a TRX station, mats for crunches and resist-a-bands and medicine balls. Hydromassage is also an option.  In January: only $29 to join (vs. $59) and monthly fees are $15 per month with NO annual commitment.
New U
Can't make it out to the gym at all? How about the gym coming to you? That's the idea behind New U  actually doing Corporate and mobile fitness and is in the midst relocating the offices out of Harrison Point. They are doing some programs in conjunction with Blue Cross Blue Shield in Park West Village and will come out to corporate locations to work on wellness. This is good for the bottom line in more ways than one: healthy employees equal lower insurance premiums.
More Options for Busy People
A few other places in the area also offer key fob access. They include Anytime Fitness in Morrisville, and Fitness 19 in Preston Corners. These places offer members flexible inexpensive memberships, and equipment they can use, but no classes.
2. Dance- Influenced
Classes structured around dance moves and 8 counts.
Aradia Fitness (8420 Chapel Hill Rd in Downtown Cary) calls their fitness classes "sexy fit", but make no mistake: this is no strip club. Clients work their way up in Pole Dance levels as they become more accomplished and gain the strength to literally hold themselves up on poles in several series of classic moves. Owner Dakota Fox stresses that women who join Aradia are looking for something different , and many actually lack self confidence when they first show up.
The studio has 2 beautiful rooms painted deep red or purple with poles fixed floor to ceiling and luxurious draperies on the walls for a truly different atmosphere from the typical gym or yoga studio. In addition to the 7 levels of pole dancing, classes have names like ABtastic, Arial Aerobics, Cloud 9 Yoga,Hip Hop Hotties, Pole Fit, TNT Bootcamp and Willpower & Grace.  The studio also can host parties, (Bachelorettes, GNO).
Memberships are through  punch card system: 5 classes= $60, 10 classes= $90, or unlimited 1 month= $120 or 3 months= $315.
Pure Barre combines the strength and flexibility from ballet dance classes, and uses the ballet barre add some fun and stability. The studio opened last September in Park West Village. Studio manager Kari Hess explained that classes area combination of pilates and yoga moves combined with a ballet barre used for stability. The total body workout gets heart rates up in a fast-paced one hour non-impact class. Class formats start with a warm-up of floor based pilates moves, then move to work on thighs, then your seat, then abs. The results are tapered toned dancer-type muscles without the impact or bulk of weight-lifting. Classes are for women, sorry guys. Kari noted the workout is great for pre-and post-natal moms and that they have lots of pregnant women clients and brides to be who wish to tone up before the big day.
Classes can be pre-purchased in blocks of 5, 10, or 20 starting at $105. Or memberships can range from unlimited use by the month for 1, 3, 6 or 12 months starting at $185.
Danceformations in Harrison Point capitalizes on the craze sweeping the country known as Zumba. Many exercisers get bored with weights and don't want to be pushed by a drill sergeant. They want to get their groove on in a friendly atmosphere, sweat a little and learn some dance moves in the process all while listening to some fun Latin beats. Located in a former ballroom dance studio, the open floor format has plenty of mirrors so that clients can see how they're doing and learn their 8-counts and build a routine. Taught by a certified dance instructor.
Jazzercise at 1070 West Chatham Street  has been one of Cary's exercise mainstays for years. Featuring the Jazzercise brand of choreography, it is designed to be a fun, women only exercise dance environment.
Membership pricing: $45.00 monthly, $40.00 joining fee, 12-month minimum $50.00 monthly, $50.00 joining fee, 6-month minimum, $60.00 monthly, $60.00 joining fee, 2-month minimum, $15.00 single visit price.
3. Sports Performance Training
For athletes and amateurs who are serious about improving their sports ability
Athletic Lab What people will find at Athletic Lab is an 11,000 sqft state-of-the-art facility with the most credentialed and experienced instructors / coaches in the Triangle who are committed to every athlete's success.  The staff includes PhD trained coaches who are focused on performance, led by renowned coach & sport scientist, Dr. Mike Young. The gym provides a unique blend of evidence-based, field-proven training services that have been validated at the highest levels of sport and fitness in the world. They offer Sports Performance training, Performance Fitness training, Personal Training and Sport Science and Analysis.
Athletic Lab can help athletes gain strength to improve their overall sport-specific abilities. For the general public, folks can participate in classes ranging from very popular Cross Fit, to personal training and other intense fitness training classes. Programs are designed individually depending on a clients specific sport related needs.  They currently train athletes in track, wrestling, soccer, basketball and lacrosse. From Olympic bound to Div I college hopefuls, they give athletes a strength and agility boost not normally part of a basic skills team practice.
Prices range from $17.95 for an adult session to $170/month for unlimited visits in a month and pricing is month to month with no annual commitment.
4.  Intensity Workouts
designed to specifically get clients into anaerobic training zones, designed to kick your butt on a regular basis
Orangetheory Fitness will open in Park West Village later in January and is currently taking memberships. This full body workout has 3 parts: endurance, strength and personal training. Owner Kristie Shifflette says members will get the benefits of having a personal trainer, but enjoy the costs of group classes. Class sizes are about 24 athletes. Their workout theory is heart-rate interval training based around attaining an anaerobic state during your cardio workouts.  During the 60 minute workouts everyone wears a heart rate monitor. These heart rate numbers are projected on a TV screen during the entire class, so everyone in class knows who needs to work harder and who needs to slow down based on the numbers.
New to the area, Title Boxing opened this fall in Cary's Arboretum Plaza off N. Harrison and features 50 body bags suspended from the ceiling that create mini stations for clients. Folks wrap their hands and don boxing gloves before taking part in a hi-intensity work out led by instructors who walk around to each station to check on form and individually push clients to work harder.
Every class is based on a "Power Hour" with 15 minutes of warm-ups, 30 minutes punching the heavy bag broken down into 8 3 minute rounds, and classes finish up with 15 minute s devoted to a core workout. These Cardio based/ core focused workouts burn calories and at a high rate. With 7 classes a day to choose from starting at 6:00am, there's a convenient time for anyone and clients come from as far away as Fayetteville.
Memberships range from $59-$79/month and there is an enrollment fee that covers new clients first gloves, duffle, t shirt, key fob and hand wraps. This is a month-to-month basis vs an annual sign-up.
Excel Body Fitness on Sheldon Drive, focuses on classes called the X series and promise a "get ripped in 90 days" guarantee. Classes start as early as 5:45 and run through 8pm. Memberships lock clients into specific class times to keep classes tight and members accountable for their 8 week sessions. Expect plenty of Boot Camp type classes and to be extremely challenged.
Forged Fitness, located at 1781 NW Maynard Rd., is a strength and conditioning program which uses a variety of dynamic exercise performed at a high intensity level. They also offer martial arts classes in Jiu Jitsu, Judo and Muay Thai. Classes are offered at 6, and then 4:30. 5:30 and 6:30. They are
5. Personal Training Based
individualized attention and custom workouts
Active Bodez  owner Scott Anspach prides himself on the personal attention he can give to each of his clients. After an initial consultation, he sets his clients on a path of  training to help them gain strength gradually using his air resistance machines. Clients move through a series of stations on machines that can be adjusted up or down in resistance weight incrementally to a quarter of a pound so that clients hardly notice a shift. Results are tracked manually and clients keep a log of their visits.
Scott told me his clients are typically people who know they need to exercise, but may never have done any fitness training, or fell off the wagon long ago. His goal for his clientele is to get them consistent with exercise.  He added that if he doesn't see a client for a week, he will give them a  friendly call to find out why they haven't stopped by. All memberships include a certain amount of personal training which helps make them accountable for doing the work that is prescribed. Active Bodez is open 6am- 6:30pm Mon- Friday and 8am-11am on Saturdays. You can find Active Bodez off NC 54, in the Copeland Oaks Office Park.
Monthly program levels all include unlimited gym use and range from 3 personal training sessions a month at $125 to $375monthly which includes 12 monthly sessions.
Koko Fit in Tryon Village off Tryon Road (near Crossroads), works with technology in a way that combines some convenience with personal training options. An initial "Fit Check" scans a client's body to assess height, weight, gender age and lean muscle mass, Then a program is created that takes into account the clients individual goals. A strength test is done to figure out weight and resistance levels for the KoKo Fit machines. A starting level is set and programmed into the clients' individual USB flash drive which will then be inserted in each machine the client uses when they visit- essentially telling them how to set the machines and then logging on their actual work each visit. This includes the cardio machines used to warm up as well as all the resistance training.
Membership after a joining fee that includes client assessment is $79/month and includes unlimited use of the facility and online support.

6. Family Friendly
Kids are part of the picture at these places, and entire families can enjoy getting fit together.
Alisa Wright Colopy, founded her business, Fit & Able Productions, after learning 15 years ago that North Carolina had one of the least fit children's populations of any state. She has made it her mission to get families moving and fit in a fun and friendly atmosphere using a series of programs she has developed and now offers in conjuction with the town of Cary. These include programs on the Town's greenways where clients build confidence to run or walk 5 K races.
Fit & Able's latest project is a series of friendly competitions called the Cary Corporate Games where participants can compete in one or more events in a year long series. These include baseball games, races, volleyball, dodgeball and more. Their aim is to get people fit for life by challenging them in fun and engaging ways as part of a lifestyle that takes them outside and to new places. This is not a gym based approach and there are no membership dues, Participants register for the activities they wish to participate in as each registration becomes available.
Their first event of 2014 is the Hot Chocolate Run on January 5 in Bond Park.
The Cary YMCA off Cary Parkway has been creating a family- friendly place to workout for over 20 years in central Cary. The facility not only has 2 large gyms that can host basketball, volleyball and aerobics classes, but has 2 olympic sized pools that run year-round. They provide child care at no cost to members during the most popular times, have summer and track-out camps offered at discounts for members and run an on-site preschool.
There's an indoor track, 2 areas with cardio machines, 40 stationary bikes and they offer hundreds of classes monthly: Zumba, yoga, cycling, pilates, basic training, Triathlon training, basic training, Insanity, body sculpting and more.
Two areas hold circuit training equipment and free weights upstairs. Full men's, women's and kids locker rooms are onsite and include showers, sauna and a steam rooms. Kids are encouraged to get a middle school orientation to be able to make full use of the equipment and classes.
Memberships run about $100/ month for a family after registration. The Kraft Y in southern Cary/ Apex is located off Ten – Ten Road and has many of the same amenities.  Members can opt for a special membershipwith access to all Triangle facilities.
7. One Stop Centers
These feature a wide range of classes, equipment and facility amenities including pools and child care.

These include classes, pools, basketball courts, personal training as well as cardio area, weight rooms, full locker rooms and a varied aerobic class schedule. They also require you to pay an initiation fee, and a monthly fee based on individual or family memberships. Many have child care onsite.
O2 Fitness , which several years ago moved from the Arboretum shopping center to the vacant Impact space off Cary Parkway is one of these centers. With their partnership with Sport-to -Sport they also offer children's sport programs including basketball, volleyball and swim instruction.
Lifetime Fitness now has 2 locations in the area. The first is in the Regency Park area and includes both an indoor and outdoor pool and slide/ spray ground area. Childcare on site, a wide variety of fitness classes, cardio equipment and personal training. They opened a second location after taking over the space formerly operated by Lifestyle Fitness on NC 55 near Home Depot. Membership entitles members to attend either club.
The Cary and Kraft Y fit in here too.
8. Yoga and Pilates
these studios specialize in yoga, pilates or both
Studio Vibe opened recently in Cornerstone Shopping Center and is an expansion of the former Triangle Pilates business owned by Patty Geiger. The name changed when Patty changed locations and decided to focus on a brand that encapsulated her concept of "good vibes" and to not be pegged as just pilates.
Studio Vibe is the only studio in Cary to offer the "Reformer" (they have 5) and "Tower" (there are 6)  pilates equipment as well as yoga, mat pilates, TRX and barre classes.  Tot Fusion was added in May offering classes for kids in 2 age groups: 2-1/2- 5 ears old and 6-10 years old. The studio also sells a wide range of yoga fitness attire by Lu Lu Lemon and more. There are three instructional studios in the new location.
Folks do not enroll as members, but purchase punch cards in class increments starting at $15 for one drop in class and up to $400 for 40 classes. Clients can also schedule private training lessons for $55/session.
Republic of Yoga recently opened in the Stone Creek Shopping when Triangle Pilates moved across the street. The studio is exclusively teaching yoga in the Hatha Yoga Vinyasa style. Four -six classes are offered daily with varying level of experience, but modifications are always offered. 60 minute drop-in classes are $12, and passes can be purchased at $53 for 5, or $100 for 10. $165 gets you one month unlimited. 75 minute classes are also offered with different pricing.
Cary Flow Yoga opened a few months ago in the Arboretum Shopping center off Weston Parkway. A Chiropractic practice also is associated with this studio. Classes are yoga based, with some TRX mixed in at different pricing. Single classes start at $15, and punch card passes can be purchased for a better discount for 5 or 10 classes, one month unlimited, 3 months, 6 months or a year.
9. Diet Help
The Diet Center of Cary has helped women and men lose weight and maintain their weight loss goals for over 40 years. They offer clients a complete approach to weight loss/maintenance by combining the principles of sound nutrition with the motivation of private counseling and support that provides the positive reinforcement and guidance folks need to stay on track. Free consultations are offered before anyone starts in their program, which includes a body comp and review of our three weight loss programs.
Now that you know what's out there, find what works for your fitness level, time commitment and gym style. There is a gym for you here in Cary!
———————————————————————————————-
The CaryCitizen Guide to Cary Fitness was sponsored by: Fit and Able Productions, Athletic Lab, Workout Anytime, Diet Center of Cary, and Title Boxing of Cary.
For upcoming sponsorship opportunities, please contact Lindsey Chester.
———————————————————————————————-
https://carycitizenarchive.com/wp-content/uploads/2014/01/cary-fitness-guide-2014.jpg
350
600
Lindsey Chester
https://carycitizenarchive.com/wp-content/uploads/2020/03/cc-archive-logo-450-v3.png
Lindsey Chester
2014-01-02 16:58:30
2019-12-11 06:22:00
Cary Fitness Guide 2014 - Something for Everyone