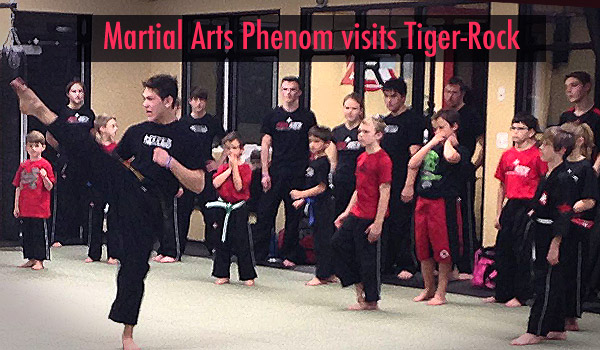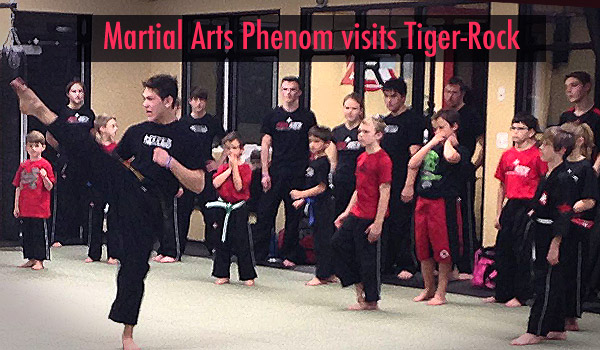 Cary, NC — Tyler Weaver has been a champion in the martial arts world since before his crazy appearance on an Oprah Kids with Talent show video clip went viral. The 17 year old reigning world Martial Arts Champ paid a visit to Tiger-Rock Martial Arts here in Cary Friday Jan 17, 2014.
Tiger-Rock owners Bryson and Melissa Johnson have owned their business in Cary since 2006, and have been in their current location on Davis Drive for 3 years.
As they prepare their students for the upcoming competition season, they were fortunate to have their invitation to Tyler accepted. He visited Friday and Saturday January 17 & 18, 2014 to give two seminars and some private lessons to the students who were eager to meet and learn from the star.
45 Martial Arts World Titles
Tyler has won over 45 World titles and has competed since he was a toddler. He's been featured on Oprah and the Megan Mullally Show and was cast in a movie called "Champions of the Deep". He has another movie coming out soon called "Underdogs". To say he's a star in the Martial Arts World is an understatement. If you follow the sport, you've heard of this kid, who at 17 is dominating the sport with his freestyle high energy style.
Some of the elite students at the studio are part of the Hyper-Pro team that literally takes the sport to the next level. In this format higher kicks, choreography and tumbling are part of the mix that students use in their competition routines. The Hyper season officially started January 20th and runs for about 12 weeks. Tiger-Rock teams travel all over the country to compete with their next event scheduled in High Point later this month.
I spoke with a parent of a student, Robin Sarine, who was watching her son during the seminar Friday. "The Hyper program teaches tricks and weaponry skills. What boy doesn't like that?" she said when I asked her how her son liked coming to the gym. Sarine said she had looked at many of the area gyms before deciding to go with Tiger Rock. She liked that the couple running the business were throwing their lives into the business to make it the best. Bringing this opportunity to her son was another example of how the program was different.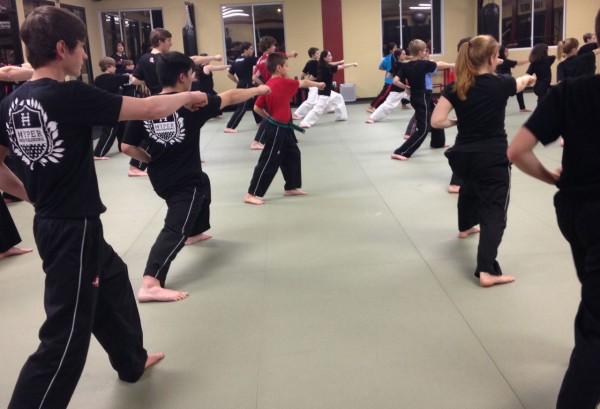 I Like Being Different
CaryCitizen watched Tyler as he worked with the kids. The music was pumping and amid shouts of complex directions after each was the shout of "Yes Sir!' to be sure the students understood. Boys and girls of various ages were lined up in precise rows as they executed twisting moves and kicks, and punches, trying to be as clean and precise as Tyler's instructions demanded.
A piece of advice that he told the students that stuck with me was this: "I like being different. Being different makes you stand out." Good advice for a room of teens and pre-teens who typically struggle to fit in at all costs.
Midway through the class,  owner Bryson asked the students to clear the floor for a freestyle demo. Tyler obliged with a quick impromptu routine that involved plenty of aerial moves and tumbling combined with fast turns and a flurry of kicks and cross punches. When he was done, it took a moment to catch his breath and go on. It served to re-energize the room.
Later Tyler added " anything you do in your routines is ok , you gotta SELL IT" to the judges. And then everything is OK if you believe it.
Then it was back to work in a fast paced lesson, with no standing around for anyone.
—————————————————————————————–
Community coverage on CaryCitizen is sponsored in part by Hopewell Academy on Preston Executive Drive in Cary.
https://carycitizenarchive.com/wp-content/uploads/2014/01/martial-arts.jpg
350
600
Lindsey Chester
https://carycitizenarchive.com/wp-content/uploads/2020/03/cc-archive-logo-450-v3.png
Lindsey Chester
2014-01-23 14:07:46
2016-01-01 18:47:17
Martial Arts Phenom visits Tiger-Rock