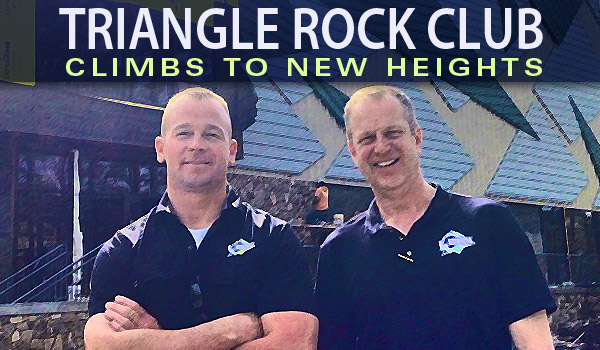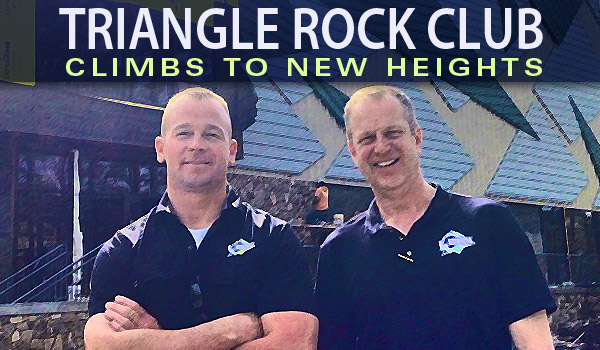 Morrisville, NC — Triangle Rock Club (TRC) recently expanded into North Raleigh , but at their main facility  in Morrisville, they are in the midst of an expansion that will make them the largest indoor climbing facility in five (count 'em ) states. Joel Graybeal, managing partner, explained that the location in North Raleigh was too good of an opportunity to pass up when they purchased it in 2013, but the plans to expand the existing location have been in the works for more than 2 years.
New Building Will Be 3 Times as Large
TRC opened in 2007 in an existing warehouse building on a couple of acres of industrial space in an office park off Morrisville Parkway. They purchased the site outright in 2009 with the idea to expand when the opportunity seemed right. Andrew Kratz, one of the managing partners, mentioned that the land gave them the option to expand the parking lot, which they did first, and then start to add on the building itself as they outgrow their space.
The original site has 9,000 square feet of climbing wall space , but with the new 55 foot high walls and additional footprint, they will expand to almost triple that size at 26,000 square feet of climbing space. The current building has 34 climbing lines, and when all construction is complete, there will be 76 lines.
Two Types of Climbing
Climbing enthusiasts enjoy two types of vertical climbs at Triangle Rock Club.
"Bouldering" involves no equipment other than special rubberized shoes. It is high intensity , short duration, and uses lower walls. At TRC, that is in a downstairs area. Competitions in this sport run from August through March.
"Rope Climbing" involves a harness and a belay, or ropes, attached to a belay system at the top of the vertical surface, which the climber is trying to reach with the assistance of a partner. That season runs from March through July.
Triangle Rock Club Teams
Triangle Rock Club has 75 members on their  co-ed team, aged 7-18 that actively compete both seasons.
The team travels out-of-state to other indoor climbing locations where they are beginning to make quite a name for themselves. In January, the team won their regional event, and recently in Des Moines the group finished 8th against 80 other teams in a National competition.
One team member Kai Lightener finished first and team-mate Jason Wills came in second for their age groups.
A Total Fitness Center
Joel and Andrew weren't content with just adding to the climbing areas. They wanted to appeal to entire families.
In the new planned expansion, there will be a full cardio equipment area, a fitness studio that will offer classes, and an expanded weight training area. They have even added an upstairs patio that will sport a gas grill. These options will give parents a fitness option when they drop off their kids to climb, and also make the gym a full service fitness destination for their members. Speaking of membership, that runs $59 a month, with no contracts. Additional family members receive a discount.
Employment Powerhouse
Since 2010, Triangle Rock Club has grown from 21 employees to a staff of over 50. In addition to staff growth, revenues have also steadily increased from $330,000 in 2009 to over $1.5 million in 2013. With the expansion comes the addition of new employees, including fitness staff for classes which will be entirely new to the location.
Expansion Opening in August
Construction is going according to plan. The only hiccups in the original timeline came when TRC needed a special hearing with Town Council to go outside of allowed building materials, as a planning rule barred metal buildings from being constructed in Morrisville. The original building was grandfathered having been constructed before the rule change. So how to make the expansion compatible but aesthetically pleasing?
TRC's architects came up with a novel solution. Using the same corrugated building material, they painted and cut out interesting geometric shapes similar to those in the company logo, and applied them to the exterior in a visually pleasing manner. The town liked it, and it is probably a one-of-a-kind use for that material.
They didn't stop there. The designers added decorative masonry to the lower half of the expansion building to "class it up" and break up the expanse of metal. Workers were finishing this application the day that CaryCitizen visited the site.
Most Recent Award
Triangle Rock Club has received numerous awards since opening including their latest, North Carolina's  2014 Small Business Persons of the Year awarded by the SBA (Small Business Administration).
Graybeal will travel soon to Washington DC to be vetted as they compete to win the National Small Business Persons of the year against other great businesses. Here's more on that award.
Other CaryCitizen stories about TRC.
https://carycitizenarchive.com/wp-content/uploads/2014/04/triangle-rock-club-expands.jpg
350
600
Lindsey Chester
https://carycitizenarchive.com/wp-content/uploads/2020/03/cc-archive-logo-450-v3.png
Lindsey Chester
2014-04-17 11:58:15
2014-04-18 12:31:56
Triangle Rock Club Climbs to New Heights