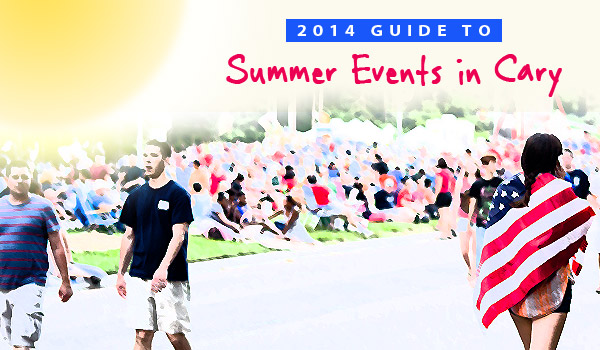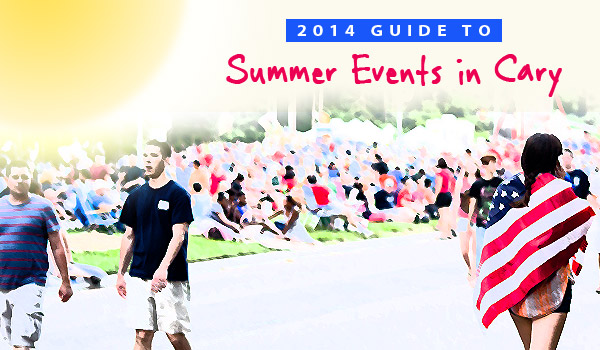 Cary, NC — As the weather heats up, so does the events Calendar in Cary. To help you plan, and so you won't miss anything, here's are some highlights in our 2014 Guide to Summer Events in Cary.
Guide to Summer Events in Cary
The Guide covers major public happenings. Some require tickets; many are free.
The Venues
Cary's largest outdoor venue is always a popular place to be in the summer with lots of activities going on every week.
Koka Booth Amphitheater
8003 Regency Pkwy Cary, NC 27518
919-462-2025
The NC Symphony
The Summerfest Series kicks off on Saturday, May 24 at 7:30PM when the North Carolina Symphony performs Beethoven's Fifth. Throughout the summer, the symphony will explore music of every shade and style. Ticket prices range from $28-$35. Visit BoothAmphitheatre/NC Symphony to see the full schedule.
Jazz
On Wednesday nights from early May until early June, Koka Booth presents the Hob Nob Jazz Series. Shows are from 5:30-8:30 p.m. and cost $5 for adults. Children 12 and under are free. See the Hob Nob Jazz Series schedule for more details.
Special Concert
Coming up soon on Sunday, May 25 at 7:30 p.m. the Triangle Wind Ensemble will be presenting a special show called An American Celebration… And All That Jazz! This year marks the seventh annual American Celebration that honors the art of Jazz and salutes our veterans with patriotic favorites. Tune your ears to Duke Ellington and Glenn Miller songs, swing tunes and vocals backed by a "big band."  The featured soloist is the Triangle's own nationally-known jazz trumpeter, Jim Ketch.
Adult lawn seats cost $16, seniors/students/military are $13, and children 12 and under are free.
Summer Concert Schedule
Koka Booth is a great place to see big-name touring acts. Parking is free, getting in and out is easy, lawn chairs are permitted and it's nice to hear a concert under the trees. Families can feel safe bringing their kids, too.
Here's the summer concert line-up as it stands now:
Willie Nelson and Alison Krauss and Union Station hit the stage on Monday, May 19 at 6:00 p.m.
Jack Johnson follows on Wednesday May 21.
Amos Lee Mountains of Sorrow, Rivers of Song tour comes to Koka Booth on On June 13.
Little Big Town – June 27
The Band Perry – July 13.
Beer Bourbon and BBQ Festival – August 1 and 2
Jennifer Nettles – That Girl Tour – August 3
Nickel Creek – August 14
Third Day and Steven Curtis Chapman – August 22
Outdoor Movie Series
Movies by Moonlight is a great way to spend some family time in Cary. Most movies are PG-13 or PG and cost only $3 per person older than 12 years of age. Movies start around 8:30 p.m. on Thursday, Friday, or Saturday from May to August.
Summer Movie Schedule
Friday, May 16th Frozen (2013) PG
Friday, May 23rd Gravity (2013) PG
Thursday, June 5th Caddyshack (1980) R "Throwback Thursday"
Thursday, June 12th The Princess Bride (1987) PG-13 "Throwback Thursday"
Friday, July 11th The Lego Movie (2014) PG
Friday, July 18th The Hunger Games: Catching Fire (2013) PG-13
Friday, July 25th Now You See Me (2013) PG-13
Friday, August 8th Despicable Me 2 (2013) PG
Saturday, August 9th Captain Phillips (2013) PG-13
Saturday, August 23rd Grease Sing-A-Long * special ticket pricing
Sertoma Amphitheatre in Bond Park
801 High House Road Cary, NC 27513
919-469-4069
The Town of Cary is presenting a series of free concerts at Bond Park's Sertoma Amphitheatre on Fridays or Saturdays from May to mid-August. The next show is Cary Town Band's All Request Friday-Redux on Friday, May 16 at 7:00 p.m. Full schedule available  or visit townofcary.org and search for Sertoma.
Downtown Cary Rocks
What is summer without a community block party? For the third year, the Town will host the Seven O'Clock Rock Series in downtown Cary. The streets will be closed off; merchants open late, good music and food available. Free dance lessons from Carolina Ballroom instructors are offered prior to each concert. Performances are held at the corner of Academy and Chatham Streets, and all are free. On Friday, May 16 the Fabulous Daddy-O's will play rock, soul, and Carolina beach music beginning at 7:30 p.m. after a 30 minute dance lesson. Full schedule here.
Page-Walker Arts and History Center
119 Ambassador Loop Cary, NC 27513
919-460-4963
The Starlight Concert Series takes place in the gardens of the Page-Walker Center in downtown Cary. All concerts are free and begin at 7:00 p.m. Remember to bring a lawn chair and a snack to enjoy. The first concert features the Raleigh-based Old Habits Bluegrass Band on June 13. Full schedule.
Park West Village
Village Market Place, Morrisville,NC 27560
919-467-8880
Park West Village is located at the corner of Chapel Hill Road and Cary Parkway in Morrisville. There has been an ongoing "LIVE in The District" Music Series in front of Stone Theatre on Thursday nights from 6:00- 8:30 p.m. Go catch the last free concert of the season on May 15 when the band The Dickens will be playing.
On August 1st, there will be a Back to School Bash at Park West from 3:00- 7:00 p.m. The details of this event have not been finalized so be sure to check the Events section of the website or their Facebook page.
Waverly Place
Tryon and Kildaire Farm Rd. Cary, NC 27511
Wind Down Wednesdays is back again from June 4 to July 30. The free concerts are from 6:00- 9:00 p.m. on the Promenade, and showcase the best of Beach, R&B, Soul, Variety, and Classic Rock music. Some of the Headliners this year include: the Craig Woolard Band, Bull City Syndicate, and Band of Oz. Full schedule here.
The Cary Theater
122 E Chatham St, Cary, NC 27511
919-462-2051
The newly opened Cary Theater has a summer filled with movies, music, and special stage shows. From Thursday, May 22 to Sunday, May 25 is a weekend full of classic Hitchcock movies. Music runs the gamut of genres and comedians will also grace The Cary's stage.
Full schedule: HERE or visit www.townofcary.org and search for The Cary.
Special Events
Dog Days of June
Saturday, June 7, 2014
9:00 a.m. to 2:00 p.m.
Fred G. Bond Metro Park, Field # 4
Bring your canine friends to this exciting event. You can get your dog washed by members of Cary Teen Council, get your pets vaccinated and micro-chipped, and watch the Skyhoundz Canine Frisbee Disc Competition. If you don't already have a furry companion, there will be opportunities to adopt a new pet. More information
Independence Day Celebrations- July 3rd & 4th
All events are free and open to the public!
Thursday, July 3, 6:30 p.m.- Sertoma Amphitheatre
The Applause! Cary Youth Theatre touring troupe will be performing at 6:30 p.m. and the Cary Town Band follows at 7:30 p.m.
Friday, July 4
Independence Day Olde Time Celebration at Bond Park starting at 7:30am
 Be prepared to celebrate all day long with events starting at 7:30 a.m. There are activities for all ages such as a fishing tournament, parade, canine talent show, and several family contests. A Revolutionary War Encampment will be set up where you can hear fife and drum music, learn the art of Quill writing, see a musket and cannon demonstration, and get a feeling for what life was like in those days.
July 4th Celebration at Koka Booth Amphitheatre 3 – 10 p.m.
Growing up in Cary, I have fond memories of watching fireworks at Koka Booth (before there was an amphitheatre there). The festival has grown substantially since the days of my childhood with more to see and do.
Cary's Booth Amphitheatre will host patriotic performances by the Cary Town Band and the North Carolina Symphony Gates open at 3:00 p.m. , so get there early to set up your picnic on the lawn. Then I suggest not moving from that spot so that you'll have a prime viewing area for the fireworks. For those that want a special reserved seat, Booth Amphitheatre is offering four-seat tables $140 per table, which includes Lumpy's Ice cream, a Star Spangled Swirl Bread from Great Harvest Bread Company and preferred parking.
In addition, boats from the Capital Model Boat Club will set sail on Symphony Lake at 3:00 p.m. There will also be an Ice Cream Eating Contest sponsored by Lumpy's Ice Cream, a frozen t-shirt contest, a Watermelon eating contest, a magician, face painters, and more.
The NC Symphony will begin playing at 7:30 p.m. on the main stage with fireworks immediately following the concert.
Full schedule.
More Summer Events
For news of more summer events and happenings in Cary, subscribe to CaryCitizen by email.
———————————————————————————————————————
Story by Jamie Buning, edited by Lindsey Chester. Photo by Brian Speice, art direction by Hal Goodtree.
———————————————————————————————————————
Summer Events coverage on CaryCitizen is sponsored in part by Triangle Wind Ensemble and by Chatham Hill Wine
https://carycitizenarchive.com/wp-content/uploads/2014/05/summer-events-cary-2014.jpg
350
600
Community Contributor
https://carycitizenarchive.com/wp-content/uploads/2020/03/cc-archive-logo-450-v3.png
Community Contributor
2014-05-13 17:02:43
2019-12-08 10:13:13
Guide to Summer Events in Cary