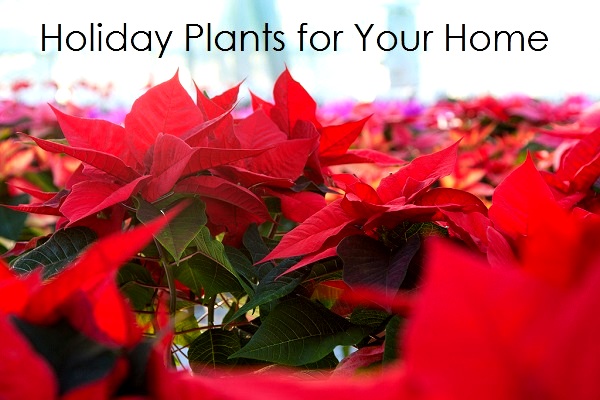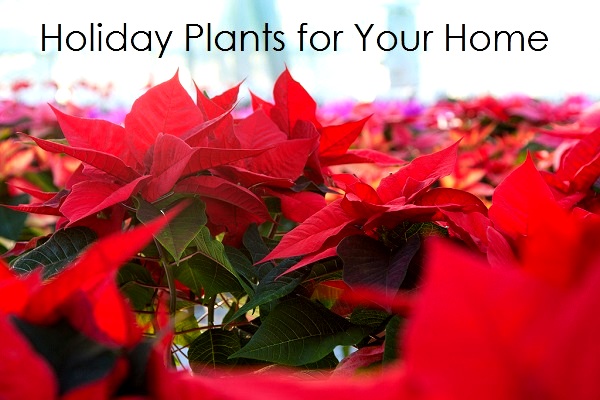 Cary, NC — There are plenty of holiday plants available to brighten your decor this season. The poinsettia is the most well known, but several others can also become perennials in your home with a little extra care.
Holiday Plants for Your Home
The poinsettia, amarylis, paper white, and Christmas cactus will all make beautiful additions to your home during the holidays. With special care and planning, these plants can decorate your home all season long–and they may even stick around for next year.
Poinsettias
These tropical plants are natives of Mexico and Central America and were first introduced in the United States by Joel Roberts Poinsett in 1825. In the early 1900's, the Ecke family began selling them in California. They soon became associated with the Christmas season when Paul Ecke started sending them to television stations to decorate the sets between Thanksgiving and Christmas.
The brightly colored brachts, commonly mistaken for flowers, are actually leaves and are usually flaming red. In recent years, they have been cultivated to take on cream, pink, orange and variegated varieties.
Care Technique
As a native plant of Mexico, the poinsettia does not like cool temperatures and should not be allowed to dry out. To keep your poinsettia happy, water it directly in the soil and allow it to drain thoroughly. Standing in water will cause leaf drop–as will allowing it to dry out. Keep your poinsettia away from dark or cold rooms. These plants like a sunny or filtered light spot in a bright room.
With care, you can keep your poinsettia after the season. Prune off the colorful brachts, and place the plant in a room that receives minimal light. Give the plant minimal water. You can move the poinsettia outside when all danger of frost has passed as long as it is kept out of harsh, direct sunlight.
In the fall, move the plant back inside before the first frost (even one frost will completely kill the poinsettia). Set the plant in a room that gets at least 13 hours of complete darkness after sunset. House temperature cannot dip below the low 60s. When not in the dark, it should be in the fullest sun your house can offer during the day. This encourages the bright-colored brachts to begin to form for the next holiday season.
Too much work? Look for a new plant around Thanksgiving!
Amarylis
Many people love the look of forced bulbs in the winter. The amaryllis is a large bulb that fits nicely in a table top pot. In order for it to bloom at Christmas, the bulb needs to have been planted in early October. It is one of the easiest bulbs to care for and will bloom for about seven weeks.
Care Technique
When you receive or purchase an amaryllis bulb, place the base and roots in lukewarm water for a few hours. If you cannot plant the bulbs immediately after receiving them, store them at a cool temperature between 40-50 degrees F. The bulb should be planted in a good quality potting soil up to the neck of the sprout, but be careful not to damage the roots or injure the bulb itself. Press down firmly on the soil around the bulb to set it securely in the pot.
The pot should be placed in a warm and sunny spot to encourage bulb growth. Water only sparingly until the sprout emerges, then water whenever the soil is dry. The plant will bloom for seven to ten weeks. If you wish to have the plant bloom again, follow these instructions:
After the blooms have faded, cut back the plant to the base of the stem. Continue to water and fertilize the plant throughout the summer (about five to six months). When the leaves are yellowing, cut them back to only 2″ from the top of the bulb, and remove the bulb from the soil. Clean it off and store in a cool, dry dark, place for at least six weeks.
If you plan to store it in the refrigerator, do not store with apples–this sterilizes the bulb and renders it from blooming again. After six weeks of storage prepare to plant your bulb again, and get ready for the next season of blooms.
Paper Whites
Some people love the look of paper whites, and I am among them. They put a very lacy, pretty look on a table during the holidays and are incredibly easy to grow or give as gifts.
Paper whites are a member of the Narcissus family and are similar to daffodils. They can be planted in large groups in low-lying pots with minimal soil or mess, and they make a dramatic statement with their tall green stalks topped by white lacy followers. Unlike other forced bulbs, they do not require very much preparation (no chilling) to bloom, and growing time is relatively short (three to four weeks).
Care Technique
The bulbs can be planted in potting soil, peat moss or even shallow dishes of water. Cooler temps and indirect light will increase bloom time. Spent blooms can grow again or be planted outdoors in garden beds very successfully for the following year.
Christmas Cactus
These pretty plants look great in a pot or hanging and have flowers that are red, fuchsia or white. A member of the Epiphytes family of plants, they are not like the desert cacti we are familiar with; rather, they resemble tropical succulent plants. They require some special care if you want them to bloom during the holiday season.
Care Technique
In early fall, keep the plant in a cool place (50-60 degrees–try finding that in Cary). Like the Amarylis, it must be kept in a place where no artificial light will be turned on at night. Proper temperature, watering, humidity and light exposure are the secrets to getting your plant to bloom.
The plant should have indoor indirect bright light during the day and total darkness (not even a light bulb) during the night. Proper watering is the key–water thoroughly and allow to properly drain. Do not water again until the plant feels dry and the pot feels "light."
As a tropical plant, the Christmas cactus also likes a humid environment (50-60%). That's not a problem here in the fall, but homes get very dry in the winter. To help, place a glass of water close to the plant–as the water evaporates, the cactus will absorb it. If flower buds develop and then drop off, this is due to one of three reasons: over-watering, insufficient light, or lack of humidity.
After the holiday season, the Christmas cactus should be given about a 30 day rest. Again, place it in a cool room and provide limited water. Don't worry if it loses a few leaves or joints and appears weak during this rest period. In our area, Christmas Cacti are houseplants due to possibility of frost.
With proper care, all of these plants can brighten your homes for the holidays and beyond for many years to come.
———————————————————————————————————————————–
Story by Lindsey Chester. Lead photo by from H Matthew Howarth. Poinsettia photo by Sheila in Moonducks, amarylis photo by JR P, paper white photo by Tina, and Christmas cactus photo by veesees.

————————————————————————————————————————————
The Gardening Column has been sponsored in part by Garden Supply Company in Cary.
https://carycitizenarchive.com/wp-content/uploads/2014/12/5246001287_cc6a805b4e_b1.jpg
400
600
Lindsey Chester
https://carycitizenarchive.com/wp-content/uploads/2020/03/cc-archive-logo-450-v3.png
Lindsey Chester
2014-12-11 15:23:57
2019-12-08 10:14:43
Garden: Holiday Plants for Your Home