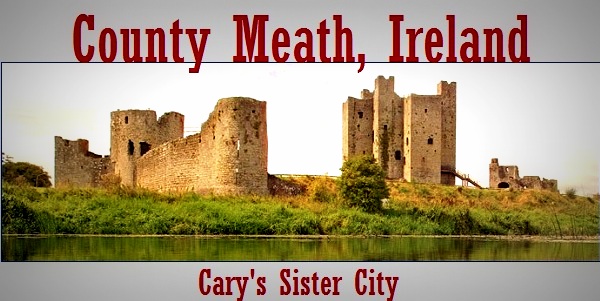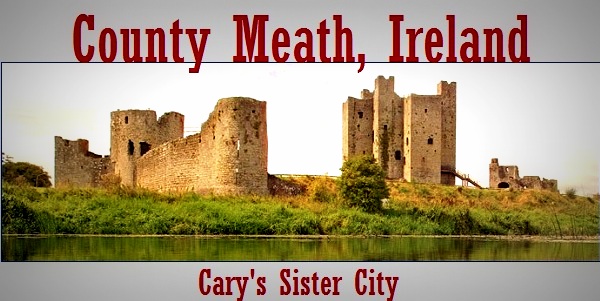 Cary, NC — The Sister Cities Association of Cary will host their second annual Ceilidh, an evening of Irish music and dance, on April 10, 2015 at the Cary Arts Center. In anticipation of the event, I spoke with Micheàl Lynch, a current Cary resident who was born and raised in County Meath, Ireland–one of Cary's sister cities.
Sister Cities Association of Cary
The Sister Cities Association of Cary (SCAC) was founded in 1988 to foster understanding, cultural and educational exchanges, economic development and "sister city relationships" between the citizens of Cary and those in other cities from around the world.
Through SCAC, Cary currently has relationships with four cities–Le Touquet, France; Markham, Ontario, Canada; Hsinchu, Taiwan; and County Meath, Ireland.
Q&A with Micheàl Lynch
Just in time for SCAC's Ceilidh celebration, I got to speak with Micheàl Lynch. Lynch lives in Cary now, and has for 11 years, but he was born and raised in Navan, a town in County Meath.
Lynch answered my questions and described to me the beautiful landscape of Meath, calling it "a very small town community surrounded by small dairy farms; a rolling hills atmosphere."
Q: What was it like going to school there?
A: I grew up in a very simple society–the country was 90% Roman Catholic and, for the equivalency of elementary, middle, and high schools, we had nuns, brothers, and the priests. During this time of the year (which, in the Catholic faith, is Lent), you had to go to early-morning mass everyday of the week, which included fasting, then you'd go to school. Looking back on it now, you'd think that was tough for children, but we didn't know it.
Q: What else do you remember about Meath that is very different from Cary?
A: Something I had to get used to here is that, in the early evening, you'll go inside briefly and then, when you go back outside, it's dark before you know it. In County Meath, we get a very long dusk, what we call "the long shadows of summer evening." Evening time goes on forever. In the summertime, it never feels like it's 100% dark.
Q: What are some of your best childhood memories in Meath?
We had long summer holidays and we used to rent an old Victorian cottage out in Bettystown, Ireland, which was a long broad beach on the east coast, and we would just live there with very few amenities. We'd go for long walks on the beach; day-long hikes through the dunes; we'd swim. We were very adventurous when we were young; friends and cousins would come over and the house would be crammed.
Q: Tell me about some of the landmarks in County Meath.
A: Because of a historically poor economy, the physical environment changes slowly, and you feel a strong connection to the past through recognized archaeology.
The Newgrange, for example–the 5,000 year old Passage Tomb famous for the Winter Solstice illumination, which were more open to all in our youth. Also, the site of the Tailteann Games–a form of Pre-Christian Olympics.
Lynch went on to tell me about the royal canal and the large, stone-built grain and furniture river mills, stations, and bridges. He loves to visit Meath, and he goes back frequently.
Cary's Relationship with Meath
Cary established a formal relationship with Meath in 2001 and, since then, numerous exchanges have been made between the two. The past several years in particular have seen regular exchanges–in October of 2014, Meath's new county manager visited Cary to meet the Chamber and Town planning officials and to take a tour of some local industries.
Cary's Ceilidh
Experience the culture of Ireland right here in Cary next month. Tickets are on sale now for Cary's second annual Ceilidh (pronounced "K-Lee"), an evening of Celtic music and dance featuring an assortment of musicians and dancers presenting traditional Ireland entertainment.
Cary's 2nd Annual Ceilidh
Friday, April 10, 2015 at 7 pm
The Cary Arts Center, 101 Dry Avenue
Purchase tickets ($5-$10) through etix.
————————————————————————————————————————————-
Interview by Jessica Patrick. Photos from the Sister Cities Association of Cary.
https://carycitizenarchive.com/wp-content/uploads/2015/03/County-Meath1.jpg
301
600
Jessica Patrick
https://carycitizenarchive.com/wp-content/uploads/2020/03/cc-archive-logo-450-v3.png
Jessica Patrick
2015-03-16 14:24:30
2016-01-09 11:46:53
County Meath, Ireland - Cary's Sister City