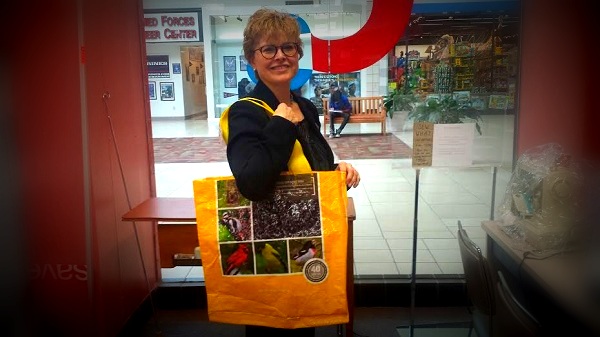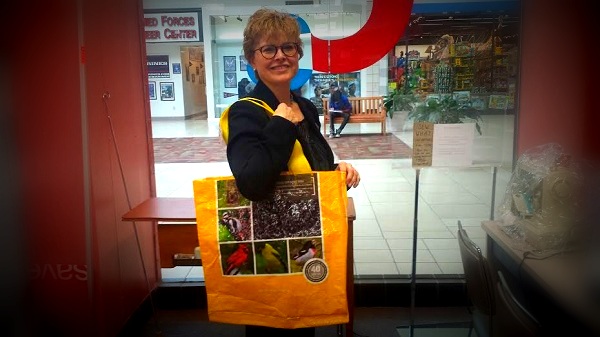 Cary, NC — The Cary Creative Center, or C3, just opened at Cary Towne Center last month. I stopped by the new store to meet with Betsy Dassau and to see what the nonprofit is all about.
A Thrift Store for Artists
Maybe you've bought used clothes, books or decorative antiques from a thrift store…but have you ever gone to one to buy your art supplies? C3 is a thrift store for artists, a place where people can donate or purchase art supplies, get crafting help and take fun classes.
Betsy and the team just set up their new headquarters in Cary Towne Center last month. The new store is bright, open and organized into sections (school supplies, scrapbooking, sewing, painting, etc.) to help customers find exactly what they're looking for.
Make Art, Not Waste
C3 is both a place to have fun and a place to help others. In addition to hosting art classes and guiding artists of all skill levels, Betsy and the C3 team are constantly giving back. In the past, and right now, they've worked with the Town of Cary and other groups to put on successful community events and to support troops by hosting card-making workshops.
Each and every item you'll see in the store is either recycled or donated. Instead of buying paper or markers in bulk, shoppers can pick and choose the pieces they need. This is more economical, and it helps reduce the waste from unused art supplies that end up in landfills.
The Cary Creative Center has been serving the community and protecting the environment for awhile now, but their new location (which is Cary-central, easily visible to mall-goers, and big enough to display a lot of items) will help them continue to expand. CaryCitizen coverage on C3 from last year will show you how much they've already grown.
Shop, Donate or Take a Class
Betsy explained to me that shopping at the Cary Creative Center can help anyone. You don't have to be an artist to reap its benefits. C3, for example, is perfect for teachers who need only a few craft items to create a bulletin board or activity for their class.
The creative volunteers at C3 can help you come up with a cheap, cute craft for classes or other groups that will please participants and give new life to donated or recycled art supplies.
Betsy showed me an owl craft that a mom stopped in to make with her two young children last week. The owl is made from plastic lids, recycled paper, an ice cream carton lid and bottle caps.
Stuck on an Old Art Project?
If you have a half-finished project at home, the C3 team can either give you the resources and ideas to finish it yourself or finish it for you and use it as inspiration for other crafters.
For example, one of the most impressive services the Cary Creative Center offers is their help with sewing and sewing machines. Sewing is a great, useful hobby, but whether it's a broken machine or torn fabric, beginners can become discouraged and abandon projects easily.
If you bring a half-sewed item or your old sewing machine and its manual to the Cary Creative Center, Betsy will show you how to get back on track or use it again. Competitively-priced services like this, in addition to fun workshops and classes, are all offered at C3.
Get Involved
C3 is the perfect spot for someone who wants to create art or help others create it without spending too much money. They're always looking for donations, volunteers, ideas and crafters.
I'd encourage "fellow creators" to stop by the store (next to the former Sears site) to meet Betsy and the rest of the team. If you want to get some specific crafting advice or signup for or suggest a class, it's best to check the website or call 919-247-1564 first, but drop-ins are welcome.
You'll find a laid-back, creative-minded group of people ready to help.
————————————————————————————————————————————
Story and photos by Jessica Patrick. 
————————————————————————————————————————————
Community coverage on CaryCitizen is sponsored in part by Studio 180 Salon.
https://carycitizenarchive.com/wp-content/uploads/2015/04/cary-creative-center.jpg
337
600
Jessica Patrick
https://carycitizenarchive.com/wp-content/uploads/2020/03/cc-archive-logo-450-v3.png
Jessica Patrick
2015-04-08 14:46:02
2015-04-08 14:20:02
Cary Creative Center: Now Open at the Mall