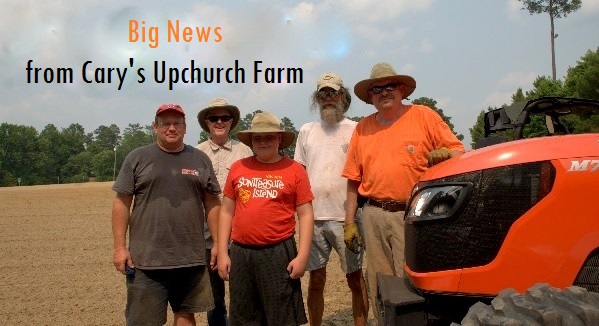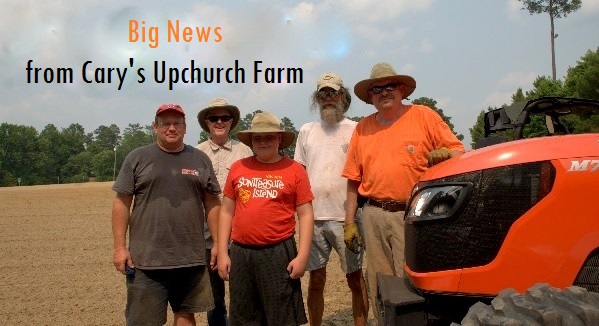 Cary, NC — To me, it's the middle of summer, but fall is already here for my friends at the Upchurch Farm. As of last week, they started preparing their Cary fields to harvest pumpkins for Halloween, and I paid them a visit to find out what's in store for later this year.
Meet the Upchurch Family
Perhaps you recognize the name "Upchurch." I've gotten to know this wonderful family, who have been in Cary's farming community for years now, through the neat articles I've written about them. They're my go-to source for Cary's history, farming, antiques and more.
Big News from the Upchurch Farm
Last week, William Upchurch invited me to his Cary farm so that I could learn about their plans for the year. I knew that William would show me something interesting, but I never imagined that his news would be this big. Big and orange, that is.
This year, the Upchurch Farm has formed a new partnership with their friend Dr. Milton Ganyard. Dr. Ganyard is an entomologist, or a scientist who studies insects. Years ago, he retired from his job in environmental research to pursue a career in farming with a focus in agritourism.
Agritourism refers to a farmer opening his or her farm to the public and allowing them to enjoy the activities of agriculture. Agritourism can be an educational tool, and, since education is so important to both William and to Dr. Ganyard, they're the perfect team.
"The Place" for Pumpkins in Cary
Dr. Ganyard brings to the Upchurch Farm a very special skill–he is an expert at growing pumpkins in North Carolina's hot, sticky climate and has been doing so in Durham for years.
The Upchurch family has selling pumpkins they grown on their farm for many years now, but, this year, with Dr. Ganyard's help, they'll grow more pumpkins than ever before.
Better yet, the the Upchurch family will open their pumpkin fields so that families in Cary and across the Triangle can pick their own pumpkins and enjoy a hayride. William told me that:
What we really want to do with this is make it primarily an educational thing for the community. We feel that the pumpkins during the fall will bring young people out here and they'll have an opportunity to learn. Milton, with his skill set, will be able to grow pumpkins a major variety of different pumpkins.
In other words, with Dr. Ganyard's help, the Upchurch Farm will be "the place for pumpkins" this year–in Cary and beyond. At least four fields will be filled with pumpkins ready to be picked–including a field of tiny pumpkins for toddlers and a "funky" field filled with unusual pumpkins of different sizes, shapes and colors. My favorite pumpkins are the ones covered in "warts."
William has other big plans, too–like building a playground for kids, offering the public hayrides over to the pumpkin fields and creating some additional educational activities that both youngsters and their parents can both enjoy. In the future, there could be hands-on learning in soybean fields, marked nature trails and more on the farm.
I'm already looking forward to October.
The Art of Harvesting Pumpkins
The Great Lakes Rim is the healthiest place for pumpkins to grow–so in North Carolina, the cool mountains are the closest we get to favorable pumpkin-growing conditions. It's hard to grow pumpkins in this area, and nobody else in the Triangle will be growing this size of a crop.
It's because of Dr. Ganyard's special pumpkin-growing technique (which I'll share later), that the Upchurch Farm will be filled with 10-12 acres of healthy, diverse pumpkins. Dr. Ganyard told me:
It's rewarding when you see people having such a good time from what you've created. People in town love having a farm that they can drive by and see the farming operations while going to and from work. [In the fall], it's even better because they can come and enjoy it, away from the stress of a fast-paced world.
Keep Reading for More Updates
I'll be visiting the Upchurch Farm now through October to track the progress of the growing pumpkins–my next story will show you the science behind why Dr. Ganyard's method works.
Related Content:
———————————————————————————————————————————
Story and photos by Jessica Patrick.
https://carycitizenarchive.com/wp-content/uploads/2015/07/Pumpkins41.jpg
326
599
Jessica Patrick
https://carycitizenarchive.com/wp-content/uploads/2020/03/cc-archive-logo-450-v3.png
Jessica Patrick
2015-07-15 08:47:18
2015-07-14 15:33:34
Agriculture: Big News from Cary's Upchurch Farm