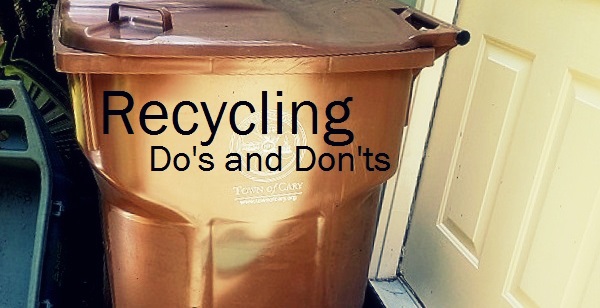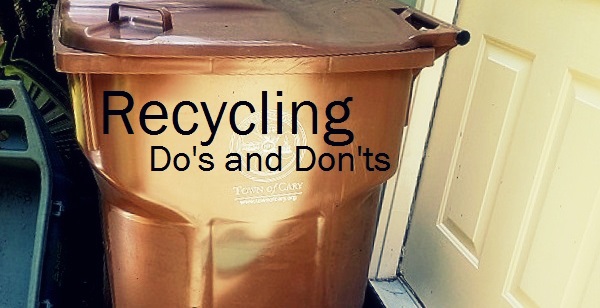 Cary, NC — Plastic bags and pizza boxes are some of the most common contaminates to a bin full of otherwise good recyclables. Recycling can be confusing, so here's a guide to what you can–and what you can't–put in those brown bins each week.
The Trash Series
This article is the third in a series of articles about trash. Yes, trash.
In Cary, we're lucky to have resources like curbside trash pick-up, co-mingled recycling and yard waste collection. With the help of Bob Holden, Town of Cary's Solid Waste Division Manager, I've already learned a lot about trash and yard waste. This week, I'll tackle the topic of recycling by explaining what you can–and what you can't–recycle.
Recycling in Cary
The Town of Cary collects recycling every other week on the same day that your trash is picked up. Co-mingled recycling, or being able to throw paper, cardboard, glass and plastic in one bin makes it easy. In a press release, Scott Hecht, Cary's Public Works Director, said:
When we collect a contaminated cart, we risk having the entire truckload of recyclables sent to the landfill, which is something we know nobody wants to happen.
I visited this landfill last month and, while I was impressed by the strict guidelines put in place there to protect the environment, it's important to me to keep what I can out of the ground.
Recycling Do's
The following items can be recycled in your brown bins:
Some paper – newspaper, glossy magazines, junk mail, envelopes, telephone books
Corrugated cardboard with a wavy middle
Paper towel rolls and toilet tissue rolls
Cereal boxes and paper milk/juice cartons
Glass bottles and jars (labels and lids are okay)
Plastic bottles # 1-7 (lids and labels are okay)
Egg cartons
Aluminum/tin/steel cans and foil
Metal pots, pans and lids
Find a complete list of "recycling do's" online.
Recycling Don'ts
Don't throw these items in your recycling bins:
Some paper – books, napkins, tissues, paper towels, wax or parchment paper
Pizza boxes
Plastic bags
Clamshell/hinged plastic containers
Unnumbered plastics
Coat hangers
Broken glass, mirror glass, and ceramic
Light bulbs
Find a complete list of "recycling don'ts" online. When in doubt, throw it out!
Other Recycling Guidelines
Following these guidelines make picking up your recycling easy:
Place bins in the street by 7 am on your collection day
Point the arrows on the lid towards the street (on trash bins, too)
Try to place bins away from parked cars, mailboxes and fire hydrants
Don't cram items in the bins and break down cardboard boxes
Got Bulky Items or Extra Recyclables?
You can take bulky recyclables (like plastic laundry baskets, lawn furniture or storage bins) or extras that won't fit in your bins to the Citizen's Convenience Center in Downtown Cary at 313 N. Dixon Avenue. You can find more information about how to dispose of cooking oil, motor oil, paint, electronics and more on the Town of Cary website.
Related Content:
———————————————————————————————————————————-
Story and photo by Jessica Patrick.
https://carycitizenarchive.com/wp-content/uploads/2015/07/20150715_115832.jpg
308
600
Jessica Patrick
https://carycitizenarchive.com/wp-content/uploads/2020/03/cc-archive-logo-450-v3.png
Jessica Patrick
2015-07-16 09:27:05
2019-12-08 10:24:00
The Trash Series: Recycling Do's and Don'ts