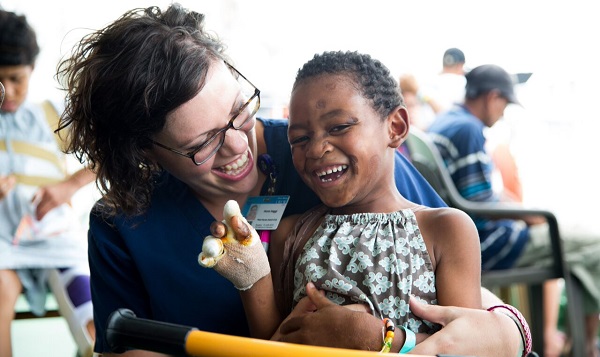 Cary, NC — In May, I wrote an article about Anna, a nurse from Cary who was, at the time, onboard a ship docked in Madagascar, Africa and caring for patients who needed surgery. Anna is back in Cary now, so I met with her to hear about her stories overseas firsthand.
Meet Anna Iraggi
Anna, 28, was born in Cary and grew up here. She earned a degree in nursing from Liberty University in Virginia and later moved back to the Triangle to work at WakeMed and UNC. She just returned home in May after serving seven months on Mercy Ships in Africa.
Since nursing school, Anna has primarily worked as a cardiac intensive care unit nurse. "I loved it," she said, "but it was very different going to Mercy Ships, where they primarily do surgical nursing. I worked with patients who needed maxillofacial work, or patients who had neck and face problems like tumors and cleft lips. I just found such a joy in taking care of them even though it's nothing like I've done before."
Anna first heard of Mercy Ships in college but put it in the back of her mind since she knew nurses had to work for two years before volunteering. Then, while working at UNC, she attended an international nursing conference in Boston and found a Mercy Ships booth. "It was crazy," she told me, "but I knew it was the right path."
Anna Travels to Madagascar, Africa
After an application process, Anna was accepted into Mercy Ships, and her adventure began.
From RDU, Anna flew on several flights to get to Cape Town, the Capital of South Africa, and that's where she boarded Mercy Ships. From there, she took an eight-day sail to Madagascar, where she spent seven months caring for patients. The ship stays in the same place, but teams of Mercy Ships volunteers go out into the country to find patients to bring them back to the ship.
Since Mercy Ships can only perform certain surgeries–some major being orthopedic, maxillofacial and surgeries for women with child-birthing injuries, volunteers are only able to help some of the people they come across. "Some people get told no," Anna said, "so for them to have the courage to seek help, I feel like they're the inspiring ones, not me."
The People She Met
When I asked Anna to tell me about some of the people she met, she immediately told me about Mioty, a five-year old little girl who was bitten on the face by an animal as an infant.
When her mom took her to the doctor, they told her that the best thing for it would be to keep putting hot water on Mioty's face. The mom did that because she thought that was the best thing for her little girl. When Mioty came to us, she was very emotionally and physically scarred because of all the trauma she had been through. She didn't have one eye, and her nose was kind of turned up. She was very aggressive and wouldn't really let us near her. She was with us for three months and, by the end of it, she was initiating play with us where she wouldn't have gone near us before.
"I think she'll always be in my heart," Anna reflected, but it wasn't just her patients that she'll remember. Anna lived in close quarters on the ship with other volunteers for seven months and made some good friends, many of whom were from other countries. "At one point, volunteers from 30-40 different countries were represented on the ship," she told me.
"It's Hard to Put Into Words"
"I quickly had to learn that you can't change the whole world, but you can change one person's world," Anna said. "I think this experience is something that has changed me. It has made me see people differently; in a better way. I think it has made me appreciate the beauty of people."
It was so rewarding just to be a part of it all, like seeing a man come in with a 16 pound tumor on his face. I cared from him in the ICU right after his surgery, and then I saw him go home to his village and people didn't even recognize him. They didn't even know that he would be alive. That's so rewarding. It's hard to put into words.
Anna's Adventures
During her free time, Anna got to take some weekend trips. She visited the capital, explored the countryside and saw how the people of Madagascar lived their lives.
With friends, I went to see the middle of the country. It meant so much to me because, when I had a patient from that area of the country, I could say to them, "Yes, I've been there!" It was really special to be able to have that connection.
Madagascar is very big, Anna told me. It's very tropical, so she got to go on several beach trips. She also got to experience multiple forms of transportation. For longer trips, she rode on a big passenger bus, which was quite the experience.
They would pile so many people in there. At one point, I had a woman sitting and touching my knees with a child on her lap and a chicken under me.
What's Anna Doing Now?
Anna is back in Cary, looking for a job and spending lots of time with her family and friends. When I asked her if she'd volunteer on Mercy Ships again, she said, "I would love to go again one day. It could be soon or in the future. It was an incredible experience."
————————————————————————————————————————————
Interview by Jessica Patrick. Photos from Mercy Ships.
https://carycitizenarchive.com/wp-content/uploads/2015/07/Anna.jpg
357
600
Jessica Patrick
https://carycitizenarchive.com/wp-content/uploads/2020/03/cc-archive-logo-450-v3.png
Jessica Patrick
2015-07-17 09:22:19
2015-07-17 15:18:32
"Stories from Nursing Overseas" by Anna Iraggi