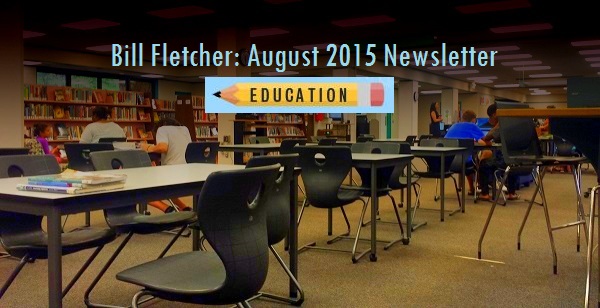 Wake County, NC — Thoughts for August 2015 from Bill Fletcher, Member Wake County Board of Education.
Back to School
On August 24, 2015, the balance of our estimated 158,175 students will arrive at our 171 schools to take their next step toward becoming a successful Wake County graduate!
School-based leadership teams are "Charting the Course" for academic excellence. Among the near term challenges: reshape teaching and learning to ensure students develop creativity and skills for collaboration, oral and written communication and solving problems.
New Bus Safety Procedures
New bus boarding procedures require students to remain in a safe location until the bus driver deploys the stop arm, surveys nearby traffic for safety and then motions for riders to climb aboard. Buses will also be equipped with cameras on stop arms to identify drivers and cars that ignore bus safety laws. And, more school buses will have internal cameras to help maintain discipline during the ride.
Three New Schools Opening!
In the south of Apex are Scotts Ridge Elementary and Apex Friendship High. In North Raleigh is Abbots Creek Elementary. The two elementary schools are being paid for out of the community-approved building package called CIP 2013. The high school was paid for with savings from previous building programs. Even though 11 more schools are scheduled for construction, community leaders are urging a more aggressive construction program.
Still NO STATE BUDGET
If the ruling party wants to operate the state like a business, providing a budget in a timely manner would be a great start. By the end of August, more than 159,000 students will attend our public schools and will be riding buses and engaging in learning and growing.
With 65% of school funding held up on Jones Street, the District adopted an interim budget. Instructional initiatives planned for returning students have been postponed for lack of funding. While uncertainty looms at the state, the cost of operating our schools keeps marching on.
"It's a heck of a way to run a railroad!"
Support Staff Deserve a State Raise
Imagine being a bus driver making $14/hour for 30 hours a week for 36 weeks a year. That's a gross pre-tax compensation of $15,120. The NC House-approved budget provides a 2% increase for an additional $8.40 per week!  Surely, the Senate can see the wisdom in this modest and necessary budget item. The Wake County local appropriation includes an additional 3%.
Student-Teacher Ratios
The student-teacher ratio is not the same as average class size.
Districts calculate student-teacher ratios by dividing student count by teacher count – including specialists and other certified staff in the building. So, a 17:1 student-teacher ratio does not necessarily mean only 17 students in the average class.
The NC Senate is using fuzzy math to claim that 145 more teachers in Wake would reduce class size in kindergarten and first grade to 15. Tain't so!
Factoid #14
Wake employees 2,603 Teaching Assistants.
Some assist in special education classes where they help a teacher serve between six and 15 students whose conditions require a self-contained environment.
Most of the others support kindergarten and first grade teachers who average 21 children. I call them teaching assistants because that is what they do…assist instruction and provide a second set of knowledgeable hands in the classroom. By the way, many teaching assistants go on to become excellent certified teachers.
Parent Chats
Parent chats are held on the first Thursdays and on the third Mondays of each month. They are not held on holidays.
1st Thursdays: 1 pm, Cary Chamber, 315 N Academy Street
3rd Mondays: 11 am, Caribou Coffee shop, 109 SW Maynard
Get in Touch
BFletcher@wcpss.net || Voice Mail: 919-431-7332 || Mobile: 919-880-5301
—————————————————————————————————————————–
Story by Bill Fletcher, Member Wake County Board of Education. Photo by Jessica Patrick.
https://carycitizenarchive.com/wp-content/uploads/2015/08/Bill-Fletcher.jpg
308
600
Bill Fletcher
https://carycitizenarchive.com/wp-content/uploads/2020/03/cc-archive-logo-450-v3.png
Bill Fletcher
2015-08-11 10:48:35
2016-01-01 18:57:18
Education: Bill Fletcher August Newsletter